When people ask about acoustic guitar types, you can never really know whether they really ask about the different types of acoustic guitars or about the sizes. So, I decided to cover both types and sizes, hoping to answer whatever it is that you wanted to know.
Acoustic Guitar Types
Acoustic guitars generally have 5 different types:
Each has its own uniqueness.
Steel String Acoustic
Steel String Acoustic is the most common type of acoustic guitar. It will most likely come with 6 strings (not a lot of dgent here), and will use its body to amplify the sound. Players use different techniques to alter or improve the sound of acoustic guitars.
Steel String Acoustic Electric
Very similar to a regular steel string acoustic, but equipped with a set of microphones to amplify the sound of the strings. It would be wrong to assume that this type of guitar is not using its body as an amplifier, too. These guitars tend to feedback because of their bodies' resonance, but it's usually manageable using the EQ on the amp panel.


Nylon Strings Acoustic (Classical or Spanish Guitar)
This type of guitar dates back hundreds of years ago. Even Bach wrote music for instruments that eventually evolved to become the Classical Guitar we all know today. Originally equipped with strings made of sheep gut, and today, thankfully, mostly made of nylon. It sounds warmer and mellower than any other type of guitar, and more often than not, played finger style rather than with a pick.


Nylon String Acoustic Electric
Here, too, the main difference between the electric and the acoustic version of the classical (or Spanish) guitar is its amplification system. It's a lot rarer for a Classical guitar to be amplified, but they do exist in most stores. There aren't too many guitar sounds I love more than a good amplified classical guitar through an enormous reverb.
Silent Guitar
A Silent Guitar is basically an Acoustic Electric (usually with nylon strings) with a body that doesn't amplify its sound. Even though a Silent Guitar is the exact opposite of an Acoustic Guitar, I decided to add it as one of the acoustic guitar types because it's a lot more acoustic than it is electric. There aren't too many of these because they fit in a really niche market and there are already a few great Silent Guitars out there.

Acoustic Guitar Sizes
With acoustic guitars, changes between models are more subtle. Instead of having complete creative freedom, like electric guitar makers have, when it comes to acoustic guitars, most of the difference between acoustic guitar types is their body size.
Acoustic Guitar Size Chart
Here are different acoustic guitar types, sorted by size, from the smallest to the largest:
A classical guitar will usually be between Parlor and Grand Concert. The size of classical guitars is pretty standardized, but there are different schools of luthiers working with different measurements.


Acoustic Guitar Models by Size
When it comes to acoustic guitar sizes, there's one rule of thumb. The smaller the guitar – the more mids and less dynamic rage, and the bigger the body – you'll have more lows and highs, and it will sound less compressed. This difference is often the reason for choosing smaller guitars for recording and larger guitars for performing.
Parlor
The smallest model of acoustic guitars. Parlor guitars are known for their huge presence in the mid range, and are extremely comfortable to play. This is because of their small size and "pinched" body shape.


Concert Guitar
The concert guitar is still very small, but its sound starts to grow compared to the Parlor. We still don't encounter feedback too often, but that's still due to the lack of volume produced in its small body.


Grand Concert
In the Grand Concert, the dynamic rage starts to expand. Highs and Lows (both in frequency and in amplitude) start to appear, and the overall volume already feels a lot louder.


Auditorium
The biggest impact the auditorium has over the Grand Concert is the dip in the mid rage, and the way it is compensated by the big increase in volume. This is more suited for strumming than the previous, smaller body acoustics.


Grand Auditorium
This design was introduced in 1994 by Martin. This guitar starts to hold its own in terms of its sonic range. This guitar can easily be the only instrument played in a song live on a stage – with or without a singer. It will also start introducing some feedback every now and then. I like this acoustic guitar size for its versatility between recording and performance.


Grand Symphony
Very balanced, carrying a huge sonic range of frequencies from all over the spectrum. Having such a big sonic range often comes with a lack of clarity, but the Grand Symphony is known for being crisp and clear, too.


Dreadnought
This is probably the most popular acoustic guitar size. Its warm and relatively deep sound is ideal for strumming and flat picking. Another reason for this guitar type's popularity among singer-songwriters is the mid-scoop it has, exactly where most singers sit in a mix. This helps the vocal not "fight" the guitar over the same range in the sonic spectrum.


Jumbo
The Jumbo is the biggest acoustic guitar size, and as such, it has the potential of producing the highest volume among all other acoustic guitar types. I say potential, because in order to make a sound out of such a big boost, you need to strum very hard. This is the reason Jumbo guitars are often used for strumming and not for fingerstyle and fingerpicking.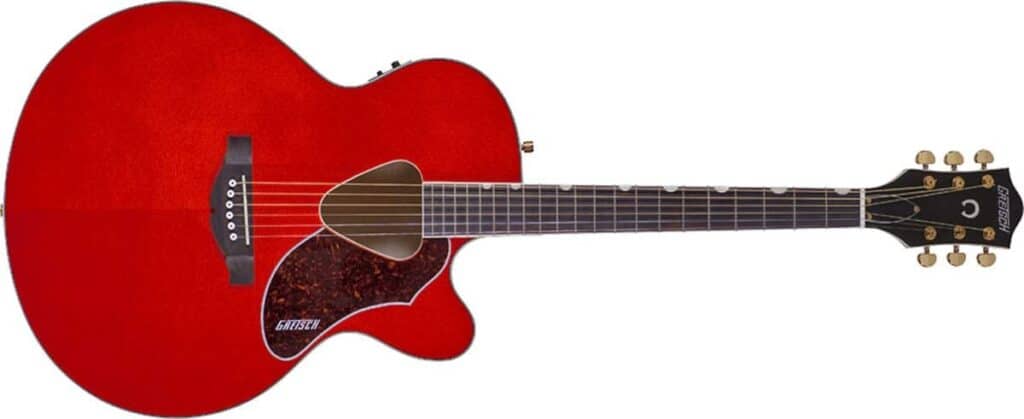 Grand Orchestra
The Grand Orchestra is one of Taylor's new models. It is often referred to as the Gentle Giant, due to its mellow and soft tone coming at a high volume from its huge body. The shape of the bracing, being both scalloped and parabolic, is helping the top move easily (just like a speaker – you can easily feel it if you put your finger on the top while you play), allowing the player to get the maximum of this big guitar, even without the need to strum aggressively.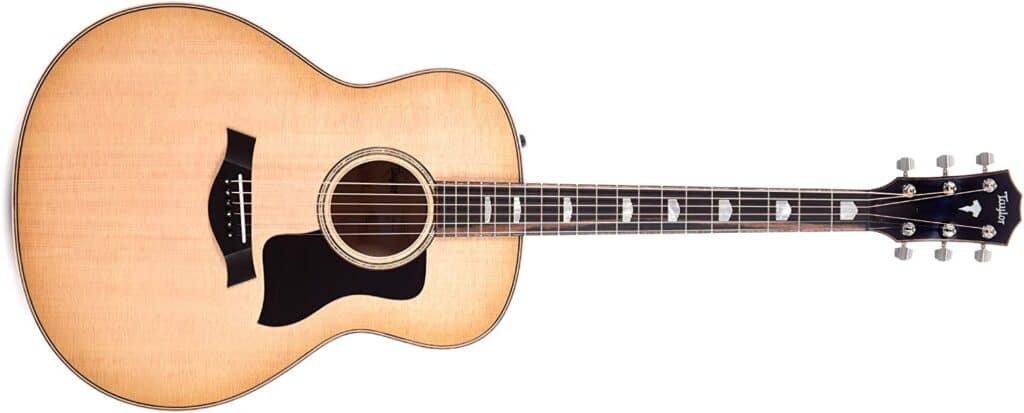 Conclusion
This list contains the most popular types and sizes of acoustic guitars. It is worth mentioning that since there's no standardization, every maker makes them slightly different. This means that it is possible to buy these types of guitars with various different qualities.
Did I forget to mention a model? What's your favorite and why? Please leave your comments below. Oh, and if you liked the list, please share it!