Fingerpicks are an amazing addition to any guitarist's toolkit. Especially if they want to explore the realm of fingerpicking without growing their fingernails, while still getting a loud and consistent sound. There are many types of fingerpicks, and they are usually sorted by:
Shape or design
Material
Main use (Classical guitar, acoustic guitar, banjo, etc)
The most common ones will probably do the job and will sound and feel just fine. But after reading this article, you'll know exactly which fingerpicks to go for, so let's start.
Playing Fingerstyle
Whether you are a seasoned classical guitar player, a banjo enthusiast, or a beginner guitarist picking up their brand-new electric for the first time, fingerstyle is a great skill to have and maintain. It expands your vocabulary in a way that plectrums just can't (and it says a lot coming from me). Nevertheless, playing the guitar with your fingers requires growing your fingernails, or getting the inconsistent and dull sound of your fingertips. Now, it could be the sound that you're after. But in case it isn't, we'll go over everything you need to know to buy the fingerpicks that fit your style of playing.
The Classic Shape and Some Innovative Approaches
Fingerpicks come in many shapes and sizes, some of them are based on the good old design that never fails, and some tried a more innovative approach.
Some good examples of the classic design are:
National NP-1
Dunlop 9020TP
Epic Berry Finger Picks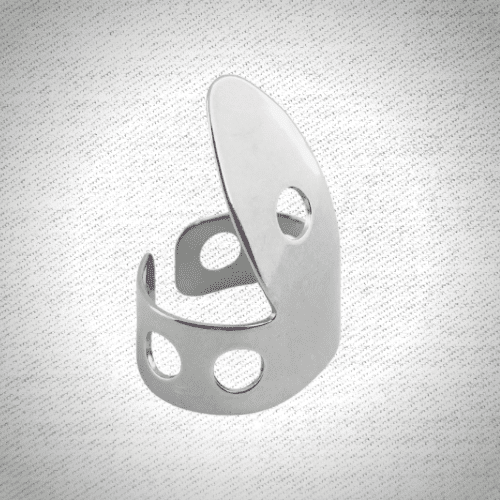 Some examples of a more unique design are:
Butterfly Fingerpicks
Fred Kelly's Freedom Picks
Open Design Metal Finger Picks by ToneDeaf Music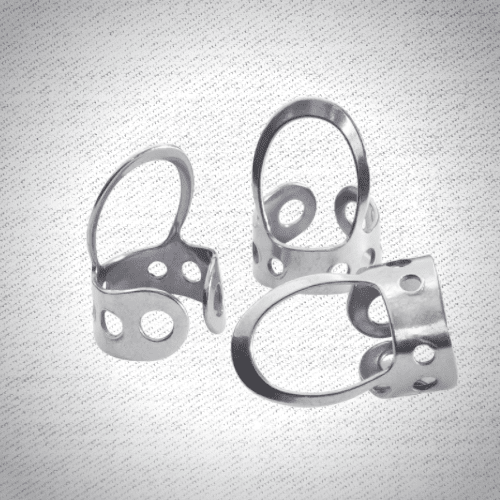 Common Fingerpicks Materials
Plastic fingerpicks
This group contains Celluloid, Delrin, and Nylon fingerpicks. I don't want to get too specific about the difference between them though, as it's really subtle (and covered extensively around the site). The main characteristic of the plastic picks is their well-known just-in-the-middle sound. Not too bright and not too warm. They're usually cheaper than the other picks and cost around $5-7 per set. Some well-known plastic fingerpicks are made by Jim Dunlop, Fender, and D'Addario.
Metal Fingerpicks
Even though metal is not too common as a guitar pick material when it comes to fingerpicks – metal is king. The average metal fingerpicks cost around the same as a plastic one, but the high-end ones can go to $20-30 per pick! They will last a lot longer than plastics, and they don't feel as fragile. I have some sets that are still as good as new even after 15 years of playing. Most metal fingerpicks are made of copper, brass, or steel, but there are some that are made of other types of metals such as nickel. Some advantages metal has over other materials are its bright sound, its adjustability, and its unparalleled durability. It also allows manufacturers to be a bit more creative with their designs. Good examples of it are Butterfly Fingerpicks and National Finger Picks.
Metal vs Plastic Fingerpicks
Obviously, each of these has its own advantages. Plastic will get a sound that can work with any song while metal is a bit harsher. Metal fingerpicks are a lot more durable and are easier to shape than plastic fingerpicks, making them a lot more comfortable. But that comfort comes with a price: metal fingerpicks can easily cost 2-3 times more than plastic ones. When everything is considered, I think that the prices and durability cancel each other, because it doesn't really matter if the metals cost more if they last a lot longer, too. On one side, there are plastics that are a lot more versatile, but lack comfort. On the other, we have the metals that are as comfortable as a fingerpick can be, but won't fit every style.
How to Use and Wear Fingerpicks
Even though fingerpicks are supposed to replace the use of your nails, most of them are worn on the other side of your finger (on your fingertips). They act as a barrier between your fingers and the string. This is true for about 90% of the fingerpicks in the markets.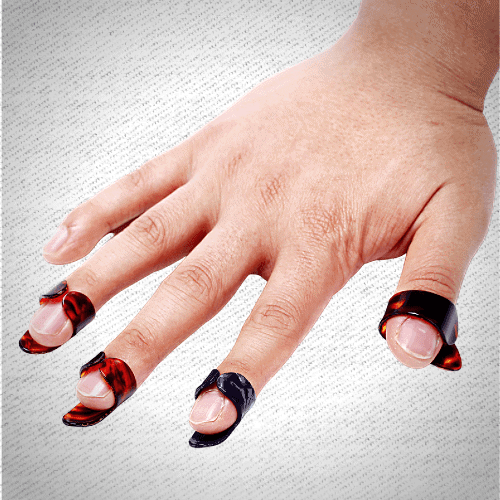 Some makers are taking a different approach, making their picks actually replace your nails. I'm not a big fan of this design because I feel like it's pulling my fingernails back every time I pluck a string. However, some players really like them, and it would be wrong of you to dismiss them before trying them out. A good example of such picks is the Alaska Fingerpicks.
10 Best Fingerpicks
These are my rankings of the top 10 fingerpicks available today across all categories. If you're interested specifically in classical guitar, acoustic guitar, or banjo, my favorites are below.
#1: National NP-2B-4PK Finger Picks
This pick was designed and patented in 1930, more than 90 years ago. Ever since its creation, it was the go-to fingerpick for banjo players, and for a good reason. Despite it being a banjo pick, I like it both on nylon and steel acoustic guitars too. 4 of these will cost you $12.99, and are my easy choice for the number 1.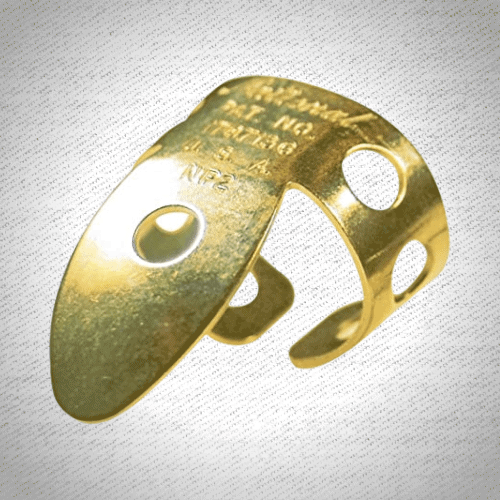 ---
#2: Butterfly Fingerpicks
Often, playing with fingerpicks feels a bit numb because there's a barrier between the finger and the strings. Not with this design, though. I just can't stress enough how much I like these picks. They are bright, loud, and very durable. They are also cheaper than some other picks on this list. A pack of thee, plus a thumb pick will cost you $20, which is a great offer.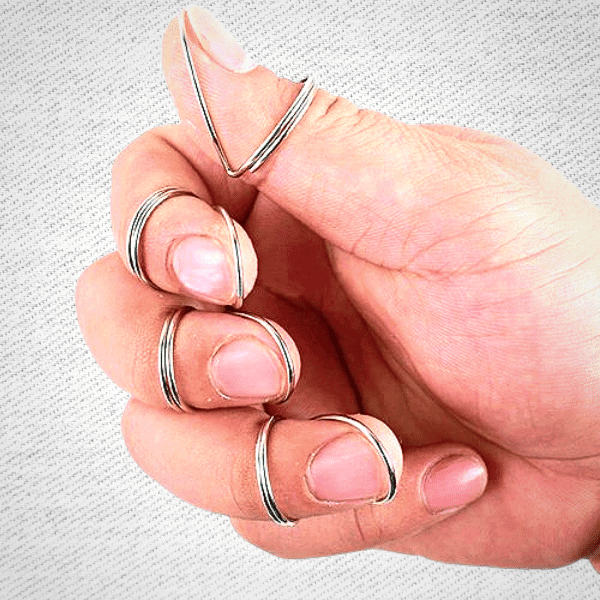 ---
#3: Dunlop 37R.018 Brass Fingerpicks
Even though I love my picks to have a bit of weight to them, most guitar players prefer lighter plectrums. This one's extremely light (lighter even than some plastics). All that while being very easily adjustable, durable, and bright. It's a sure bet if you prefer the classic design over more unique options. A pack of 20 will cost you a bit more than $21.50.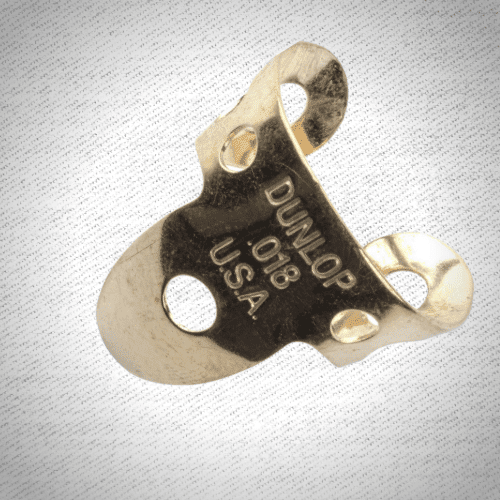 ---
#4: Dunlop 9020TP Shell Plastic Finger & Thumbpicks
My favorite plastic pick! If you prefer a mellow and warmer tone over a super-bright sound – this is the one for you. My problem with plastic picks is that since they're not adjustable, most manufacturers are making them a bit smaller, so your finger will squizz in. A pack of 4 of these will cost you around $14.70.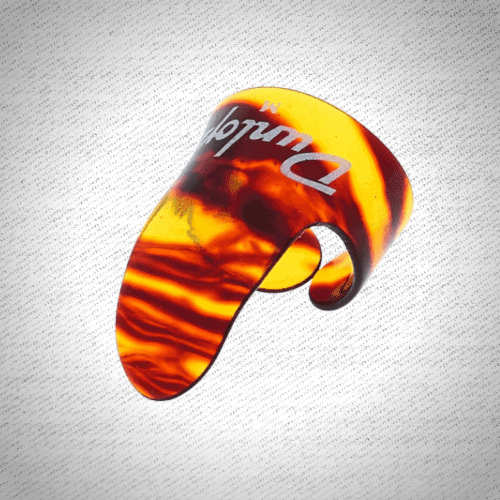 ---
#5: ProPik Fingertone Picks
A perfect mashup between the classical design and Butterfly Fingerpicks'. Its hollow design prevents the disconnected feel from the strings while the "frame" is still hard enough to pluck the strings without your finger. The downside is the price; each of these bad boys will set you back $9. It's worth it, but not as the first fingerpick you try.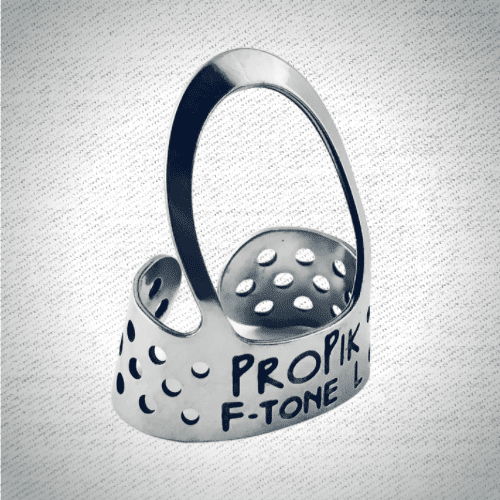 ---
#6: ProPik Extra Comfortable Split Wrap Fingerpicks
Just like the Fingerstone picks above, these are super high-quality picks. Made by a very reputable and appreciated maker, you can expect them to serve you well. As their name suggests, they are one of the most comfortable fingerpicks around. If they were a bit cheaper, they would rank a lot higher on this list. These are a bit cheaper than the Fingerstone, and will cost you $7 per pick.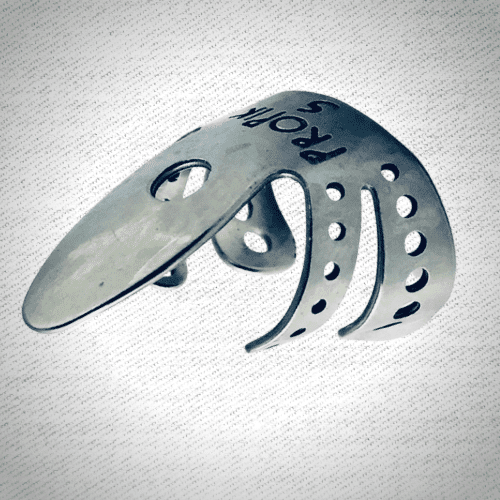 ---
#7: Dunlop 9033R Clear Plastic Fingerpicks
Similar in shape and price to Dunlop's 9020TP. There's not much to tell about these other than them being solid plastic fingerpicks. I feel that they're a bit narrower than they appear on Amazon, but I didn't mind it too much. A pack of 12 will cost you $14.70.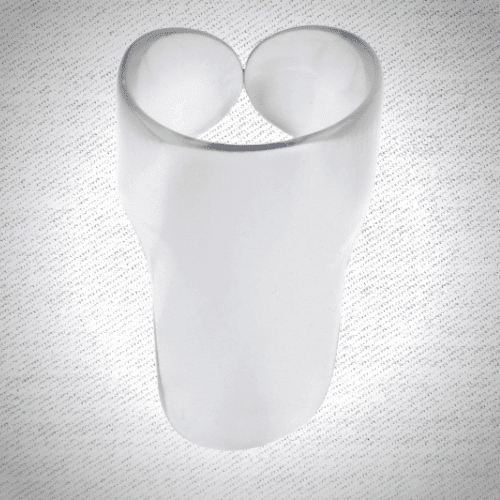 ---
#8: Planet Waves Finger Picks
These are your typical low-budget celluloid fingerpicks, costing less than a dollar each. You can't really go wrong with that price. My advice to you: invest about $4 in a pack of 5 just to test them out.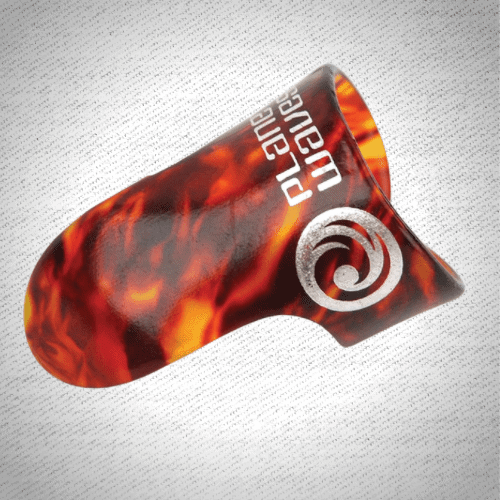 ---
#9: Ernie Ball Pickey Pickeys
I'm a big fan of Ernie Ball's picks and strings. But these are the only metal fingerpicks I really don't like. Their tip is too narrow, and every small movement of your finger may cause the string to get stuck behind the tip of the pick. It was a huge disappointment for me because I really wanted to like them. I also don't get why on earth, you need 24 of them. On the other hand, they have great reviews on Amazon, so if you can spare the $25 for an experiment – you might as well go for it.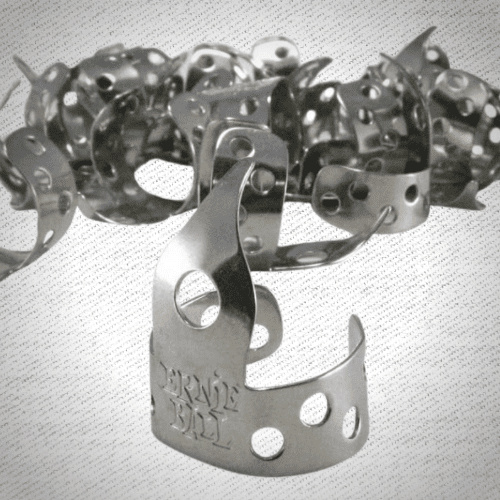 ---
#10: aLaska Pik Fingerpicks
I know a lot of people really like them, but I don't understand the idea behind them. Every single pluck feels like a midget trying to pull my finger off with a lever. Another weird thing is that they require fingernails to be placed properly, which I don't have. I get that they are more of a layer of protection for your nails than proper fingerpicks, but all other designs are doing just that while being more comfortable and sound better.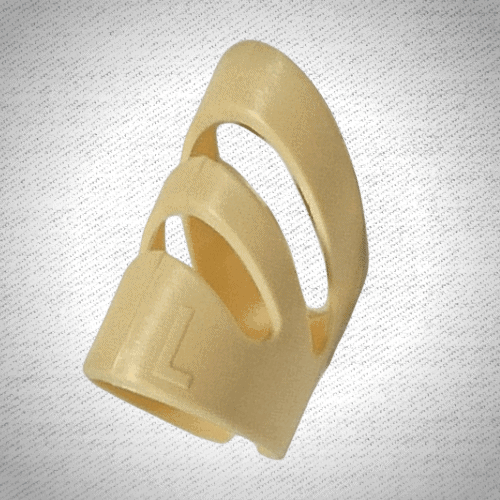 ---
Best banjo fingerpicks
#1: National NP-2B-4PK Finger Picks
The perfect fit between the design of these picks and the instrument they were designed for never ceases to amaze me. The banjo was made to be played with these.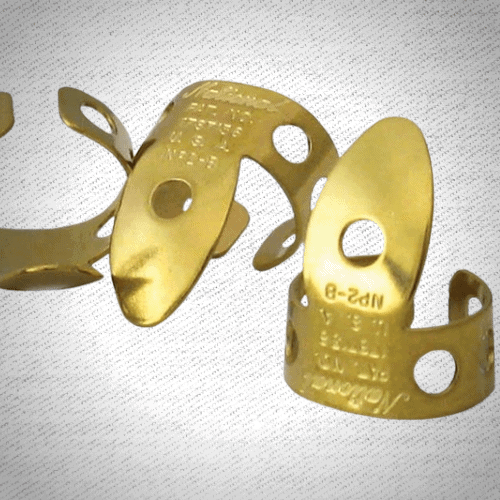 ---
#2: Dunlop 37R.018 Brass Fingerpicks
These are great picks for the banjo, and even if they're not my top pick I still love them very much. In fact, I have about 15 of them.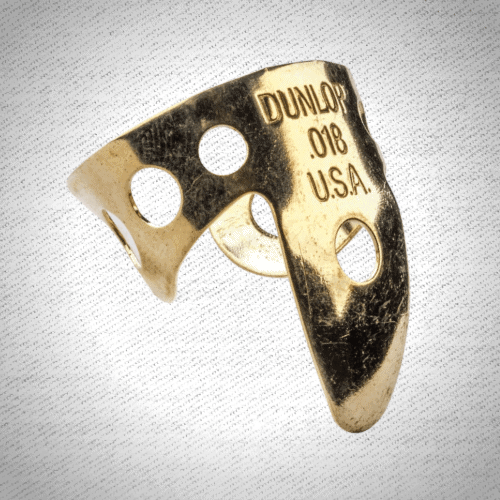 ---
#3: ProPik Extra Comfortable Split Wrap Fingerpicks
These picks are more versatile than the National, but they are so disproportionally expensive, costing around 7 times the average metal fingerpick.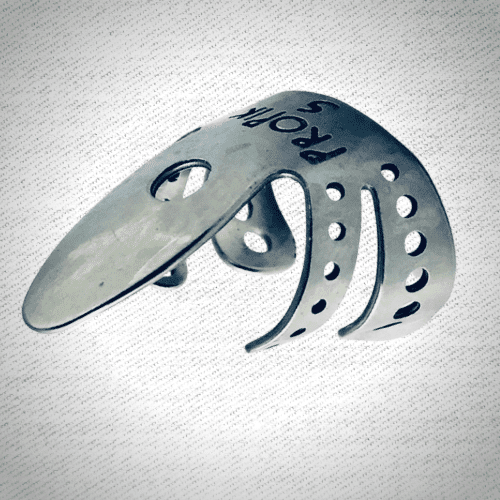 ---
Best fingerpicks for acoustic guitar
#1: National NP-2B-4PK Finger Picks
Very versatile and reasonably priced. Extreme build quality and is adjustable in a way that doesn't let it be uncomfortable even for a second.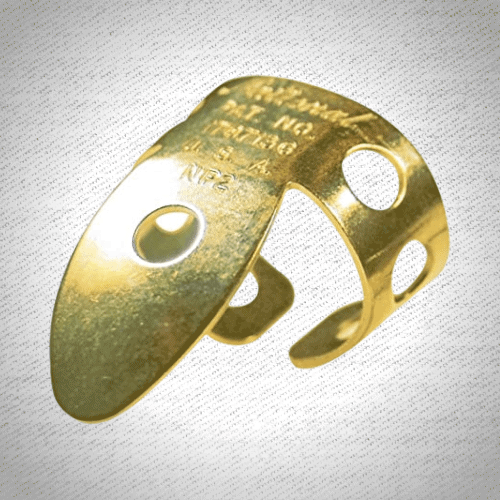 ---
#2: Dunlop 9020TP Shell Plastic Finger & Thumbpicks
In case you prefer a warm tone over a bright one, these are the perfect fit for you. They produce almost no extra noise and are perfect for any "clean" piece.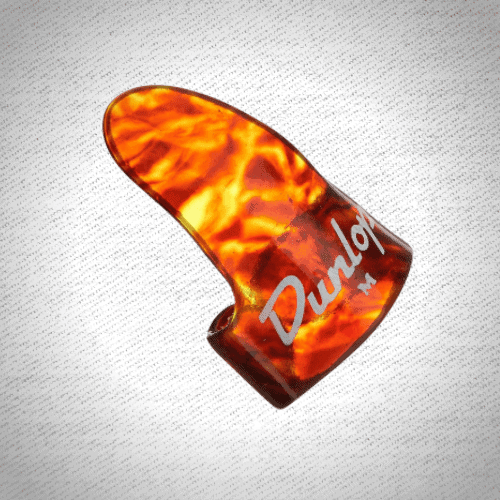 ---
#3: Butterfly Fingerpicks
The way these are designed adds a lot of complementary noise to an acoustic guitar, especially on the lower strings. Making it sound much more alive than with any other picks.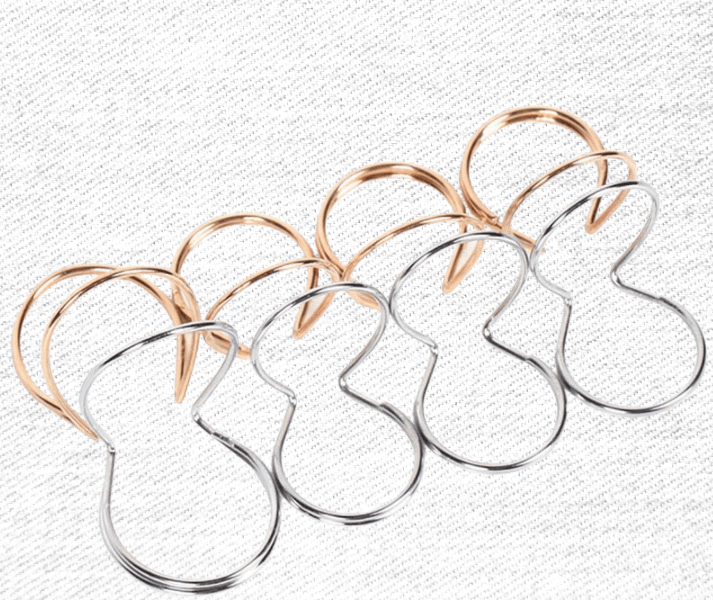 ---
Best fingerpicks for classical guitar
#1: Butterfly Fingerpicks
These are e the only picks mentioned in this article that are pulling the string other than pushing it. I think this quality adds a lot of character and texture to a classical guitar.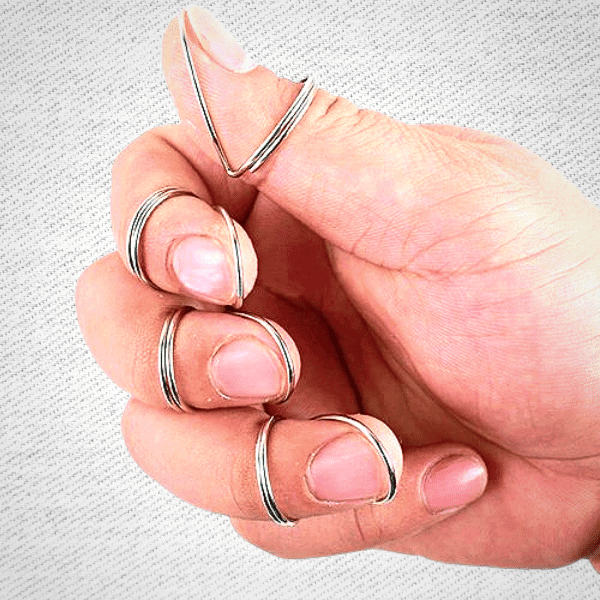 ---
#2: Dunlop 9020TP Shell Plastic Finger & Thumbpicks
Their warn tone complements the classical guitar very well while having a rounded bevel, making the attack a bit smoother than you'd expect.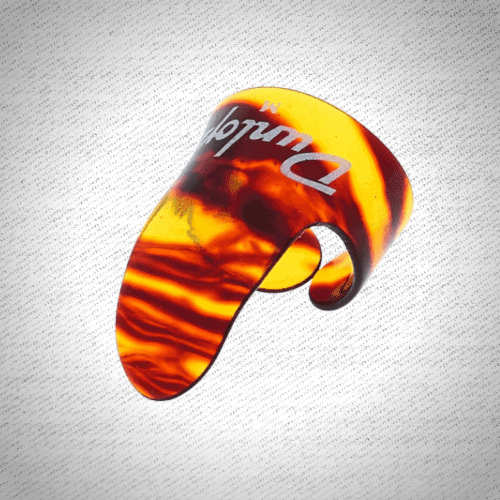 ---
#3: Epic Berry Finger Picks
This one wasn't included in my general top 10 list because I didn't like its sound on either an acoustic or a banjo. But it does shine on a classical, providing a nice, clean, and balanced tone. A pack of three plus a thumb pick will cost you $9, and it is worth every penny.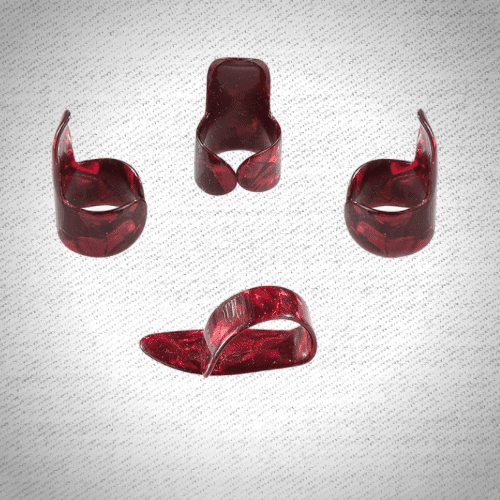 ---
Final Words
There's no lack of variety when it comes to fingerpicks. I consider myself fortunate enough to have tried a lot of different designs and materials to be able to compose such a list, but it took years. I encourage you to try and experiment as much as you can in pursuit of the perfect pick for you. If you found it, or have anything you want to add – tell me in the comments!