The Boaz One was meant to be the electric guitar of the future. It had it all: innovative design, cheap yet durable materials, and a successful crowdfunding campaign that raised over $450,000. It had a team that responded and talked to their community and a world-renowned luthier to lead it all.
I backed this project on Kickstarter on the day it launched, and I went through the entire 4-year journey. For this reason, I believe I can tell the story from a client's perspective. Did the Boaz One live up to the expectations? Did it even live up to their promises? Let's find out.
This review contains a lot of the backstory of the Boaz One guitar. Including its maker, Boaz ISI (the company behind it), and many other plot twists that happened between the launch of the Kickstarter campaign on July 30, 2019, to this day. So, if you're only interested in the actual guitar review, you can skip ahead by clicking here.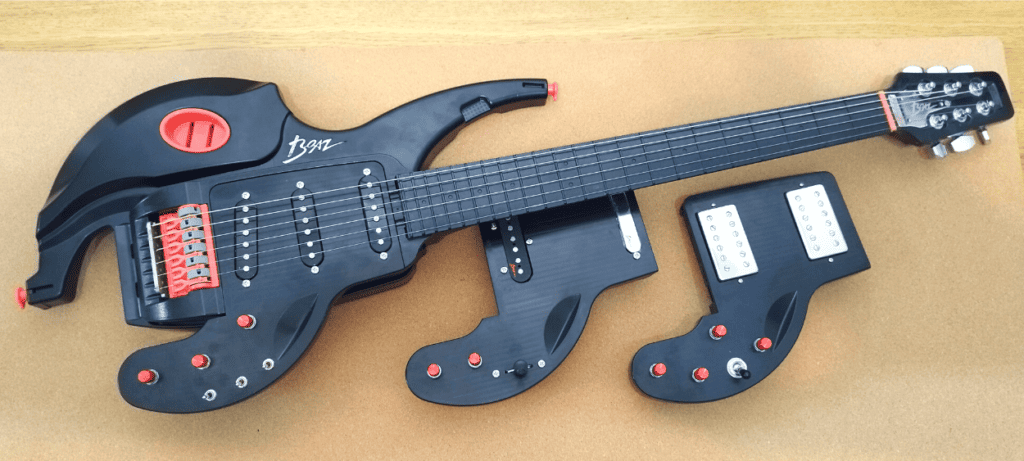 What is The Boaz One?
The Boaz One is a modular guitar. It means you can replace pickups, the bridge, and parts of the body, make it sound different, feel different, and have different features. One of the coolest things about it is that you can replace a set of pickups (called a cassette or a module) in less than 10 seconds.
Additionally, the Boaz One is meant to be highly durable. One of the early promises is that it won't ever require setup and can withstand staying in a car an entire winter without changing how it plays or behaves.
The Back Story of the Boaz One
Every project has its story, and the Boaz One has an incredible one. Many people thought that it would never see the light of day, and at times, I thought so, too.
It has all the components of a great story: an exciting start, some troubles along the way, and a good ending. Some say that it also has a villain, but I'm not convinced about that, and at the moment, I choose to believe that it doesn't.
A Successful Campaign, Followed by a World Epidemic
A Video Interview by The Guitologist
A video interview on The Guitologist YouTube Channel drew a lot of attention to the Boaz One project, effectively ensuring its funding. The interview made many people aware of this project, even though the founder, Boaz Elkayam, is among the most appreciated guitar luthiers and one that I have appreciated the works of for many years.
In the interview, Boaz makes some promises about pricing, features, and the campaign schedule. They kept some, but unfortunately, they didn't keep most.
The Crowdfunding Campaign
Their campaign raised over $450,000 in 60 days, out of a $20K goal. Making it the 5th most funded guitar product in Kickstarter's history.
It was no surprise that it reached the incredibly low goal they set, but I was, at the time, very happy to see that over 900 people bought a guitar because they believed in its innovative concept without even hearing or trying it themselves.
The Molds
The most important part of the production process of the Boaz One guitar is getting the molds right. It is also the most expensive part. It requires a lot of time and back and forth to get right. Not to mention how expensive it is, as its price doesn't consider the number of guitars made of it. Making a mold for a one-of product costs exactly the same as making one for 20,000 items.
COVID-19 Shuts Down Factories in China
Once COVID hit, all of the progress made until that moment didn't matter anymore because there was no one to send the parts to Boaz in Israel for inspection. The whole project was on hold for months over months.
By the time they should've started sending the guitars, they didn't even have the finished molds. And it wasn't their fault.
The Backers on the official FB group became impatient, but there was nothing anyone could do except wait.
The Plague Guitars (T2 Guitars)
It was first offered in August 2020, a year after the Kickstarter campaign launch. At this point, most of the ongoing communication with Boaz's communication manager, Gordon Roberts, took place in their new official Facebook group started by Gordon after they lost access to the original one.
The offer was strange, at least in my eyes. They offered backers (and non-backers) a chance to get a working Boaz One with some cosmetic defects and no pickups (with an empty cassette) ahead of the original backers.
They cost around $500, paid in advance before they had the parts, to help support the production. The Plague Guitars caused a lot of confusion, followed by many accusations raised by backers and buyers.
As of this moment, the Plague Guitar's website is no longer online.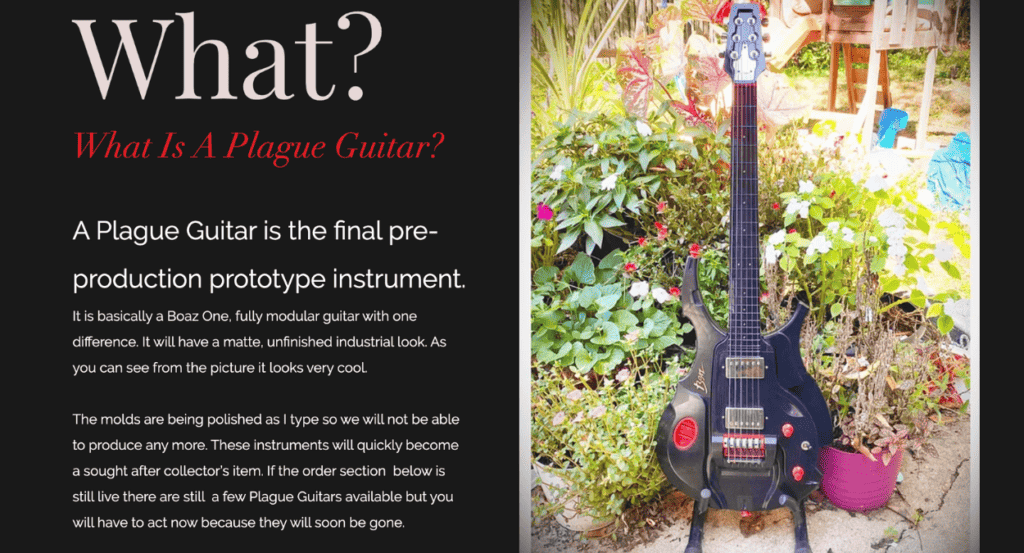 Company Irregularities
From day one, the company didn't make the impression of the most stable and well-managed company. Boaz made an impression of a not-so-tech-savvy guy, requiring him to get help from communication managers who were replaced twice in 4 years.
Gordon Roberts
At a certain point, Boaz made Gordon Roberts the Communication Manager. This made the communication a lot smoother. Gordon is a very experienced guy who knows how to keep a community engaged.
I can't remember him shutting down or blocking users who raised concerns or asked hard questions, but he answered them politely, explaining the situation in a clear way.
He occasionally posted images of classical guitars made by Boaz, which was reassuring to know that he didn't go off the grid and is still working.
Gordon Reoberts' Departure From Boaz ISI
At some point, according to a post by Gordon, he had an intense call with Boaz that led to his departure from the Boaz ISI team. He took over the Facebook group of the backers (which he opened when he joined the team), renaming it to Boaz One Un-Official.
This event changed the atmosphere in that group radically, giving more room for frustrated backers and claims made by Gordon about Boaz.
The Plague Guitars Fiasco
Boaz has his claims against Gordon, and they're posted in the original group (that was opened before the Kickstarted went live). Some of the accusations are that Boaz did not get the money from the Plague Guitars and that he never allowed Gordon to collect it in the first place.
This story was covered by The Guitologist on his YouTube channel, as well as on guitar publications such as guitar.com.
As of the time of publishing this article, none of those who purchased the Plague Guitars have gotten their guitars, and according to Boaz, he never got any of the $40,000 from selling the Plague Guitars. Whether this statement is true or not, I don't know.
The Future of The Boaz One Project
At this point, most backers either lost hope for ever seeing the Boaz One come to life, have forgotten about it, or occasionally came back to the group to see if there was an update in the production.
Imagine how surprised I was when I got an email with the subject: "Getting ready for shipping your Boaz One"
The Guitars are On Their Way
Or at least for the first batch of backers. As a very early backer, I was lucky to be among the first ones who got their guitars.
David from Boaz ISI reached out and asked for my preferences for the pickups and, to my request, sent me the pricing for the upgrades.
The Actual Guitar – Boaz One Review
I have the Half Winger body (the one with the pick holder) with three sets of pickups (also called cassettes or modules): Strat, Tele, and LP.
Specs
The Half Winger body comes with two pick holders, which is not a world-shuttering development but a nice idea nonetheless. It has 22 frets and a scale length of 24.75″.
Weight
This guitar is very neck-heavy. Its neck is among the heaviest I've ever held, while the body weighs almost nothing. I feel myself fighting when I play it so it won't neck-dive.
Together with the odd shape of the Half Winger body, it makes it impossible to play sitting down.
Materials
Earlier in the development, Boaz stated that most of the guitar would be made of plastic based on Acetal (Delrin). I'm not aware of him changing this decision, but from what it looks, the body and the neck are made from different types of plastic.
The neck is very solid but not rigid, as this part needs to consistently resist the tension from the strings without cracking. On the other hand, the body feels a bit cheap, made of a thin sheet of a type of plastic that is more rigid.
I believe the nut is made from a different material, but I have no information about it. It resembles UHMW-PE, but I don't think this is the plastic used there.
Build Quality
The build quality of this guitar is disappointing. It feels rushed, and it feels like it should've had a quality control process, which it probably didn't have.
The Neck and Body
The initial connection between the neck and the body is as far from smooth as it could've been. It took me many tries, and it feels like it just didn't fit as it should've.
Nut
The nut was slotted very poorly, and I really doubt it was sanded afterward (not to mention polished). Even if it was, I doubt if anyone had seen this nut before they shipped it.
Frets
The frets are rough both on the sides and on their surface, where they are in contact with the strings. I feel their texture with each bend and vibrato. As far as I can tell, it's not audible, but it feels horrible.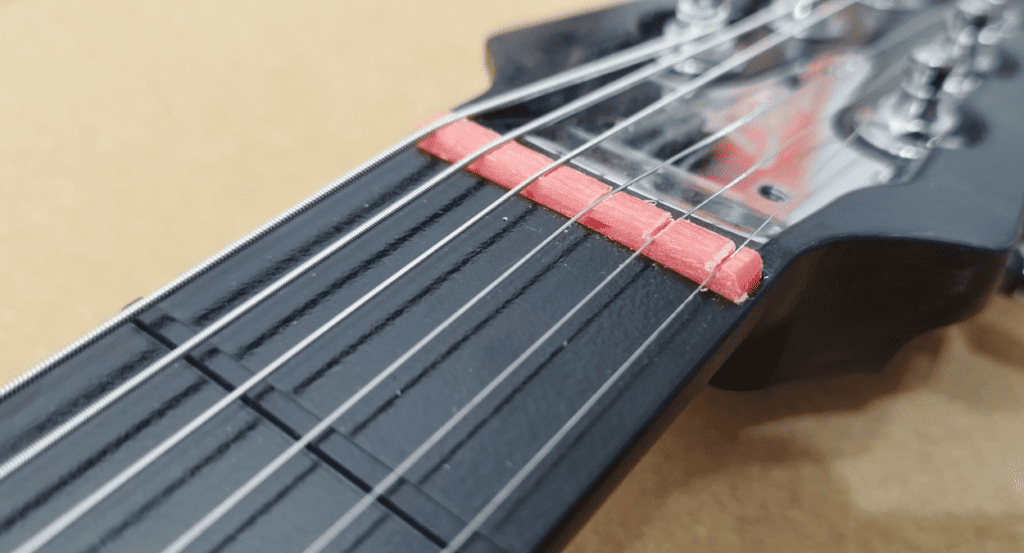 The Cassettes
The cassettes feel like the best-made part of the entire guitar. The knobs are small and made of metal. They have the exact amount of resistance to make them fidgety.
The switches are well made, and I can't imagine any of them triggered by mistake. This is very well thought out, especially on the Strat cassette, where the traditional design often causes accidental pickup switching.
Unfortunately, my LP Cassette needs to be squeezed into the guitar in a way that makes it almost impossible to take out, and the pickup in Tele Cassette sits very oddly.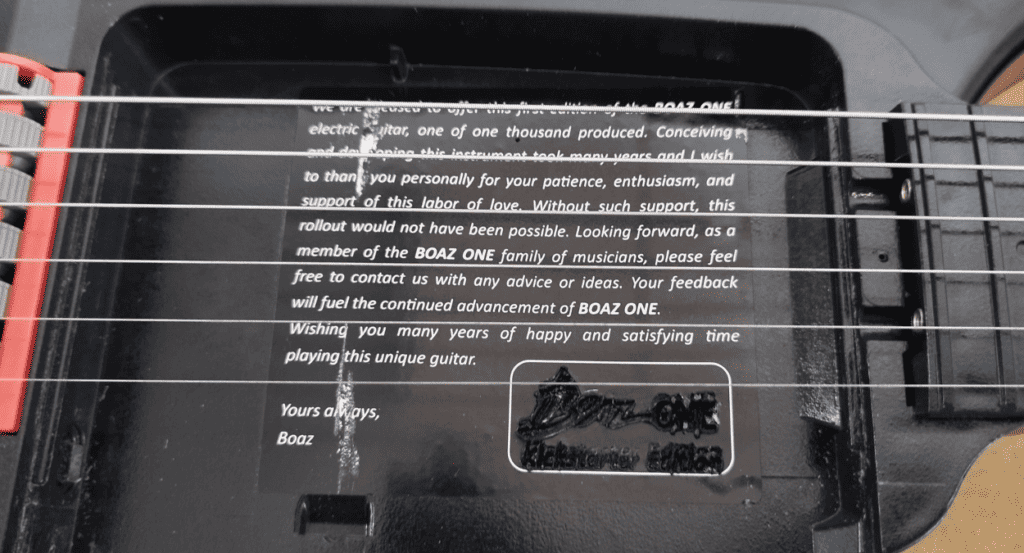 Sound
Each set of this guitar sounds good. I won't go as far as to say it's a masterpiece, but I'm as happy as I can be about them. I know that tone is extremely subjective, but I highly doubt that anybody can disagree that the pickups by Kent Armstrong, even though made in Korea, are decent.
Pricing
My original backing was for the super early bird basic package, including the Half Winger body and one set of pickups for $249. This is an OK price for a guitar, given that the pickups were presented as if they were manually wounded by Kent Armstrong, even though they are made in Korea.
And since buying a modular guitar with just one set of pickups wasn't my brightest idea, I had to add $700(!) for two additional sets. It was a price that I wasn't happy with, but I consider it the cost of my mistake.
That being said, backers were promised that we'd be able to add more pickups closer to the delivery at a significantly discounted price. If this is the case, I'm afraid that these cassettes would be even pricier for the public, and in that case, I can't see any reason to but them over another guitar.
So far, I have spent on that guitar about $1,000. It's not terrible, but it is far from being the cheap, high-end guitar it was meant to be.
This exact guitar, based on the current pricing for backers, would've cost $1,680. I can only guess how much more this exact guitar would cost a non-backer because they didn't agree to send me their pricing.
My Honest Opinion
The guitar is fine, but I expected more. I would've never paid for it the full price they demand because I could've bought three new good guitars for the cost of this one with three sets of pickups, and I'd even have enough change left to buy a pedal or two.
It feels half-ready and cheaply made, even though it sounds good. Kent Armstrong's pickups are fine, but I can't attribute their quality to the guitar because you can buy them separately and install them on any guitar.
At the end of the day, I don't think it took the step from being a cool gimmick to becoming something we'll see in guitar stores in the near future, but who knows? Maybe the Boaz Two will close that gap.