Hawk Picks was launched in 2013 by Rob Edney in Lancashire, England. Over the years, they got amazing reviews from players such as John Bowman, Robin Burrows, Cameron Brown, Mark Gibson, Simon Brady, Alfred Potter, Sam Bell, and Steve Stine. For the last four, Hawk Picks also made a signature pick.
Not many boutique makers can survive for ten years, especially when they specialize in only one material. Taking an entirely gimmick-free route directs all the attention to the shaping and craftsmanship of the picks, which is what I will focus on today.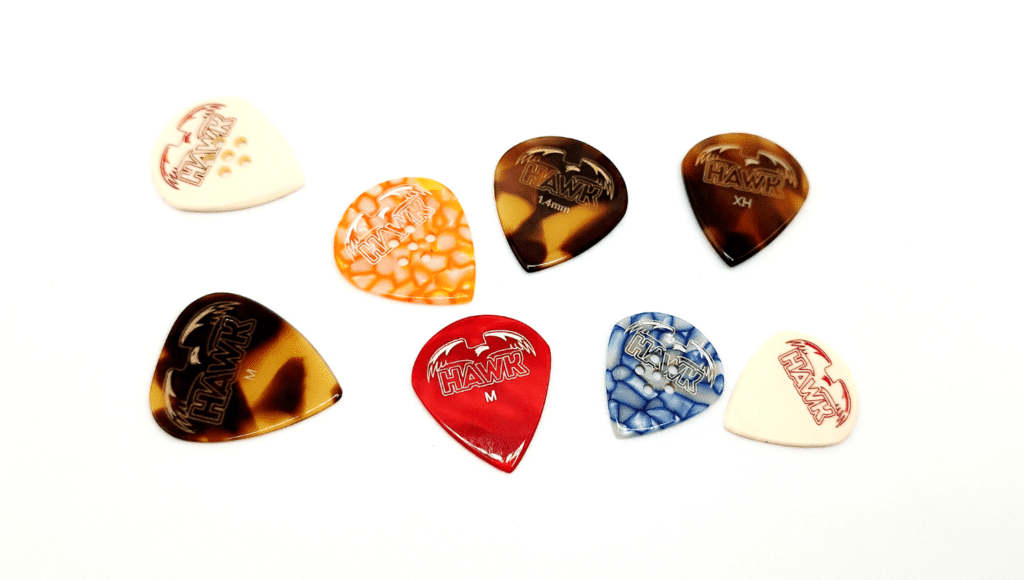 The Hawk Picks I'm Reviewing Today
For this review, Hawk Picks sent me these eight models:
ToneBird 1 (TB1) Tortoiseshell 1.2mm
2 ToneBird 4 (TB4) picks: 1.2mm Flame Red and 2mm Tortoiseshell
3 ToneBird 6 (TB6) picks: 1.4mm Tortoiseshell, 1.6mm Abalobe Orange with grips, and 2mm Ivory with grips
2 ToneBird 7 (TB7) picks: 1.4mm Abalone Blue with grips and 1.4mm Ivory.
All of the picks have a standard bevel.
Hawk Picks Rundown
As mentioned earlier, I got eight picks for this review, across four different models.
ToneBird1
This is a standard shape pick. A tiny bit larger and pointier than a standard Tortex, but not as sharp as a standard pointy pick. It's round enough for strumming and accurate enough for picking.
The more I use it, the more it grows on me. This is one of the only picks I have that I have fun just playing four chord songs with, and it doesn't have the clicky attack. This specific pick is 1.2mm thick, which most will feel is too thick for strumming, but there are very few picks you can comfortably strum with that are this warm. If this is the sound you're looking for, look no further.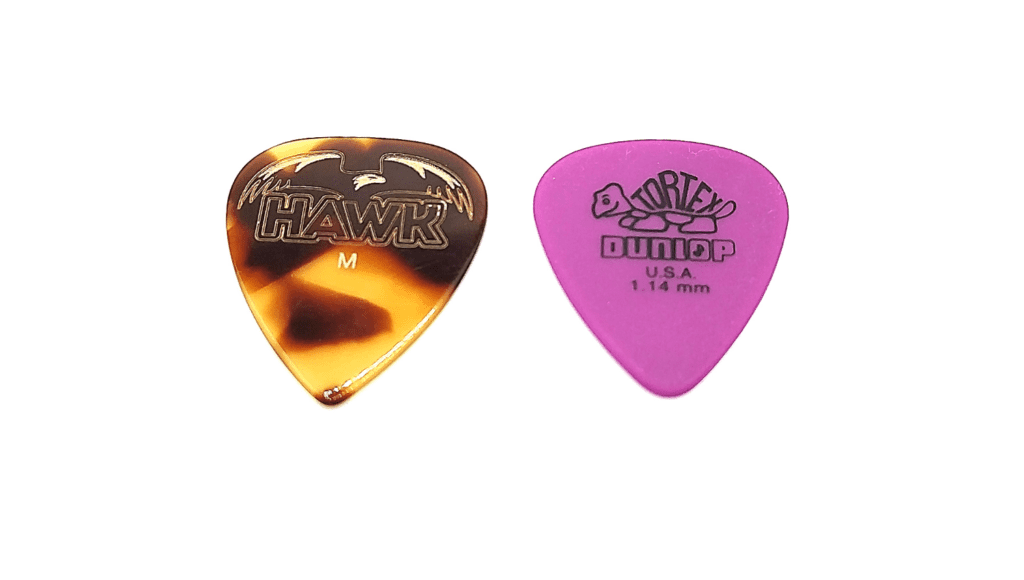 ToneBird4
TB4 is Hawk Picks' version of Jazz XL. The best picks for those who like the accuracy of Jazz III, but want a significantly more gripping surface. It's big but not sloppy and very easy to control.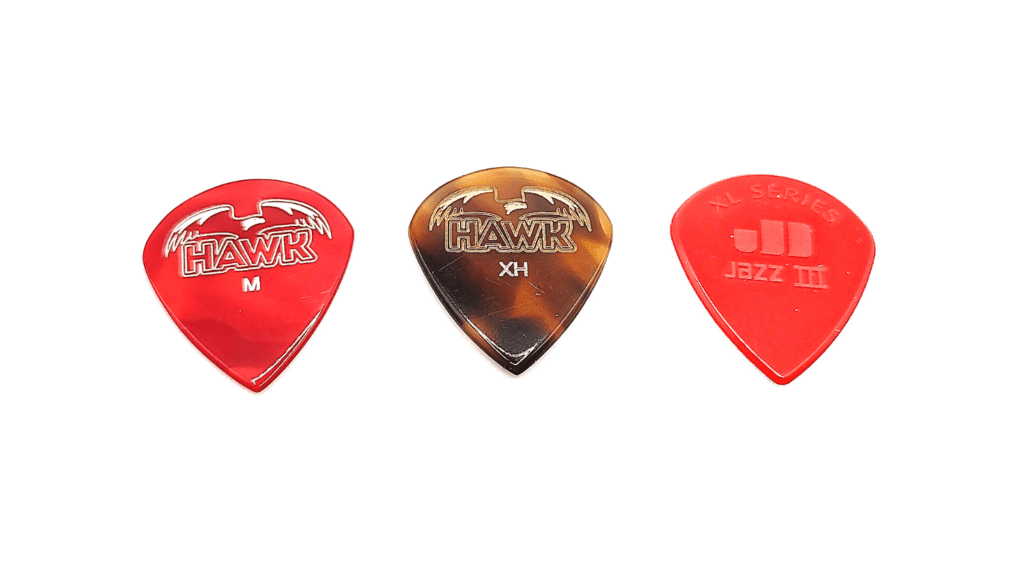 ToneBird6
I got three TB6s, which work very well with my growing recent affection for the Flow shape. Beyond how they sound and behave, I love them, especially because of how fun they are to play.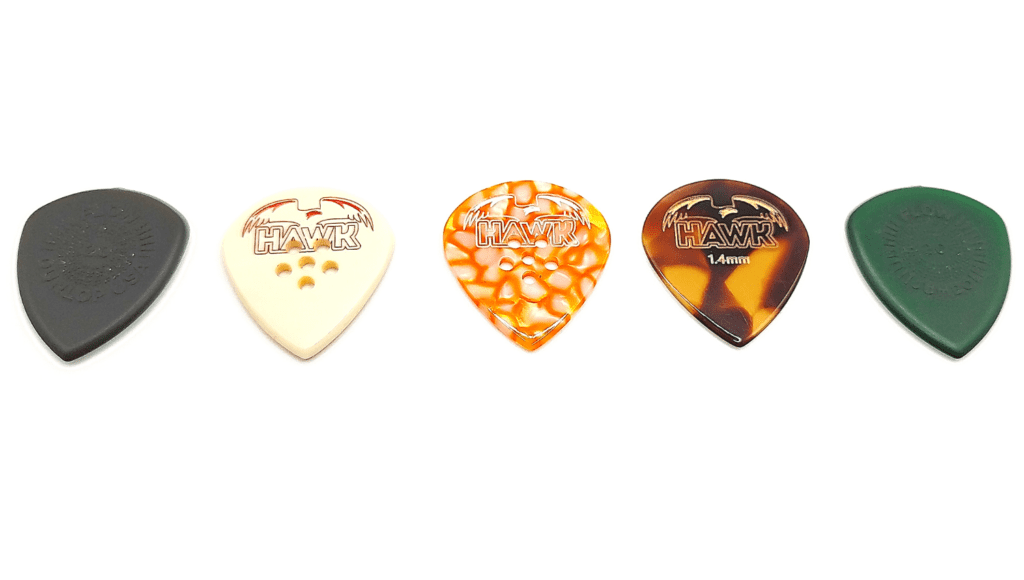 ToneBird7
This is a 1.4mm Jazz III shaped pick. It's very similar to Jazz III in stiffness, shape, and bevels, showcasing its superiority over the original. Nylon picks are often considered warm, but when I compare a Jazz III to TB7, it doesn't come off warm. It pales in comparison and sounds dull.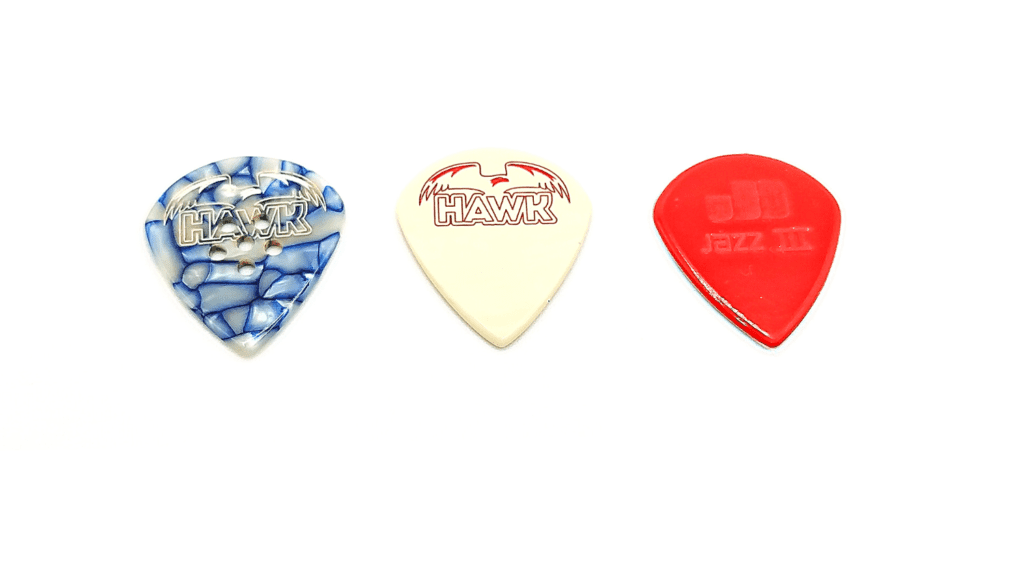 What are Hawk Picks Made of?
These picks are made of a material called Galalith, which is often referred to as Casein. Galalith is produced from the interaction between Formaldehyde and Casein and is chemically similar to real Tortoiseshell, making it sound much like it. The origin of Casein is dairy, making these picks non-vegan.
How Do They Feel?
They are among the smoothest picks I've ever tried. They are polished to such gloss that it makes them stick to your fingers in a way that prevents them from turning easily. And those with the grip holes are even more stable. That being said, they feel a bit greasy. Not enough to leave smell or residues on the fingers, but with the help of the super-glossy polish on the bevels, it's enough to help them effortlessly glide across the strings like butter.
Personally, I have relatively dry hands, which makes it easy for me to grip these even without the gripping holes. If your hands are sweaty, you might need to get them to help you with that grip.
That being said, the Ivory feels different than the rest. I don't know if it's just my imagination, but it feels less oily, with a slightly brushier texture.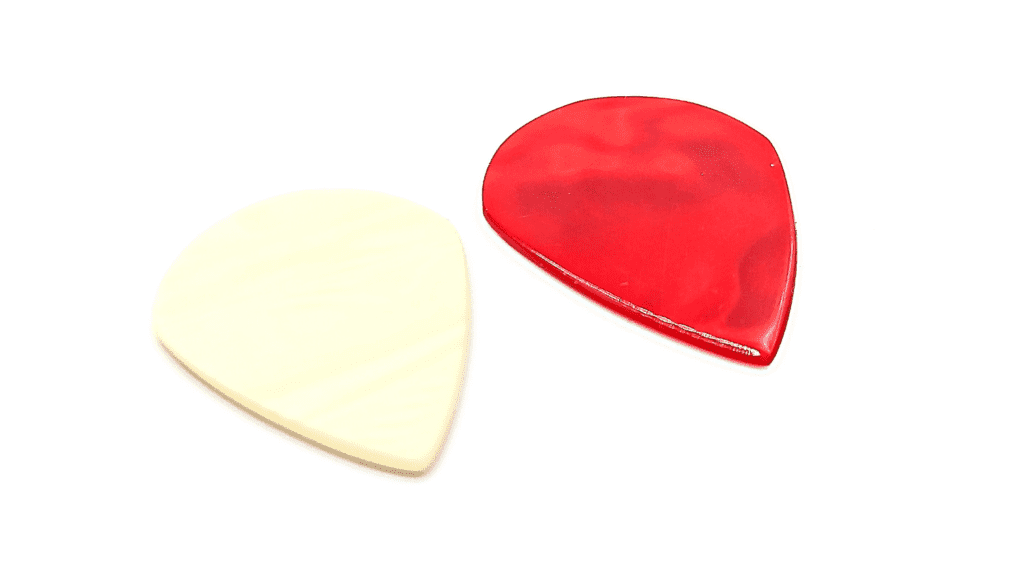 How do They Sound?
Galalith's basic sound is warm, and the fact that the Hawk Picks' bevels are polished to such a gloss compliments it very well. The string chirp is minimal, which is surprising considering their toughness. The attack is not entirely round, but it's mellow and consistent.
What Else Is In Hawk Picks' Collection
In addition to ToneBird 1, 4, 6, and 7, Hawk Picks has many models. Among them, you'll find the signature picks I mentioned above and a few other models. Most of them are based on familiar shapes. And in gauges between 1.2 and 3mm. You can (and should) give their shop a visit.
Options and Customizations
There are a few options to choose from for each model, such as thickness, speed bevels, and color.
Colors
The available colors are Black, Flaming Red, LemonDrop Yellow, Abalone Blue, Abalone Green, Abalone Orange, Abalone Purple, Ivory, Marble, and Tortoiseshell. Not every model is available in every color, though.
Gauges
Most of their designs are available between 1.2 – 2mm. Some of the picks (such as ToneBird5 and ToneBird10, for example) can get to 3mm thick.
Bevels
With each pick, you can choose a standard bevel or a speed bevel (left or right) at no extra cost.
Signature Picks
As I mentioned above, they collaborated with some big names in the guitar and mandolin world, such as Alfred Potter, James Norbert Ivanyi, Guido Bungenstock, Sam Bell, Simon Brady, and Steve Stine (yes, that Steve Stein). Personally, I think the work they did with Simon Brady produced the most interesting pick. And I won't be surprised if it's one of their best sellers, too.
Custom Shop
Hawk Pick also have a custom shop for designs outside their regular collection and signature picks. If you have a clear vision of how you want your pick to look and feel, you should look into this.
My Favorite Hawk Pick
I loved the 2mm Ivory TB6 the most. The grip on the Ivory feels more comfortable to me. The grip holes provide the perfect amount of grip for this type of pick. They keep you in control and not overtaking your ability to articulate your playing.
The Next Hawk Picks I'm Getting
I'm going to order some more Hawk Pick in the future, no doubt about it. I'm curious to try Simon Brady's signature and a TB5, as well as a custom one I want.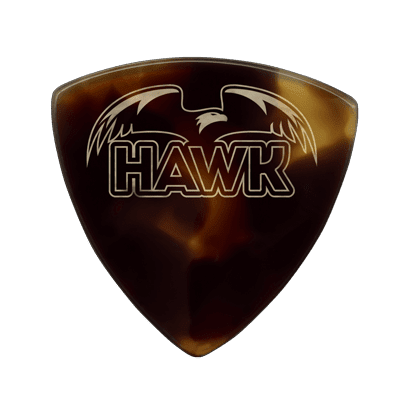 Cost and Where to Buy Them From?
Each pick in the regular collection will cost £12, except for the signature picks, which cost £14 each. This is about $14.5 for the regular picks and a bit over $17 for a signature pick – not a bad deal at all.
Hawk Picks' pricing is as simple as it can be. Different gauges, grips, colors, and even speed bevels won't change the price, which is something I really appreciate.
You can buy them all from their online store, and if you are looking for something more custom, you can do that here.
Finishing Thoughts
Hawk Pick's entire collection consists of pick shapes we all know and love. There's nothing too extreme that requires getting used to. This, in fact, is one of my favorites thing about them. Hawk Picks' designs are simple, but the level of craftsmanship is what sets them apart. These are among the very few picks I would recommend to any player looking for a warm and clean tone. Whether for acoustic or electric, in any setting and level of gain.
Disclaimer
This is not a paid review, but I did get the picks for free. This, however, didn't change the way I wrote about them or the score I gave them.