Chicken Picks are made by Eppo Franken in the Netherlands. The story behind creating his first pick is quite interesting and very similar to the "origin" story of a lot of super creative people. They had a problem and figured out a solution to fit their needs. The first Pick he made was back in 1984 after he couldn't find a pick that really connected him to his guitar. After some experiments, he stumbled upon the thermosetting plastic and started to make picks for himself and other guitarist friends.
Fast-forwarding to 2010, when Eppo and his wife, Jolanda, started their family business and called it Chicken Picks. During the first 2 years, they made every guitar pick by hand, but during 2012 they couldn't keep up with the demand and had to scale it up. They started using a mold and extremely high temperatures to shape and bevel the material, but are still finishing every single pick by hand.
Now, that's a great story!
Chicken Picks are claiming their picks to be fast, precise, have great tonal abilities, and be extremely durable (up to several years). After 15 minutes of playing, the picks should break in and let all the goodness fill you from within. I firmly agree with the first three claims, but am not sold yet on the last.
Chicken Picks Range Overview
Chicken Picks come in 7 different shapes and overall 9 models. Their gauges go from 2mm to 3.5mm:
Light and Regular are a standard 351 shape and they are 2.2mm and 2.6mm thick
Shredder is a bit smaller than the Regular model, and is the thickest of them all at 3.5mm
Badazz III is similar in shape to the Jazz III, and is available in 2mm, 2.5mm, and 3.2mm
Bermuda III is Chicken Picks' take on the triangle shape, and comes in 2.1mm and 2.7mm
Bermuda III XL is a larger version of the Bermuda III and is available both in 2.1mm and 2.7mm
Bermuda III Pointy is.. you guessed it – a pointier version of the Bermuda III, and it comes at 2.1mm and 2.7mm too.
If you feel intimidated by the relatively thick gauges, you should know that they feel much thinner than they are. And if (like me, before I had them for the first time) you think they look a bit soft and rubbery, they're not. They are hard as a rock. Another thing that surprised me is the level of accuracy you get with them, even with the rounder tips.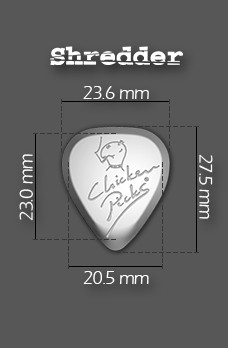 How do they sound?
They are relatively bright and very loud, kinda reminds me of the sound Tortex picks produce, just a little brighter. Even though they're bright, they also have a very clear mid and low-mid (not as apparent as the high-mids and highs). All of that helps them cut through and be present in almost every setting.
The Grip
Even though I'm not a big "grip texture" fan, I have to admit that it really compliments this pick. The fact that the logo is engraved rather than pointing out seems to suit this type of pick. And the texture on the other side makes sure it isn't moving anywhere. I usually prefer my picks without grip textures, I learned to control them while playing and got used to it, so I'm less experienced when it comes to that.
My personal preferences
I'm a big Jazz III fan, and naturally, I was drawn toward the Badazz. After a few hours of playing and switching picks, I realized that my favorite was the shredder. It's a bit smaller, a lot thicker, and one of the fastest picks I've ever played with. In terms of tone, they are all bright (but not in an ear-piercing way), but I feel like this is a bit warmer than the Badazz.
Pricing and packs
Chicken Picks are available in a few packs. The bottom line is that the more you buy, the less you pay per pick – no news here. Prices go all the way from 2 picks at $15.95 (~$7.98 per pick) to a pack of 9 for $52 ($5.77 per pick). All prices include free worldwide shipping. Overall it's a great deal if you consider the time they last.
Where to buy them from?
If you liked what you read here so far, you can buy them directly from the store on their website. They are also available in stores like Thomann, but buying directly from the maker is the best way to support them.
Final thoughts
Going back to Chicken Picks' 4 claims from the beginning of the article. As stated before, I agree with three of them: Chicken Picks are extremely fast, accurate, and have a great tone. But I'm a hard person to impress with durability. Especially after playing with a titanium pick for a year and a half. In terms of tone, I really like it, and I can find a million good uses for it, but my go-to pick is still a wooden one.
Chicken Picks Review
If you didn't find your favorite pick yet, there's a really good chance that this is the one. And at a relatively reasonable price for its durability. I'm very happy I have them and can definitely see myself jamming with them every now and then.