TerraTone Picks are relatively new in the guitar pick world, they didn't invent anything special and are not running on the innovation ticket. They just focus on doing the simple things at a great level (they are also #1 on our "Best Wooden Guitar Picks" list). There's nothing new in making guitar picks out of wood, but their attention to detail is what sets them apart. That's what I'm going to try to cover in this review.
I think I was one of their first customers, I bought a variety pack that contained every 3mm Jazz III shaped pick they had at the time. I remember the reaction I had for trying the picks for the first time: It felt raw. The picks are made of high-quality wood, using a high-quality finish – all just to capture the original sound of the wood itself, and it works big time. The difference between each of the picks is huge, and you can easily guess which pick you're using if you close your eyes. And that shows the effort they put into letting the wood be the star of the show. So, let's get going and cover some of the technical features of the picks.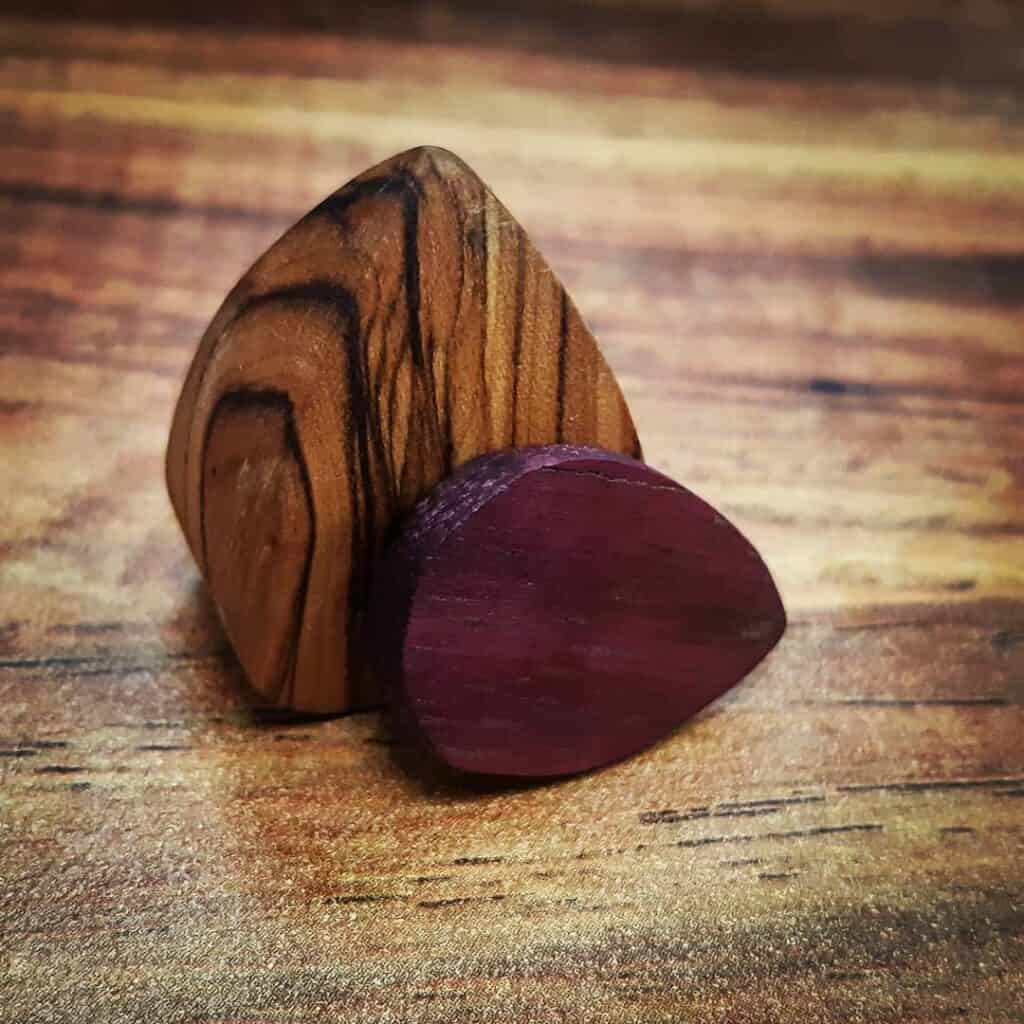 What are they made of?
Well, there are 7 wood species they are using: Wenge, Zebrawood, Mahogany, Hard Maple, Padauk, Purpleheart, and Olivewood. Every pick is finished with a layer of Boiled linseed oil (which is not toxic so you can safely hold the pick in your mouth), to stiff it up and make the grain clearer.
How do they sound?
Warm, but that's just how wooden picks sound. The thing that differentiates one pick maker from another is the way the non-harmonic sound of the pick hitting the strings sounds. Let me try to put this weird sentence into context. When you pick a string, you don't usually pick with the absolute tip of the pick, most players let the pick fight the string a bit, in a sawing-like motion. It all happens before the string produces the note. The thing that I admired the most about TerraTone Picks, is that this sound compliments the note produces by the string perfectly. Instead of trying to hide it, they designed the pick so it'll be accentuated.
What shapes and gauges are available?
Their wooden picks come in 3 shapes: Classic 351 (Regular), Teardrop, and Jazz III, and in two gauges: 1.5mm and 3mm (except for zebrawood that comes in 2mm and 3mm). Olivewood comes in 3mm, 4mm, 7.5mm, and 15.5mm.
Pricing
TerraTone Picks are keeping it very simple. Every standard pick costs $11, and it includes worldwide shipping. What counts as 'standard'? All of their range, except for their super heavy olivewood picks (7.5mm that costs $15, and 15.5mm that cost $20). They also offer variety packs of 6 picks at $40 or 8 picks at $50.
Where to buy them from?
Like a lot of boutique pick makers, TerraTone Picks are sold exclusively through their Instagram and Facebook pages. But, they told me there's an Etsy shop coming soon. I'll keep this post updated for when it's launched.
Other materials?
Not yet, but there are some experiments going at the moment. Other wood species as well as other materials such as epoxy, resin, and carbon fiber.
My take on journalism
When reviewing a pick made by a boutique maker, I usually reach out and ask a few questions and ask for images. I'm also known for asking annoying questions like "What other pick makers do you follow or take inspiration from?" These are the pick makers that TerraTone admires:
GT Plectrums, Dragon Picks, Plumstone Guitar Picks, Honey Picks, Ohm Picks, Osiris, and Zen to name a few. But all and all, I follow most fellow pick makers because it takes a lot of creativity to make something as simple as a pick interesting, and there are a lot of makers that do it at a level I'm a bit jealous of.
---
Pick Makers, if you want your picks reviewed, or have anything cool you made and want to share – send me a message, I'd love to hear from you!
---
Disclaimer
This is NOT a paid review. It was written based on my own experience playing the picks I purchased and based on that only. TerraTone didn't send me the picks, I bought them on my own. But, I did speak to them while writing this review to get additional information, pictures, and updated pricing.
TerraTone Picks - Final Score
It sounds warm, it had a lot of complimentary noises that enhance the playing in a very pleasant way. It feels stiff, It's not as flexible as other plastics. The grip is great, the texture of the wood sticks to the fingers without the need for additional shaping, and for $11, it's a real no-brainer for me.
If you ever wanted to try a wooden guitar pick, this is the one you should start with.