Osiris Accessories was launched in 2020 and run by András Szvirida, a guitar player from Hungary. András started his journey as a pick maker by making wooden guitar picks. Later on, he started using other materials and making other types of guitar accessories. The reception to his work was great from the very beginning because his standards were very high, and his designs were always on point.
Osiris Accessories' guitar picks are works of art, I really mean that. Whenever you hold one, you instantly feel like they are made to an extremely high standard. They are as accurate as guitar picks can be, and the designs are really elegant. I wanted to try them for a long time, and I'm glad I got the chance to.

Today, Osiris Accessories are endorsing artists like Oni Hasan, Heedless Elegance, and Rob Chapman, and even released a few signature guitar picks with some of them. In contrast to their beginning, where they focused on making picks out of wood, today their picks are mainly made from Acrylic, but also from Bone, Brass, Kirinite, Epoxy, Wood, and more.
The Osiris Accessories Picks I'm Reviewing
I got 9 different picks across 6 different models for this review, and here they are:
LOTR – An engraved, medium-sized 2.3mm thick brushed Acrylic pick, in Osiris standard shape.
Ouroboros – An engraved, medium-sized 2.3mm thick brushed Acrylic pick, in modded flow shape.
Elite v1 – A Brass core surrounded by 2 layers of Ceylon Ebony.
Precision v3 – A 2.5mm thick modded Jazz III shaped clear Acrylic pick, with 3 gripping holes in the middle.
Black Palm – 2 Black Palm picks, shaped like a longer version of Jazz III, 3mm and 4.5mm thick.
Delrinex – 3 Jazz III shaped Delrin picks with the Osiris logo engraved on them, 1.5mm thick.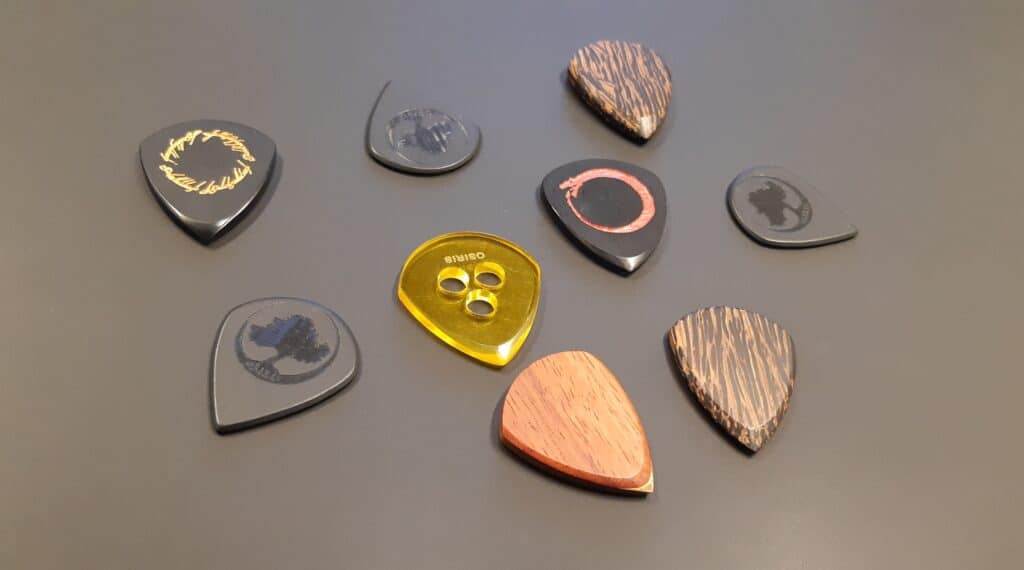 Osiris Accessories Picks Shapes And Sizes
Like some other boutique pick makers, Osiris Accessories has their own set of shapes. Even though some are inspired by shapes you're probably familiar with (Jazz III, Tri, and Flow), they have their own twist on each. They also have a shape that's a bit more "out there" called the Reptile, which looks exactly as it sounds. Each shape is available in three different sizes (Small, Medium, and Large).
Osiris Accessories Guitar Picks Rundown
I'm dividing the picks I'm reviewing into 4 different groups: Acrylic Picks (includes LOTR, Ouroboros, and Precision v3), Elite v1, Black Palm (both 3mm and 4.5mm), and Delrinex.
Acrylic Picks
The level of craftsmanship in LOTR and Ouroboros picks is among the highest I've seen. Everything from the brushed texture to the semi-translucent color (that took me by surprise, I must admit) conveys luxury. Precision v3 feels like it was meant for heavy-duty work.
Even though they are all made from the same material, I found myself playing with them differently. I'm a lot more gentle with LOTR and Ouroboros and very aggressive with Precision v3.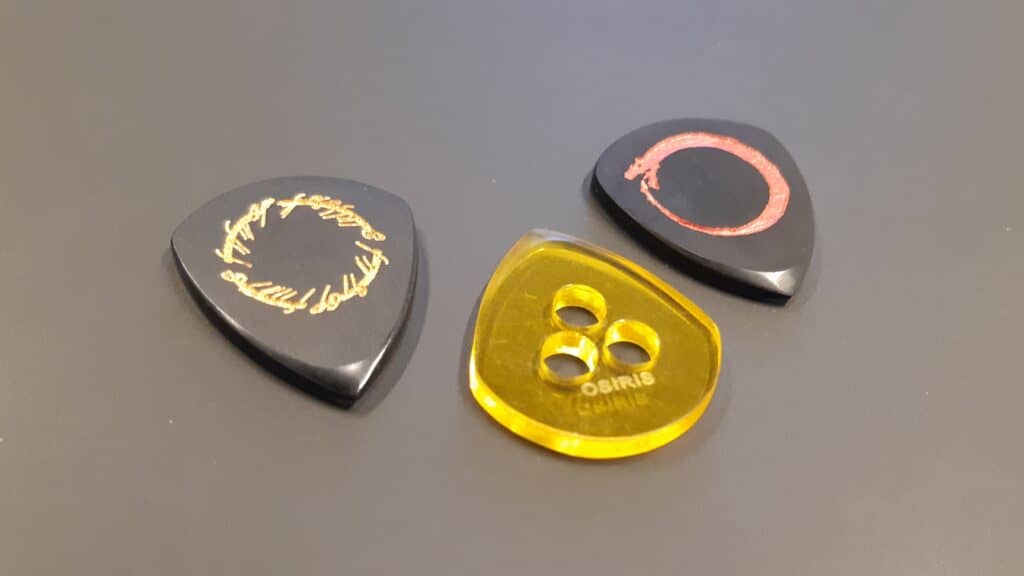 Black Palm
The black palm picks are made of wood sourced from the Borassus Flabellifer tree that originates in central Asia. They have a very interesting grainy texture, and the wood itself is very hard, scoring 2020 lbf in the Janka test. Its hardness, together with the finish makes it sound a lot brighter and to last a lot longer than other wooden picks.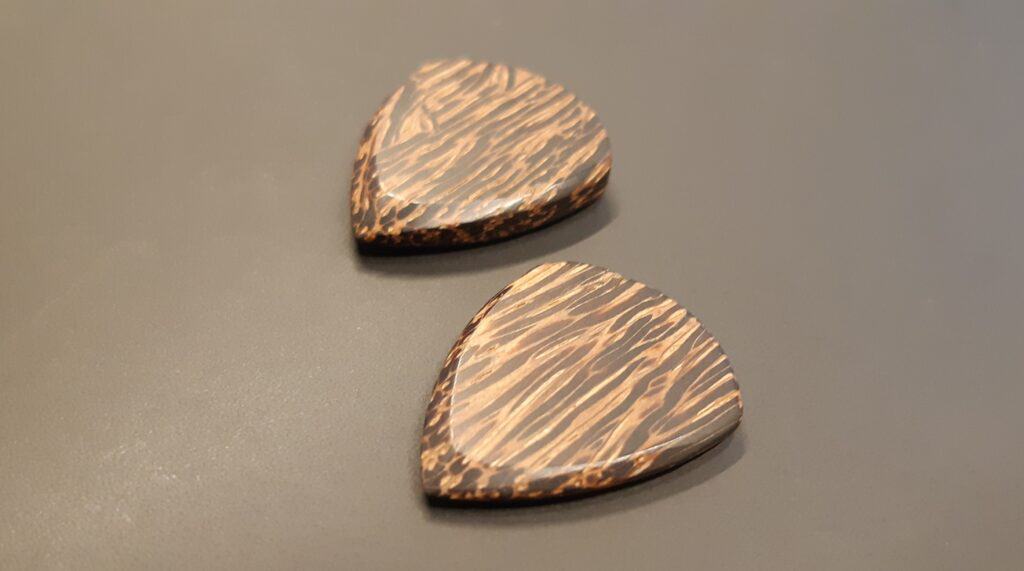 Delrinex (Discontinued)
This is a pack of 3 1.5mm Jazz III style Delrin picks. I don't know why, but it's very popular among pick makers to offer a relatively cheap Delrin option. They're more than decent, and the material itself feels a lot heavier than I expected. The engraved logo is "brushed" sideways, making it very grippy. I'm having a lot of fun playing with them, and I'm glad I bought them before they were gone.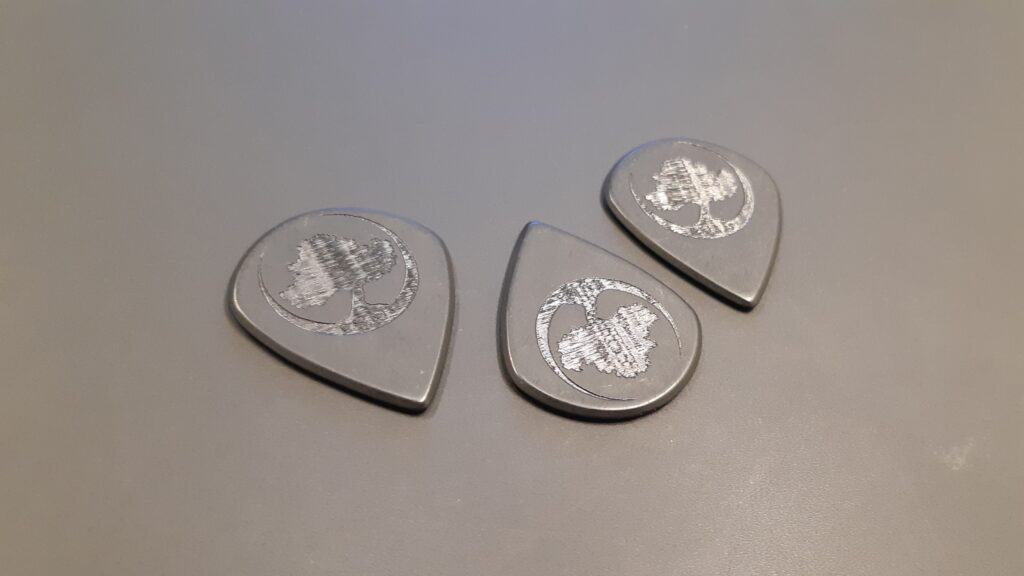 Elite v1
This was the pick I waited for the most, and unfortunately, was my biggest disappointment. I really thought I'd fall in love with it, having the weight of the brass together with the texture of the wood. What I suspect happened, is that the climate change between here and Hungary (where they are made), caused the Wood and Brass to expand at different rates. It resulted in a perfectly shaped pick losing the proportion between the Wood and the Brass layers, making it sound very scratchy.
I'm still having a lot of fun with it, and it has its uses. The "scratch" it has can serve a musical purpose, and I really like the sound of a Brass pick in a high-gain setting. I'd still buy it today.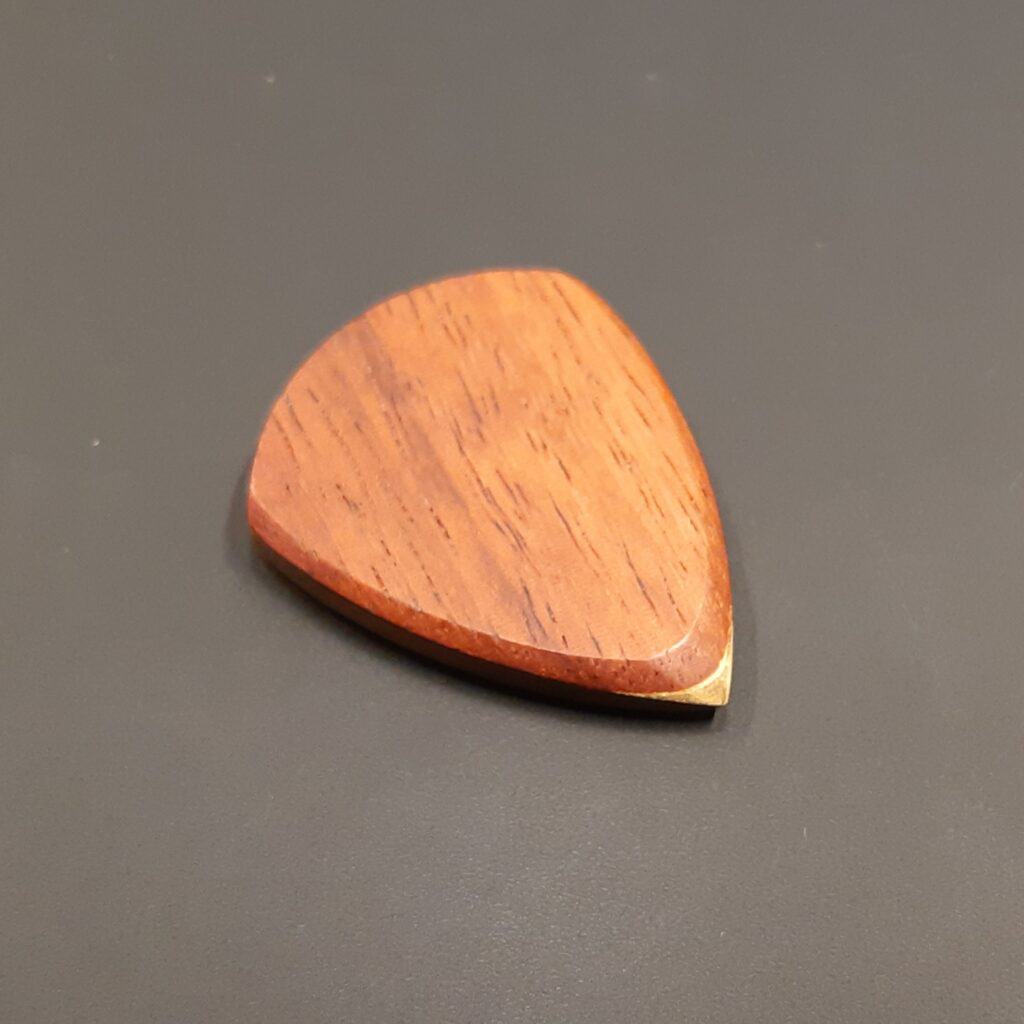 Signature Picks
As stated earlier, Osiris Accessories teamed up with a few artists to make their own line of signature picks. They are currently offering 5 signature picks, in 4 different designs:
Daniel Varga & Zsolt Forgó's Signature Picks – Heedless Elegance
I combined these two together because other than having a different signature engraved, these are essentially the same pick. Designed by the two guitarists of Heedless Elegance, these picks are Osiris Standard shape, medium size, 2.8mm thick black Acrylic. They feature the band's logo, as well as either Daniel Varga or Zsolt Forgó's signatures engraved.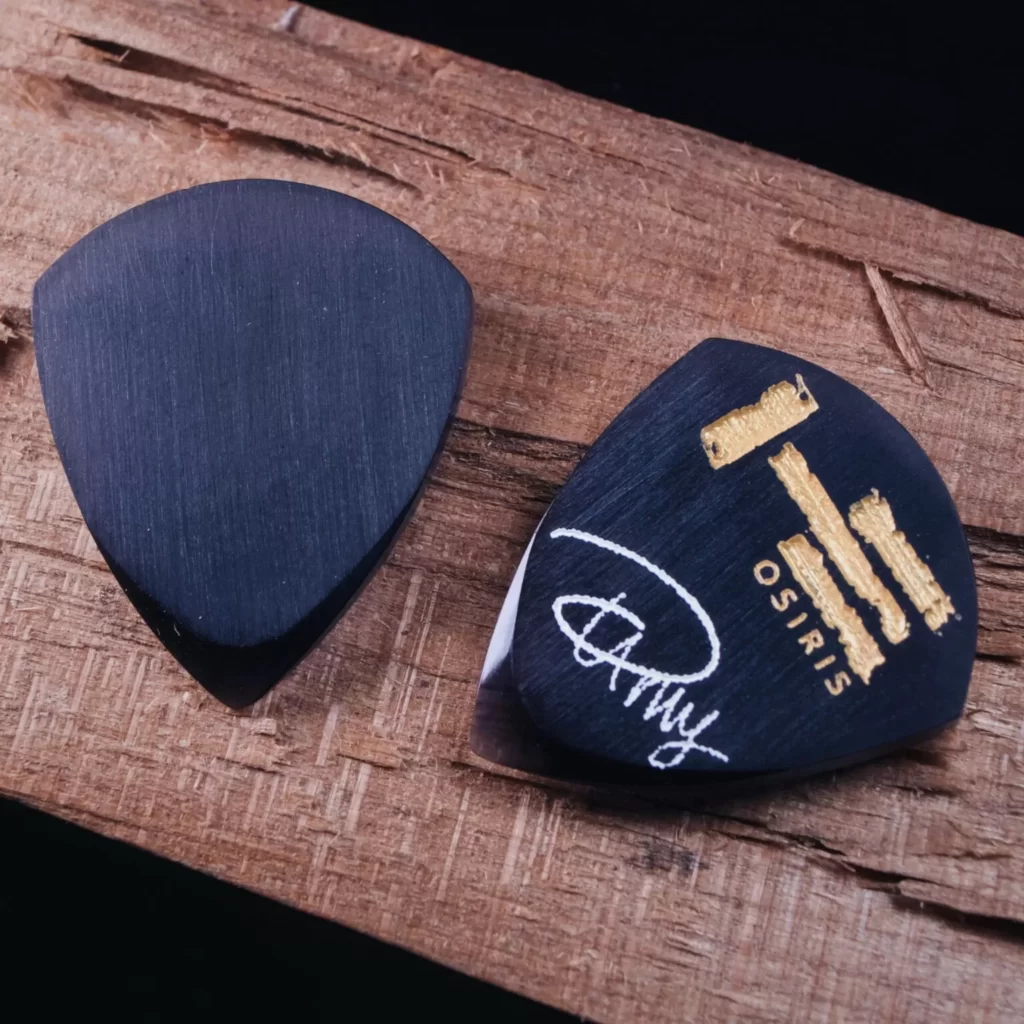 Mátyás Erős' Signature Pick – Heedless Elegance
This pick was designed with Heedless Elegance's bass player – Mátyás Erős. It's in the Horus shape, medium size, 2.7mm red brushed Acrylic. This looks like a very interesting pick shape, having 2 pointy playing tips at different angles. I can see how it's useful for a bass player, but it's very interesting to try on a guitar as well.

Rob Chapman's Signature Pick – Clockwork Wolf & Co
Rob Chapman needs no introduction. He's a guitar player, vocalist, Youtuber, and the owner of Chapman Guitars. If you've ever seen any of Anderton's videos, you'll recognize his signature "grrrreetings". In fact, he made some great guitar tutorials that date back to 2007. Look them up, they are really great. His signature pick is a solid bass pick, in a shape that resembles a sharper version of the standard 351 pick. It is 2.5mm thick and is featuring Clockwork Wolf & Co's logo engraved as a grip.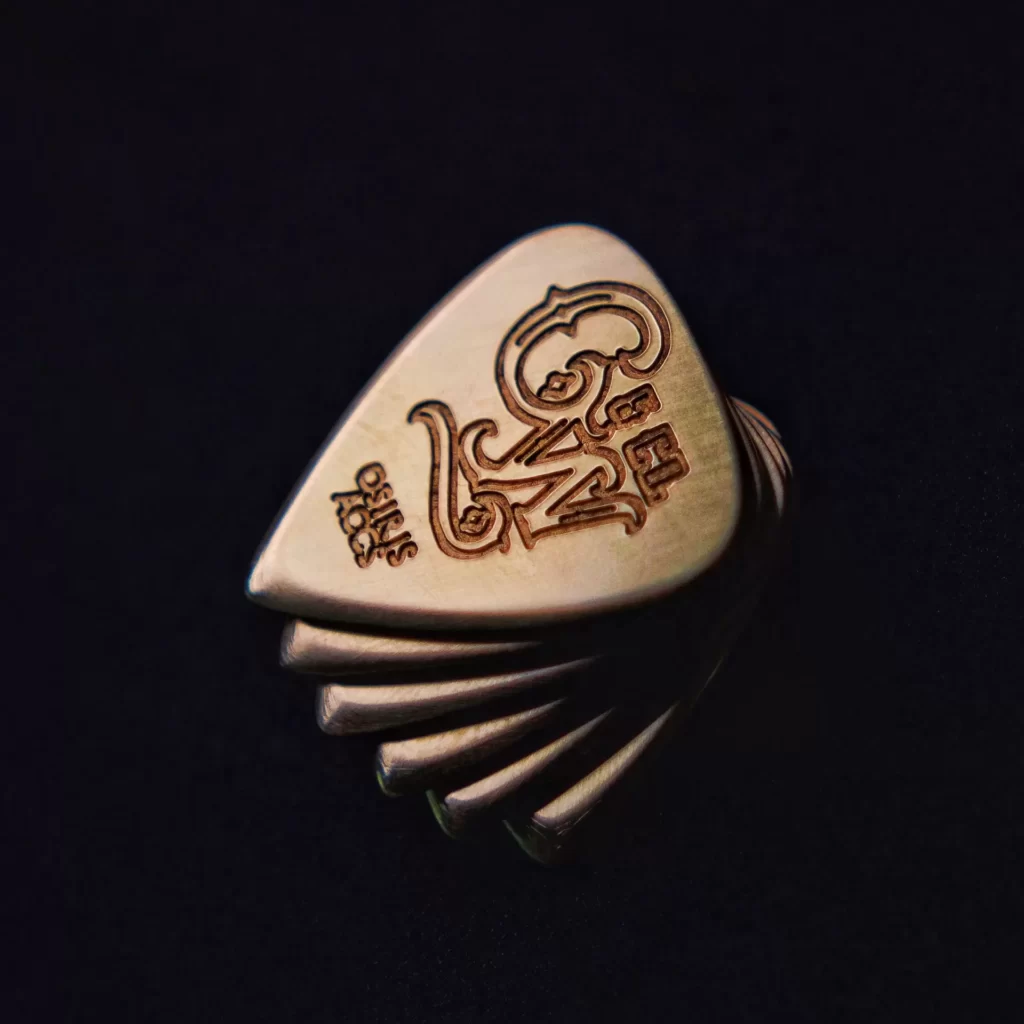 Skervesen's Pick
This is more of a cooperation between companies than a signature pick. Skervesen is a Polish custom guitar company, dating back to 1980. This is an Osiris Standard shaped pick, medium-size, and 3mm thick made from red Kirinite, with a gold engraving of Skervesen's logo.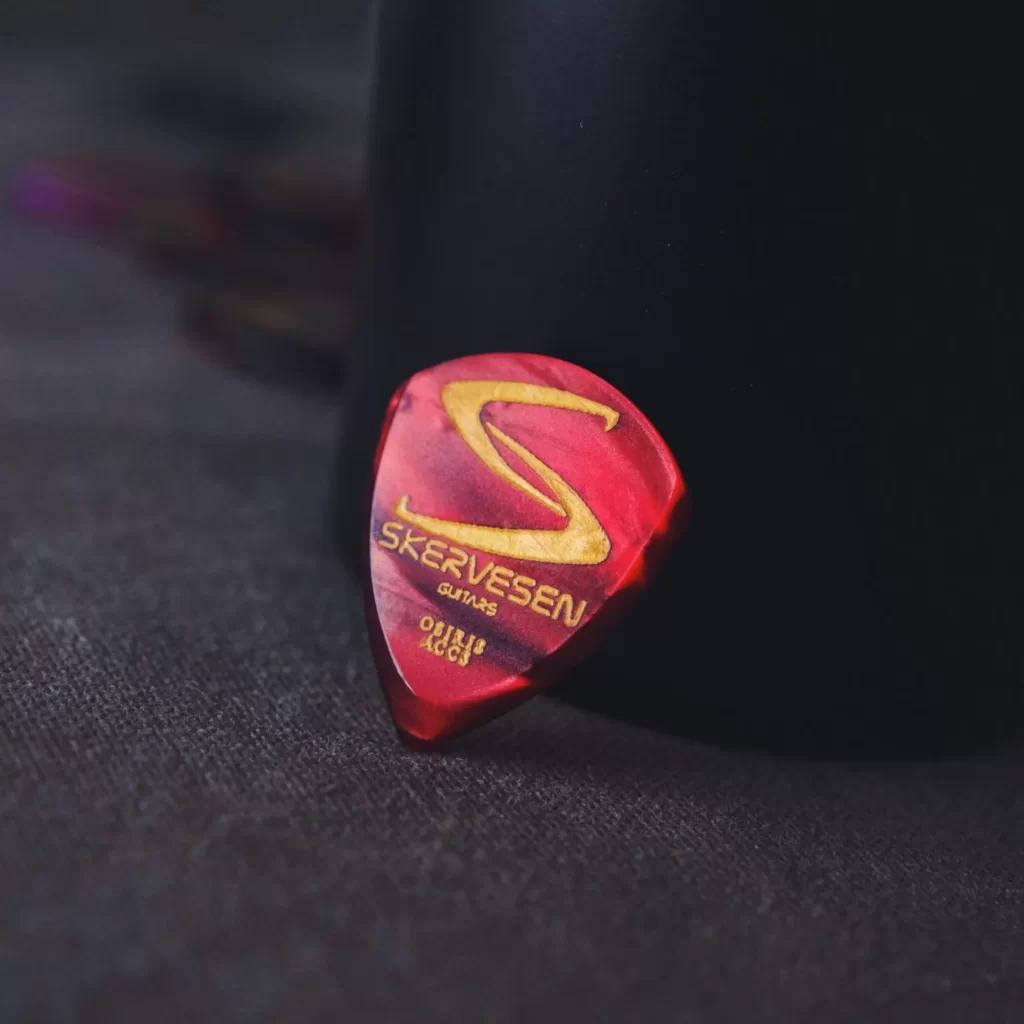 Pricing
As I mentioned in the beginning, these picks are handmade to a very high standard. This, of course, comes at a cost. They are not cheap at all, and some of them are on the more expensive side. BUT, not all of them are. Acrylic picks from the standard series can be considered on the low end in terms of pricing, ranging between 7€ and 14€ ($7.5 – $15). To my surprise, the Precision, Djentagon, Universe, and Ouroboros series are among the cheapest picks in their collection. The bone picks cost 20€ (about $21) each, which is not cheap, but not soo expensive either, considering the paint job. When things get expensive is with the Elite series which ranges between 25€ and 40€ per pick.
I bought all of these picks at a discount during a massive sale Osiris Accessories had in March 2022. I ended up paying 72€ instead of 107€. The massive success of this sale encouraged Osiris Accessories to lower their prices, which is great. Every time I enter their site I see that some picks are on sale, which is another great reason to pay their shop a visit.
Where To Buy Then From
All of Osiris Accessories' products are available through their website.
The Next Picks I Want From Osiris Accessories
There are more picks in their range that I want to test out. Some of them are:
Elite v3 – It's a combination of how good it looks and my love for ply picks. I really hope it'll be back in stock sometime in the near future and that it isn't discontinued.
Imperium v1 – A 0.2mm thick Celluloid sheet sandwiched between two sheets of clear Acrylic. It's interesting to see how Celluloid behaves when it's being forced to be that stiff, and it's one of the best-looking picks I've ever seen.
ShredBevel SBT1 – In the past few weeks I rediscovered my love for Triangle picks. And this one's got speed Bevels, too. That's all the reasoning I need for that one.
Djentagon – It was released right after I made my order, and I wanted to try it as soon as I saw it for the first time.
MaxGrip – The most affordable pick in Osiris Accessories' collection (after the discontinuation of Delrinex). It comes in gold or black, with an interesting-looking gripping surface.
Smaug – A very interesting shape that I'd love to try, with a design that fits right into my Tolkien obsession.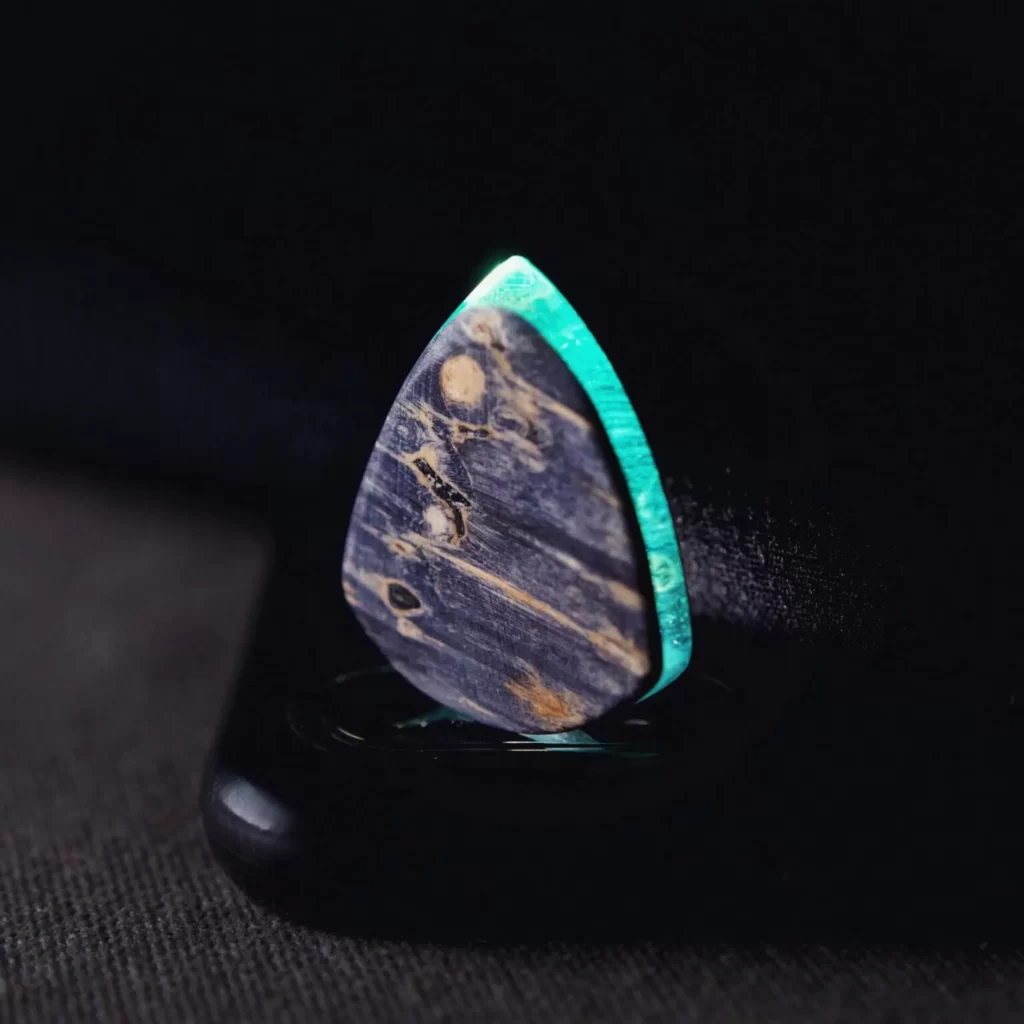 Finishing Thoughts
Osiris Accessories are not just a boutique pick maker, but a high-end one as well. Every single aspect of your engagement with them is designed with that in mind. From the accuracy and attention to detail in the picks, through the packaging, and even the website is meant to "sell" you the feeling that you're about to experience something special. And after they significantly lowered their prices a few months ago, giving these picks a try really is a no-brainer.