Purple Plectrums were launched in 2011. At the time, there weren't as many boutique pick makers as we have today. Purple Plectrums weren't alone in the market, but it was a lot less common for a pick to cost more than a few dimes. In 2019, it was handed over to be run by Kori, who runs it to this day in Washington, MD. Purple Plectrums are known for their material choice and oversized guitar picks. Kori's background in design is reflected in the way he's taking pictures of his picks, but most of all, in the picks' design and in the high standard they are held to.
The first time I heard about them was when I saw a video by Rob Scallon about the picks he's using. He showed an earlier version of Achilleus, a pick I'm reviewing today. Back then, thick guitar picks were a lot rarer, and I couldn't imagine myself using anything thicker than 1.5mm.
A few years have passed, and today thick guitar picks are still relatively niche but a lot more common than they used to be, right on the verge of popping into the mainstream. And I believe that early makers, including Purple Plectrums, are to be credited for it.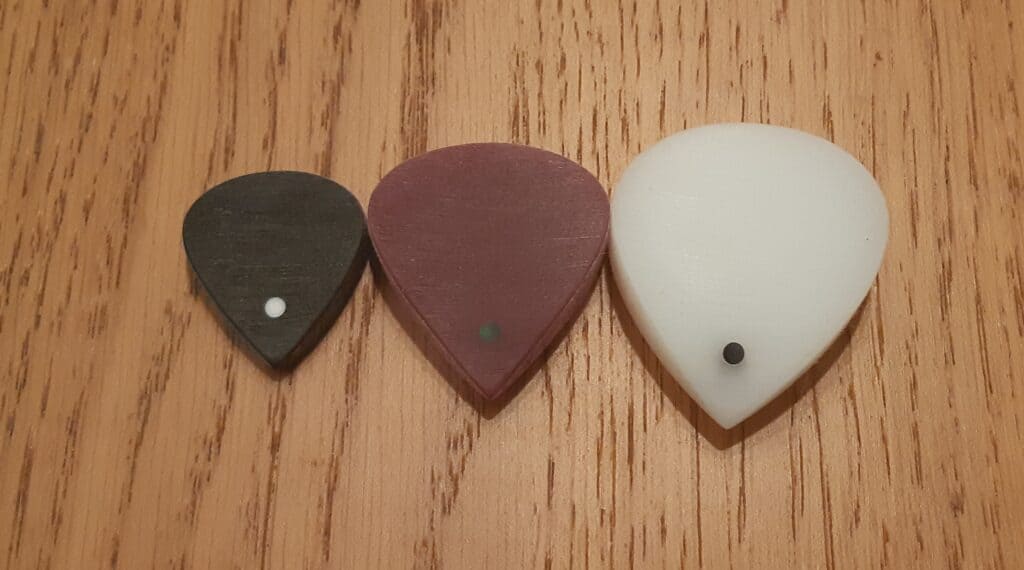 The Purple Plectrums I'm Reviewing Today
For this review, I got the Convert package, which has these three picks:
Ares
A 6.4mm black UHMW-PE pick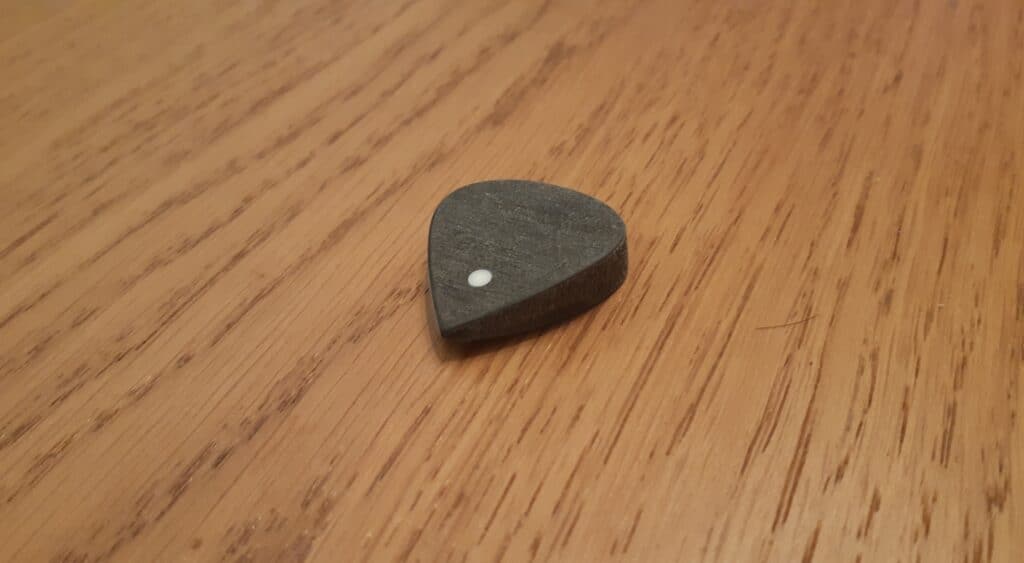 Achilleus – The Rob Scallon Pick
A 9.3mm black UHMW-PE pick.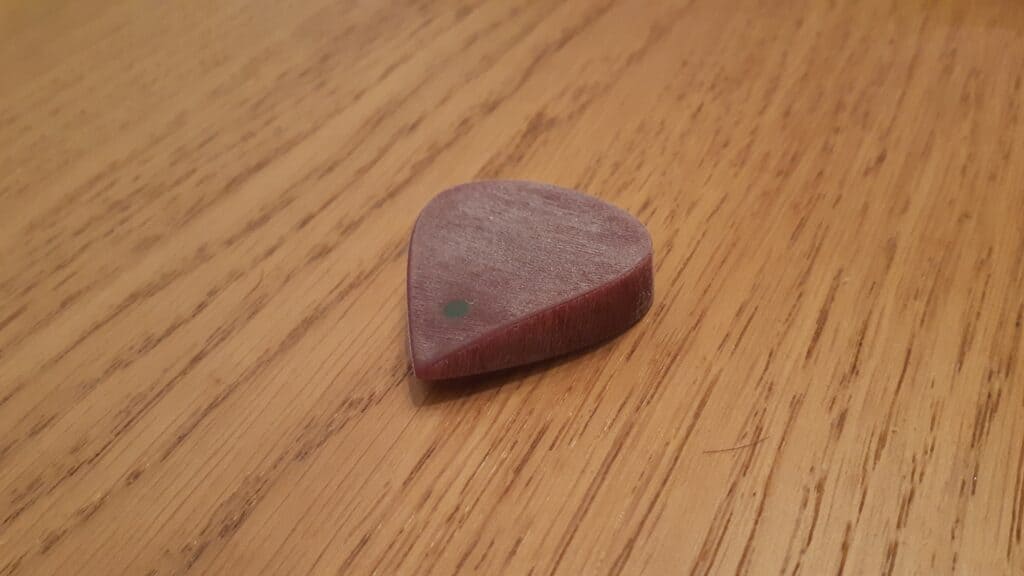 Zeus
This is, by far, the biggest and thickest guitar pick I've ever tried, at 12.5mm.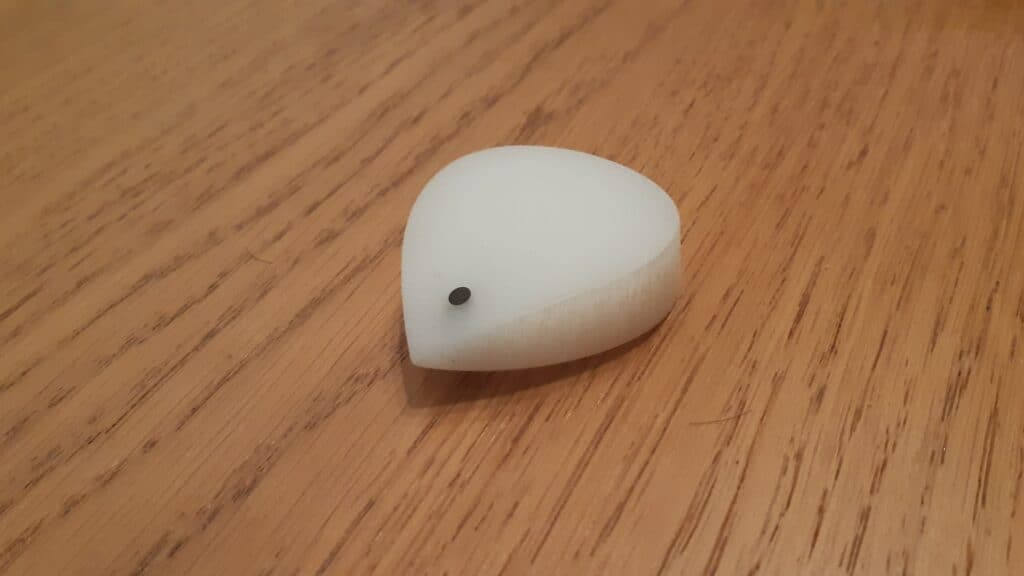 What Are Purple Plectrums Made Of?
Even though today, Purple Plectrums are made of different materials, such as Acrylic, Peek, Torlon, Ultem, and even Aluminum and Brass, they are mostly known for using UHMW-PE (Ultra High Molecular Weight Polyethylene). And that's precisely what I'm reviewing today.
How do They Sound?
They are very soft and warm, even warmer than many types of wooden guitar picks. It's rare to have a pick that sounds so soft and is that durable. These are some of the most consistent picks I've ever had, and they are doing a great job in eliminating pick chirp and other pick noises. These facts made my playing sound more consistent and less sloppy.
Purple Plectrums' Unique Shape
Size
The first thing I noticed about them was their size. It's true that usually, the thicker a pick is, the bigger it will be. So in most cases, a 12.5mm thick pick, like Zeus, is expected to be considerably larger than most common guitar picks. However, these picks (Achilleus and Zeus) are beyond the size they needed to be to support their gauge. They are huge.
I'm not saying that in a bad way, but it does require some getting used to.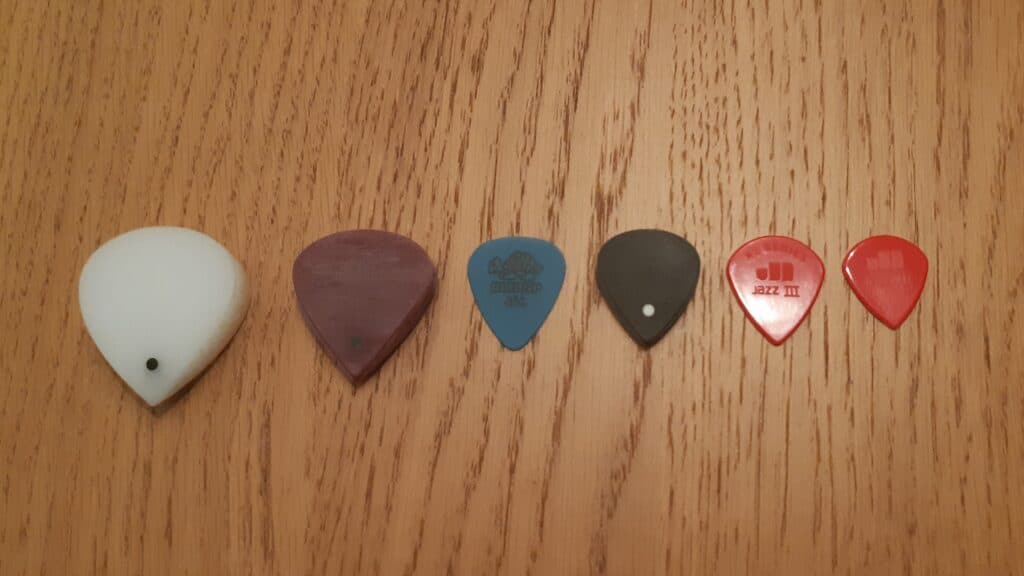 Shape
They have a slight curve at the back, which makes them very comfortable to hold and improves their grip.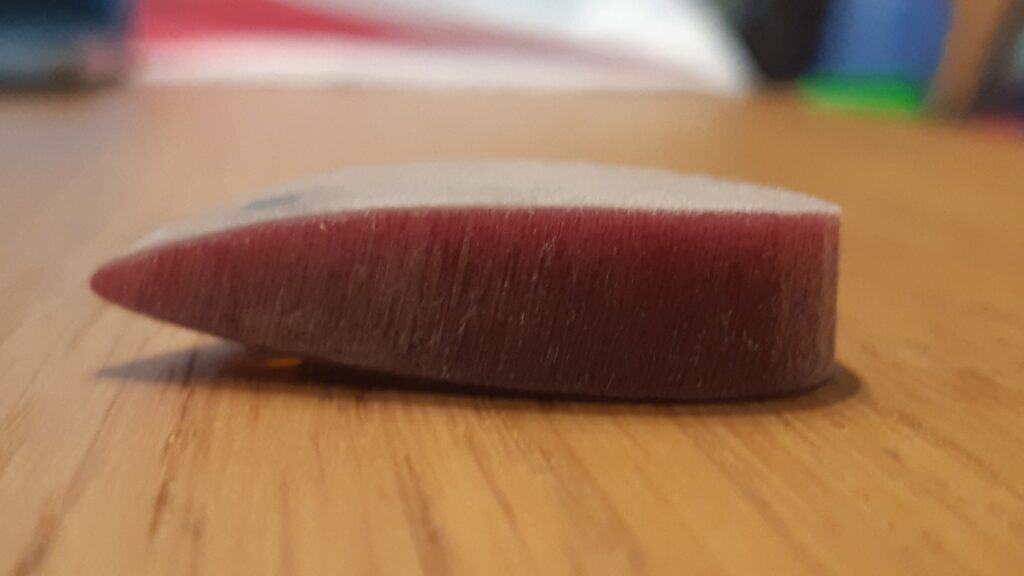 In addition to being slightly curved from the tip to their back, they have some sort of recess on their back. This recess makes space for the thumb, helping it hold the pick comfortably.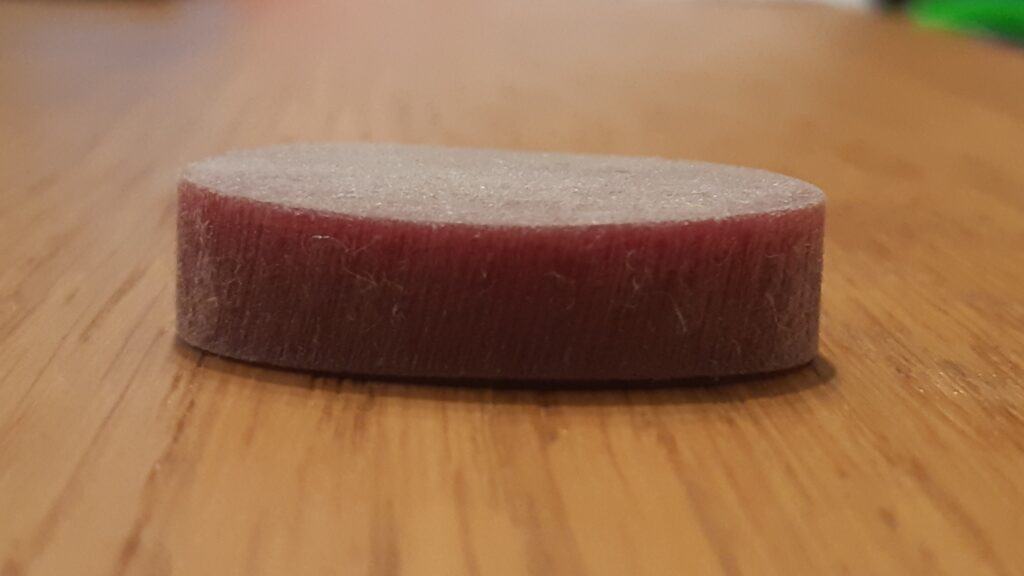 The tip is slightly rounded in a way that compliments the material, contributing to the warmth UHMW-PE has on its own, and allowing the self-lubricating qualities of UHMW-PE to have enough surface area to make an impact. The sides are not beveled at all, but even if you tend to play with the pick diagonal to the strings, the sides are soft enough, so nothing sounds scratchy.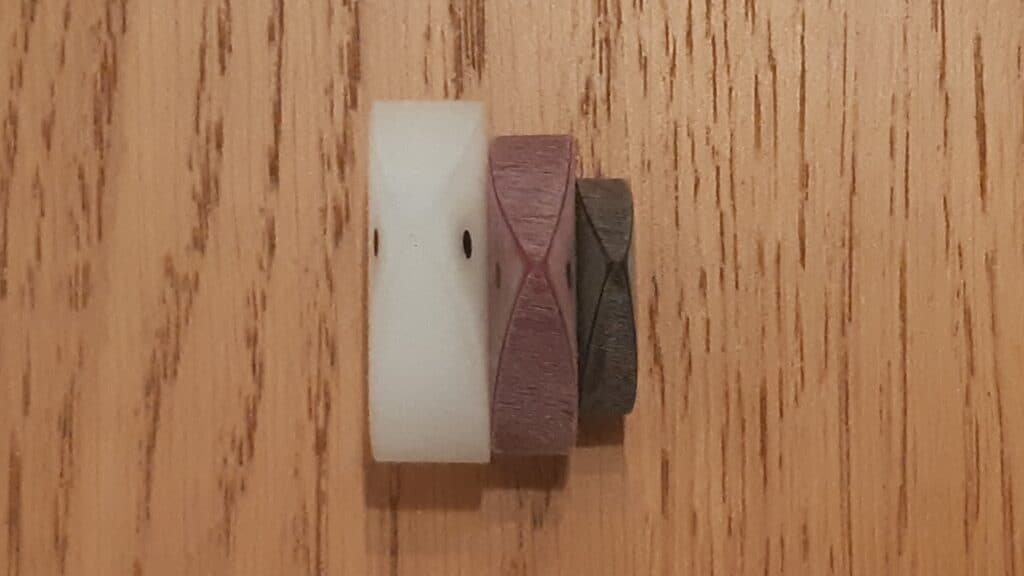 The curve and recess relieve most of the pressure from the hand, making them practically ergonomic. But, unlike most ergonomic designs, Purple Plectrums are symmetrical. This makes them fit both right, and left-handed guitar players.
How do These Picks Feel?
The characteristics of UHMW-PE, together with the shape of these picks, make them very comfortable. They have some sort of velvety texture, but beneath it, they are rock solid. I find the material a bit slippery, but the shape of the picks makes them grip the fingers very well. Their shape is responsible for them being among the most comfortable picks I've ever tried, and also makes them feel smaller than they really are, especially Zeus, which I initially thought would be too big for me to handle.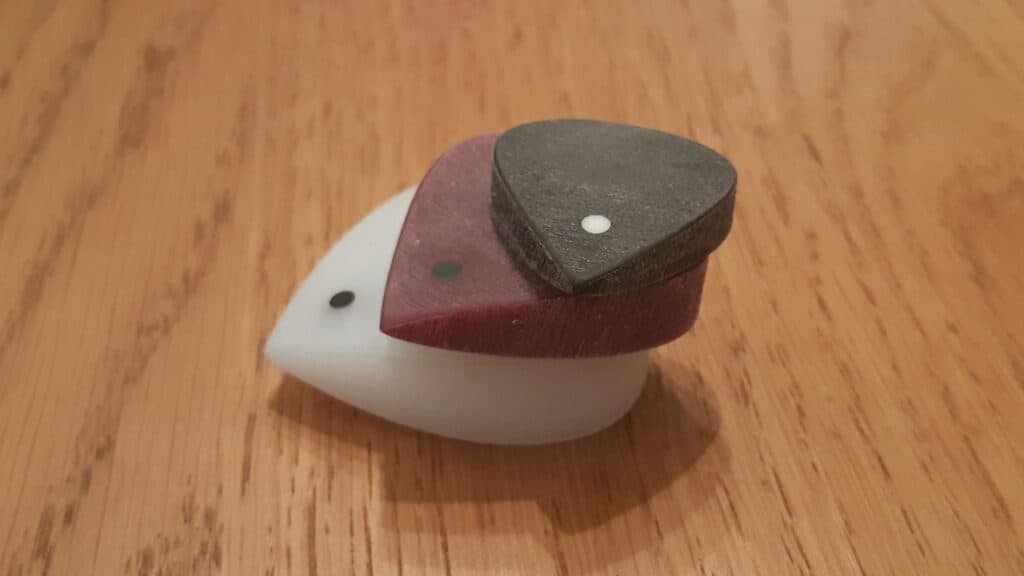 Pricing and Where to Buy Them From?
Purple Plectrums are on the pricier side of guitar picks. Some of their picks go for $70 and more. Thankfully, they also have a more affordable line called "MidTech". Their MidTech line consists of more affordable versions of their designs.
Purple Plectrums are available from their website if you want to buy them.
What Are The Next Purple Plectrums I Want?
There are two picks that I regret not getting, which are Mythos and Blade. Mythos is a 30mm tip-to-tip straight triangle-shaped pick, and Blade is an asymmetrical pick with two different playing tips.
Finishing Thoughts
It's tough to rise to expectations that were built up for eight years. But Purple Plectrums turned out like everything I expected them to be and more. Ares and Achilleus became two of my favorite picks in a short period of time, and even though I prefer them over Zeus, it quickly grew on me, too. The "Convert" package is appropriately named and is an excellent introduction to thicker guitar picks, even if you have never played with a pick thicker than 1.5mm.
Additional Resources
Rob Scallon's Video
This is the video I mentioned in the introduction, the first time I saw a Purple Plectrum.
Purple Plectrums Picks Review
Purple Plectrums sound warm yet, balanced. They feel slightly slippery, but the shape keeps them in place. UHMW-PE is among the most durable materials picks are made of, so these picks will probably outlive me. They are a bit expensive but definitely worth the money, especially with the MidTech series, which is considerably more affordable.