Hippie Picks are the creation of one of (if not the most) colorful characters in the world of boutique guitar picks, Mark Christopher. Among his many different abilities, Mark is a talented musician, woodworker hobbyist, funny as hell, and is proven to withstand spicier food than a dragon. A few months ago I wrote an article called "10 reasons to use boutique guitar picks" and mentioned the sense of community pick makers have. Mark plays a huge role in it, whether by interviewing pick makers or by providing support for new makers.
At first look, it may seem like these picks' unique shape is the only thing that differentiates them from other picks in the market. But let me tell you there's more to them than meets the eye. We'll touch more on their special features later on, but first, some basic facts: They are handmade in the US, from a unique material, are sold in many musical shops, and the Arrowhead shape is patented.
Writing this review was a lot of fun, and I spent a big part of it trying to figure out what they're made of. So I hope you enjoy reading it as much as I enjoyed putting my experience with them into words, and let's get to it.
The Hippie Picks Promises
As stated earlier, their shape is not the only thing making these picks unique, although it does help them stand out. Their main selling point is that they eliminate pick chirp almost completely, which is something that most picks just can't do. They also say that these picks are slip-free, and create zero string drag. Just to put it in a bit of perspective, even Dunlop doesn't have a single pick that can do all of these things.
What Are They Made Of?
If you'll take a closer look at their website, you'll see that there is absolutely no mention of the material. That's because it's a proprietary blend, and almost no one knows what's in there. So the short answer to the material question is that I have no idea. But don't let that stop us, we have enough clues to, at least, have a general understanding of it. Our first clue was already given to us by Mark: It's some sort of plastic. It's not a very good clue, though. I could've figured it out by myself.
They feel a lot like Delrin, and their warm tone resembles it as well. There's a little high-end spark in there, so I initially assumed that there's some type of Nylon there too. But not a cheap Jazz type of Nylon, more like a slowly heated one. The thing that made me question it is the toughness. These picks are more rigid than either Acetal (the base material of Delrin) or Nylon. The only material that comes to mind is Thermosetting Plastic, which can explain both the high end spark and is known for its toughness. So I'm guessing it's an Acetal-based mix of plastics, that has some sort of Thermoset in it too.
Hippie Picks' Models
Hippie Picks come in two different shapes: Arrowhead, and HipIII (Jazz III shape). Each pick will need some breaking-in time, which is around 5-10 minutes of playing. After that, they'll sound and play very consistently. Here's a little summary of each one of the two.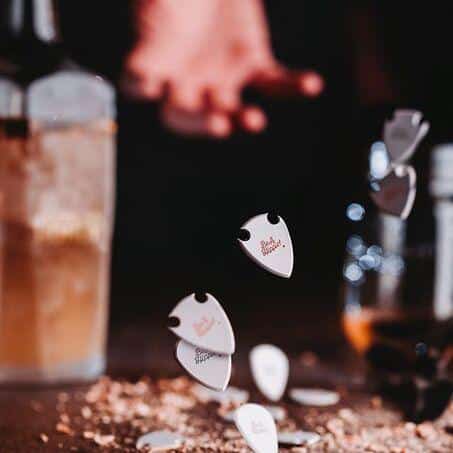 Hippie Picks' Arrowhead
The Arrowhead is based on the classic 351 shape, with a slightly sharper tip. It comes in 2 gauges: 1.5mm and 2mm.
For a long time, I thought that the claim to be the first and only Arrowhead-shaped pick in the world is quite odd. Because in a way this is like being the only green dotted pink speaker. It's unique, but what's the point of it other than being unique just for the sake of uniqueness? After playing with them I immediately got it. The shape is very comfortable, and even though the material is grippy on its own, the two horns make it stay exactly where you want it. The bevels are softening the attack, creating a great consistency with the core sound of the material.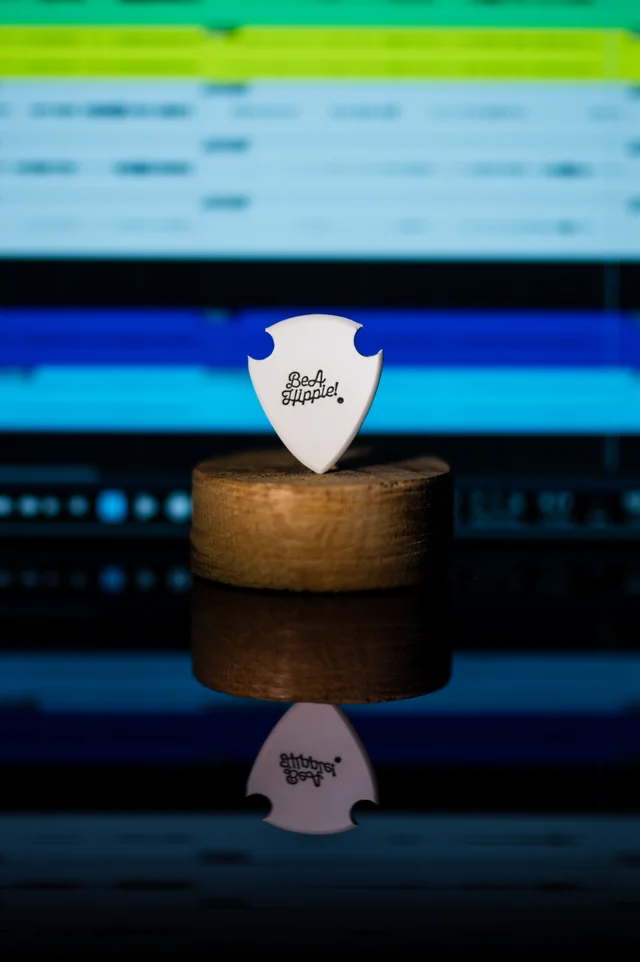 Hippie Picks' HippIII
As the name suggests, the HipIII Is based on the Jazz III shape. It's currently available at 1.5mm only (even though I'm almost sure it used to be available at 2mm too at some point). Although this shape needs no introduction, The HipIII pick is very different than the Jazz III. It's a lot stiffer, sounds warmer, glides very easily across the strings, and really makes no chirp noise (which I'll consider as its main selling point).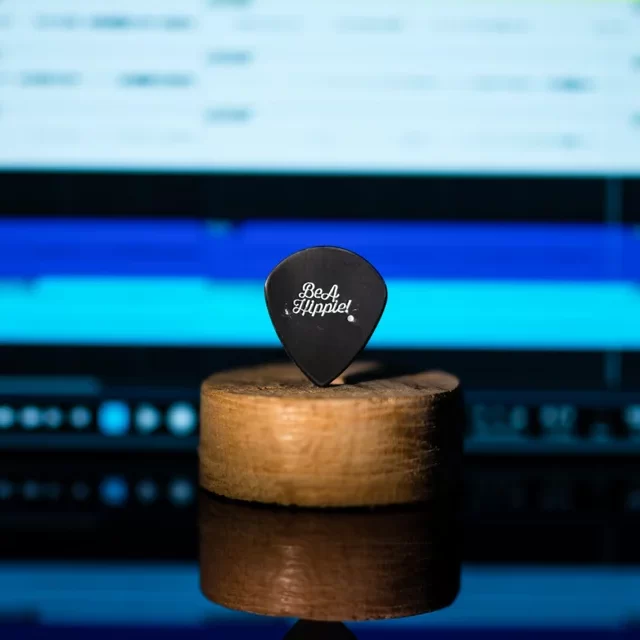 Reception
The number of positive testimonials and reviews these picks received from guitar players is mind-blowing. They're being sold in 10 different stores in the US (with more and more added every month). Mark is attending tons of music conventions, and it looks like their future is very bright.
It's true that Mark's attitude is responsible for a lot of what happens there. A great personality can help open doors, but no one will buy (not to mention sell) a pick they don't really like.
The Hippie Picks Promise – Follow Up
As I've mentioned before, Hippie Picks are claiming to be non-slip, create no string drag, and be pick-chirp free. After a month of playing with them, here's how these promises held up.
Non-Slip
The material itself is grippy enough on its own. Together with the slightly engraved logo, it makes a non-disturbing and very effective grip surface. In terms of control, the holes in the Arrowhead picks adds no grip. What they do is they provide a lot of extra control, which is very helpful when you try to change the tilt angle while you play.
Zero String Drag
Even though the material is very grippy, the surface of it is very different from its inside. When played, only the beveled part is touching the strings, making them glide very effortlessly over them.
Pick-Chirp Free
What can I say about that other than that I take my hat off for what Mark has done here. I've been playing with them for about a month and I didn't hear a single chirp from them. At first, I thought it has something to do with the beveling, but HipIII's bevel is different than Arrowhead's. This leaves only the material, or some sort of combination between the two. Being beveled by hand says a lot about the attention to detail required to make them.
Pricing and Where to Buy Them From?
Each of the Arrowhead picks cost $5, and the HipIII cost $6. You can get them directly from Hippie Picks' website, or through any one of these stores:
Willis Music Stores – West Chester and Cincinnati, OH, and Florence and Lexington, KY.
Artistry Barn – Dry Ridge, KY
Corners Music Store – Nashville, TN
KSM Music – Logan, UT
Old Town Music – Portland, OR
Maxwell's House of Music – Jeffersonville, IN
Final Thoughts
It's hard to differentiate Mark's great vibes, positivity, and his big contribution to the boutique picks community from the picks themselves. Mainly because these picks are some sort of an extension of his personality. They are very easy to get used to, no matter whether you are a classic 351 or a Jazz III player, and they sound really great. I can easily recommend these to any type of player.
Videos By Hippie Picks
Hippie Picks - Full Review