Boss is the pioneer for crazy guitar and bass effects. The Boss AW-3 Dynamic Wah Guitar Pedal is absolutely no exception. This stomp box is out of control. When you compare the capabilities of this little guy to the function of standard wah pedals, it really is dynamic.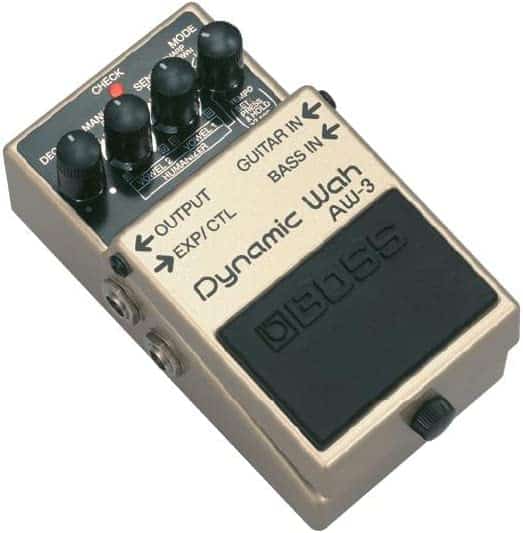 This pedal has a standard input and output. It also has a bass input and a plug-in for an expression pedal. The option to use bass or guitar with this pedal is phenomenal. The wah sound for the guitar is really over the top. But this thing manipulates a bass like 88 miles per hour manipulates Marty McFly's years.
In all seriousness, this really brings out some beyond-the-grave kind of sounds for bassists. If you want the TOOL kind of bass spaciness, then add a little bit of reverb and toy around with this pedal.
For guitar, this pedal provides wahs that are suitable for a huge range of music genres. With the humanizer effect, you can even change solo tones to emulate the human voice.
What is it Useful for?
These features are fantastic. I can imagine using this in reggae, black metal, thrash metal, rock, blues, jazz, you name it. The possibilities are endless. You can achieve sounds like the solos you hear in the music of SRV, Van Halen, Dragon Force, Sleep, Acid King, Nachtmystium, Clapton, Joe Walsh, and whatever else you could be after. With Decay, Manual, Sensitivity, and Mode adjustments, the pedal allows the user to calculate an incredibly broad range of feelings and emotions.
Conclusion
I think this is one of the most unique works by Boss to date. For $170, you can get a wah pedal that is ten times cooler than any standard wah I have ever used. I feel like I'll never use a foot adjustable wah pedal again. By plugging in an expression pedal, you can even allow that to function as a tap tempo in case you're worried about not having the freedom that a manual wah offers. I couldn't believe how cool this pedal was or how affordable it was. Find one in a music store near you or online, and get ready to fry your brain!
At the time of writing this review, there's a 15% off sale on Amazon, so if you want it, this is a great time to buy it.