As I've stated before (in my best wooden picks article), this is not the first time I'm playing with one of GT Plectrum's picks. In fact, the first time I tried them left such an impact, that it was enough for them to be my second favorite wooden guitar pick. Up to this point, I have only tried the Delta pick, which is quite odd-shaped. It grew on me after a few minutes of usage, And after 40-50 minutes of jamming – it was already hard to use other picks. I got in touch with GT Plectrums and asked for a few recommendations about what should I get if I want to review their line of picks in the most complete way and this is what I got:
Standard Kingwood 2.5mm
Standard Grip Ironwood 3.5mm
Teardrop Grip Wenge 2.8mm
Standard XL Chechen 2.3mm
Jazz III Bubinga 3.3mm
Jazz III Grip Ziricote 3mm
Africa Grip African Blackwood 3.4mm
Delta Gaboon Ebony and Ziricote 3mm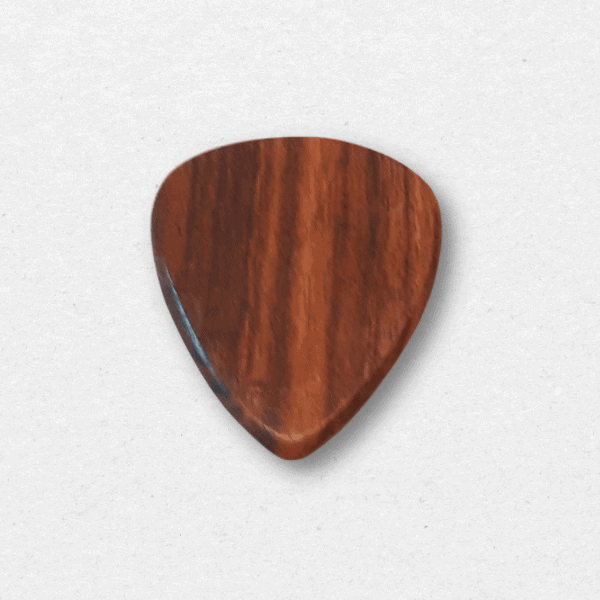 What are they made of?
The GT Plectrums I'm reviewing are made of wood. As mentioned above, I have picks made out of Kingwood, Ironwood, Chechen, Wenge, Bubinga, Ziricote, Blackwood, and a combination of Gaboon Ebony and Ziricote. Additional available wood types are Suriname Ironwood, Bocote, Patagonian Rosewood, East Indian Rosewood, Honduran Rosewood, Marblewood, Bloodwood, African Padauk, Macacauba, Olivewood, Purpleheart, African Mahogany, Zebrawood, Redheart, Tamarind, Grenadilla, Lacewood, Bolivian Rosewood, Yellowheart, Canarywood, Pau Rosa, Pale Moon Ebony, Katalox, and more…
How do they sound?
As well as other wooden picks, these are very warm-sounding picks. They also have a great smooth attack and they are super consistent. Of course that each shape has its own characteristic (The Africa model, for example, has 5 different usable tips), and each wood type has its own twist. I'm having a hard time picking my favorite sounding pick from the bunch, and in that case, I'd go for convenience over sound because the differences are so subtle that I can't even attribute them to the pick rather than my playing.
How do they feel?
GT Plectrums are some of the most comfortable non-ergonomic picks I've ever tried. When I say non-ergonomic, I mean that they weren't designed with ergonomics in mind, like 99% of the picks out there.
I do know that the Teardrop, Standard, and Jazz III models (both with and without grip) are probably the easiest models for most players to get used to. But after a few minutes of playing with GT Plectrums' Africa and Delta models, It all comes together. And it's getting harder to go back to using a "regular" pick. The Africa model is a lot easier to get used to, and is extremely versatile (you can play with any one of its sides). The delta is my favorite though, mostly because it has some sort of magic I can't quite explain.
The originals: Africa and Delta models
They look a bit odd and extremely uncomfortable, I agree. Just give yourself a few minutes for getting used to them and then try switching to anything else. It's like you don't understand how comfortable they are until you tried to switch to another pick. I have a hard time deciding which of them I prefer, but they're both in my top 10 picks now. The Africa model has a lot more options because you can literally hold it however you want and you'll get a different playing experience. And there's something about the Delta I can't explain. Just wish it was a little bigger.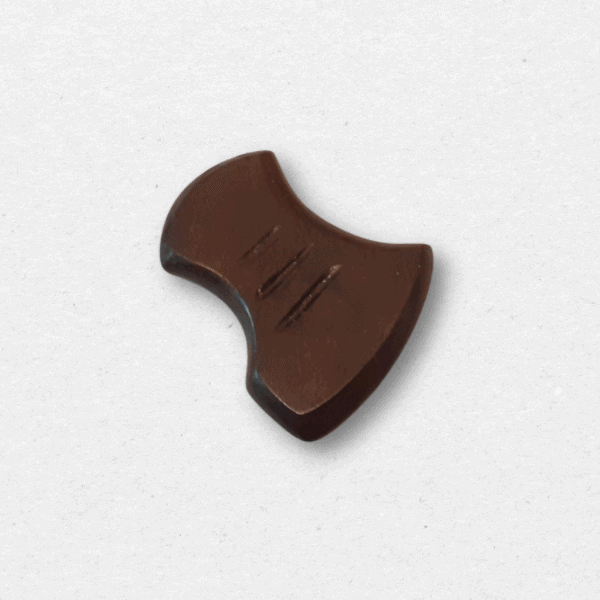 What shapes and gauges are available?
Even though a lot of GT Plectrums' work consists of custom-made picks, they do have a line of models that include shapes you are familiar with, such as the Jazz III, Teardrop, Standard, and Extra Large. Their best work, in my opinion, is their original designs: Delta and Africa. Most of their picks come at 2.5-3mm, and they have a noteworthy bunch of 9mms. But custom orders go up to whatever thickness you want. One thing that did bother me a bit at first is that the Teardrop is a bit oversized. I think is mainly a matter of preferences, because I've always been into smaller picks.
Pricing
GT Plectrums' picks cost anywhere between $10 and $40. Their regular ones cost between $10-$15, and custom order ranges between $25 and $40. It may sound like a lot, but if you've ever bought a boutique pick, you know that this is the price for a handmade pick. And if you consider the quality of the product you get, it really is a no-brainer.
Where to buy them from
Like most boutique pick makers, GT Plectrums are being sold through their Instagram profile. Some models are also available through Papa Plectrums' store if you're in the Netherlands.
My take on journalism
When I review a boutique pick, I always ask the maker one question: Which other makers do you like? and this is what GT Plectrums answered: I love all the guys on this little corner of Instagram! Plumstone, Dragonpicks, RPM Stoneworks, Jacketto, Old Hands to name just a few. Everyone is so talented and doing something unique and interesting they're all such an inspiration!
Finishing thoughts
As I said before, this is not the first time I use these picks. I was a little worried that my expectations inflated over time, and got a bit unrealistic. They haven't, I'm enjoying them very much (in fact, I think they even got better). These are great picks, and I expect them to last a very long time. Will I order more? 100% yes.
---
Pick Makers, if you want your picks reviewed, or have anything cool you made and want to share – send me a message, I'd love to hear from you!
---
Disclaimer
This is NOT a paid review. It was written based on my own experience playing the picks I purchased and based on that only. GT Plectrums didn't send me the picks for free, although, I did get a discount. I spoke to him while writing this review to get additional information, clarifications, some additional pictures, and updated pricing.
---
GT Plectrums Review
Amazing picks, I enjoyed (and still enjoying) every second of playing with them. They sound warn, glide well across the strings, and the finish is stunning. Even after knit-picking and checking every aspect of them for almost two weeks, I couldn't find anything I really didn't like about them.