Wooden guitar picks are known for having a warm tone, big variety, and for not being as durable as other pick materials. last a few months before wearing out. The good news is, that all it takes is sandpaper to get the shape back to what it used to be. I fell in love with wooden guitar picks a few years ago when I saw a demo on youtube, featuring a pick maker that since then has closed his shop. Since then, I have tried many different designs and makers, so here are my rankings for the best wooden guitar picks:
#1: TerraTone Wooden Guitar Picks
TerraTone picks are unique in the wooden guitar picks world. They used to be relatively active on social media but haven't posted in months. When I talked to him (while collecting information for the review) he told me that he'd rather focus his time sanding picks and playing with his kid than taking 50 pictures that look the same and posting them every day on Instagram. He makes his picks out of wenge, hard maple, purpleheart, olive wood, padauk, zebrawood, and mahogany. They come in most common shapes (Regular, Teardrop, and Jazz III) and in various gauges between 1.5mm to 3mm, while the olive wood can go up to 15.5mm. The thing I like the most about TerraTone Picks is his attention to detail. For example, he only uses a non-toxic finish on his picks because he knows many players put the picks in their mouths. The prices for his wooden picks vary between $11 to $20, while all the standards (1.5mm – 3mm) are at $11 and the thicker ones are more expensive. You can check out my full TerraTone Picks Review here, and buy them directly from his Instagram profile.
#2: GT Plectrums
If I needed to describe GT Plectrums in one word it would have to be "unique". Why? Because their design style is easily recognizable from miles away. To be honest, I played them only once, when jamming at a friend's house. But it stuck with me. I remember it vividly because it blew me away. Now that I think about it, It's about time to get some and write a proper review. You can buy these picks from their Instagram profile. But until then, I'll let the images do the rest of the talking.
Update: Since writing this description, I bought some picks from GT Plectrum and prepared a full review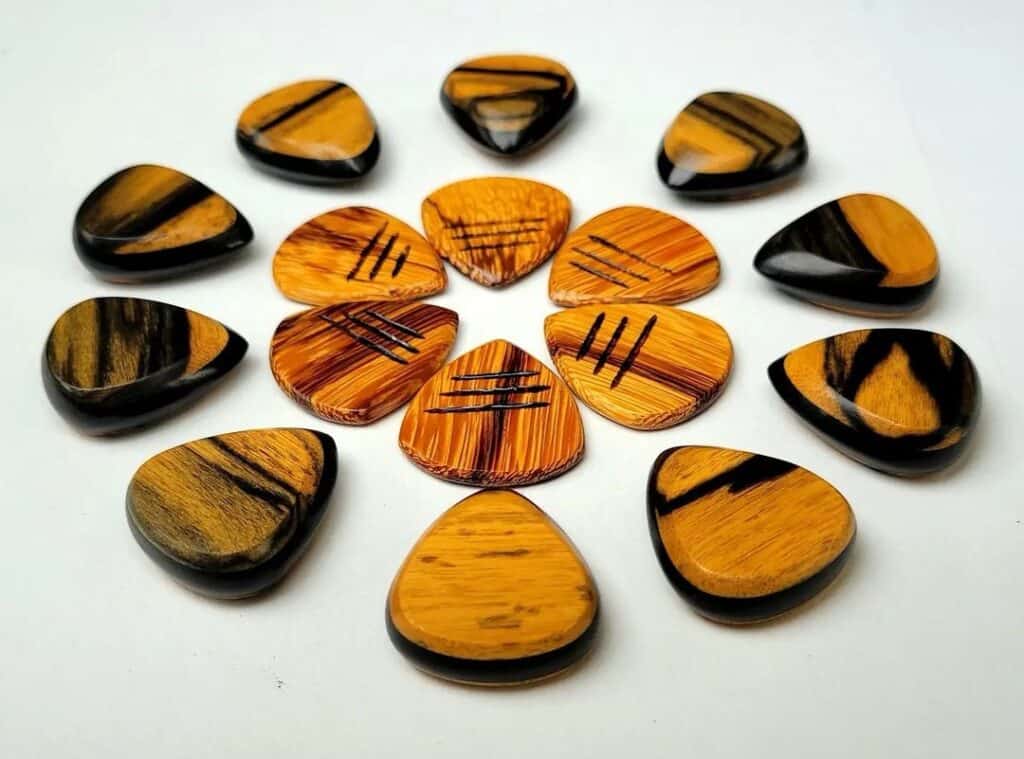 #3: Timber Tones Wooden Picks
It feels like Timber Tones were here for ages, as they were founded in 2009. They are extremely successful – and for good reasons: they are well made, consistent, and have a huge variety of wood species in 11 different shapes. My problem with them is that it feels too industrial to me. All the picks are machine cut, and all the designs are part of a template. It doesn't mean they're not good, because they are. In fact, they produce a lot of different types of picks and rank on almost all of my lists. Their wooden picks start at $3.40 each and go up to $31.5. You can buy them from Amazon, and read my full review of them here.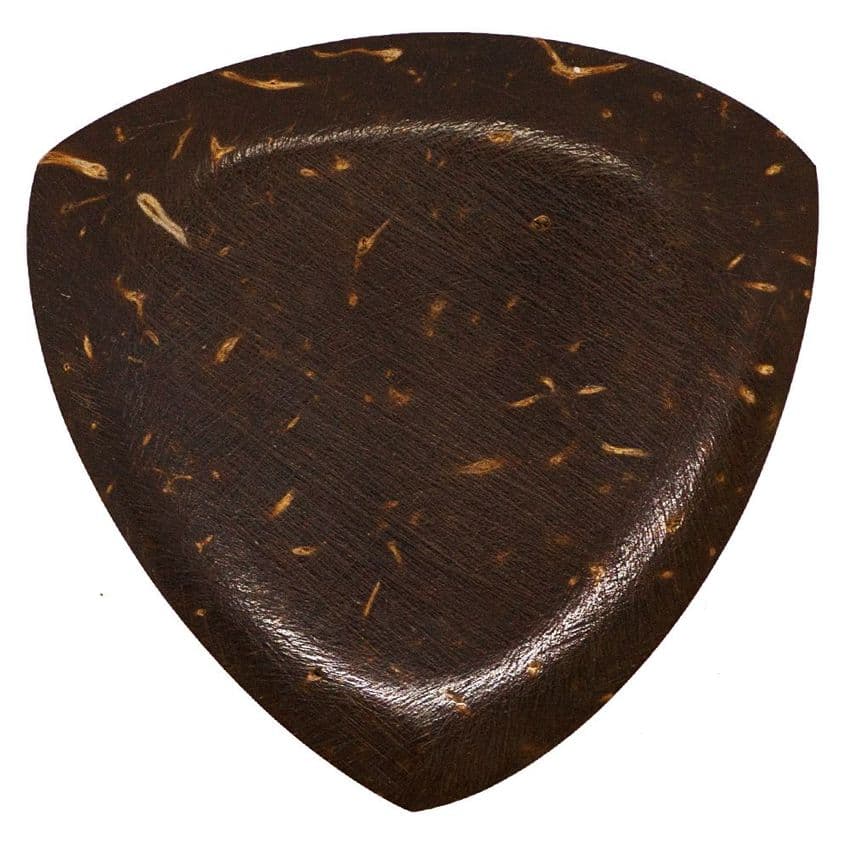 #4: Thalia Picks
Thalia Picks (or Thalia Capos, to be exact) are the one brand no wooden picks list can be whole without. Their capos were revolutionary when they came out, and then they released their line of wooden picks. I was so excited, that I ordered 2 variety packs without even reading the full description. If I have taken a few seconds to read it though, I'd see that these are not what I had in mind as "wooden picks" at all. They are thin strips of wood veneer glued together, not even beveled. I didn't care for them at all. After a few strums (which were enough to wear the pick) I put them back in the tin box they came in. I still have them all. At least the tins are nice…
Recently I saw that they released a new version of their picks. Now they're beveled.
You can read our full Thalia Picks Review, or buy their picks from Thalia Capo's website.