I have a pretty predictive morning routine. I take my coffee to the office and go over my emails. Most of my emails are pretty predictable, too. Some Instagram notifications, blog comments, and an occasional shipping update (usually, guitar picks, ya'know). One morning, though, I got an email I didn't expect.
A guy named Nick told me about a new product he developed called Guitar Stay. The way he described it made me curious, but in all honesty, I didn't understand why anyone would need it. Thankfully, my curiosity won the battle against my morning grunt and I asked him to send me some to try.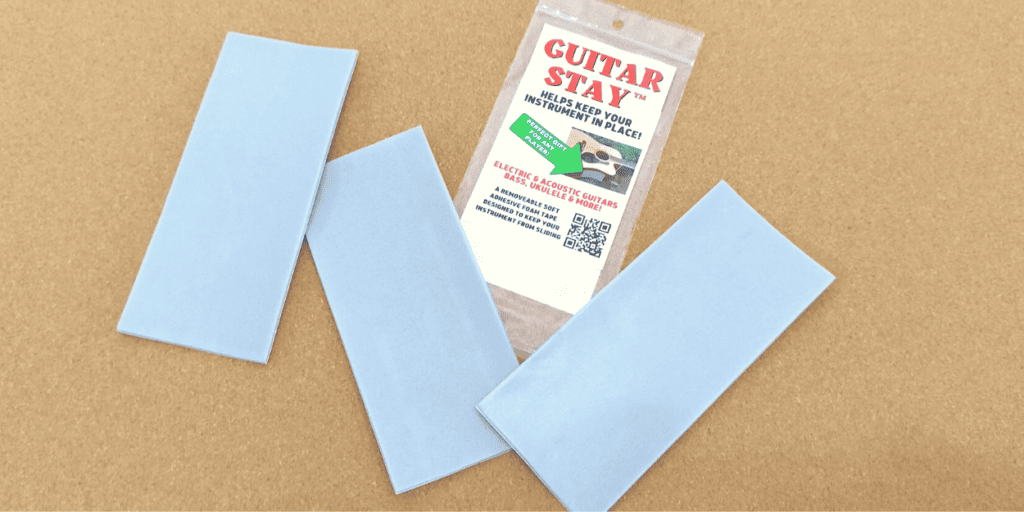 Guitar Stay – A Product Overview
The Guitar Stay, as a product (at least before you dive into the technical aspects of it) is quite simple. It's a foamy material that sticks to the guitar with an adhesive.
It prevents the guitar from moving around when you play, but its highlights are that it doesn't leave residues on the guitar when you take it off, it is completely finish-safe, and as long as the adhesive doesn't catch dust – you can attach it as many times as you want.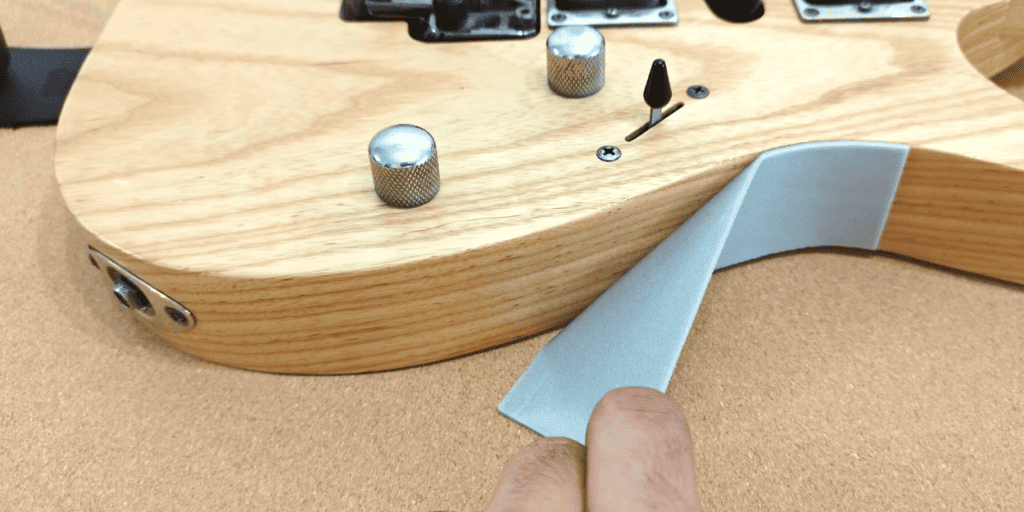 I have real difficulty trying to figure out to which category it belongs. On one side, it is obviously an accessory. It's simple, has a clear purpose and enhanced the way you use the instrument, just like a pick grip helps with handling a guitar pick. One the other side, how can a completely unique producr not be regarded as a gadget?
How to Use the Guitar Stay
This is pretty simple, actually. Just cut the Guitar Stay to the side of your guitar, peel the cover, and stick it on. If you messed up, take it out and try again. Make sure your guitar is clean before you put it on, because dust can reduce the adhesive's effectiveness.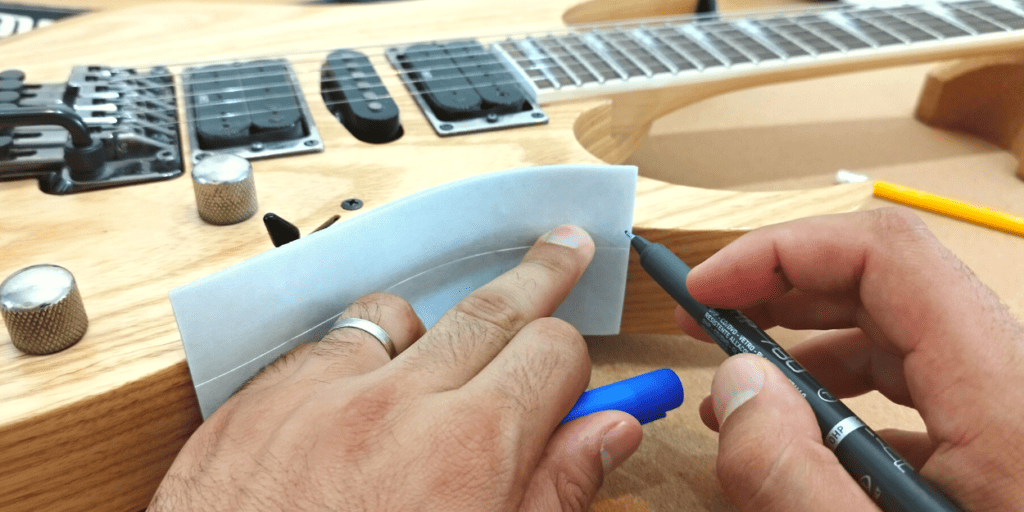 Keep the leftovers because they are great as guitar pick grips. In fact, being that soft, they are among the most comfortable pick grips I've ever tried.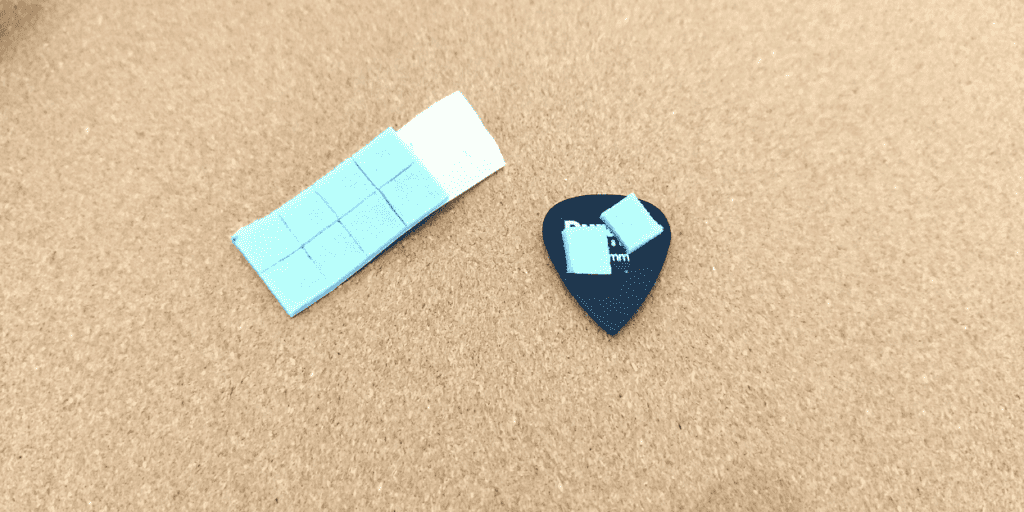 On their site, they advised using scissors to cut the Guitar Stay to size (mostly on electrics), but I found it more comfortable working with a precision knife.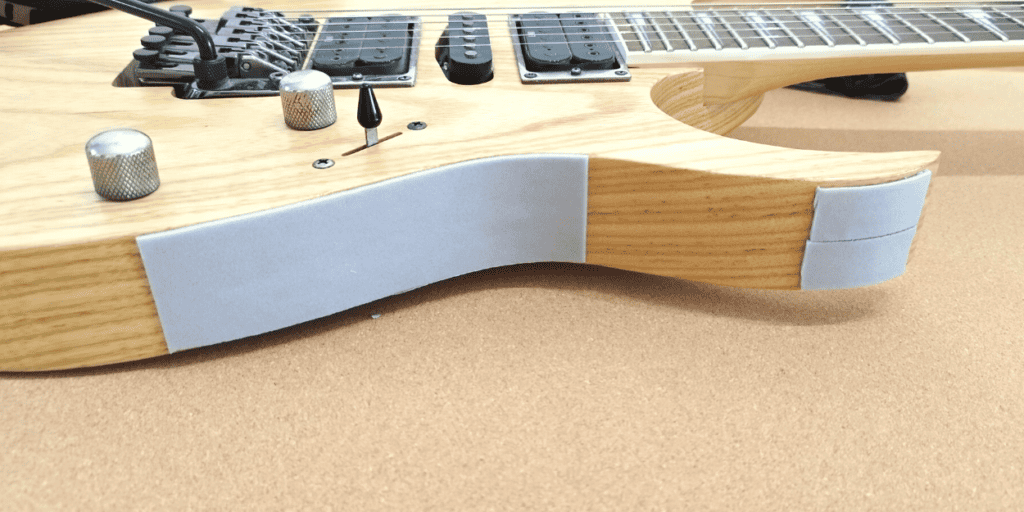 Some Notes About the Guitar Stay
Because Nick sent me a few of these, I was able to experiment with them or use them in a more liberal way than if I have bought them myself, so here are some things I learned myself or read in there website.
Cut it with a sharp knife or scissors, a blunt blade will "saw" through it and make the cut very rough.
Measure twice, cut once. Even though it will work just as well if you cut it a bit off, why not just make sure your measurements are correct in the first place?
Don't store it in a temperature above 105 °F or 40.5 °C
Try to not stretch it, because as much as the foam part is flexible, the adhesive is not.
What is it Good For
As I see it, there are 2 use cases for this type of product:
Guitar Students
The obvious use case for this type of accessory is guitar students because it makes it easier to hold the guitar. Preventing the guitar from slipping all over can help a student focus on finger placements, strumming, picking accuracy, and getting used to a healthy pose instead of trying to balance the guitar.
Playing Sitting Down
Another use case, which is why I personally liked it so much, is playing sitting down. When I review picks or record, I do it sitting down. 9 out of 10 times, I'm sitting on an office chair, which makes holding a guitar a challenge because I like it when the neck is angled upward. I use the Guitar Stay to the guitar doesn't slip from my thigh and another tiny piece so it doesn't slip from the chair.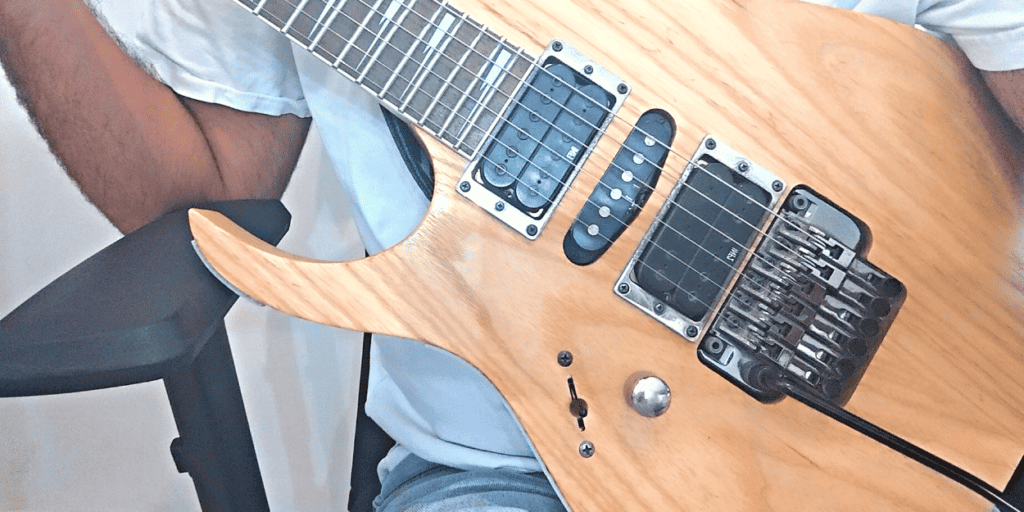 Pricing and Where to Get It From
Each of these costs $15, and they're available from the Guitar Stay official website, as well as from Amazon.
My Honest Opinion
If you read until this point, it's clear that I liked it. The price is fair, especially because you can re-stick it or move it between guitars, and the product does what it's meant to do in a great manner.
The thing that surprised me the most is that I didn't know how much I needed it before I tried it.
I have it almost on all of my guitars, but I can't put it on my bass because the sides of its body are completely round, and I don't want it to stand out this much.
Having more colors to choose from would've been great because that way it could fit any guitar.
Finishing Thoughts
I'm very happy with the quality of these, and I'm very likely to buy a couple more in the near future. I'm so impressed with them that a couple of days after I got them, I added them to my favorite accessories and guitar gadget list.
Have you bought some? What was your impression of them?
---
Disclaimer
Even though I mentioned it at the beginning, I want it to be clear that I did not pay for the ones I got. That, however, didn't change the way I wrote about them or the way I expressed my opinion about them.