John Petrucci is one of the best guitar players in the world. You can easily appreciate his talent, even if you don't like the genre. John Petrucci currently has four different signature picks made by Dunlop: two versions of Jazz III, Flow, and a triangle. All of which we'll look into today.
John Pettruci's Signature Picks
As I mentioned before, John Petrucci has four different signature guitar picks made by Dunlop:
Signature Jazz III – 1.5mm thick and slightly longer than the original Jazz III
Triniti – A 1.4mm thick rounded triangle pick
Signature Flow pick – 2mm thick Flow-shaped pick with no added grip.
Signature Primetone picks – speed beveled, 1.38mm thick Jazz III shaped pick, available in red and black.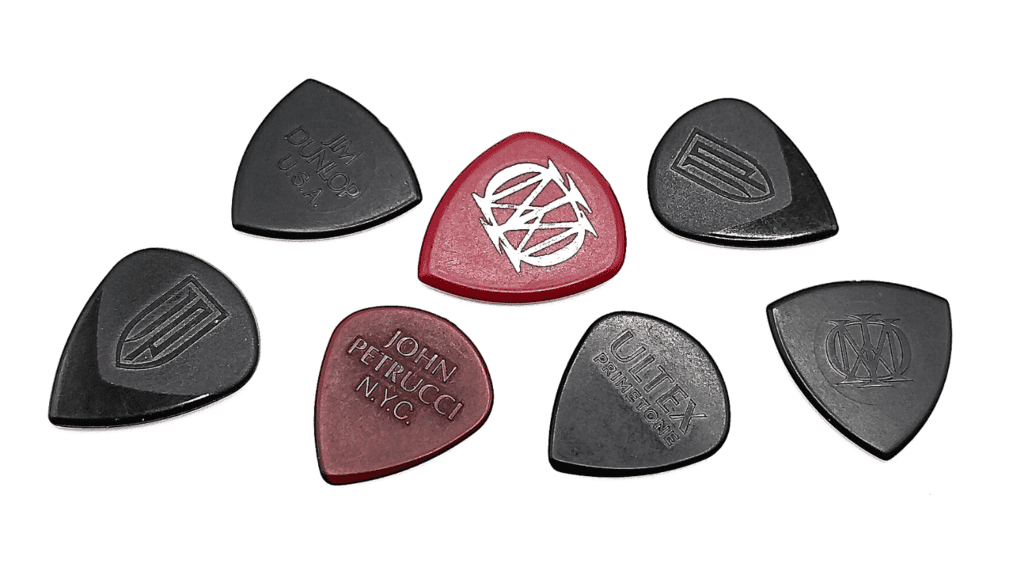 John Petrucci Signature Jazz III
The oldest and most famous pick by Petrucci. First introduced in 2012, it features a longer body, compared to the original Jazz III, a highly polished tip, and raised logo to act as a grip. Being sharper than Jazz III, it requires more discipline from the player, but it makes up for it by having more surface area to grip. Overall, I can easily understand why this pick is so successful.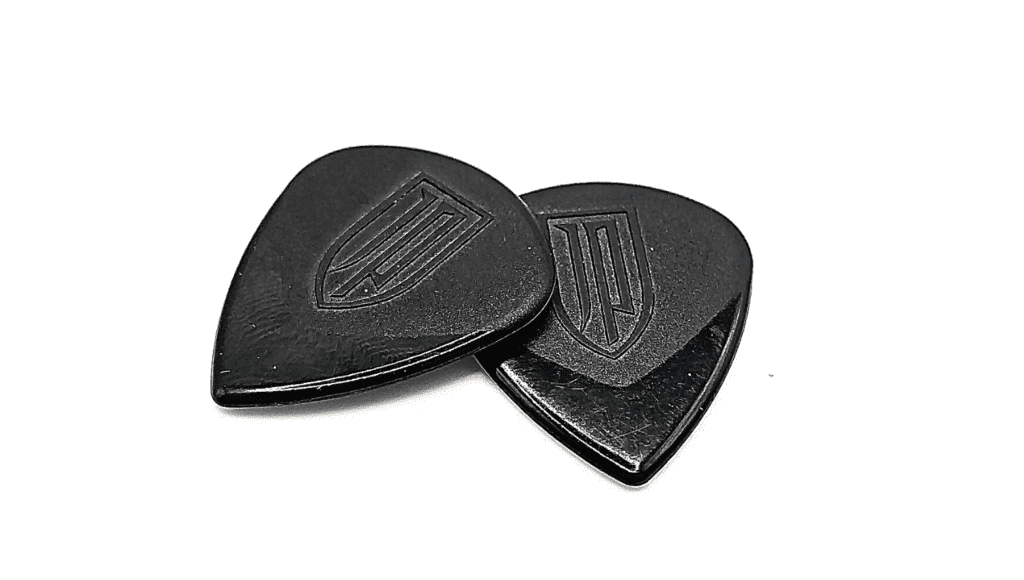 Triniti
Triniti's design is quite clever, having the curves of the Flow, the tip and bevels of a Jazz III, and the stability of a triangular pick. It has a slightly raised grip in the shape of Dream Theater's logo. And being a triangle pick, it wears three times slower than any other shape.


John Petrucci Signature Flow Pick
This is a 2mm thick Flow pick with no gripping surface. It's as good sounding and consistent as any other Flow pick. And if you, like me, like to reposition the pick while you play, this is the pick for you.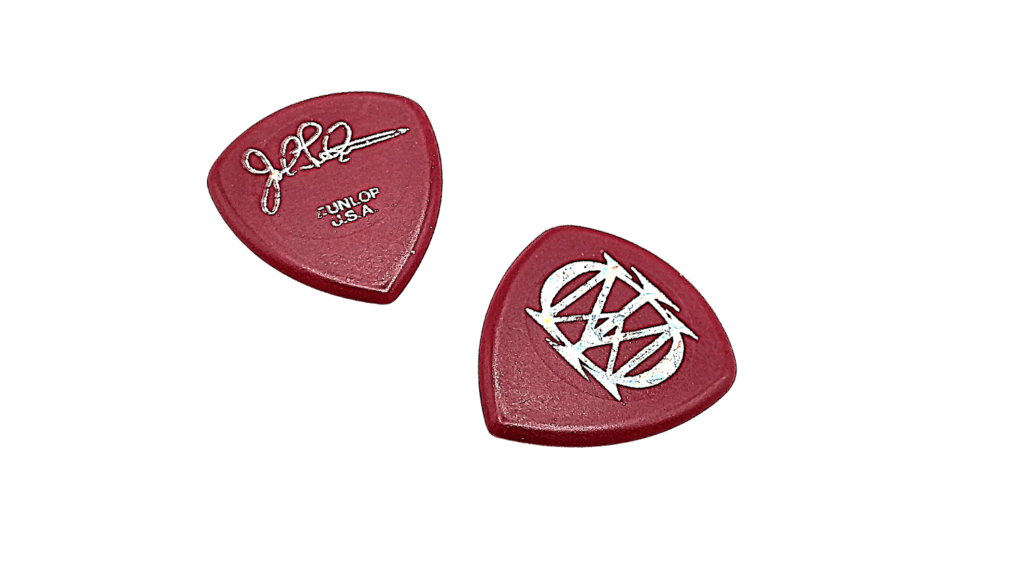 John Petrucci Signature Primetone Picks
A speed-beveled Ultex Jazz III – how did no one think about it before? Everything about this pick is right, as I like my picks. It's small, precise, well-weighted, can be bright but controllable, and fast. If you ever played a Rock III pick, this is the exact same shape.


What are They Made of?
Every single one of John Petrucci's guitar picks is made of Ultex (Ultem). Ultex is bright, consistent, and very durable compared to other materials. I never played with an Ultem pick that wasn't great, but on the other hand, having every pick in a variety pack made of the same material is limiting the "variety" aspect quite a bit.
As much as it limits the sonic possibilities you can get from it, I understand (and am pretty happy) that I get to play picks that one of my idols really likes, and it's very obvious that John Petrucci likes Ultex.
Variety of Shapes and Sizes
I think that, above all else, this is a great collection of picks that are actually very different from each other. It's very rare for a single variety pack to have a round beveled pick, a sharp small triangle, a Jazz III, and two additional speed beveled picks.
My Personal Favorite
Even though I recently had a very long Tri phase, followed by a much more recent Flow phase, the Primetone Jazz is my favorite. And I think it just became my favorite Jazz III alternative.


Pricing and Where to Get Them From?
Every one of the picks in this review came from this variety pack. It contains 2 Primetones, 2 Triniti picks, Signature Flow, and Signature Jazz III. A total of 6 picks costs $11 on Amazon.
Finishing Thoughts
This is a top-quality collection of picks that any player would enjoy using. Even though all the picks are made of the same material, they are different enough to offer a diverse pack. It may have been better to have two Jazz IIIs or Flows rather than two Trinity picks, but other than that, I have zero complaints.
John Petrucci Signature Picks Variety Pack - Final Verdict
Even though they are all made of the same material, there is still enough diversity to call it a variety pack. Ultex sounds great and is extremely durable, so you can expect to enjoy these picks for a long, long time. Lastly, in such a good pack, having each pick cost less than $2 is a great deal.