The Dunlop Flow Picks series is among their most successful and one of my personal favorites. Shaped somewhere between a Standard Pointy and a Jazz III, these picks are the best of both worlds. They are accurate despite being fast, and bright despite being mellow at times.

The Flow Picks I'm Reviewing Today
Today, I'm going to review the entire Flow guitar picks series, including:
Flow Standard: 0.73mm, 0.88mm, 1mm, 1.5mm, 2mm.
Flow Jumbo: 2mm, 2.5mm, 3mm, 4.2mm (420)
Flow Gloss: 3mm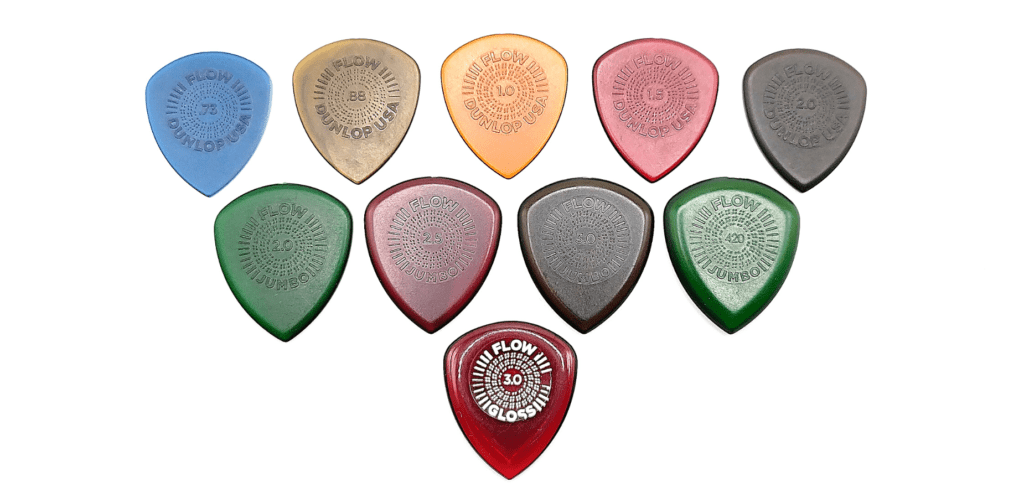 Dunlop Flow Picks Rundown
Flow Standard
There are 6 Flow Standard picks, and in a way, this is the most versatile range in the Flow collection. Unlike the Flow Gloss and Jumbo ranges, which include picks 2mm and up that favor playing lead over strumming, no matter what's your style of playing, you will find a suitable pick in this range.
Being 24mm wide and 28mm long puts them in the same ballpark as Jazz XL.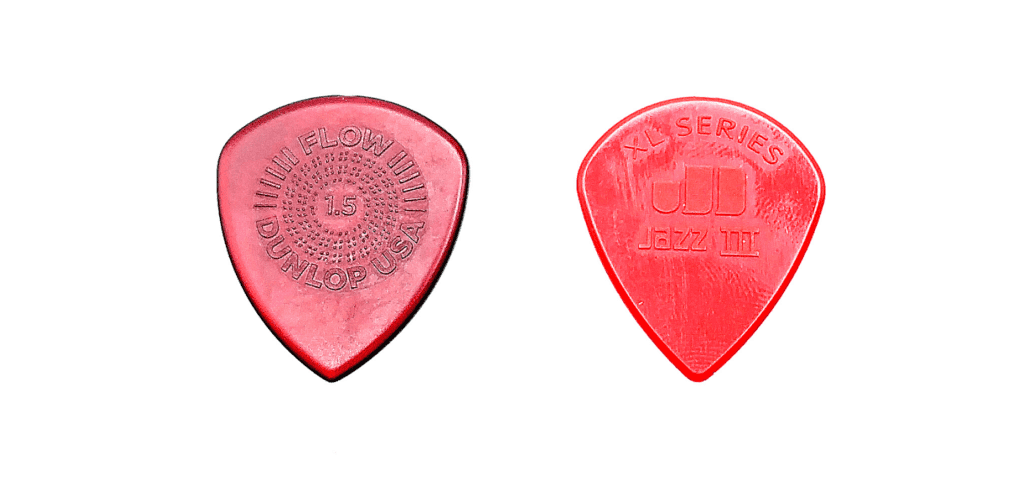 Flow Jumbo
25.3mm wide and 29mm long. You may think that being just 1.3mm wider and 1mm longer than the standard Flow has little to no effect on their playability, but you'd be wrong. Aside from being generally thicker, they are easier to articulate and control. This, though, is thanks to the size difference and the less aggressive grip surface Jumbo has.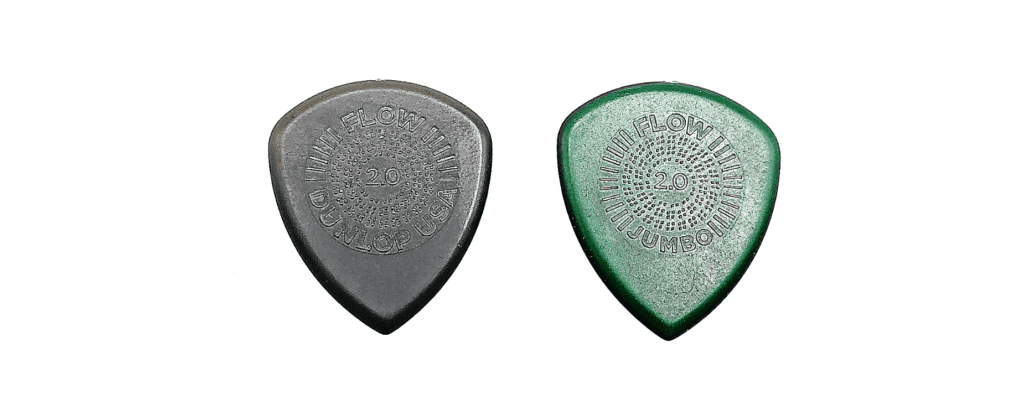 Reaching up to a gauge of 4.2mm puts them in the realm of ergonomic plectrums, which is also a good reason to at least try them out.
Flow Gloss
Flow Gloss is the jewel in the Flow collection and is available at 2mm and 3mm thick. They are the size of the standard Flow, but this is where the similarity ends. The Gloss has comfortable dents for the thumb and index to sit in, a barely noticeable gripping surface (which won't last more than a couple of hours), and a (much) rounder bevel. Other than that, it has a gloss finish (duh..), which is generally brighter and chirpier, but the rounder bevels seem to do a great job at taming it. I wish there was a 4.2mm version of that pick, too.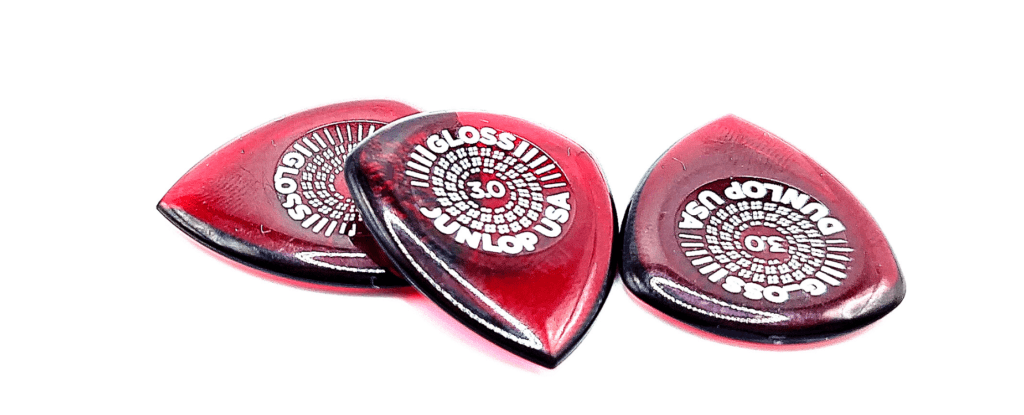 What Are Dunlop Flow Made Of?
Dunlop's Flow picks are made of Ultem (or Ultex, which is a different name for the same material). Standard and Jumbo are not polished, while Gloss is. Although this difference does contribute to the difference between them, I wouldn't say that is the only reason.
Ultem, on its own, is very durable compared to most materials used for guitar picks, and very bright sounding.
How Durable Are Dunlop Flow Picks?
The durability of a pick is a combination of the material, gauge, bevel, and even the way you play. The Flow picks are very durable compared to other picks of the same thickness and different material because they are made of more durable material. The shaping of the tip and bevel also helps reduce some of the friction that tends to wear out guitar picks.
Overall, these picks will probably last longer than most picks of the same gauge.
Dunlop Flow Bevels
Although the Standards and Jumbos are flat and share the same type of V-shaped bevel, Gloss's bevel is round and the pick is halfway taperd leading to the tip.
This reduces from the brightness of the high gloss finish but doesn't numb it so its still have some nice bite to it, but it's not overpowering.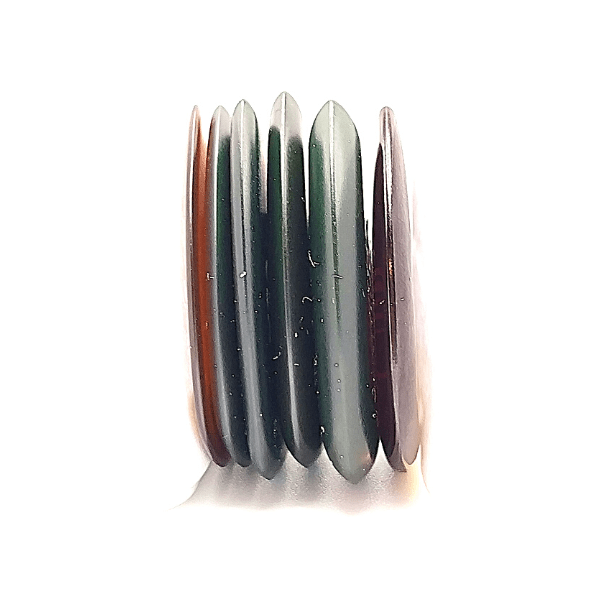 Signature Flow Picks
Many artists have a signature pick based on the flow shape. Unfortunately, none of these have anything that you can't find in other standard Flow picks, but buying a signature pick was always, and still is, a way to support your favorite artists.
Misha Mansoor Signature Flow Picks
Misha Mansoor has two different signature Flow picks. One is Cyan, 0.65mm thick, and called 'Live'. The other one is black, 0.73mm thick, and called 'Studio'. Both are made of Delrin.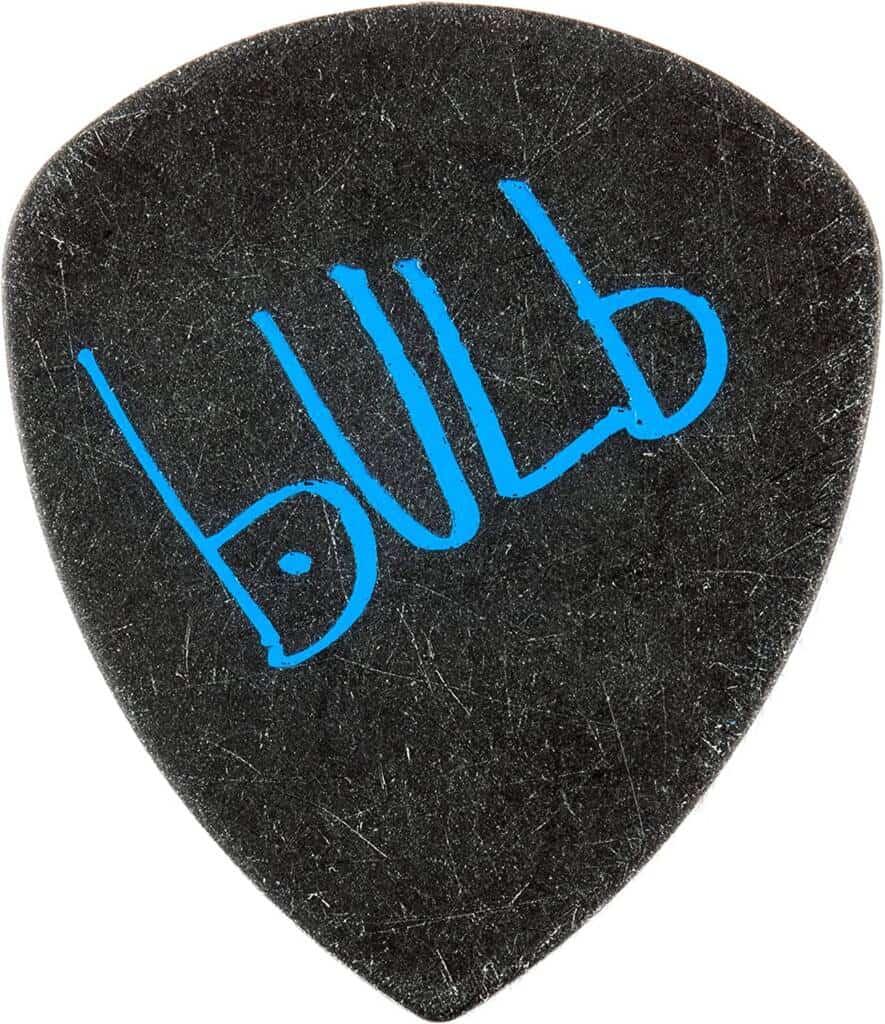 James Hetfield White Fang Signature Flow Picks
James Hetfield's got three different Flow picks. One is 0.88mm, one is 1mm, and the last is 1.14mm thick.

Rebea Massad Flow Signature Flow Pick
Rebea Massaad's signature Flow is 1mm thick and has no gripping surface.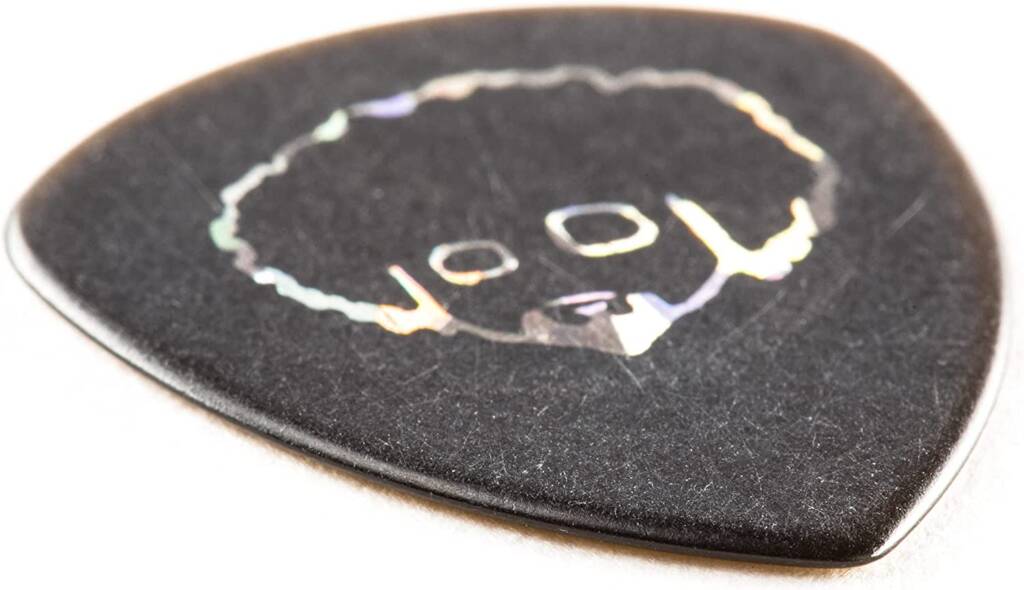 Andy James Signature Flow Pick
Andy James' signature Flow Jumbo is 2mm thick without any gripping surface. Some say that this pick inspired John Petrucci to come up with his own version of the Flow pick.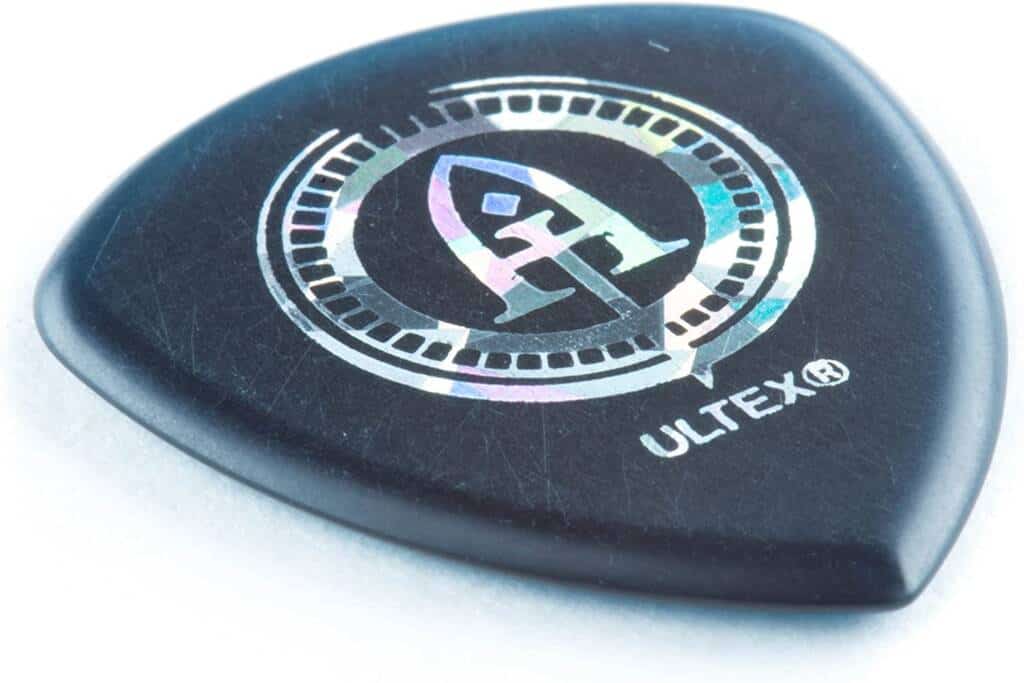 John Petrucci Signature Flow Pick
John Petrucci's signature Flow is 2mm thick without any gripping surface. You can also buy it as a part of John Pertucci's signature picks variety pack.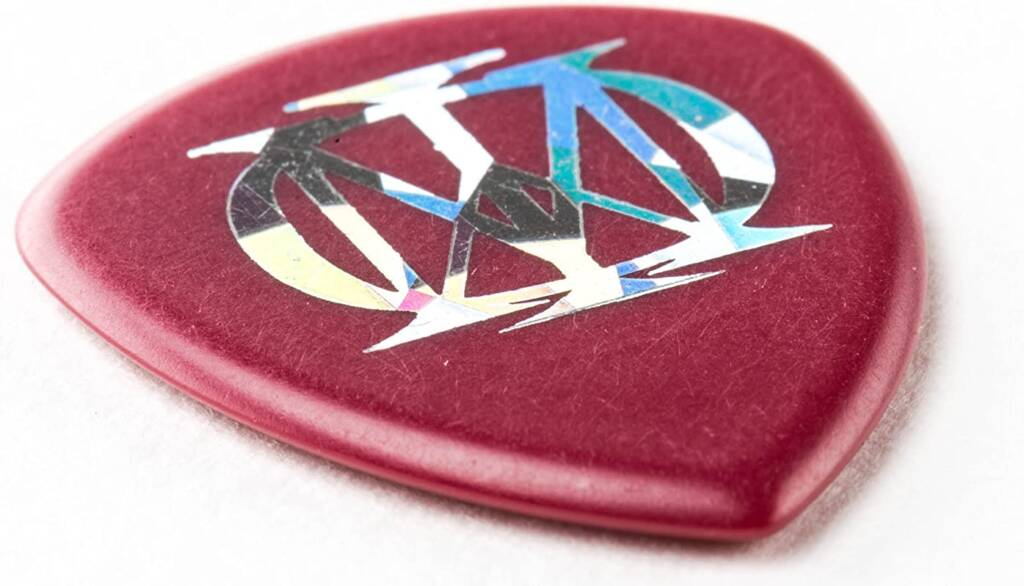 Pricing and Where to Buy Them From
The variety pack of Dunlop's Flow picks will cost around $11 for eight picks on Amazon. The Gloss picks are a bit more expensive, at around the same cost for a pack of three. The Jumbo 420 (which is my personal favorite) will set you back $11.50 for a pack of two.
Finishing Thoughts
As I said in the beginning, the Flow collection is among my favorite picks. The way they are shaped makes them fast and comfortable, and the variety in the gauges ensures any player will find a comfortable pick in that range.
My favorite is the Jumbo 420, followed by the Gloss 3mm. So go for these if you are used to thick guitar picks. If you have never tried any of them, the variety pack will give you a great "taste" of what the collection has to offer, with picks ranging from 0.73mm all the way to 3mm.