Power Pins 2.0 are made by BigRock Engineering. They are essentially a replacement kit for the bridge pins in an acoustic guitar. I got to play a guitar that had them on before, but never got to really test it on my own guitar, which I know very well. So that's what we're going to do today.
This review was written and ready more than 6 months before I decided to publish it. I usually avoid writing bad reviews, so my first instinct was just to keep it to myself. I can't really blame a product for not fitting my way of playing. If my action was higher I'd probably keep them on for a bit longer. The thing that pushed me toward publishing it was the unfair pricing and poor build quality, which you can read about below.
What Are Power Pins?
Power Pins are an acoustic guitar modification that offers an alternative to the bridge pin system in use on most acoustic guitars. Power Pins are claimed to simplify the process of changing strings, as well as to increase the guitar's tuning stability. The installation is not permanent and doesn't suppose to harm the guitar in any way. Sounds perfect.
What do they do?
BigRock Engineering says that they make it easier to replace acoustic guitar strings, as well as keep the guitar in tune longer. Some of their resellers, though, claim that they improve the tone and increase the volume of a guitar, too.
How Do Power Pins 2.0 Work?
Power Pins 2.0 works by replacing the traditional bridge pin system with a string locking mechanism that is parallel to the body. That way, each string slides to its place a lot easier. They are bolted to a metal plate placed inside the body to make sure they don't move and are secured to the body.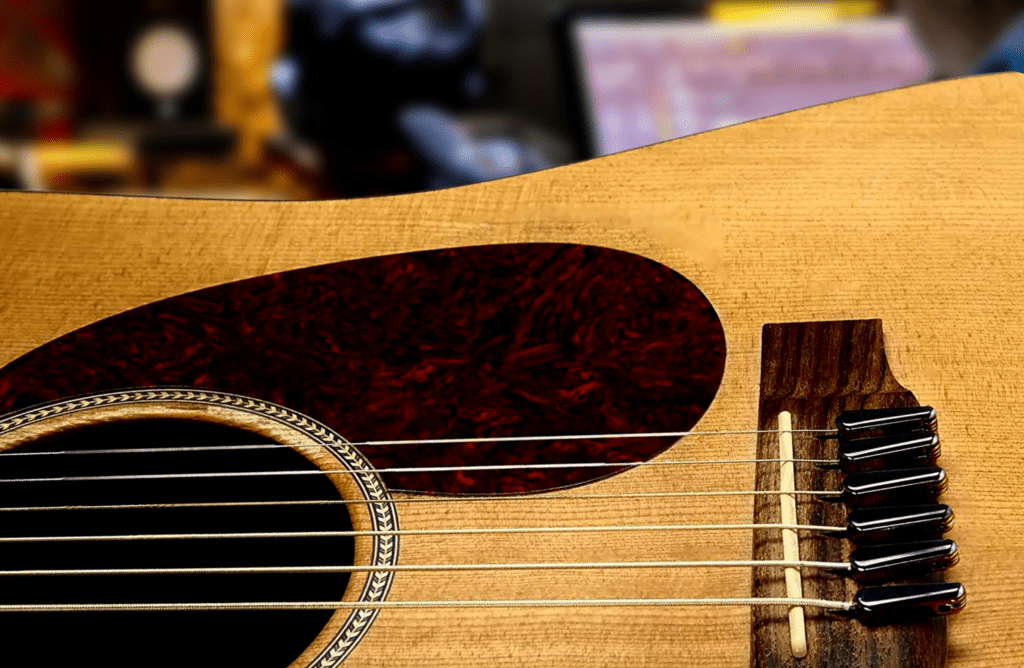 What's Included with Power Pins 2.0?
When you first open the box they come in, you ask yourself if what you have in front of you is really worth the amount you paid for them. And to that, I must say that it doesn't, but more on that later.
The package contains:
6 Power Pins (2 marked with B, 2 with M, and 2 with T)
Some washers (3 per pin)
A metal plate
6 screws
An Allen wrench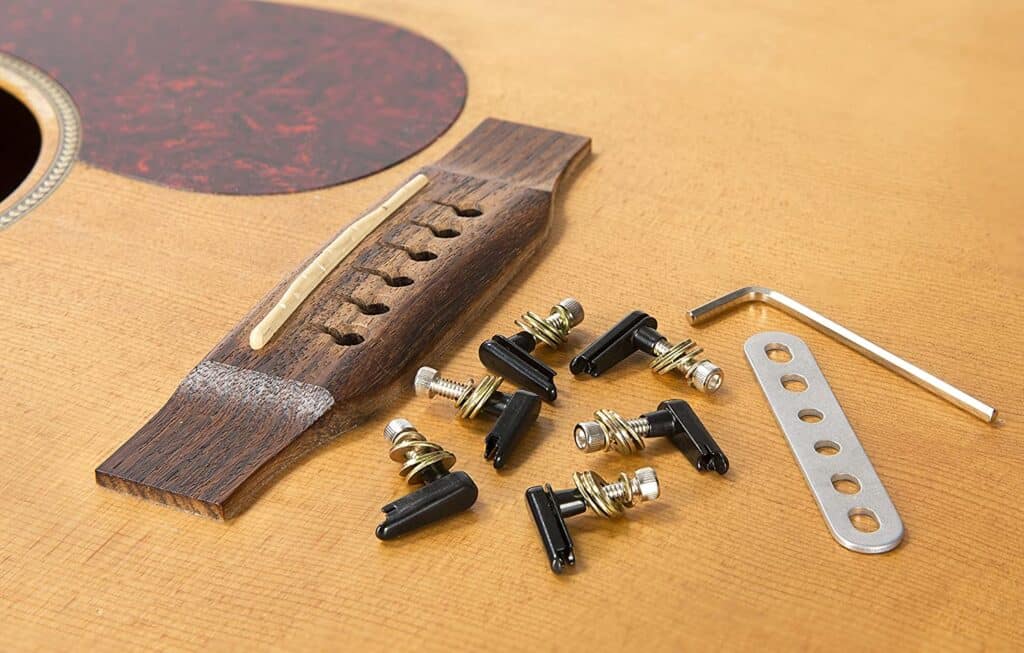 How to Install Power Pins?
The installation is quite simple and is one of the things I like the most about them. It requires some work, and they are an actual modification. So they open the door for other, more advanced things you can do.
To install the Power Pins you need to unstring the guitar and remove the bridge pins. Get all the parts you got in the kit sorted out and let's get to it.
Measure how many washers you need. This is very important. According to the guide, the tip of the screw should be as close to 1/16″ (or 1.5mm) below the bridge surface. Make sure you take the plate's thickness into account, too.
Separate the 6 Power Pins into 3 groups. 2 should include the letter T (stands for Treble), 2 will have "M" on them (stands for Middle), and 2 will be marked with "B" (stands for Bass).
Pre-assemble the washers on the screws. Add the plate and place the screw in the proper bridge hole.
Place a fitting Power Pin (depends on which string are you placing them on) on top of the screw, and start turning it with your hand until it can hold itself. Then, use the provided Allen key to screw it. Don't over-tighten it.
Install the remaining pins, and you're done.
Pricing
The list price is $67. That being said, I bought them a few months ago for $50, and I see now that they're listed for $45. You can buy them from Amazon or directly from their website. They're also available through StewMac, if you want to pay an extra $20.
My Impression of Power Pins 2.0
When I decided to review them, I knew I'd have to make a decision of whether to hold them to BigRock Engineering's promises or to their resellers'. Neither the box nor BigRock Engineering's website says anything about improving the tone. Making it feel a bit unfair to hold it against them. But on the other hand, they do allow their resellers to make these claims.
Ease of Changing Strings and Tone Improvements
The Power Pins do make it easier to change the strings, but unfortunately, that's the only good thing I have to say about them. Not only did they not improve the tone, but they also made it thin and weak. They also completely destroyed the balance between the strings, and I have a pretty good idea of why it happens.
When you look at the angle at which the Power Pins make the strings reach the bridge, you can easily see that it's too small. The high strings are not putting any pressure on the saddle. This causes them to vibrate the soundboard a lot less. If you keep your action fairly high, it would probably not hurt your sound at all.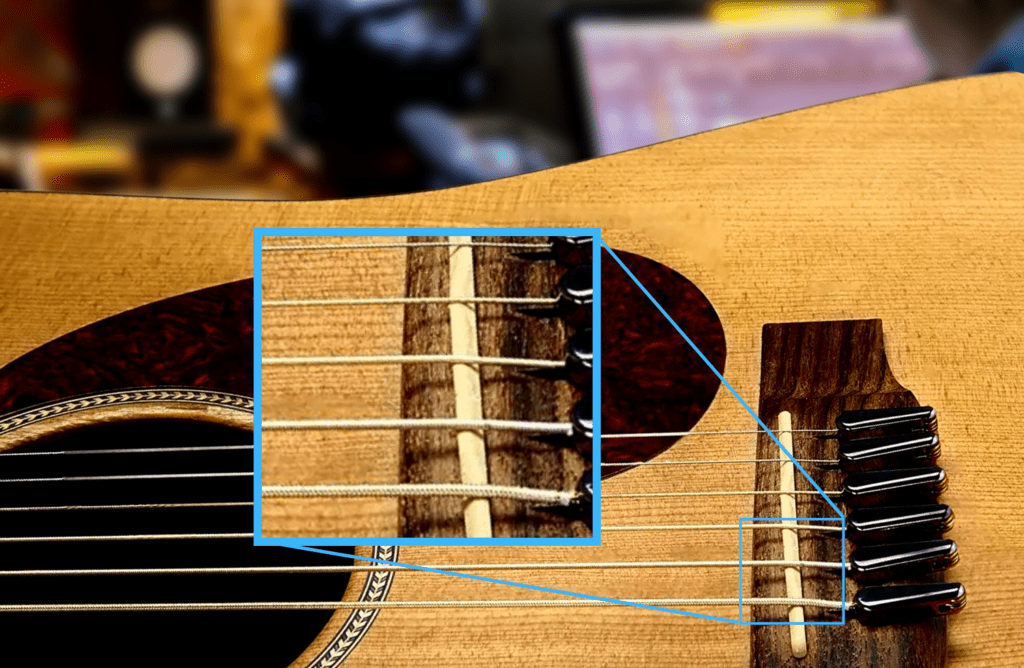 Since this issue occurs on the thinner string a lot more than on the thicker ones, it destroyed the balance between them. The bass strings are about the same as they used to be before, but the treble strings are at 50% of their original volume.
The tone improvement claims are the results of the metal bar that sits below the bridge. Which, you can buy on its own. It is called Mitchell's Platemate, after the guy who came up with it. Another tone-improving product I really like is D'Addario O-Port. Like Mitchell's Platemate, it also costs around $20.
Tuning Stability
In all honesty, I only had them on my guitar for about an hour before going back to my bridge pins. So I can't give you my personal impression of their tuning stability. Logically, I can't find any reason for them to really help with that, but a lot of reviews online claim they do help with that.
Build Quality
They are not cheap, yet they are built cheaply. I expect a lot more from a company whose products I love so much.
Conclusion
I can't recommend this product for two reasons. One of them is due to my preferences in action height, which they are not to blame for. But the price, especially when compared to the build quality, is the main reason I decided to publish this review eventually. If your action is higher, it might work really well for you.
I really don't think this is a scam or anything like it, because BigRock Engineering makes some of my favorite products. They really know how to make good guitar innovations. I mentioned their knob puller in my noisy guitar knobs article from a year ago – it's my favorite one. Their Switchguard is solving a problem guitar players have had since 1954, and their X-1 is as amazing as a guitar gadget can be, and I can't wait to try it out.
If you only take one thing from this review with you, let it be to try and envision a product's way of working before you buy it. If I'd thought about it for a few more minutes, I'd save myself about $50 and a few hours of writing a bad review (which I really hate, by the way).
To simply improve your acoustic guitar tone, here's an article I wrote about ways to make your acoustic guitar sound better. Each of these upgrades costs up to $20, and they're all very effective.
If you have a different experience with the Power Pins, please let me know in the comments.