As a big fan of boutique guitar picks, I spend a lot of time on Etsy, as most of my favorite pick makers are listed there. Etsy is a natural place to look for any one-of-a-kind kind of thing, and beautiful guitar picks are no exception.
In this article, I'm going to share with you a few picks made by super-talented artists. There's a lot of effort that goes into making them, and some of them come with a hefty price tag. Please note that there isn't any reasoning behind the order of their appearance, Just like in my cool guitar picks article. And either one of these picks will be a great and thoughtful gift for any musician.
The Most Beautiful Guitar Picks
Resin Picks By Dasotomic
Daniel and Natalia of Dasotomic are coming up with breathtaking designs. As I wrote in the review I made on Dasotomic, their picks are among the most beautiful I've ever seen, and they play as well as they look.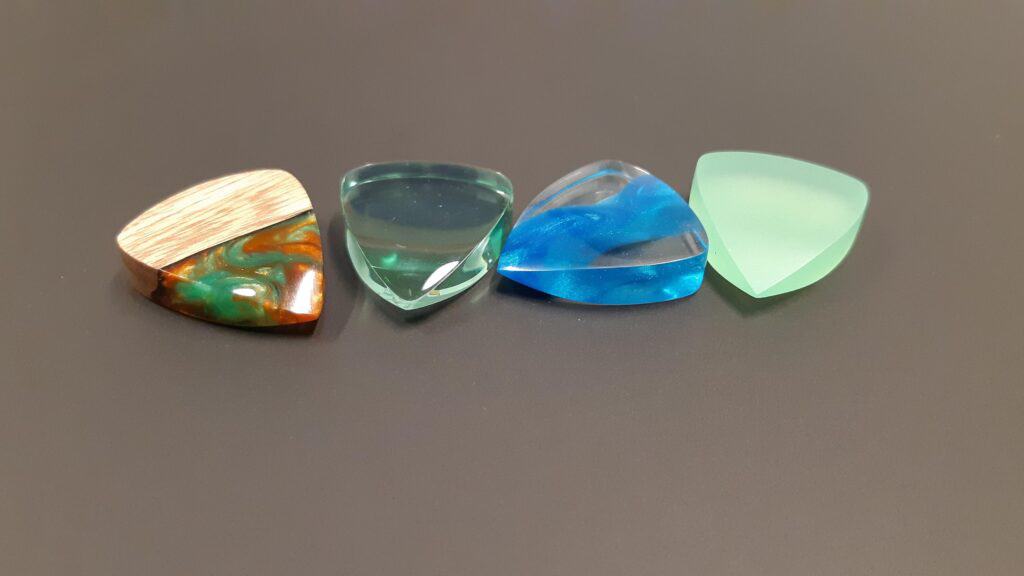 Resin and Dandelion Seeds Picks by Tesoro
Made by the talented artist Valeria Pierto, this pick captures the movement of the dandelion seeds flying in the wind in the most spectacular way. The process of casting resin is quite simple, but it takes real talent to do it at this level. Each pick will cost you $13, and you can check out how they look in the images below.
---
Woodmade Wonderwood's Picks Collection
Alice is making some of the most unique wood-epoxy resin designs and seems to really take it to the next level in terms of attention to detail. I found myself staring at her beautiful guitar picks more than once, and just had to include them in this list. They are a bit pricy and cost between $30 and $32, but I expected to pay more for the effort that goes into making each of them.
---
Pickslay's Woodworking River Design
Pickslays Woodworking's river design is both unique and extremely recognizable. I've seen it hundreds of times, and I'm sure a lot of you did too. There are tons of different designs and wood species available, and their picks cost anywhere between $12.5 to $16.5. What really makes their designs shine is that there are 2 different shades of blue resin, each of them with some extra details to make them pop.
---
Handsland's Picks
Another simple yet beautiful guitar pick design, this time by the talented Nina from Handsland. Her designs are made with either one or two pieces of wood connected with resin to provide strength and a silk design. Each non-engraved pick will cost you $30, and a personalized one with cost $35
---
WoodenPickShop Dotted Picks
There's something about the simplicity of this design that I can't let go of. It's one of the cheapest picks on this list as well, yet, It's one of my favorites. The wood grains fit the colors and textures of the resin so well, It's like they belong together. I bet you can see exactly what I'm talking about, and the fact that you can have one for just $9 just makes them irresistible. The wood used for this pick is walnut, and there are 3 different available colors for the resin dots. Other than this design, WoodenPickShop has 48(!) different species of wood available in their shop.
---
Foxy Studio Shop's Picks Collection
Another stunning wood-resin design, this time by Foxy Studio Shop. This design is a bit simpler but still very detailed. And it glows in the dark, I have a great weakness for picks that glow in the dark. There are a few different designs, but their availability depends on stock. Each of them will cost you between $28 and $30.
---
byFairyTale's Collection
Last but not least, byFairyTale is offering four designs, appropriately named Fire, Storm, and Universe (the Universe design comes with either light or dark wood). What I liked the most about their picks is the number of details in the resin part of the picks. Stunning work. Each pick will cost you between $27 and $30.
---
Resin Gear Guitar Pick by TwoPartTreasures
Alyssa from TwoPartTreassure's Resin Gear Guitar Pick is a great and simple design that I just love. I said before in this article that casting resin is not a complex thing to do, but doing it at this level is hard. This is true here as well, and you just gotta love the result! They are available in black, white, or clear resin and cost $9 per pick.
---
Finishing Thoughts
I hope you enjoy the list I made here, if there's another design you think should be in this list, post it in the comments or use the contact form, I'm always happy to check out more picks 🙂