Some guitar picks are made for superb tone and playability, while others picks are made with comfort in mind. Today I want to talk about the third group of guitar picks. Some of them have features from the first two groups, but in order to get into the third group, they have to be really cool guitar picks or feature a great design twist.
Cool guitar picks are great conversation starters among guitar players. As a huge pick fan, I have tons of weird and unique picks and I spent hours showing them to other players just to witness their amazement. The best thing is that they usually have a feature or two that makes every guitar player want to try them out. Some of them are not as playable as others but look so good, you just have to have one. Just like with the most beautiful guitar picks article, I didn't sort the picks in this list in any reasonable way, and there are no ranks here. Just a list of cool guitar picks I personally like something about. let's get to it:
Honey Picks: Ciruit Board Picks
Well, If you ever even considered buying a high-end pick, I bet you've heard about Honey Picks. Recently they came up with one of the coolest guitar pick designs I've seen. It's made out of a circuit board and comes at about 1.5mm. In terms of shapes, Honey picks have their own set of designs with some of the simplest charts you'll ever see. This is a limited run and only available through their Instagram profile.
Edit: Read the full review of Honey Picks here
AttakPik
One of the coolest and most original "regular" pick designs I've seen so far. Their line contains 4 picks: Blade, Blade II, Attak, and Ambush. Each of them comes with a different texture on the tip. Wish I could tell you how they sound, but I'm still waiting for them to arrive. A pack of 3 will cost $5.99, 6 picks are going for $10.99, 9 picks go for 14.99 and a 12 pack costs $18.99. Honestly, for that price, it's foolish not to try them. You can buy the picks from their website.
Edit: The full review of AttakPik's range is up and available here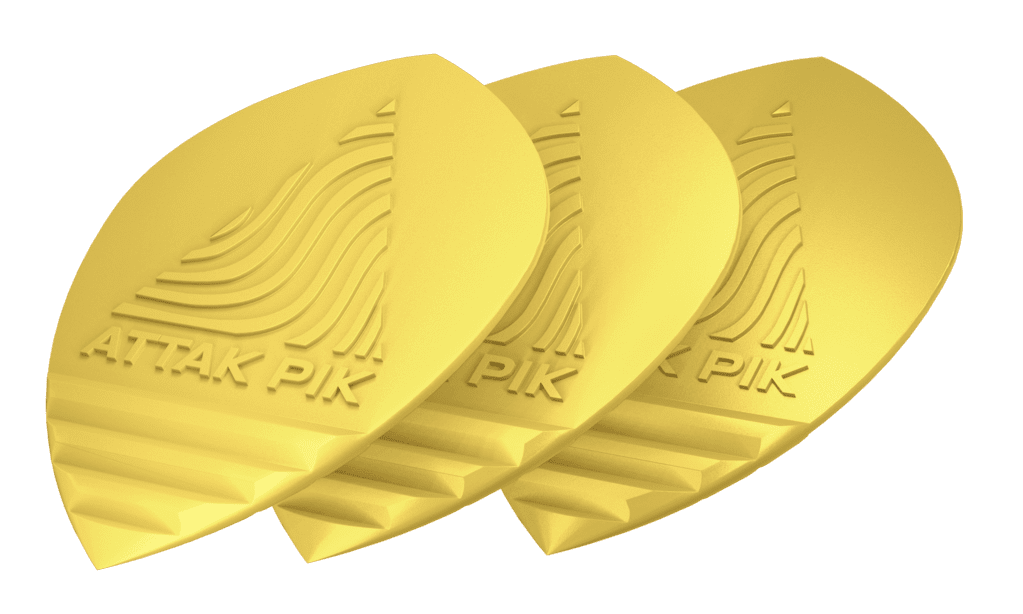 Pykmax UPP
Let's start by saying that this isn't a pick. This is a device that holds the pick for you (and prevents it from falling). Pykmax UPP is the cheaper of 2 very unique guitar pick gadgets they currently offer. It cost $39.99 and looks like it came out of a sci-fi movie. The idea behind it is to force you into a better picking posture, which is always a great thing. And the look of it made it a really great fit for a cool guitar picks list, even though it doesn't come with one. You can buy it from Amazon.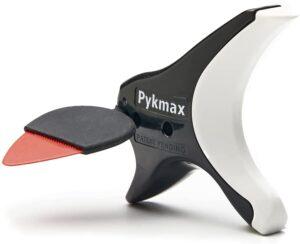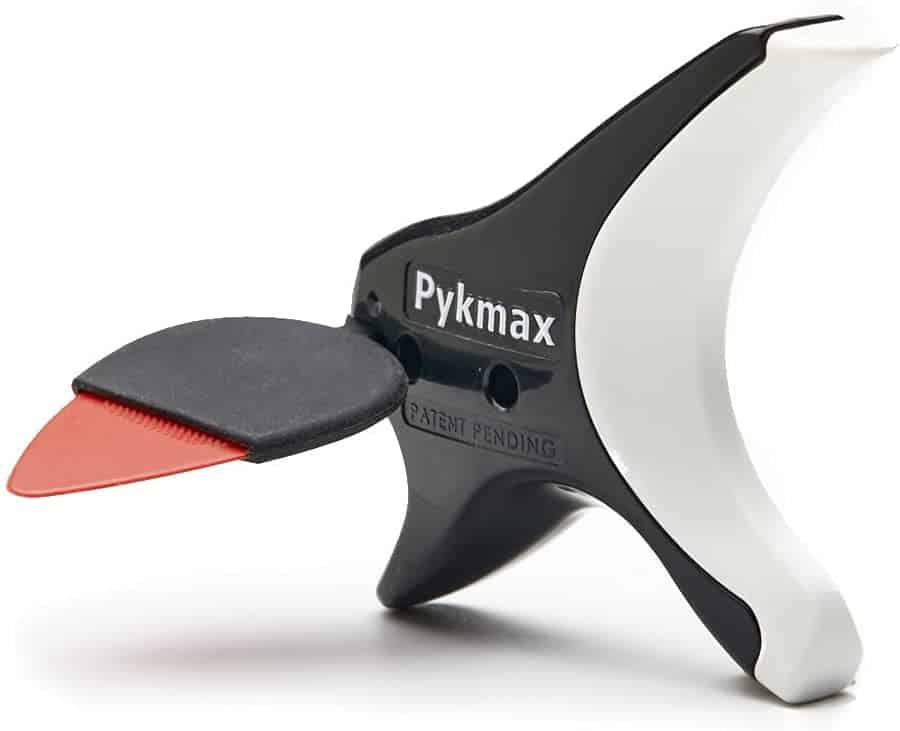 Plectone Pick
Plectone Pick is basically 2 thin or medium (0.5-0.6mm) guitar picks separated by a thick chunk of silicone (with a metal cube in the middle). As you can guess from the looks of it and from the available gauges – this design is made for strumming. Don't get me wrong, you CAN play lead with it, but why would you? Some players say that it made their guitar sound like a 12-string, but it really didn't. So I'm sorry to disappoint you if you counted on that. Anyway, It doesn't take away from this pick's cool factor, And this cool pick is definitely something great to keep in your pick collection. You can buy them from their website.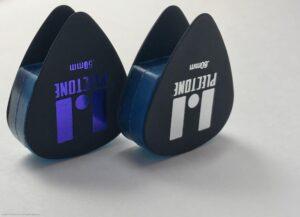 Nici's Picks
Nici's Picks's line features a great collection of really cool guitar picks mostly made out of Aluminum, Brass, Bronze, and Copper. My favorite thing about Nici's Picks is that even though everything is hand-made, most of her stuff is really affordable. You can buy Nici's Picks from her website.
Northern Ghost Plectrums
Northern Ghost Plectrums have some of the most interesting designs in the boutique guitar pick world. And as a boutique maker, you can expect nothing but top quality from him. Even his "regular" designs are some of the coolest guitar picks in the market, and I think you'll do yourself a great favor if you'll go to his store and check some of his designs out.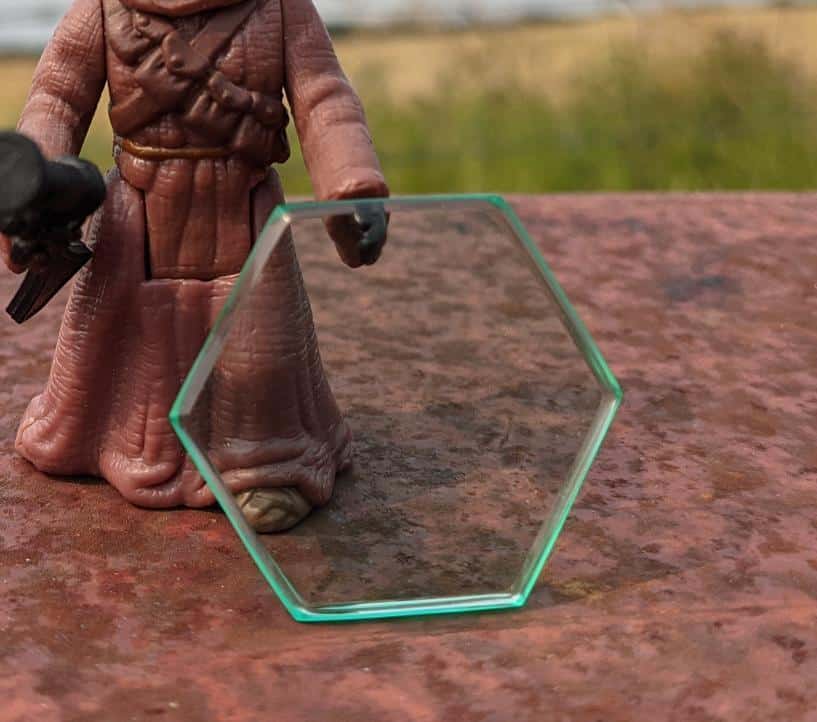 Butterfly Fingerpicks
Butterfly Finger Picks offers a unique design for pinger picks. I haven't tried them yet, but I have an order on the way (and if you are thinking about trying them, you should hurry up because unfortunately, they are about to shut down soon). From what I understand, the main difference between this pick to other similar products is the fact that this design is meant to pull the strings other than pushing them, and I can't wait to see how it plays. They are still available on their website.
Edit: I just wrote a full review about Butterfly Finger Picks. You can check it out here.
Plumstone Guitar Picks
Plumstone Guitar Picks is another boutique guitar pick maker and as such, you know that you can expect a unique experience playing with his picks. Some of his creations include a ghost, speech bubbles, and bread-tag shaped picks. What else can you really ask for?
Plumstone Guitar Picks are available on Etsy.
Edit: Read the full review of Plumstone Guitar Picks here
Metapixs
One of the most bad-ass designs out there. This is definitely one of the coolest guitar picks in existence. and it plays great too. They are made of Aluminum and cost between $5.95 to $7.5 and are worth every penny. You can buy these picks from their site.
Swisspicks
Swisspicks offer a unique take on gripping holes, and as a result – they came up with this cool guitar pick. Nothing much more to say about that, because the main reason that makes this pick so cool is the design. Swisspicks are available on their website.
Bog Street Picks
Bogstreet's leap model is featured on my Best Ergonomic Picks list. I love everything about their design, even though I'm a Jazz III shape fan. Each side of their triangle-shaped picks has a different gauge, so it's a great choice if you have a song you play in which you need to both strum and pick. You can buy these picks from their website.
Lock Picks
This cool pick solves a real problem in one of the most elegant ways I've ever seen. This Japanese pick maker designed a triangle pick that you can keep on your guitar tuners. They cost $6 and come in a pack of 3, in three gauges: 0.8mm, 1.00mm, and 1.2mm, and are made out of nylon. Really cool, and I'm excited to try them out! Click here to buy them from Amazon.