Every day is the perfect time to justify a new guitar-related purchase. Whether you're shopping for yourself or someone else, here are 29 great gift ideas for your favorite guitar player. We know, guitar players are hard to shop for, but these gift ideas will definitely make any guitar player happy.
The gift Ideas are divided into five price groups, under $200, under $100, under $50, under $25, and under $10, so you can be sure to gift something thoughtful no matter what your budget is.
Gift Ideas For Guitar Players
Here they are, 29 great gift ideas that every guitar play would appreciate!
Great Guitar Gifts Under $200
If you have the money to spend, or if this is a close friend or family member, or even if this is a special occasion. Any gift from this section will help them get to the next level of recording, producing and present their music to the world!
Audient iD4mk2 Interface
These days nearly everyone has a means to record music at home. To do that you'll need a way to capture it. This is where an interface comes in, and Audient's iD series packs a lot of punch.
The preamp is the same Class A design used in their large format consoles. So even though it's small, it sounds big. The converters are some of the best you'll find in this price range, and the JFET DI sounds rich and full.
There is only one channel, but it has phantom power for connecting a condenser mic. And the headphone amp is studio-grade. The included ARC software suite even has virtual amps and cabs from Two Notes, making the iD4mk2 a no-brainer buy, and an awesome gift for any guitar player.
Check out Audient iD4mk2 Interface on Amazon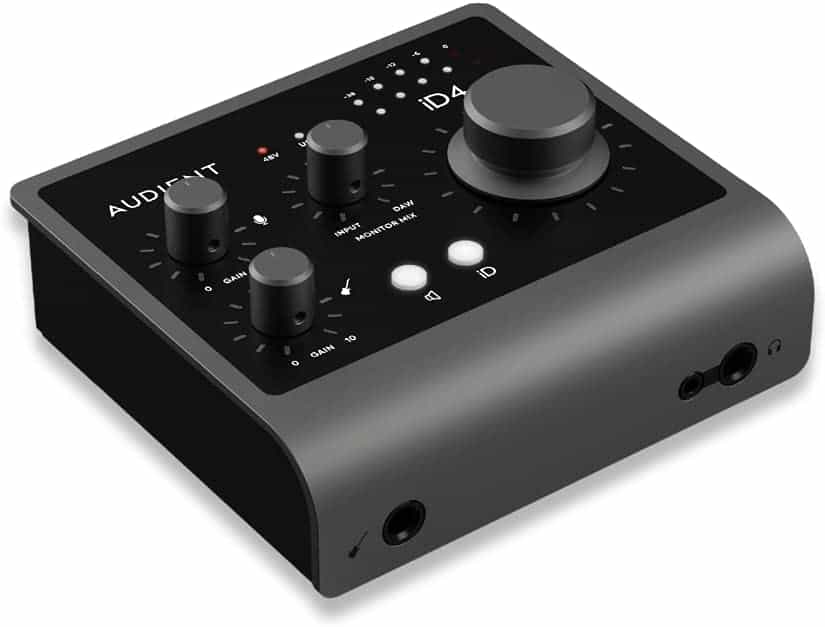 Dynamic Mics
A good dynamic mic is a must-have, and in this price range you have a lot of options.
You can't go wrong with either one and they both cost the same. They're durable, have endless utility, and sound great on their own or paired with another mic. You can even use them for vocals.
Shure SM57
The SM57 has been the go-to choice for recording guitars for decades. It sounds great for recording electric guitars and acoustic tracks too.
Check out Shure SM57 on Amazon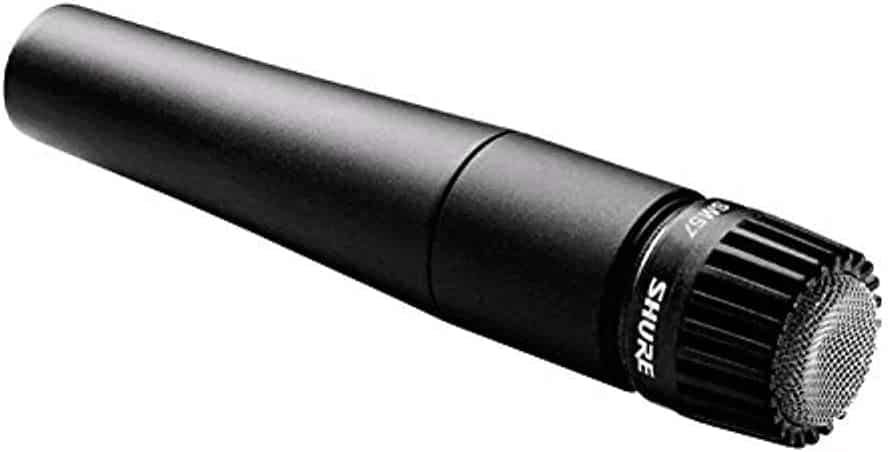 Audix i5
The Audix i5 is another great choice with a similar frequency curve ideal for electric guitar recording.
Check out Audix i5 on Amazon


Sennheiser e614 Condenser Microphone
There might not be a better small-diaphragm condenser for under $200. It's got great transient response and dynamic range, pairs great with a dynamic mic, and sounds fantastic on acoustic guitars.
Check out Sennheiser e614 Condenser Microphone on Amazon


Radial Pro48 Active Direct Box
With the rise of virtual amps, running a direct signal is more common than ever. Having a good direct box available is almost mandatory, and no one makes them better than Radial. The Pro48 is an active model that is built to last a lifetime.
A DI is also useful for splitting your signal for recording so you can capture the guitar sound with a microphone and get a DI for reamping and using plugins. A direct signal also shows more transients, making editing decisions easier too.
Check out Radial Pro48 Active Direct Box on Amazon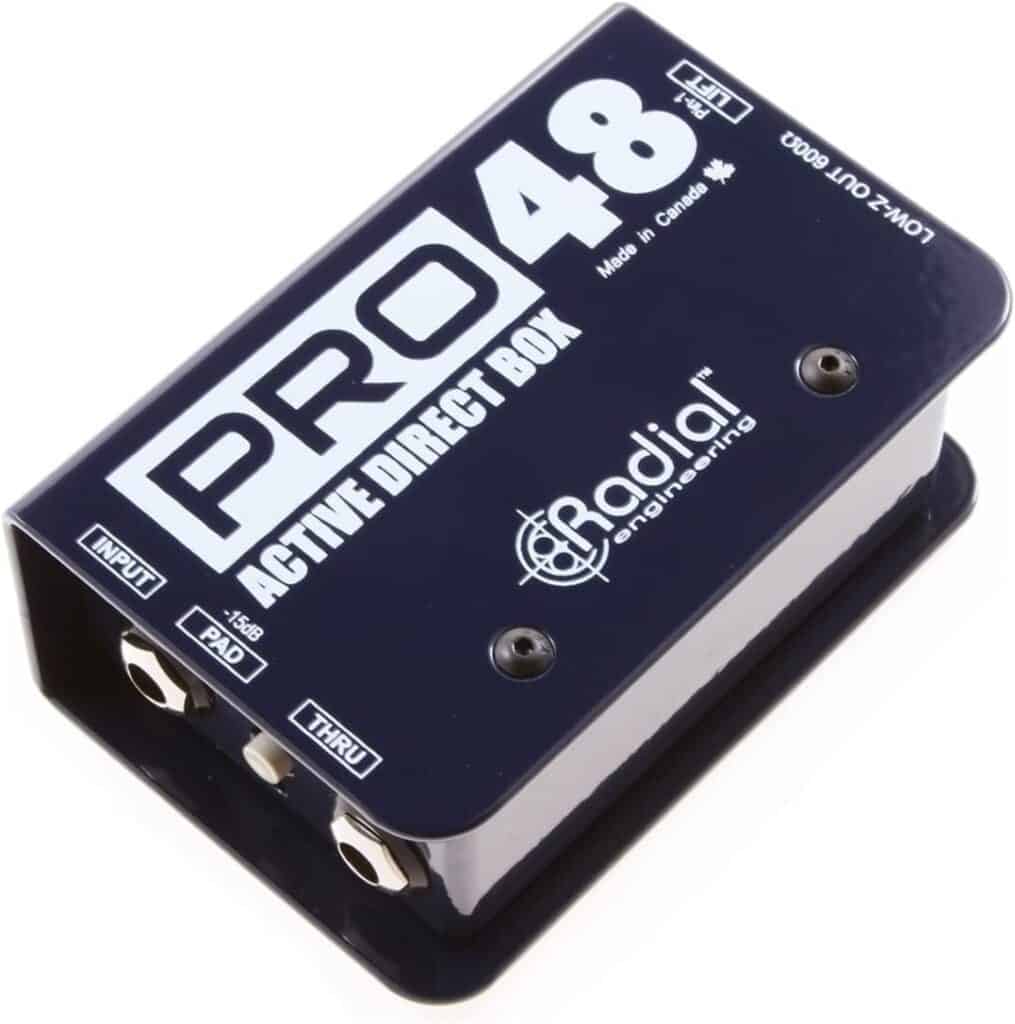 Beyerdynamic DT 990 Pro Headphones
Whether you're using them for recording, practicing, casual listening, or even for EQing and mixing guitar tracks a good pair of headphones is a worthwhile investment. And Beyerdynamic makes some of the best.

The DT 990s have a response of 5Hz all the way up to 35kHz. The earpads are velour, making them comfortable to use during long listening sessions. And the open-back design makes them great for mixing as well as recording. This is a gift every guitar player would appreciate.
Check out Beyerdynamic DT 990 Pro Headphones on Amazon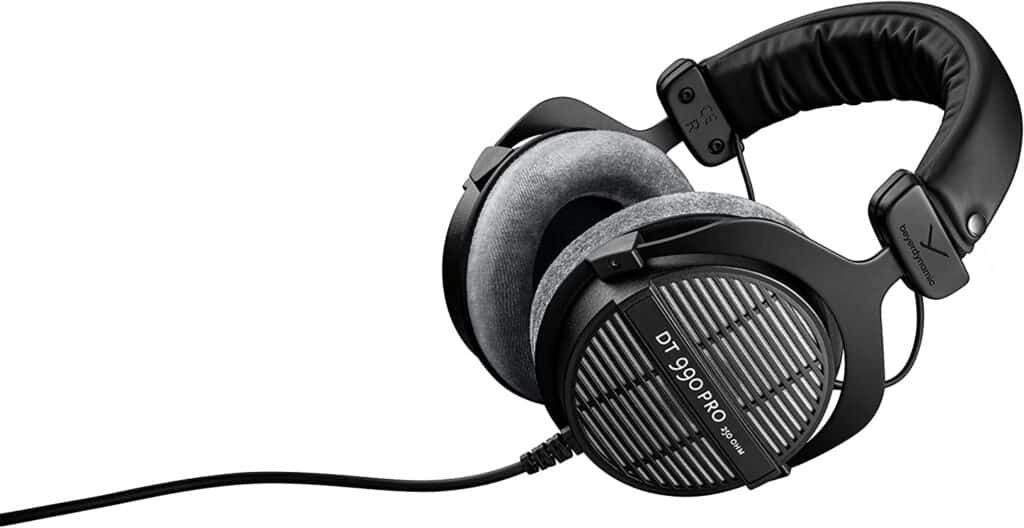 Gifts For Guitarists Under $100
For the intermediate guitar player that is still looking for their sound or for more advanced players who might want to explore other sonic possibilities.
Gifts from this category will suit guitar player who are starting to gig, record, or just want to sound awesome when they play at home.
Overdrive Pedal
Overdrive is every guitar player's best friend. Luckily, if you have $100 to spend you'll have options. You can never go wrong with the BOSS SD-1 for a more classic sound. TC Electronic has a budget line of everything from slightly dirty pedals all the way up to fire breathing distortion.
You can use an overdrive pedal for your main source of dirt, a clean boost, or treble booster. A lot of players use it to drive the input of their tube amp, giving the base tone extra push and sustain.
Check out Boss SD-1 or TC Electronic line of pedals on Amazon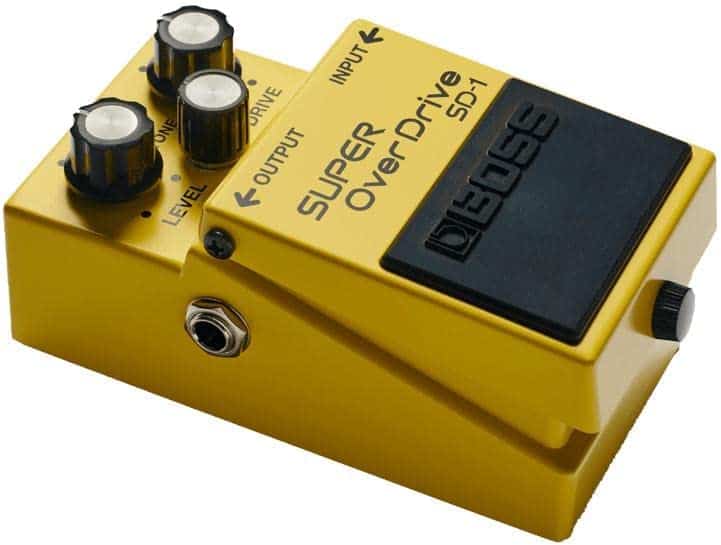 MXR M239 Mini Iso-Brick
Clean power is critical to making sure you're getting the most from your pedals. And an isolated power supply is just the ticket. It ensures that everything is operating ideally, a huge boon when you consider the dirty outlets in a lot of venues.
Some even offer higher voltage connections for pedals that can run at 12V or 18V. Some pedals are purpose-built to run at higher voltage. This adds additional headroom, a more focused low end, and a more "open" sound.
Keep in mind some pedals are not rated to go above 9V and you could fry the circuitry if you send too much power to it.
Check out MXR M239 Mini Iso-Brick on Amazon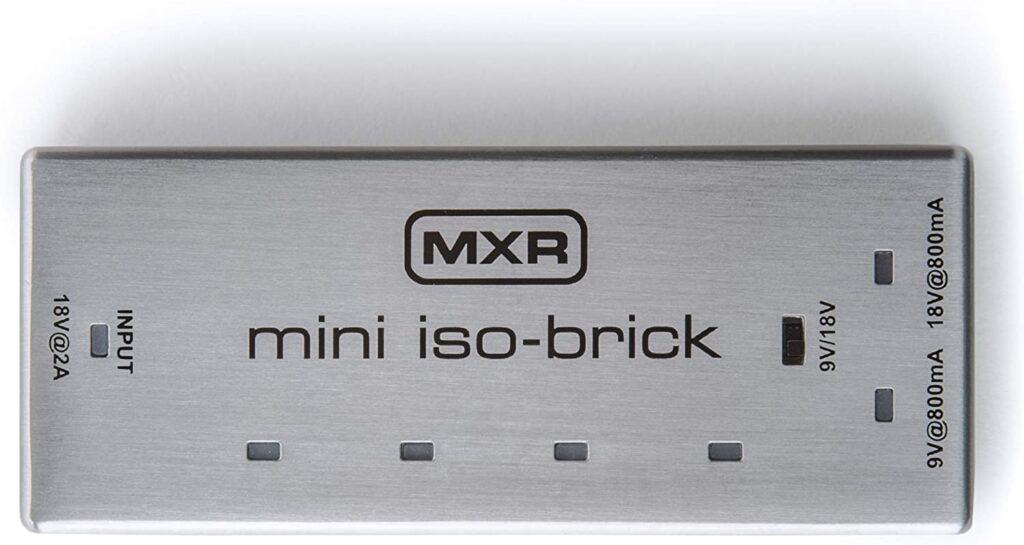 Ernie Ball 6180 VP JR Volume Pedal
Volume pedals can really open up your sound, and Ernie Ball makes some of the most popular models on the market. The VP JR is their most common, and for good reason. It sounds great, doesn't introduce any "tone suck", and it's durable.
Depending on where you place the volume pedal in your chain you can get even more utility out of it. Placing it after delays and reverbs lets you ride the volume without cutting off the tails. At the beginning of the chain will give you more control over swells.
Keep in mind that the type of pickups dictate which type of volume pedal you get – active or passive. If you have passive pickups you'll want an active volume pedal, and vice versa.
Check out Ernie Ball 6180 VP JR Volume Pedal on Amazon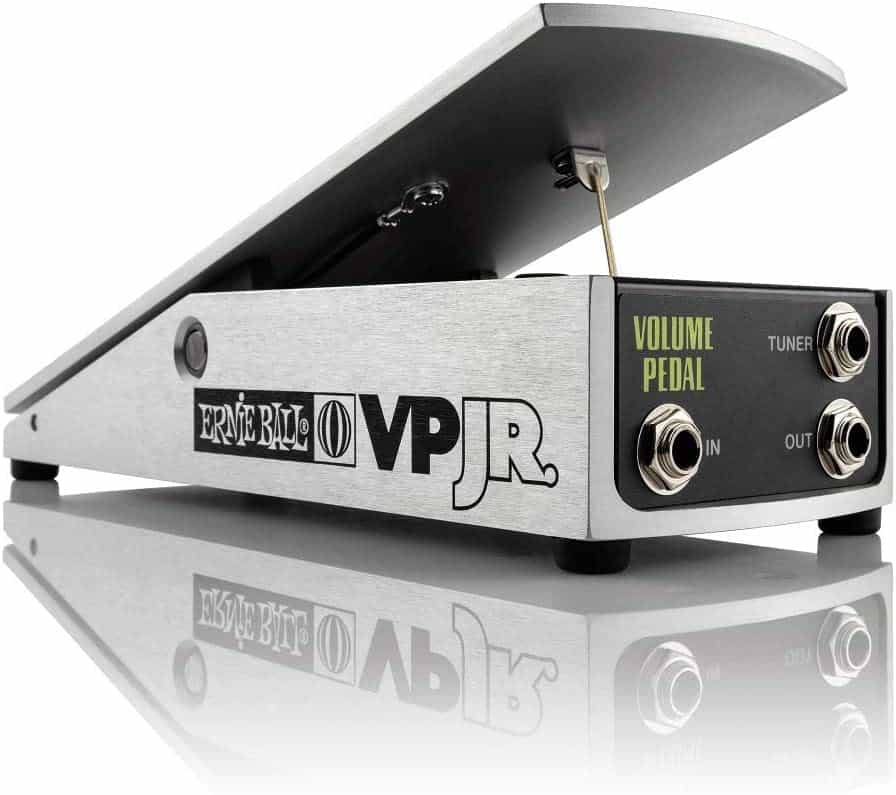 Guitar Case
Protecting the investment in your instrument is important, and it provides multiple benefits. It makes your guitar easy to transport safely, you can store things like extra picks, strings, and even the set list in it. This gift idea will definitely make your favorite guitar player smile.
At $100 you can find a Gator or SKB. Many cases cost more, but the ones at this price point still provide quality protection.
Check out Gator and SKB guitar cases on Amazon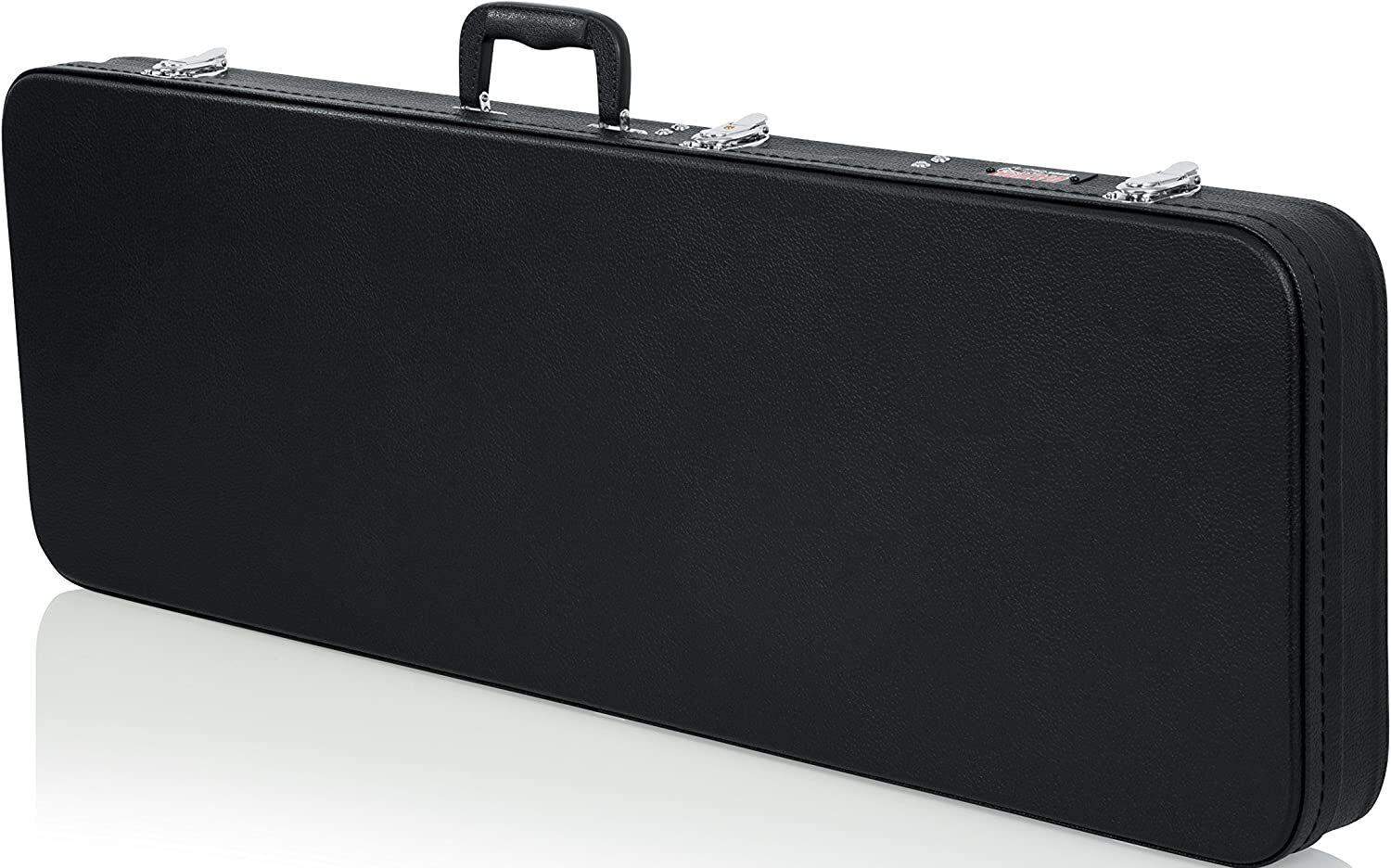 Practice Amps
There are some great amps in the $100 (or just slightly more) range. No matter what make or model you go with, a practice amp is a useful tool in a variety of situations. And what guitarist wouldn't want to walk down on Christmas morning to see a new amp as a gift under the tree?
Boss Katana Mini
The BOSS Katana Mini gives three different voicings, 3-band EQ, and delay. It's battery powered and you can use it with headphones and run it direct.
Check out Boss Katana Mini on Amazon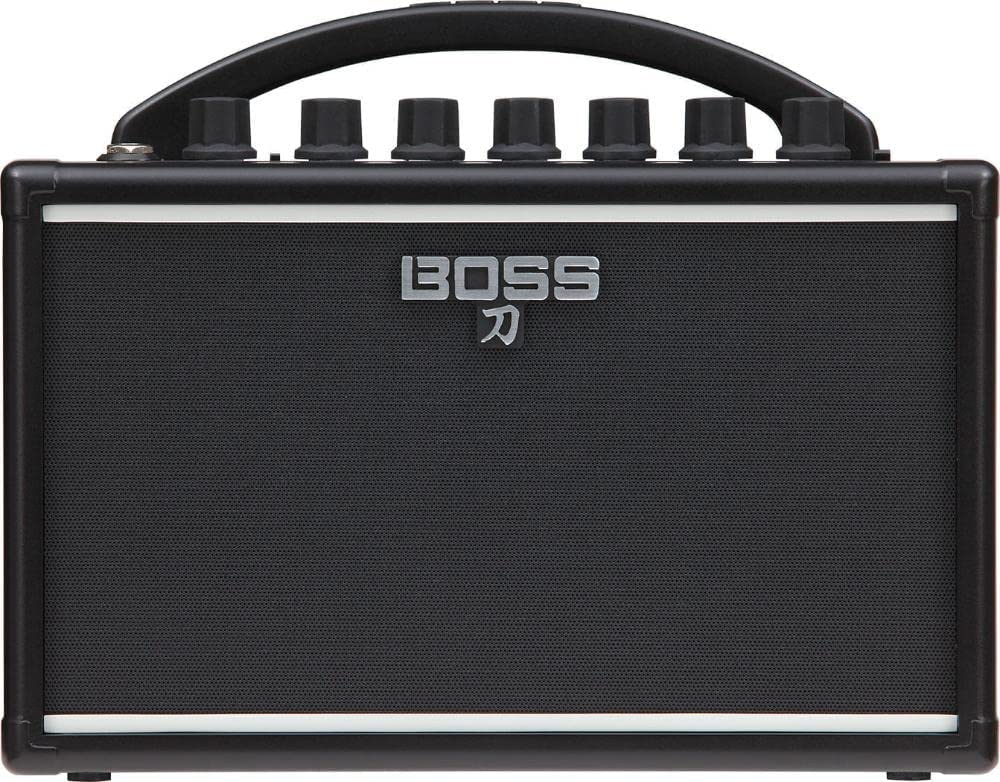 Orange Crush 12
The Orange Crush 12 is a 12 watt solid-state amp that sounds like an Orange.
Check out Orange Crush 12 on Amazon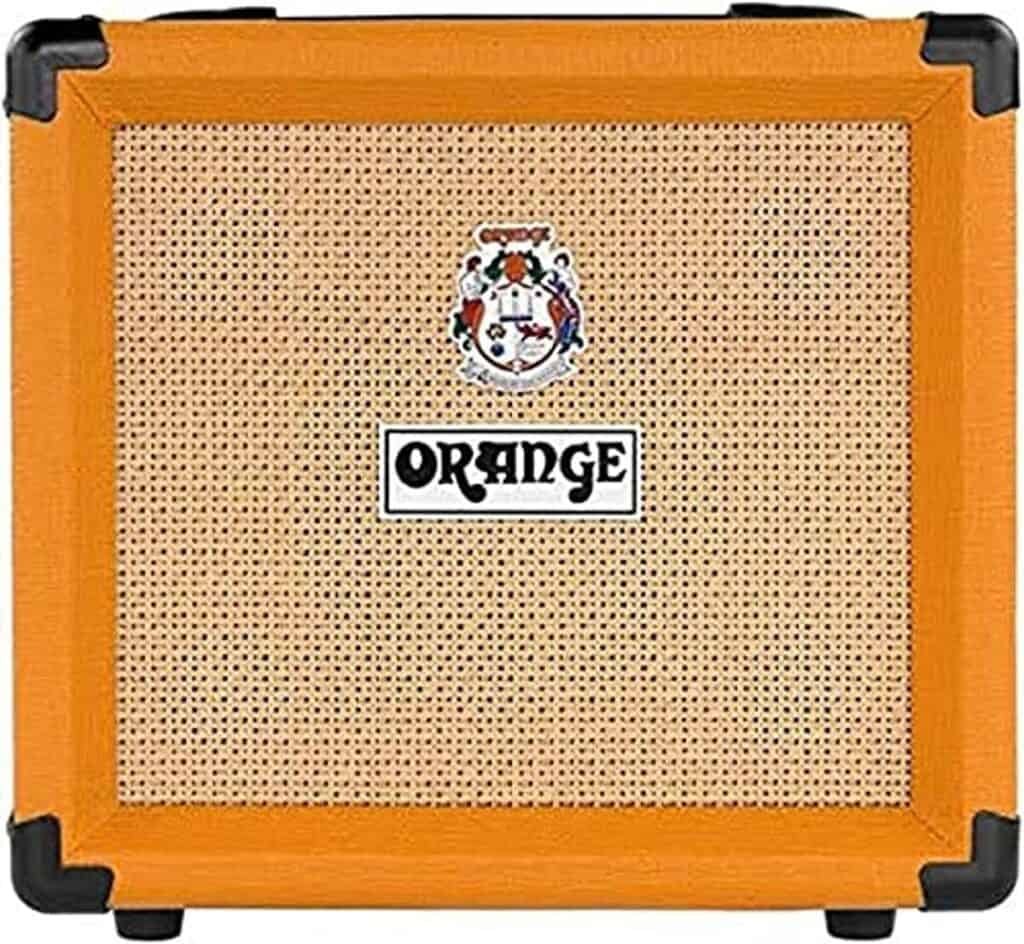 Fender Frontman 20
Fender's Frontman 20G is a 20 watt, two channel amp that doesn't offer many features but is great for rehearsing.
Check out Fender Frontman 20G on Amazon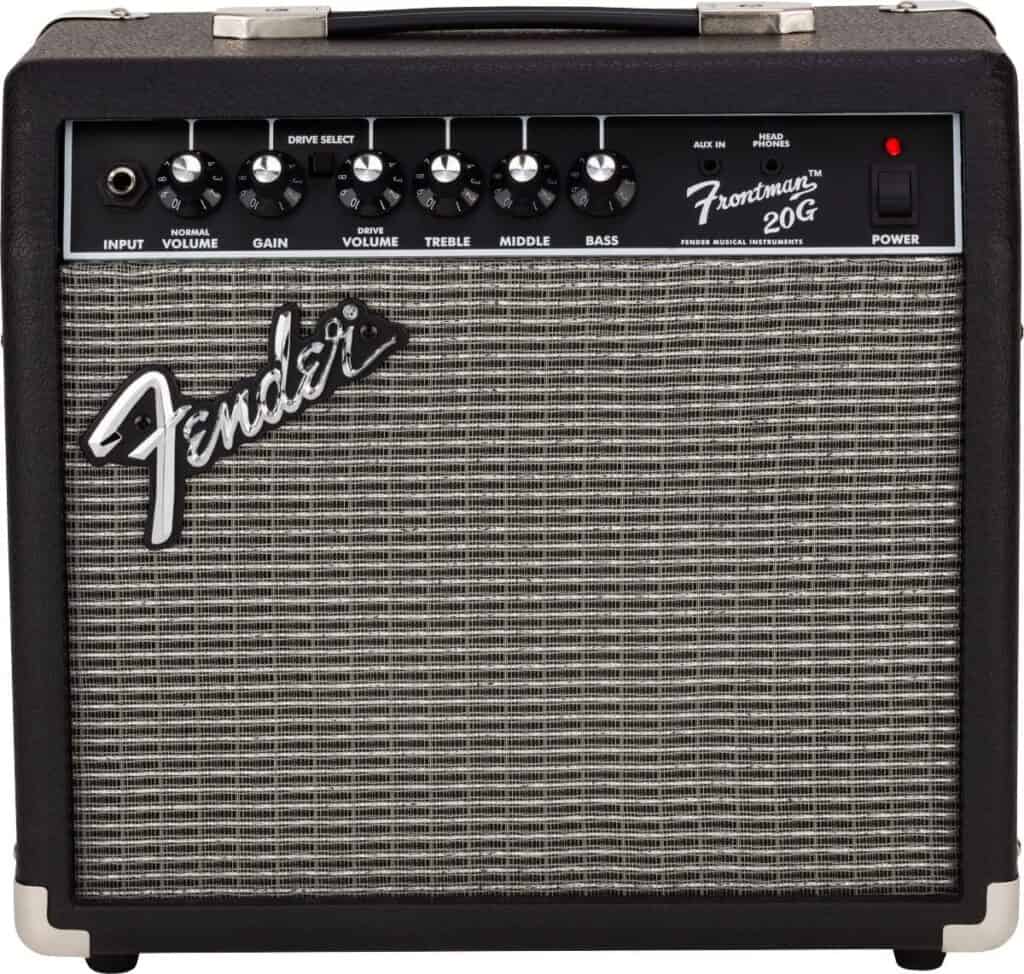 Guitar Gifts Under $50
This category is perfect for beginner to intermediate guitar players who want to take this to the next level. From better understanding and maintaining their instruments through some things, even professional touring guitar players might not have.
Ernie Ball Musician's Tool Kit
A maintenance kit comes in really handy. With it, you'll have all the tools you need to make adjustments and set up your guitar. This is especially useful when you're on the road or about to step into a recording session and realize the G string on your favorite guitar needs to be intonated.
Ernie Ball's Musician's Tool Kit is an affordable and well-rounded guitar tech kit. It comes with pliers for cutting strings, a 6-in-1 screwdriver, microfiber polishing cloth, a hex key set, standard screwdriver, and ruler. Everything you need to make sure your guitar is set up to perfection.
It comes in a convenient carry case that easily fits into a backpack, if not your guitar case. And at just over $30 you don't have to worry about breaking the bank. A perfect stocking stuffer for your favorite guitar player.
Check out Ernie Ball Musician's Tool Kit on Amazon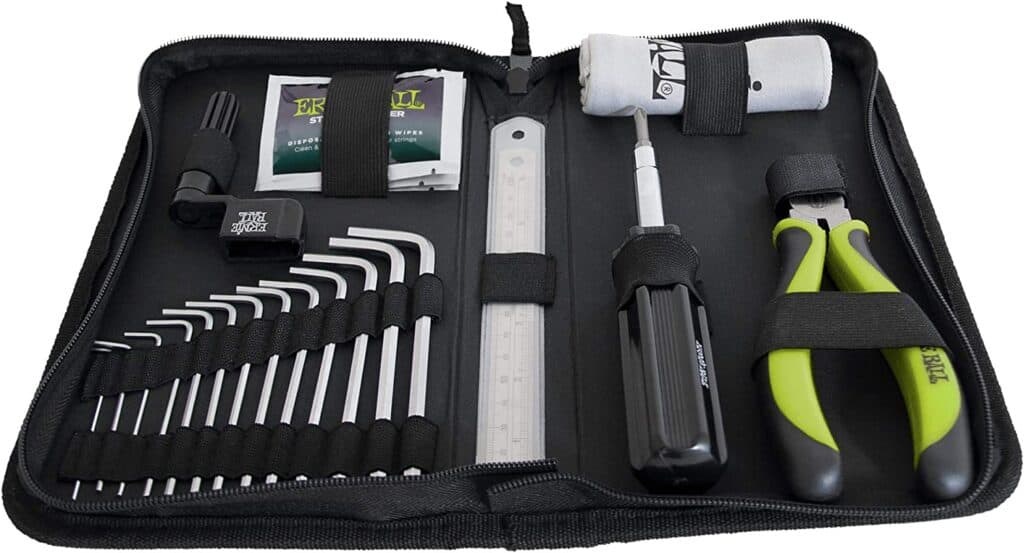 Guitar Cables
Oh, cables. The most necessary of evils in the guitar world. High-quality cables make an impact on tone, and using them at all points in the signal flow is a good idea.
You'll have a lot of options here. Some of the best are from Mogami, Ernie Ball, Fender, and D'addario. ProCo is another solid option. Though not as good as something like Mogami they are a good balance of quality and affordability.
And if you need multiple cables for input/output to your pedalboard and to chain pedals together sometimes it makes more sense to be a little cost-effective. You could also look into a solderless cable kit. This means you can create the exact cabling lengths you need without having to pick up a soldering iron. You'll pay a little more, but in the long run this can be a better choice than buying them separately.
Check out different guitar cables on Amazon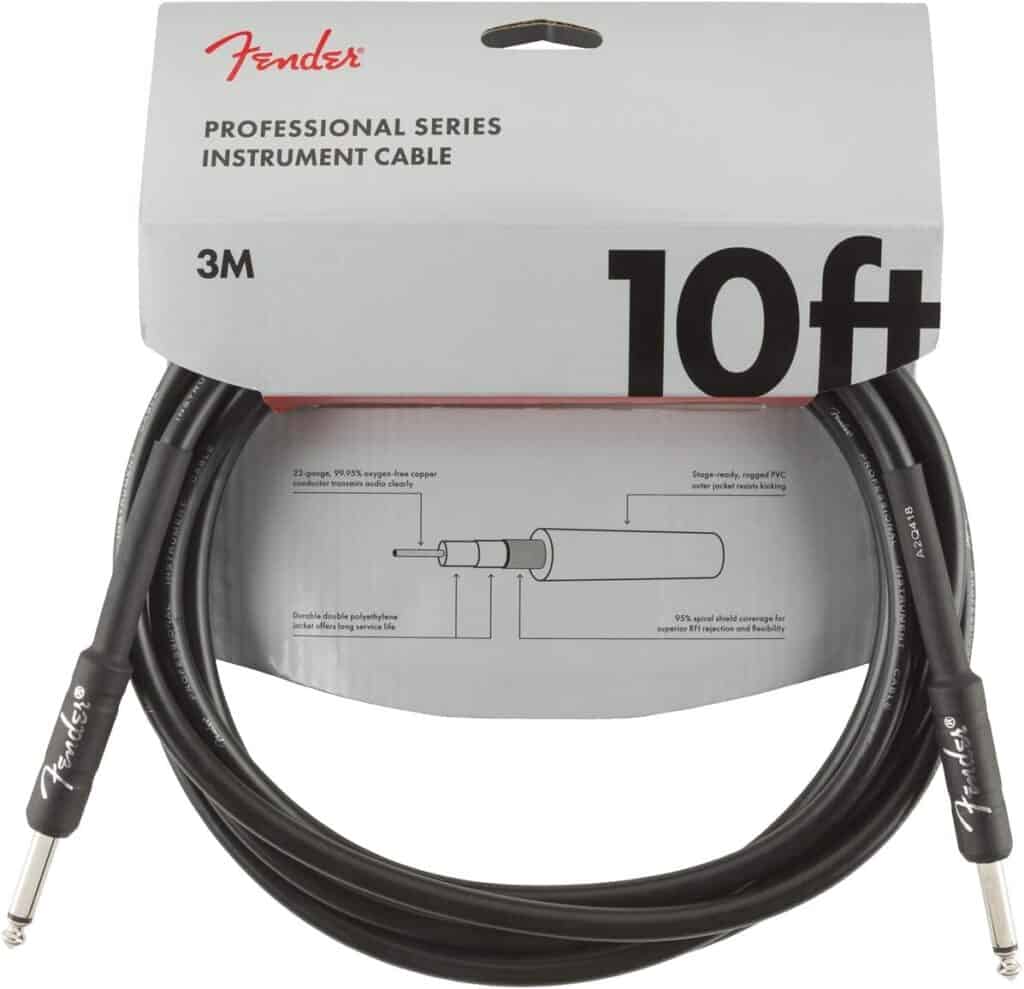 Straplocks
Other than a case and stand, straplocks (or strap blocks, no matter what you call them) are one of the best ways you can protect your guitar. They come in a few different styles. Some you fasten to the strap and install locking buttons, like those made by Ernie Ball. Another style "permanently" attaches the strap to the guitar body made by Dunlop, Fender, and Schaller. 
There are even cheaper rubber or plastic locks like those from Fender that work in the most fundamental way possible. No matter which style you prefer they are an affordable way to add additional security and peace of mind.
Check out Fender rubber strablocks or permanent straplocks (infinity Locks) on Amazon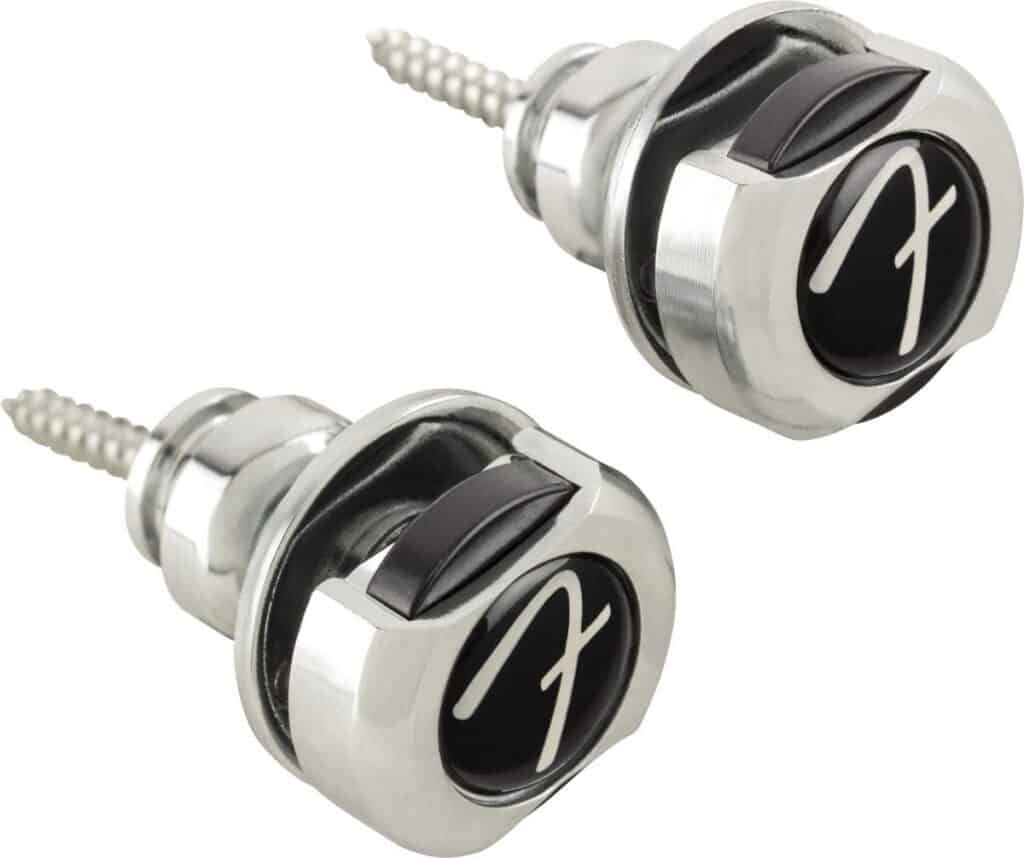 On-Stage GPB2000 Pedalboard

At just over $50 this pedalboard is small but packs utility. The slotted aluminum body is lightweight but sturdy, and the surface can hold up to five standard-size pedals. It tilts, allowing easier access.
Cutouts let you keep cabling clean, and the hook-loop strips and rubber feet make sure things aren't going anywhere. It comes with a carrying case too. For guitarists that don't use many pedals, want an additional pedalboard, or want to create a small "throw-and-go" board for easy transit, this is a good choice. This is a very thoughtful gift any guitar player needs.
Check out On-Stage GPB2000 Pedalboard on Amazon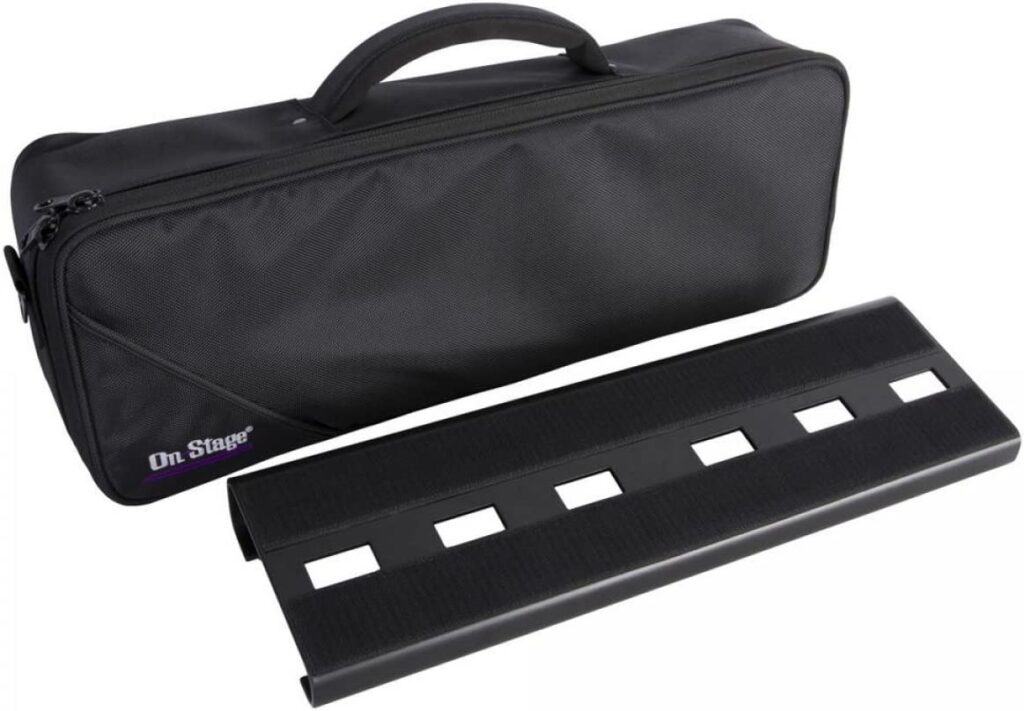 Dean Markley 3010 ProMag Plus Soundhole Pickup
Love them or hate them, piezo pickups have their own sound…So if you're looking for a more natural tone when amplifying your acoustic guitar a soundhole pickup is the way to go. And it's also an original gift no guitar player will expect.
The 3010 is a passive single coil pickup with a balanced, natural sound. Much more natural than a piezo. Due to its passive design you'll still need to use a preamp though. But whether you're going direct to a mixer or interface you'll have a way to amplify the signal.
A good acoustic preamp is still recommended, but there are workarounds. If you've never tried an acoustic soundhole pickup you'll be amazed how much more natural they sound.
Check out Dean Markley 3010 ProMag Plus Soundhole Pickup on Amazon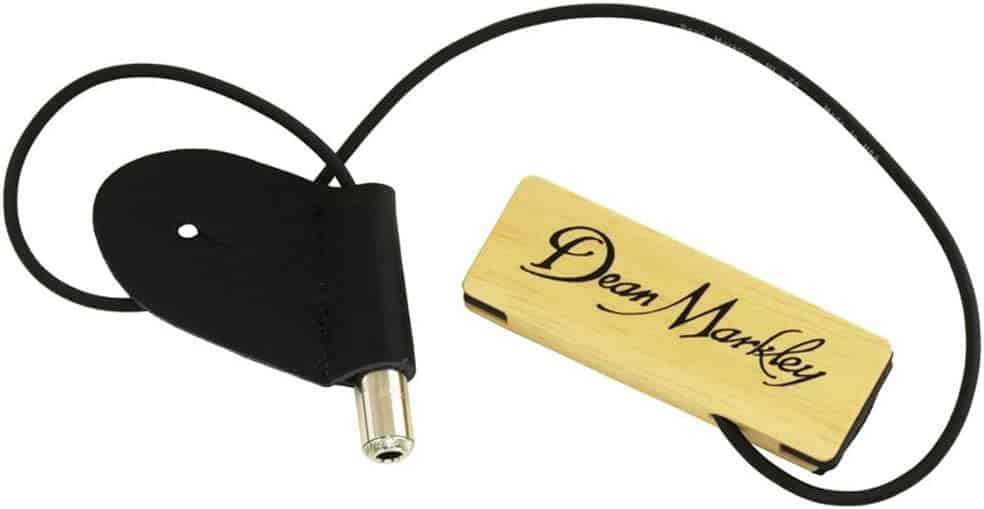 Gifts for Guitar Players Under $25
This is perfect for guitar players who have just started getting the essential accessories they need. A great way to show support for an aspiring guitar player.
Snark ST-8 Clip-on Tuner

Staying in tune is a top priority. Snarks are a genius product that work on electric and acoustic guitars, bass guitars, even violins! They come in a few different models, but the ST-8 is the best of all worlds.
You get accurate tuning, a full-color display that's easy to see in dark environments in an ergonomic format that clips to the headstock. The display can fully rotate, and the chip that powers it is faster than previous models. It has flat tuning, transposition, and pitch calibration from 415Hz-466Hz.
Check out Snark ST-8 Clip-on Tuner on Amazon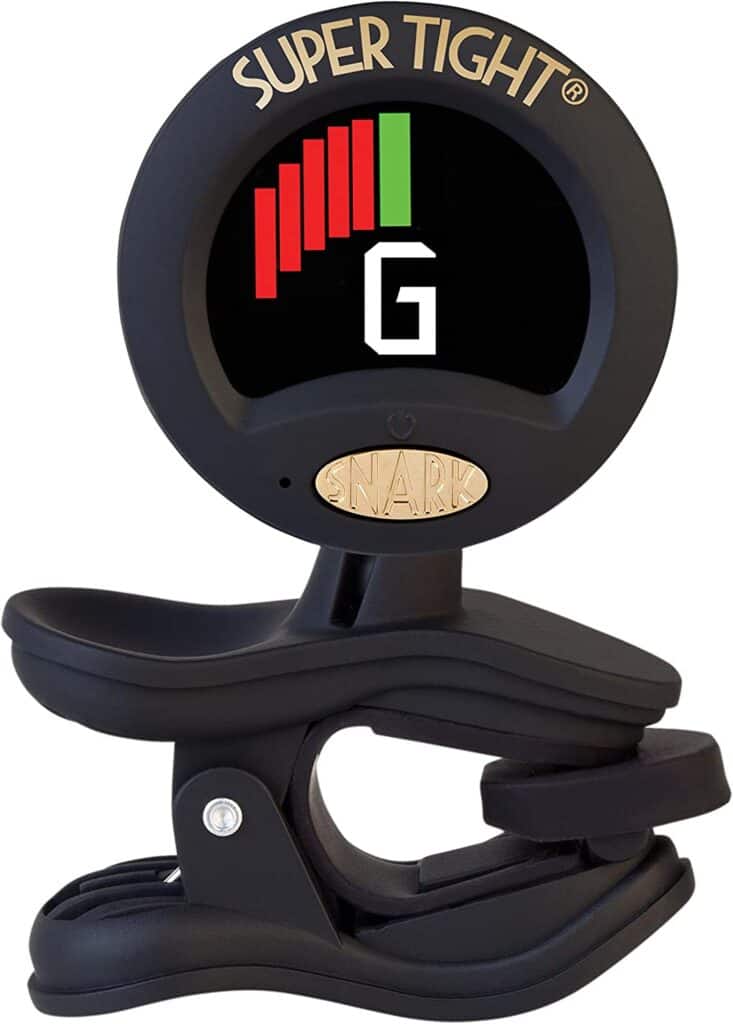 A High-End Guitar Pick
This thoughtful gift will surely make your guitarist giftee happy. There are many types of guitar picks, but as a gift, I'd suggest going with an extremely cool guitar pick, a beautiful guitar pick, or my personal favorite, a performance boutique guitar pick.
These are guitar picks made by hand by skilled plectriers, ad the end result is a few levels above anything most guitar players have ever tried. What makes them so good compared to mass produces pick is the materials and shaping. Some are made of high-performance plastics, but some are made of Wood, Stone, Metal, or other materials.
Check out some guitar pick reviews I wrote.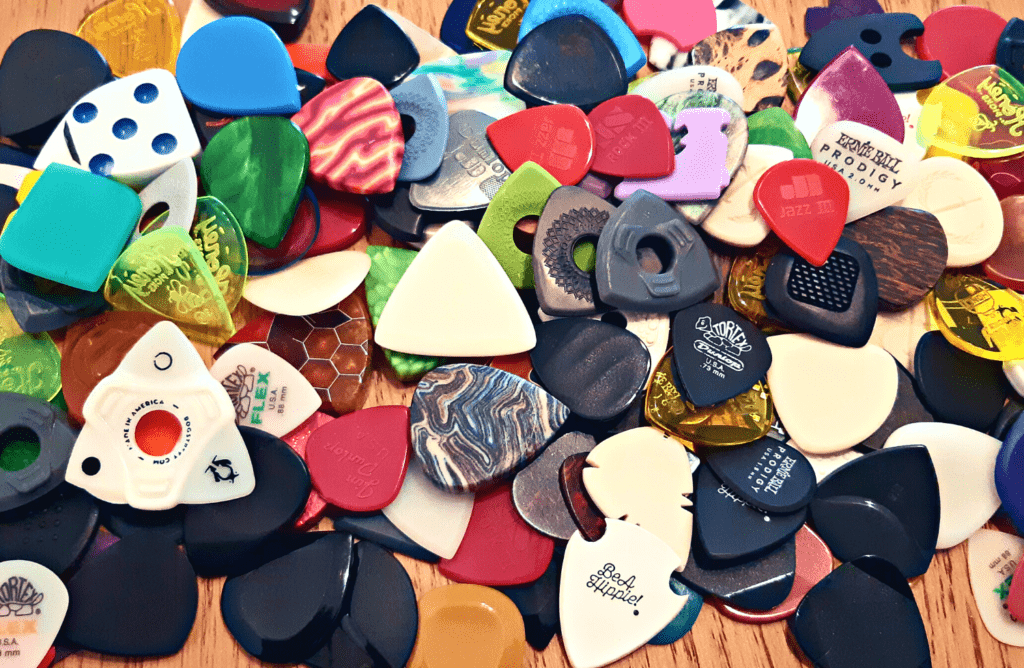 Shubb S1 Guitar Capo
You have a lot of options when it comes to capos. Kyser and Dunlop both make popular, industry-standard models, but don't overlook the Shubb S1. It uses a slightly different mechanism.
Instead of being a spring action, you put it on the neck and then lock it in via a screw. This means that it keeps better intonation than spring-loading capos. The point of contact is rubber that acts just like a fingertip.
You can set it and forget it without having to adjust the pressure every time you use it. You can then just flip the level to lock or remove it.
Check out Shubb S1 Guitar Capo on Amazon

Vacuum Tubes
Despite being over three-quarters of a century old tube amps are still as popular as ever. And since they run on tubes, they're one of the most important elements of tone. They're also easy to change. But it's not just new tubes – changing to a different type of tube can alter the sound in pleasing ways.
If your preamp takes 12AX7 tubes you can try the lower gain 12AU7 tube. It's not a major change, but different types of tubes have different tonalities and response. It's important to note that you'll want to consult with your owner's manual before making any changes. Contacting the manufacturer might not be a bad idea either.
Check out JJ Electronic's 12AU7 tube on Amazon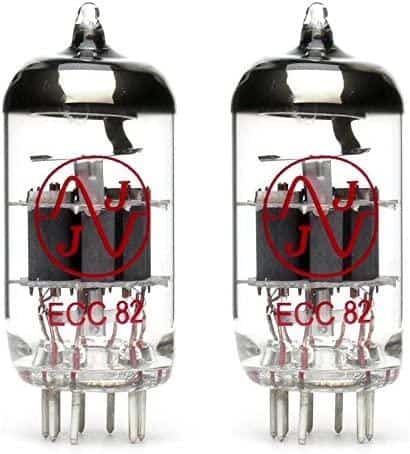 Dunlop 6500 System 65 Guitar Maintenance Kit
Keeping your guitar looking good is important. Dunlop's System 65 includes string cleaner, neck cleaner, fretboard conditioner, and guitar polish. It also comes with sham cloths that are washable. It's a great deal and will last you for a while.
Check out Dunlop 6500 System 65 Guitar Maintenance Kit on Amazon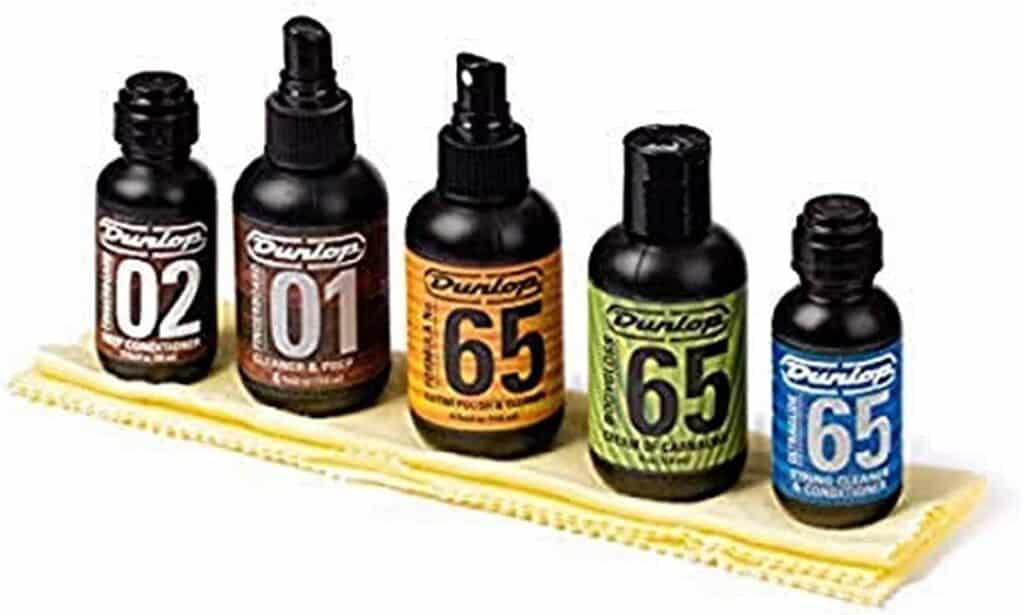 Guitar Stand
Guitar stands range in price, but you can get a good one for around $20. On-Stage, Gator, Gleam, and Hercules all make great models.
There are basically two types – the "classic" stand and A-frame. Classic stands are the preferred choice of many players as they offer more points of contact when the guitar is sitting on it, and there is a restraint that secures the neck onto the stand.
Check out GLEAM Guitar Stand on Amazon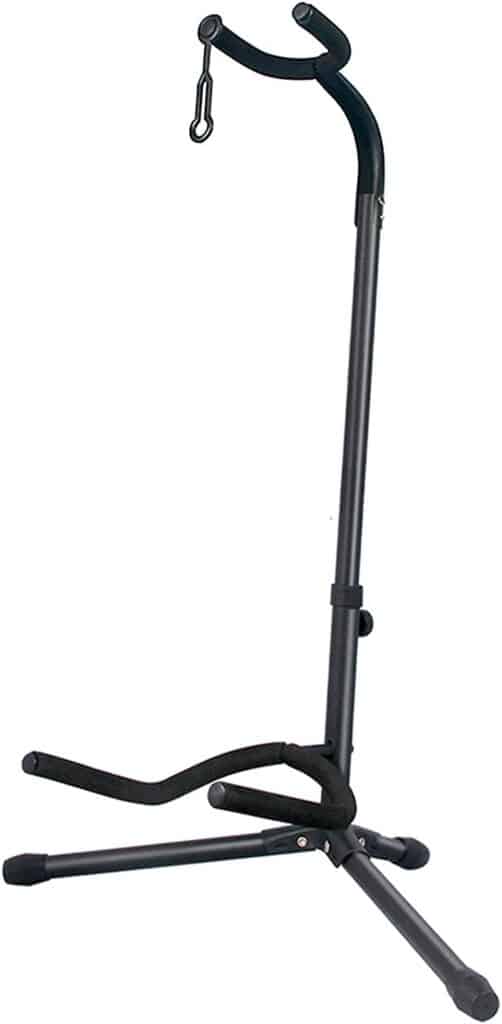 Guitar Gift Ideas Under $10
Whoever told you that $10 is not enough for a guitar gift has no idea what they're talking about. These gifts are thoughtful and beyond saving your favorite guitar player some cash, it will show them you care.
New Strings
New strings are one of the simplest and best ways to make sure you have the best tone possible. There are a lot of reasons to change strings regularly. Over time as strings are played in, they lose tension and vibrancy.
There's no such a thing as too many guitar strings. So even if they already have some spare strings, guitar players will appreciate this gift.
This leads to the sound becoming dull and lifeless if they get to a certain point. Old strings also don't hold tuning and intonation as well, so you'll notice pitch problems with older strings too. Strings are a great stocking stuffer and everyone needs them.
Check out Ernie Ball Slinky (for electric) and Martin MA540 (for acoustics) on Amazon, or the review I wrote about Martin MA540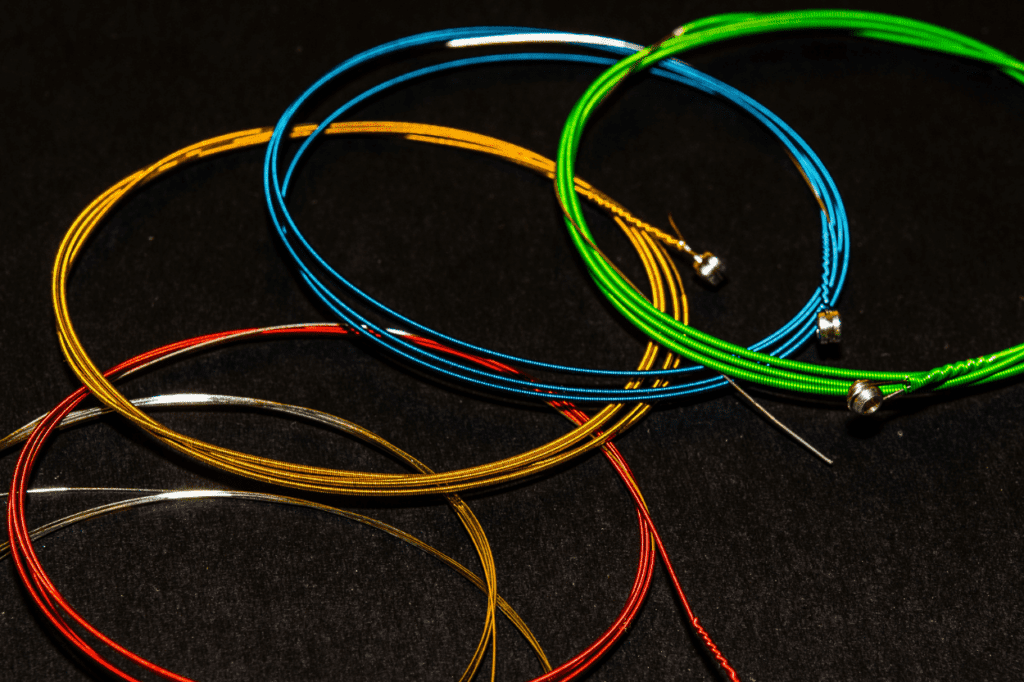 Fender Steel Slide
A slide is a cool little accessory that can add some new dimension to your playing. They come in a few different types. Chrome is generally the most common, but they also come in glass, pyrex, and brass. And each one lends a different sound. A slide is a cool accessory to play around with.
Check out Fender Steel Slide on Amazon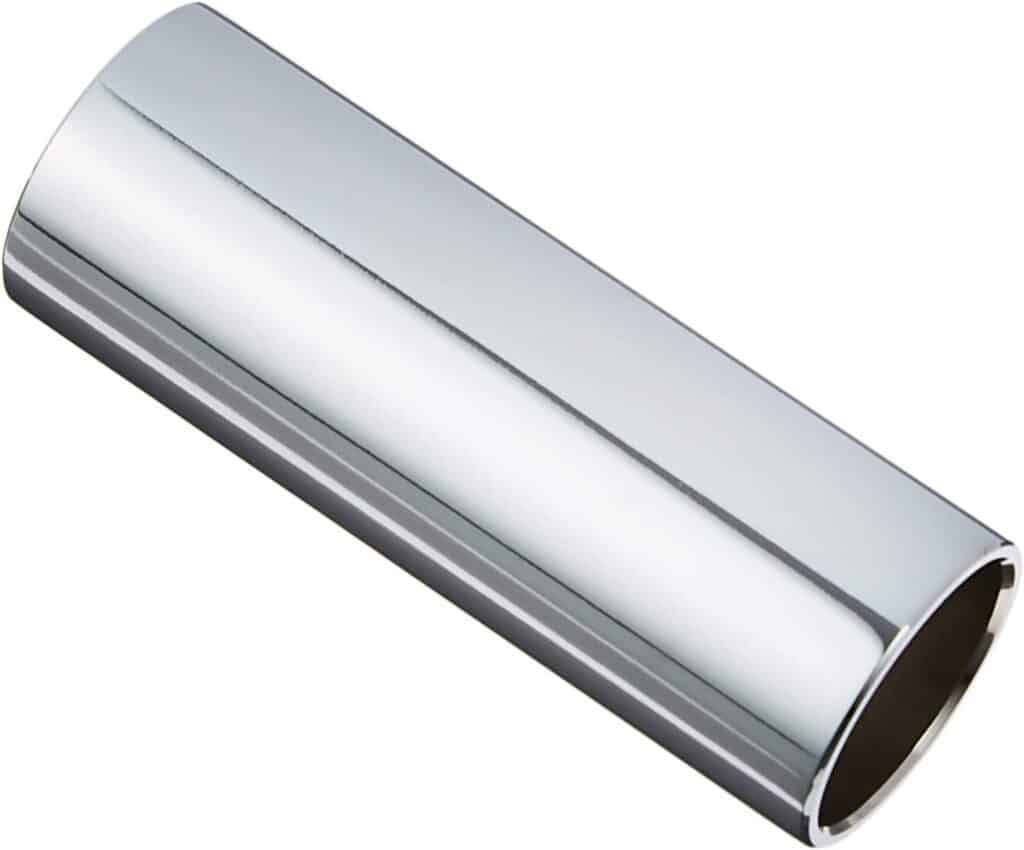 Ernie Ball Polypro Strap
It's wise to invest in a good strap, but that doesn't mean you have to overspend. The Polypro is a standard that's adjustable from 38-68 inches. It's basic, but is used by guitarists the world over. There are certainly "better" straps available, but if you're looking for an affordable, well-made strap this is it. And most certainly a gift any guitar player would appreciate and use every day.
Check out Ernie Ball Polypro Strap on Amazon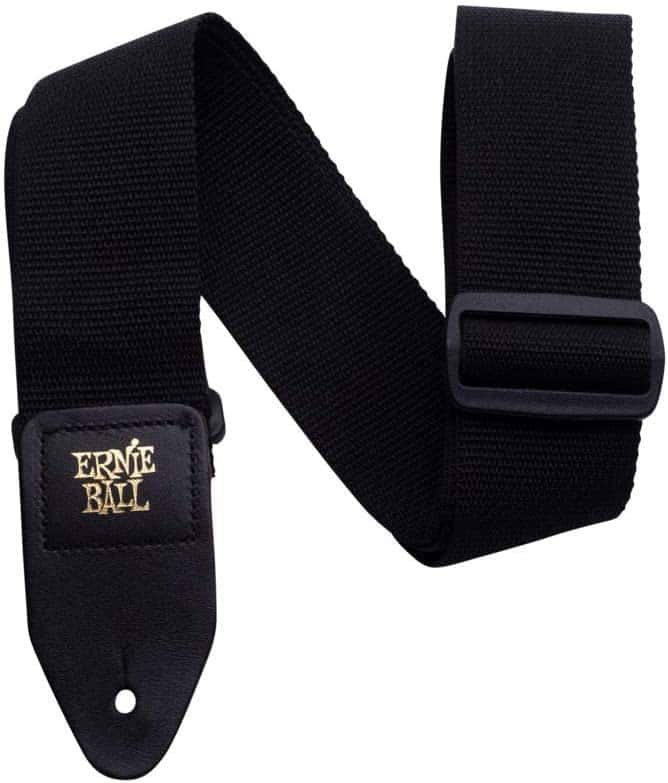 D'Addario DP0002 Pro-Winder
This is a handy 3-in-1 tool that makes changing strings a breeze. The winder lets you change strings easily, and the clipper ensures the cleanest string cut. There's even a bridge pin puller for use with acoustic guitars. It fits easily in your case or gig bag and makes a great addition to your overall guitar tech kit. This is the one tool every guitar player needs for any string change, so getting it a s gift is wonderful.
Check out D'Addario DP0002 Pro-Winder on Amazon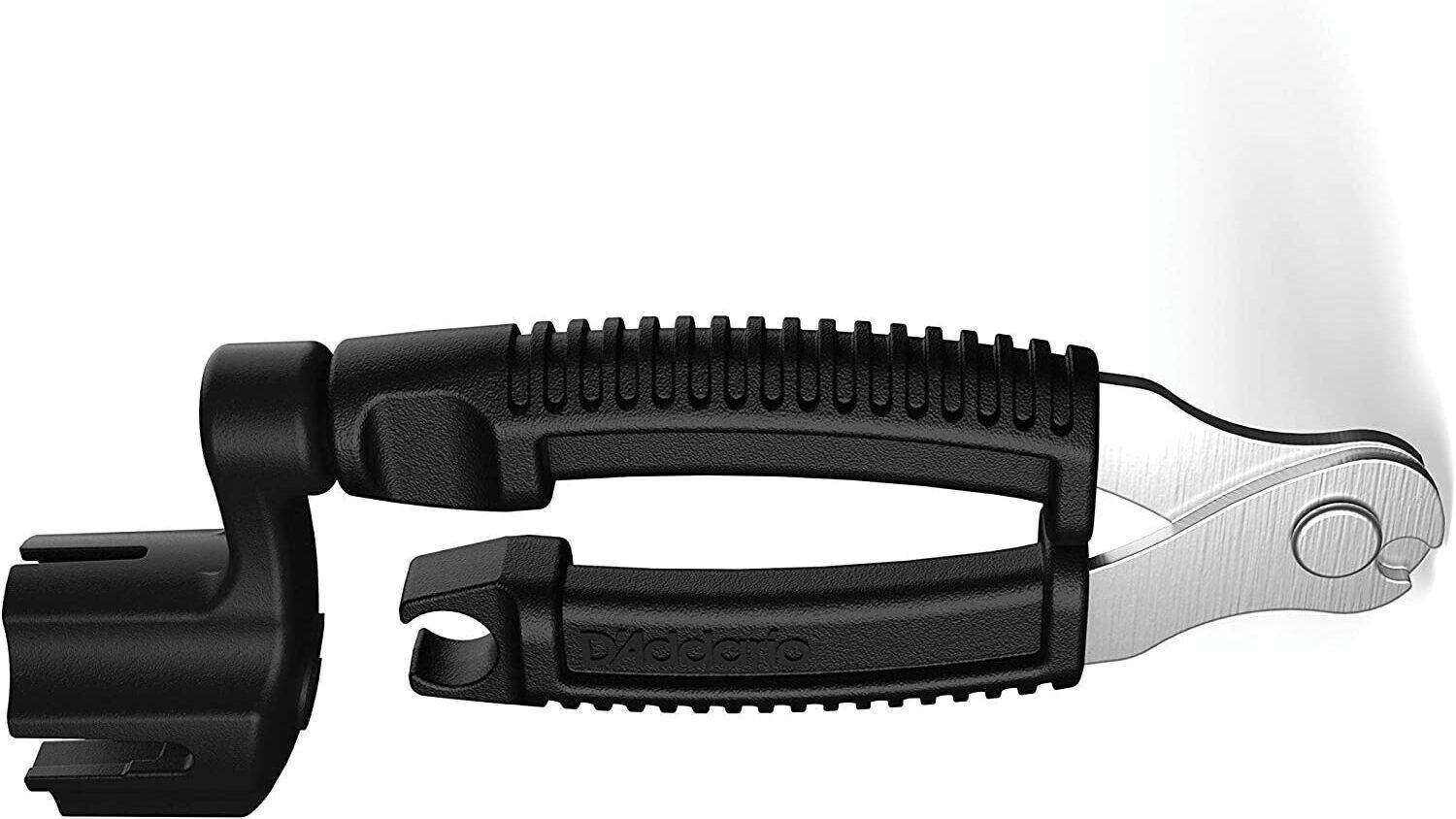 Barefoot Buttons V1 Standard Footswitch Cap
Ever tried to step on a footswitch without shoes? It hurts. A footswitch cap fits on top of a standard stomp switch to make stepping on it more comfortable. It also makes the switch easier to hit by giving you more surface area. They come in black, blue, or red so you can color code your effects or choose the one that's easiest for you to see.
Check out Barefoot Buttons V1 Standard Footswitch Cap on Amazon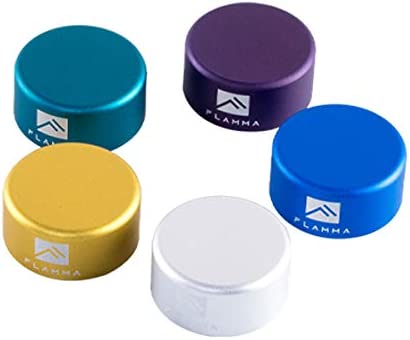 Conclusion
From stocking stuffers to gifts of all types, there is no shortage of ideas to treat the guitar player in your life this Christmas – or yourself. No matter what budget you're working with, there are so many useful products that, no matter what the need is, you can get the perfect gift. 
If you have other cool guitar gift suggestions, or if you got a great guitar-related gift lately, post them in the comments below!