Stone guitar picks are becoming extremely popular these days. They require some getting used to because they're not flexible at all, compared to most other types of picks. But once you got in the zone, and playing them became as fluent as playing with your other picks, you start to see the return on your investment. They produce a warm and unique tone (which is a bit counter-intuitive with their hardness), and changes between different types of stone. Without further ado, here are the best stone guitar picks.
#1: StoneWorks Picks
StoneWorks picks almost became a synonym for stone guitar picks at this point. Handcrafted by Mike Stone (believe it or not) from Dallas in the USA. The StoneWorks picks range is both rich and simple, and prices go from $25-$35 for picks from the Designer or Jazz series, up to $85-$125 for picks from the Collector series. There's also a more cost-effective option at $30 for 2 picks from the Player series. The picks have a warm quality you should really hear for yourself. They come in many different shapes and gauges, and every pick on their site represents the actual pick you're gonna get, which is extremely cool.
You can check them out and buy them from their website.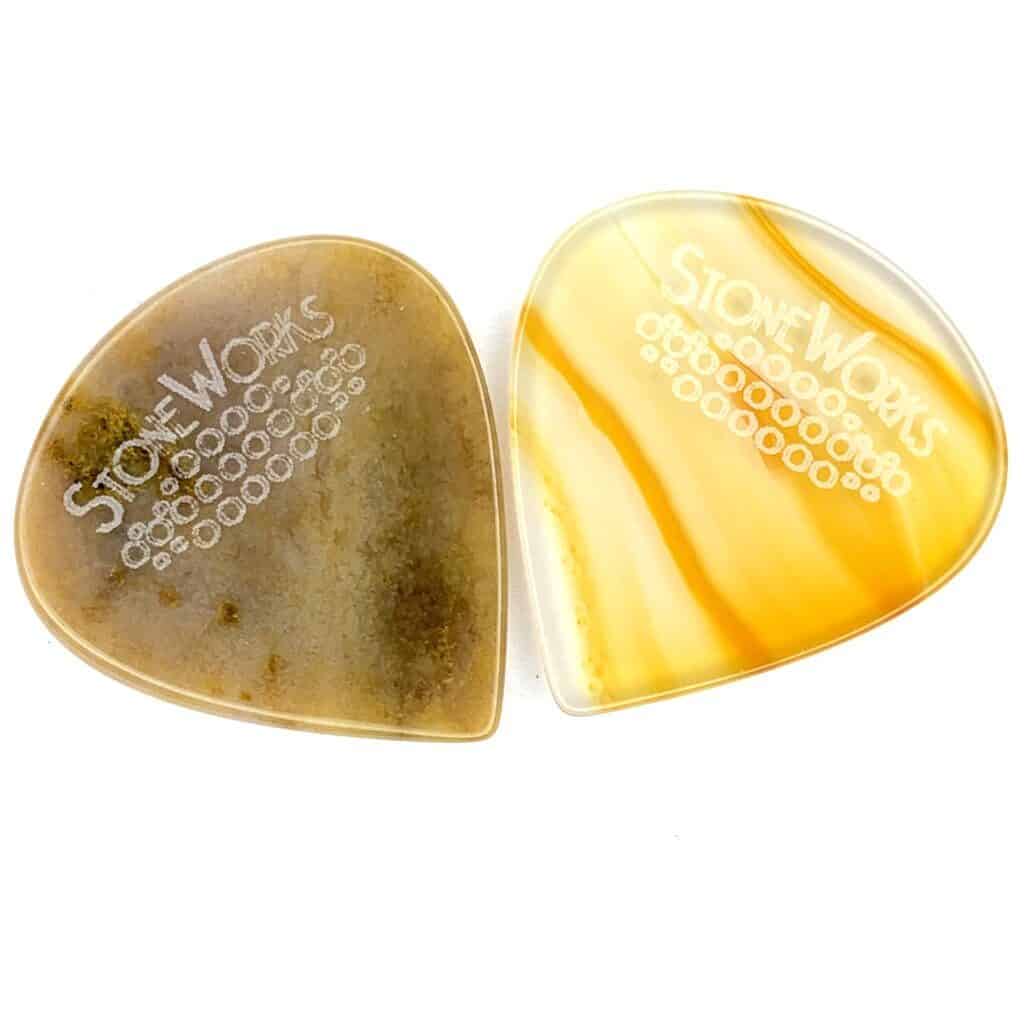 #2: GypsyJazz Picks
GypsyJazz Picks are less known than other makers on this list, but it sure is not because their picks aren't awesome. They offer a huge variety of stone guitar picks and very good prices for the quality you get for them. Most of their picks resemble something between the Jazz III and Teardrop shape, just with a shaper tip, which I Like. But offer some rounded models as well. You can check their Etsy store here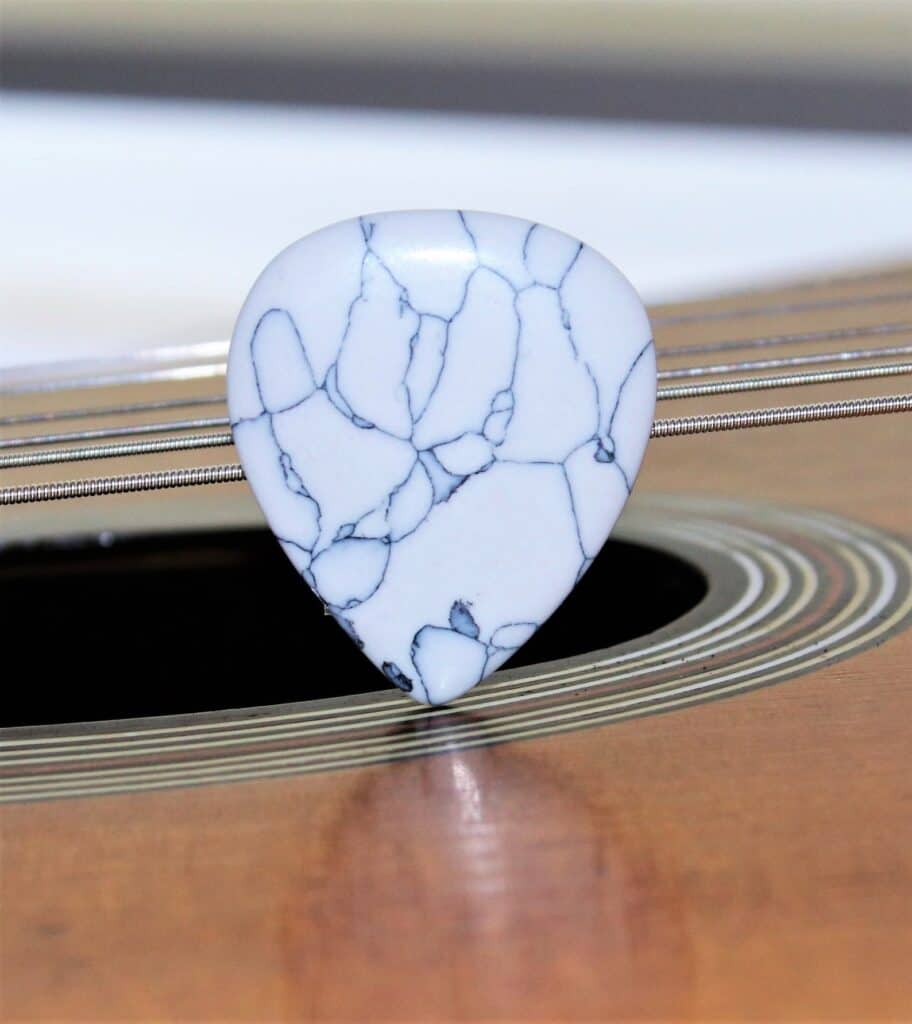 #3: Timbre Tone Picks
I love Timber Tones, They are also ranked #3 on my Best Wooden Guitar Picks list. But their website is always a huge headache for me, and it looks like Amazon is messy as always, So I usually buy Timber Tone Picks on Etsy… When it comes to stone picks, they offer a huge variety of stone types in many different shapes and thicknesses. In terms of prices, most of their stone picks are sold for $18. but their Stone Tone series Includes Jade and Jasper picks at about $10 (depends on where you buy them from). . The picks are machined, which for me is both good and bad. It's good because if you liked it, the next one you order will be an exact replica. It's bad because I'm a big fan of the imperfections boutique guitar picks often come with. Anyway, you can check them out here on Amazon, here on Etsy, and Here on their website.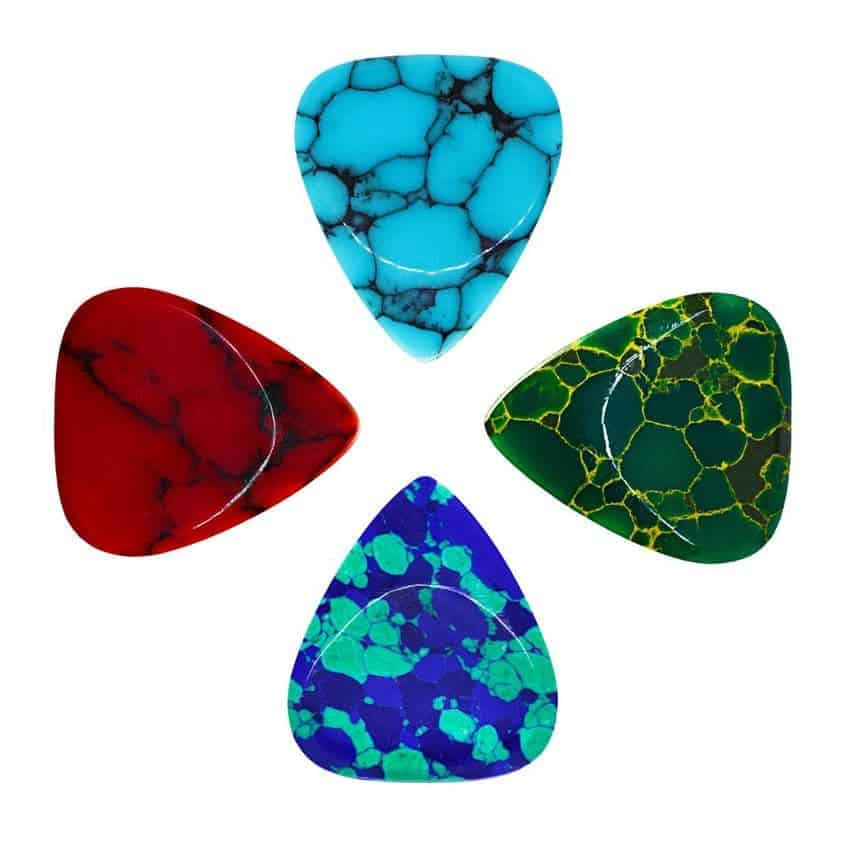 #4: SaludaPicks
I think this is one of the best experiences I've ever had buying guitar picks online. Their customer service is really good, they are very responsive and informative. Unfortunately, their Etsy store is a bit complicated (and that's the main reason why they're not ranked higher on this list), but with a little help from Google and their chat on Etsy, you'll get the exact pick you wanted at a great price. SaludaPicks' pricing model is very simple – the more you buy, the less you'll pay per pick. The reason I don't give their pricing is that their stock changes all the time. Check out their Etsy store here, and thank me later.
(Bonus: see how many jokes you can spot on their store)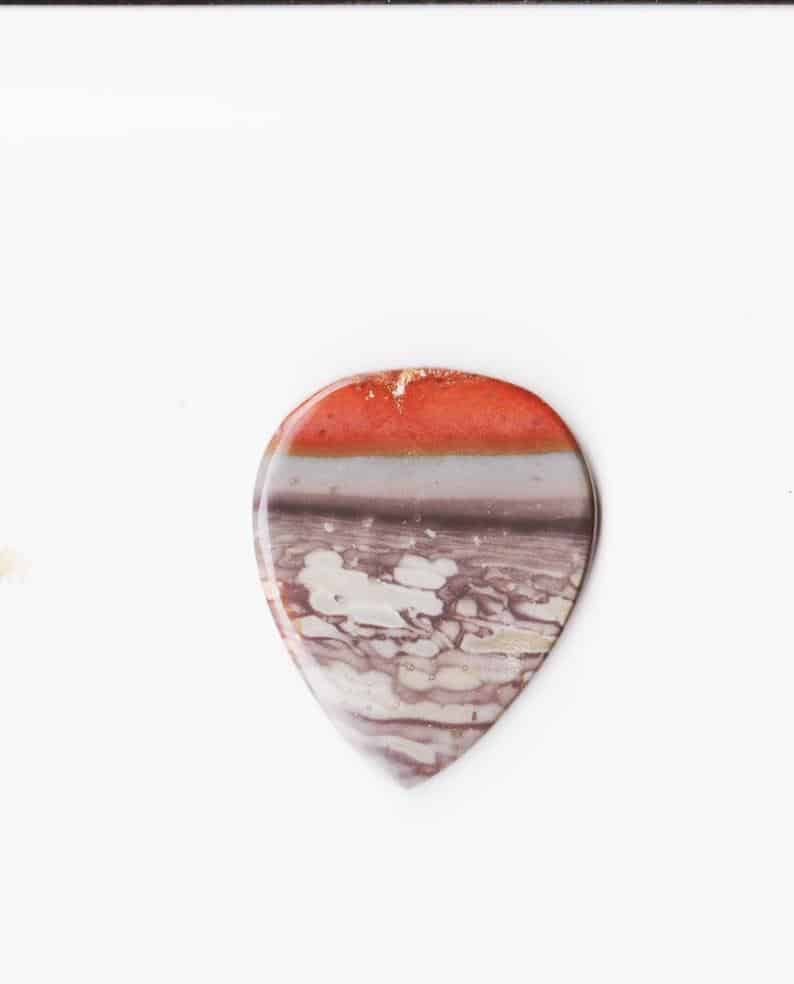 Final words
Stone picks are something you should consider if you want to expand you guitar's tonal vocabulary in a more unique way. I hope you enjoyed reading my list as much as I liked compiling it. See you next time!