Maple wood is generally used to make fretboards for electric guitars. The more the guitar is played, the more dirt, oil, and grime get transferred from hands to the frets. A dirty fretboard can impact the overall sound quality of the strings. In this guide, let us discuss how you can clean your maple fretboard safely to prolong your guitar's life.
Cleaning Maple Fretboard – A Complete Guide
A maple fretboard can be cleaned in different ways depending on whether it has a raw or glossy finish.
Raw or Unfinished Maple Fretboards
Raw maple fretboards are made up of unfinished wood and require an oil-based cleanser for cleaning and conditioning. This type of fretboard is generally oil-finished, so any non-abrasive treatment compatible with the fretboard should work. Here is how you can clean a raw maple fretboard in easy steps.
Take any compatible oil-based cleaner and apply dabs directly between frets.
Use a lint-free cloth to clean around each of the spaces
You might not notice an instant shine because the cleaning agent absorbs into the maple
Allow 2-10 minutes of time to get the maple rid of all the dirt and then use a dry cloth to remove extra oil
Once you have finished cleaning the fretboard, discard both the clothes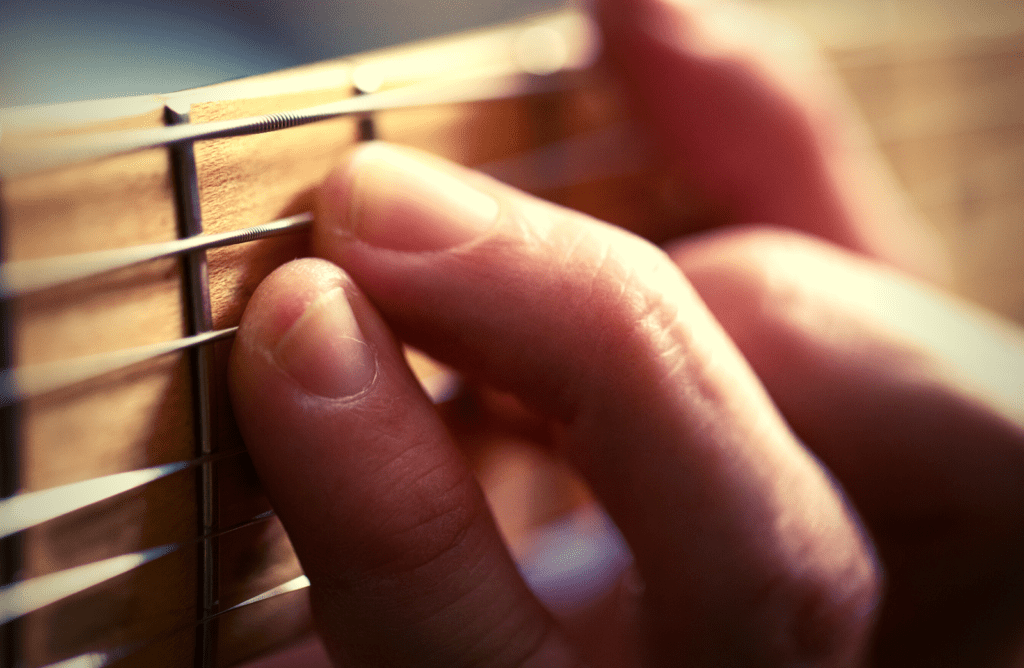 Glossy or Finished Maple Fretboards
This type of finish makes it easy to clean these fretboards. Finished maple fretboards can be cleaned with any standard cleaner intended for finished woods. Don't apply abrasive materials that can damage the finish and use only lint-free cloth like microfiber. Also, make sure you clean the neck and fretboard of the guitar after every use and remove debris and moisture to prevent buildup.
Follow these steps for a deep clean of your glossy maple fretboard.
Remove the strings or loosen them for easy access
Ensure that your fretboard has no cracks or the cleaner may penetrate into the wood
Take a fretboard cleaner and spray it on the cloth you are using; avoid spraying on the fretboard directly
Use the cloth to clean downwards on the guitar's neck
If needed, flip the cloth, spray more and do a second pass
Once done, discard the cloth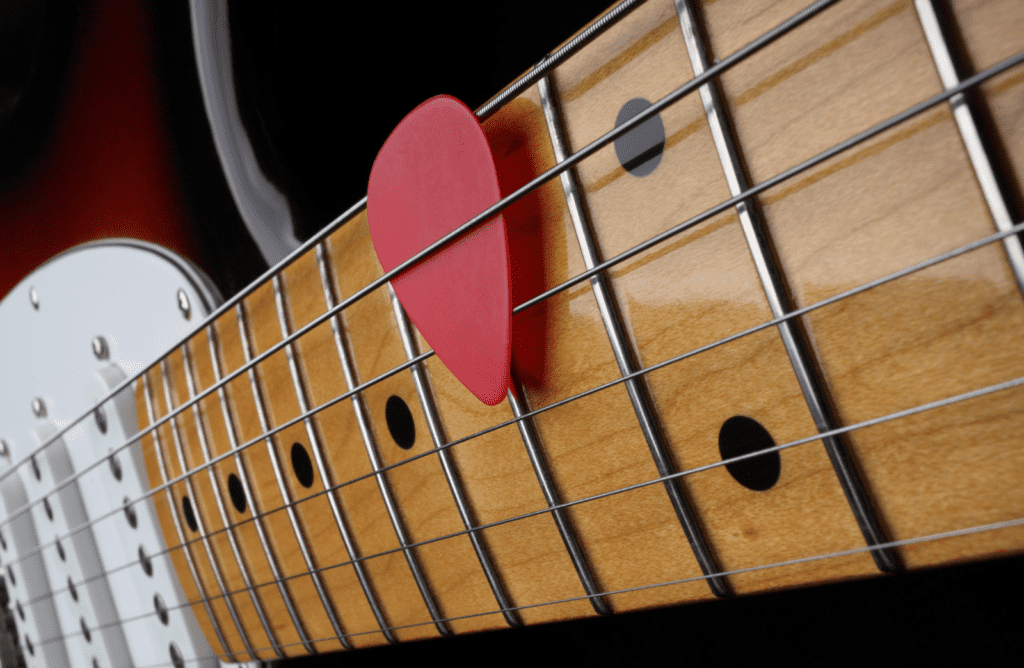 How To Clean Maple Fretboard?
If your maple fretboard is too dirty, you can consider removing the strings for a deep clean. Turn the keys counterclockwise to loosen bass strings while treble keys can be loosened by turning them in the clockwise direction. Begin with the thickest string and work your way to the thinnest one. You can easily remove the bridge pins with a tool and then pull out the strings from their holes.
Also, remove the guitar neck and place it safely away from the cleaning area. The fretboard can be cleaned by applying an even layer of vegetable oil soap. Consider using a paper towel or cloth to spread it and start at the nut, spreading it evenly from the nut to the 22nd fret. Immediately after putting the soap, scrub in small circles using fine steel wool. Avoid scrubbing directly with the grain as it can further push the dirt into the fretboard and damage the wood. Use paper towels to remove the soap and all the residue.
Best Maple Fretboard Cleaners – UPDATED 2022
A maple fretboard is more susceptible to dirt and marks as compared to ebony or rosewood boards. Moreover, it requires special cleaning and conditioning products. While you can use ultra-fine steel wool to remove dirt out of an unfinished fretboard, glossy boards should only be cleaned with a dry or damp cloth. Avoid using steel wool, lemon oil, or household cleaning products as they can easily dull the polish and take away their shine.
Here are a few products that work on maple fretboards.
MusicNomad F-One Fretboard Oil Cleaner & Conditioner
Even though I really like using lemon oil on my fretboards, when cleaning a maple fretboard, this is, by far, my favorite fretboard oil cleaner. It's super easy to apply, and extremely high quality makes it worth the price (which is not that much, considering how long a bottle lasts). You can get it from Amazon or from any music store.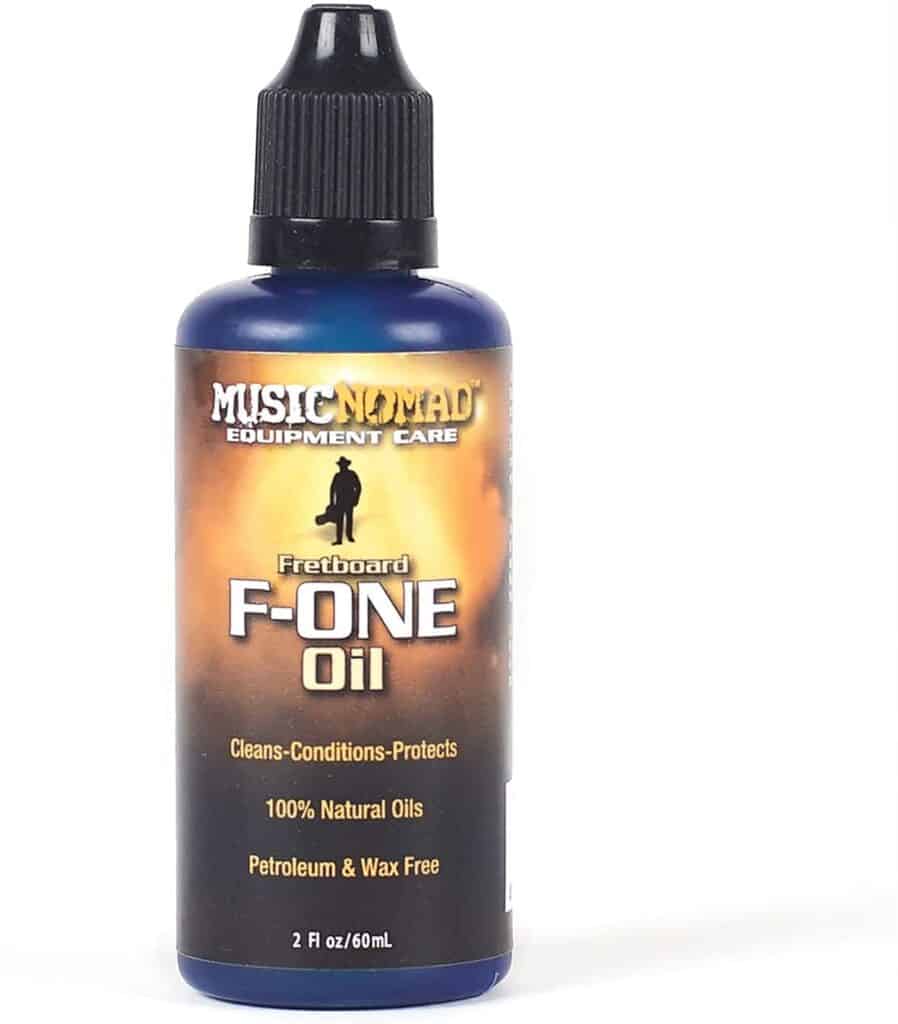 MusicNomad MN152 Premium Guitar Detailer for Matte and Gloss Finishes
Another great maintenance product for maple fretboards and necks, the MusicNormand detailer will make your maple neck and fretboard look better than how it looked when you bought it. Pump polish is a great tool for cleaning fretboards of dirt and grime. However, avoid using it on cracked finishes. You can buy it here from Amazon or from any music store.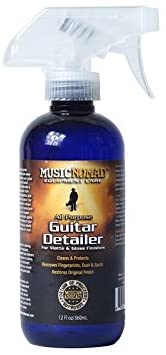 Maple Neck Care & How To Maintain Maple Fretboard
The finished maple neck and fretboard are easy to maintain and don't demand much care. The finish seals off the wood and lasts long without much care. You can maintain their shine and look by cleaning your hands before playing. Wipe the guitar neck and fretboard with a clean and dry microfiber cloth to get rid of debris and grime whenever you change strings.
Unfinished maple neck and fretboard can easily catch moisture, dirt, and oil from hands and the atmosphere. Make sure they are always kept dry and stored in a case when unused. This will ensure the maple does not get affected by humidity. This type of guitar neck and fretboard should be cleaned on a regular basis. You can clean them by rubbing them with fine steel wool to remove all the dirt.
Use mineral oil or naphtha solvent, and a microfiber cloth to remove stubborn oils and dirt from the fretboard and neck. Finally, you can use a guitar polish to smoothen the neck and fretboard polish. Spray a compatible oil-based cleaner on a cloth and polish the neck to make the surface shiny and clean. An unfinished maple fretboard can be polished by applying a thin layer of oil directly on its surface and rubbing with a paper towel.
Conclusion
It is not difficult to maintain a maple neck and fretboard; it just takes a few considerations to keep your guitar in a new-like condition without much effort. Avoid using water or dishwashing soap to clean a maple fretboard. Also, use a new lint-free cloth every time you clean it. We hope this guide helps you clean your maple fretboard and maintain it without causing any damage to your instrument.