Whether you call them tuning keys, tuning pegs, or machine heads, these tiny knobs play a big role in how your guitar sounds. The purpose of tuning keys in an instrument is to give you an easy way to adjust the string tension. Tuning keys are available in a wide range of designs and manufacturers to choose from.
In this guide, we look at some of the best tuning keys you can get for your classical guitar and also discuss some important considerations for these little machines.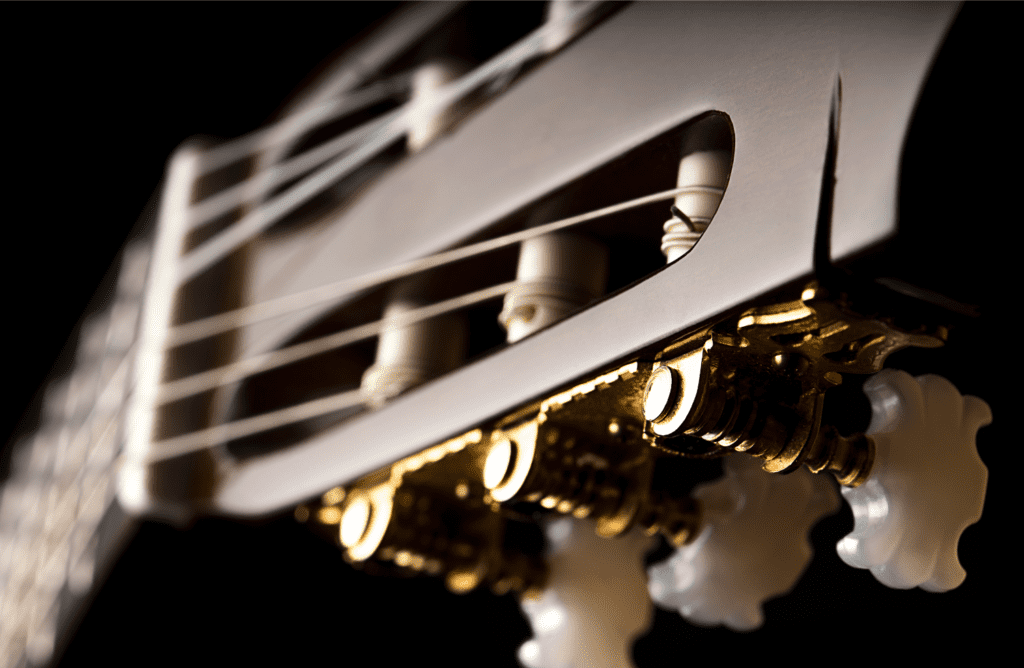 Tuning Keys For Classical Guitars – A Complete Guide
Tuning keys are small yet significant components that matter a lot when you learn or play a classical guitar. Your guitar is as good as you use the tuning keys properly.
Selecting the right tuning pegs is important to ensure that your guitar strings are fixed and tuned appropriately. Guitar tuning keys are typically made out of metal and come with a chrome coating to avoid rusting.
A set of tuning keys can make a huge difference to your classical guitar's performance. Guitars often come with cheap tuning heads, so it is a good idea to upgrade. However, choosing the right keys is crucial because installing a component that doesn't fit well can result in mechanical problems.
With a little knowledge and a workaround, you can find the best tuning keys for your classical guitar that allow maximizing the instrument's performance.
Best Classical Guitar Tuning Keys – UPDATED 2022
In the early days of guitar evolution, there were limited options available for replacing the guitar tuning keys. Only a few manufacturers made geared keys; most guitars used friction pegs as found on the violin. Such pegs are generally made from hardwood and are difficult to use.
Today, we find dozens of choices from several companies making high-quality tuners. These manufacturers offer products that suit most classical guitars and deliver superior gearing.
Guitar Tuning Keys Set & Price
Over the last 15 years, I spent thousands of dollars on tuning pegs. Some of them were worth it, and some have not. Either way, I learned what to look for in a quality set that won't break my bank account.
There are several manufacturers offering tuning key sets in a wide variety of materials and design options to choose from. You can expect to pay anywhere from $20 to $300 for a set of six guitar tuning keys. The exact price can vary depending on the quality of the keys and the brand.
The cheapest key set may not work great but can serve the purpose of keeping you in tune. Spending a little more generally gets you better build quality and smoother operation.
#1: Tenor Classical Guitar Tuning Keys
Don't let the name confuse you, the Tenor line was designed for classical guitars. These are the ones I'm using on my guitars. I've tried so many more expensive options, and nothing came close to these. My favorite model is the Tenor 200 (it looks even better in real life), followed by Tenor 403.
Tenor 200 has all the traditional elements you can expect from classical guitar tuners. Antique Brass finish, leaf-style decorations, and a crown at the top. Tenor 403, though, is another beast altogether. It has a modern design that you can either love or hate, and I just happen to love it. They offer a few more designs that I personally didn't try, but it's safe to assume that the build quality remains at the same level.

#2: Lovermusic Black and Gold Classical Guitar Tuning Pegs
This tuning key is an amazing product for replacing your old guitar tuner heads with new ones without compromising your instrument's look.
This set of tuners has a 1:18 ratio, meaning you get all the accuracy you need, as well as superb tuning stability. It comes in black and gold which gives your guitar a stylish high-end look. Though it's a little more expensive than other options, the tuning key is capable of transforming your instrument's appearance, as well as playability.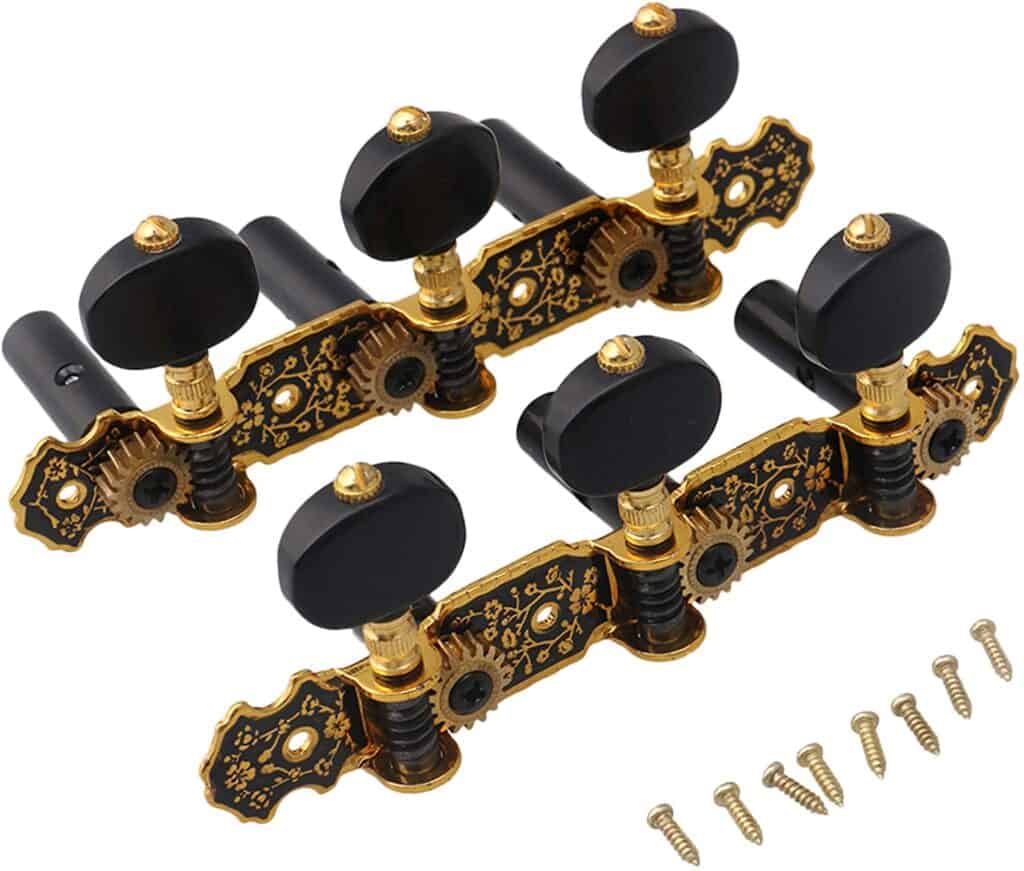 #3: Golden Gate Classical Guitar Tuners
Golden Gate is brand best known for their guitar picks, but they have a wide range of guitar and ukulele accessories. They have 2 sets of tuning pegs for classical guitars: Model F-2113, and Model F-2110, which is the low end version. Personally, I like them both, even though F-2110 feels a bit cheaper than F-2113. Either one of them will be a very safe bet, as this is a very respected brand.
#4: Mr. Power Guitar Tuners Machine Heads
Mr. Power is a popular brand offering guitar accessories and musical instruments in an impressive variety to choose from. I can't count the number of different items I bought from them, and I can't see myself stopping any time soon. This set of guitar tuner heads is an affordable choice that can easily be your go-to model whenever you feel you want a change. It was mine until I tried Tenor a few months ago.
This set will cost around $19, with a few different options to choose from. I think it's safe to say that this is my favorite around the $20 price range. Check it out on Amazon.
#5: Metallor Guitar Tuning Pegs Machine
Those who are in search of an affordable set of tuning keys would find this product a perfect choice. This is a chrome plated set of tuners with plastic pags. The are very affordable, costing between $10 and $15 (depends on the actual model). They are quite durable, and I think the look very nice. All in all, the value for money you get from Metallor is great, you should definitely check them out. My personal favorite is Model G327, with model G317, as a close second.
Replacement Tuners For Classical Guitars – What You Should Know?
Machine tuning heads are one of the most frequently breaking parts of a guitar. Cheap tuners generally last for about two years before they need replacing. There are so many options from different brands when it comes to getting a new set of replacement tuners for your classical guitar. However, it takes some consideration to find the right match that tunes your instrument perfectly for optimum performance.
A classical guitar has the tuners located on the headstock's side and not the back. The configuration of the headstock matters a lot when looking for replacement tuners. Another important factor is whether they are left or right-handed. Left-handed tuning nuts are designed differently from right-handed ones and they cannot work for one another. Another consideration is the brand of your original machine and the brand you want to upgrade to.
You can find a variety of finishes in the market including nickel, black, gold, chrome, and satin chrome. Though they vary a lot in terms of price, chrome and nickel are more affordable than others and are quite popular.
How To Replace Tuning Pegs On Classical Guitar?
This is, in fact, a lot easier than it seems at first. The first thing to do, is to remove the strings. Then unscrew the previous tuning pegs from the headstock. Now, before you put your new set in place, make sure they're in the right alignment. Screw the new set in place, and check to make sure that the part holding the strings is stable. That's it.
Here is a great video that shows how to do it step by step, even though I really think that you can pull it off just by using common sense.
Final Thoughts
We hope this guide helps you choose the right tuning keys for your classical guitar to replace the old and dirty ones. Tuning keys are a small but important part of the instrument affecting its performance to a great extent. Proper maintenance of this component of your guitar would keep you sounding your best.