D'Addario's Duralin picks need no introduction. They are available in various gauges and four different pick shapes, making sure most guitar players have a pick that fits their playing style. They might remind you of another famous pick series, and you won't be wrong comparing them because they are almost identical. From the material to the shapes, and even the color scheme is almost the same. But make no mistake, these are not just Tortex copycats. They have some aces down their sleeve that give Dunlop a real fight.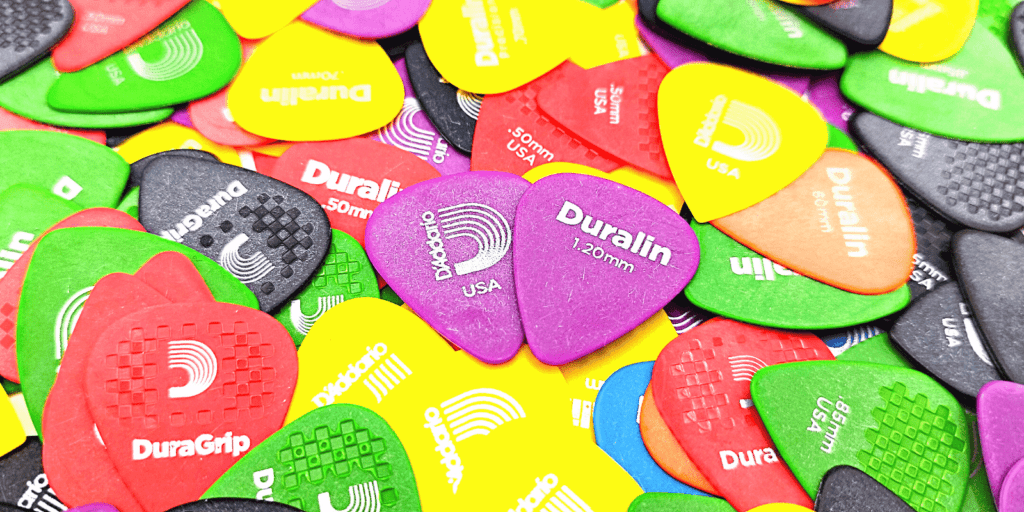 What's in D'Addario Duralin Picks Collection?
Standard – Standard 351 shaped picks in seven gauges: 0.5mm, 0.6mm, 0.7mm, 0.85mm, 1mm, 1.2mm, and 1.5mm.
Precision – Standard Sharp shaped picks
Wide – Triangle 346 shaped picks
Black Ice – Jazz III shaped picks in 4 gauges:
DuraGrip – Standard 351 shaped picks with an imprinted grip surface
What Is Duralin?
Duralin is D'Addario's name for Delrin (Acetal). Delrin is available in either matte or glossy finish, but Duralin, at least for now, is only available in matte.
Duralin vs Tortex
The main difference between Duralin and Tortex is the price. Some Tortex picks cost 50% and above more than their equivalent in the Duralin line.
There are indeed some minor differences in gauges between the two lines (.05 here or there – unnoticeable if you ask me), but other than that, they are almost identical. They last pretty much the same, and they sound and feel the same, to a level where I couldn't tell the difference between them in a blind test.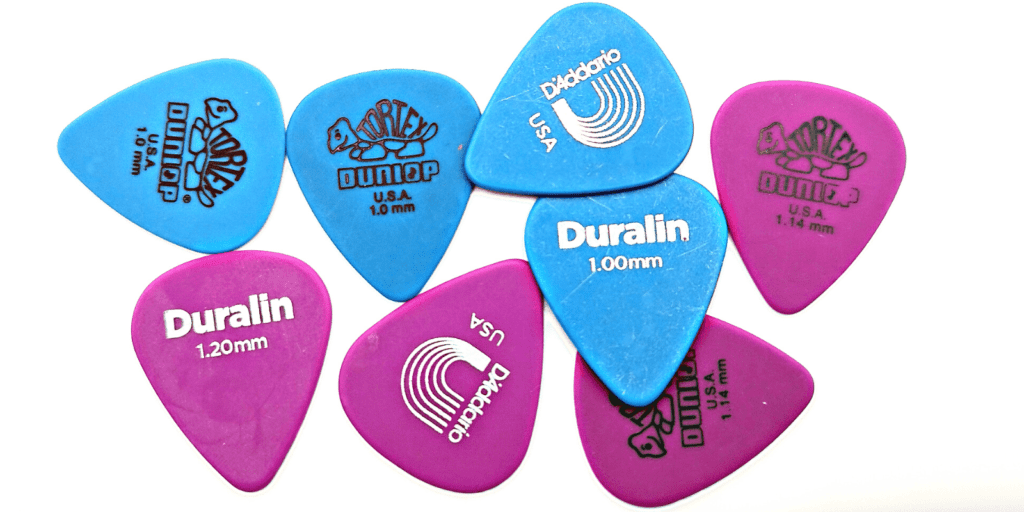 D'Addario Duralin Picks Rundown
The Duralin line has five different models, each available in a few gauges: Standard, Precision, Wide, Black Ice, and DuraGrip.
Standard
D'Addario Standard Duralin picks will be most players' first choice, and if you want to give this a try, you should definitely start here. Available in seven different gauges between 0.5mm to 1.5mm ensures you'll have a couple of good options no matter which style you play or gauge you're used to.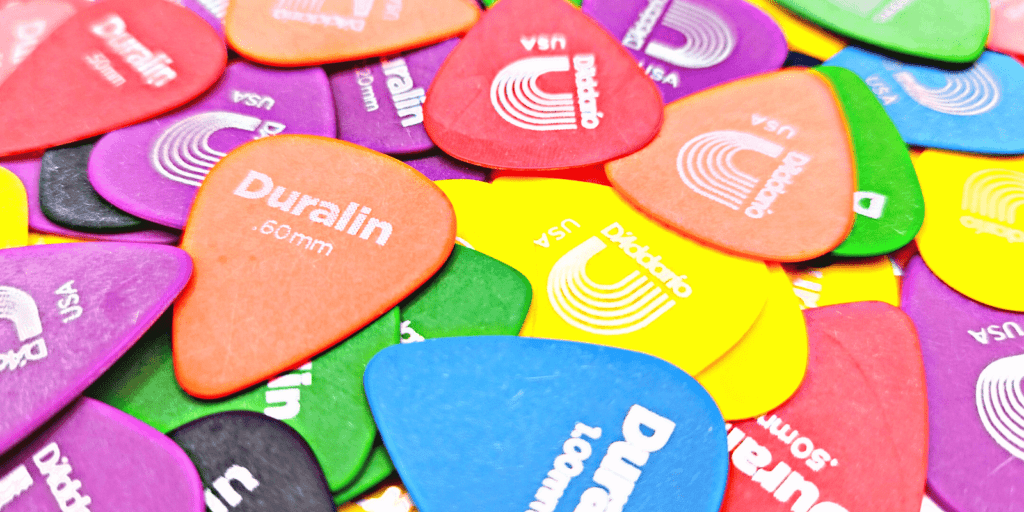 Precision
The Precision line is very similar to the Standard above but offers a sharper tip for more accuracy and sharper attack. Duralin Precision picks are available in the same gauges as the Standard line. Meaning 0.5mm, 0.6mm, 0.7mm, 0.85mm, 1mm, 1.2mm, and 1.5mm. They are designed for lead more than for just strumming chords, but you'll be surprised by the sound you get out of a thin and sharp pick when you're strumming. It's a great way to spice up your favorite four-chord songs.

Wide
The Wide pick is a traditional 346 shaped (rounded triangle) guitar pick. It's best for those who like bigger picks and is favored especially by bass players. It's available in six gauges between .5mm to 1.2mm.
Being this wide, the thinner picks are quite easy to bend. This allows you to control their stiffness while playing. The more you bend them, the stiffer they get, and the less clicky their attack becomes. There's a downside, though. By bending them like that, the downstrokes and upstrokes become inconsistent with each other. This quality is what makes them perfect for bass, but less for electrics and acoustic guitars, but that's just my opinion.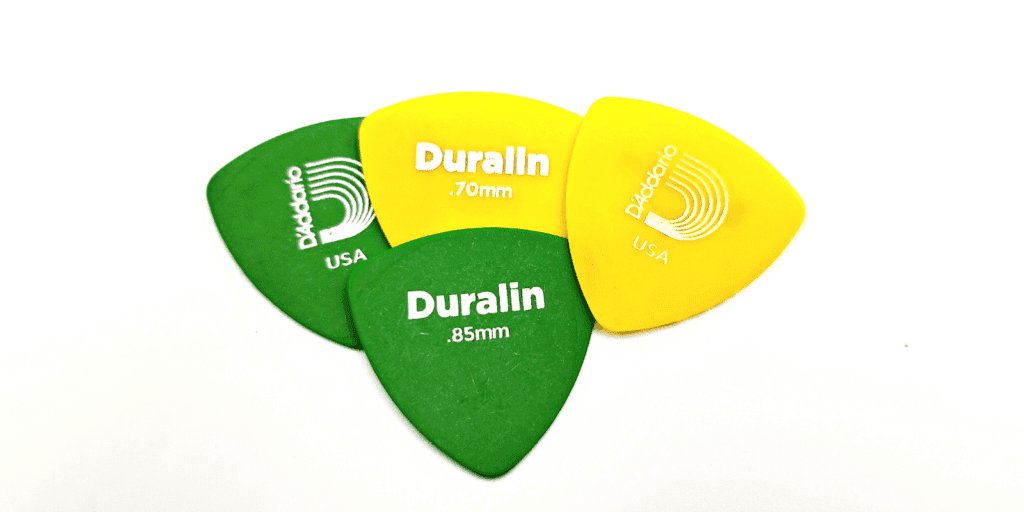 Black Ice
The Black Ice picks are slightly bigger than the original Jazz III. It gives you more area to grip and makes it easier to articulate. They are available in four gauges: .55mm, .8mm, 1.1mm, and 1.5mm, and you can read more about them in the review I wrote about them.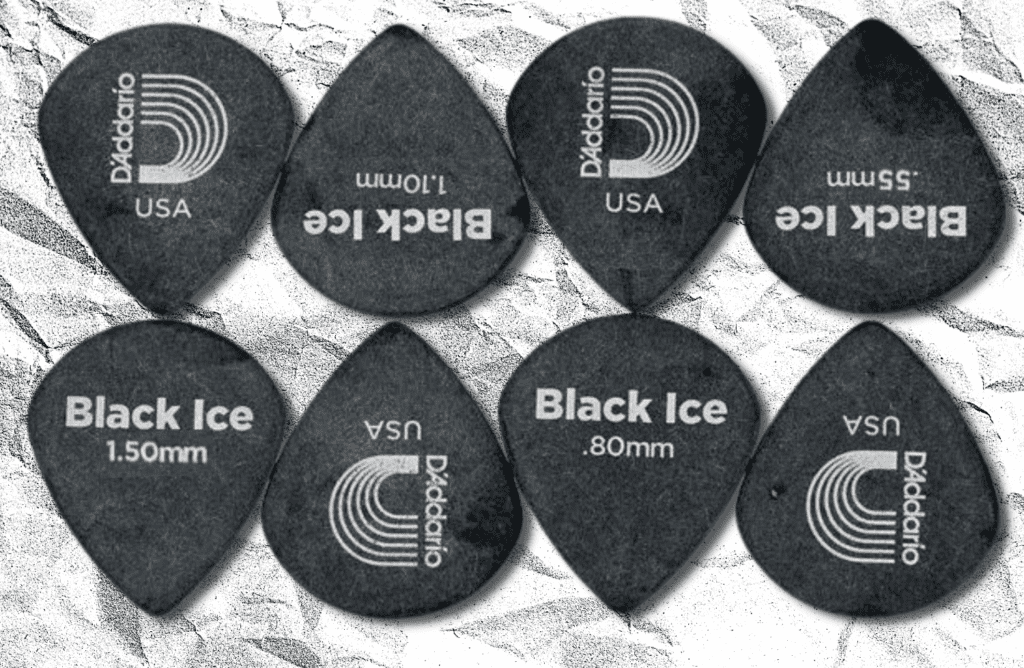 DuraGrip
DuraGrip is a version of Duralin Standard with an imprinted checkmate board pattern grip. Like most picks mentioned here, they are, too, available in seven gauges: 0.5mm, 0.6mm, 0.7mm, 0.85mm, 1mm, 1.2mm, and 1.5mm.
To me, the DuraGrip picks are what makes the Duralin line superior to Dunlop's Tortex. Even though Delrin is a very grippy material on its own, the imprinted grip on these picks is just the little extra oomph they needed to stay in place. It's not subtle in any way, but being imprinted rather than raised allows it to move enough for articulation and makes it feel less aggressive.

Pricing and Where to Buy Them From?
Each of these picks is available from most music shops and Amazon. Those of you from the US and Canada can buy them directly from D'Addario's website, even by using D'Addario Loyalty Points.
The Duralin Standard and Precision models cost $3.99 for a 10-pack, $9.99 for a pack of 25, or $25.99 for 100 picks. Black Ice and Wide cost $4.99 for 10, $10.99 for 25, or $29.99 for a pack of 100 picks. The most expensive model is DuraGrip, which costs $7.99 for 10 picks, $18.99 for 25 picks, or $57.99 for 100 picks. The Duralin Standard comes in a variety pack that costs $8.99 and contains 21 picks, 3 of each gauge.
---
Disclaimer
Some of the picks in this review were sent to me by D'Addario. I'm a long-time fan of D'Addario's products, so I reached out and asked them to send me a few of their picks that I couldn't get by myself, as they're not available where I live. This fact didn't change the way I reviewed them.