Picks, though they are small and inexpensive, have a significant impact on the tone you get out of your instrument. This means you want to choose a pick that not only adds to the convenience and playability but also helps bring out the best in your guitar. While there are so many options in a variety of materials and shapes to choose from, not all of them suit every type of player and playstyle. Today, we take a closer look at Martin guitar picks. We'll talk about the latest options from the brand to help you understand whether they are a good fit for you.
Martin Guitar Picks Review – A Complete Guide
One of the most reputed and popular brands offering musical instruments and accessories. Known for their exceptional tone, quality, and craftsmanship. Martin strings and guitars are some of the most sought-after among enthusiasts as well as professionals. It also offers a collection of parts, accessories, and picks for a variety of instruments.
Guitar picks from Martin are high-quality and made in the United States. Designed to complement the performance and playability of its instruments. The Martin range of guitar picks is available in varied shapes and designs to suit every player, regardless of the play style and requirements. These picks are designed and produced by the same in-house experts that make the guitars known and trusted all over the world.
Martin Plectrum Guitar
Martin plectrum for guitar is different from other cheaper picks available in the market for its choice of material. It is made out of a specially selected polymer with exceptional wear resistance for durability and long life. These picks also feature low friction to deliver fast-playing, lower pick noise, and unadulterated tone. Such mechanical properties result in an impressive balance of flexibility and rigidity. It provides you with exactly what you need when you need it.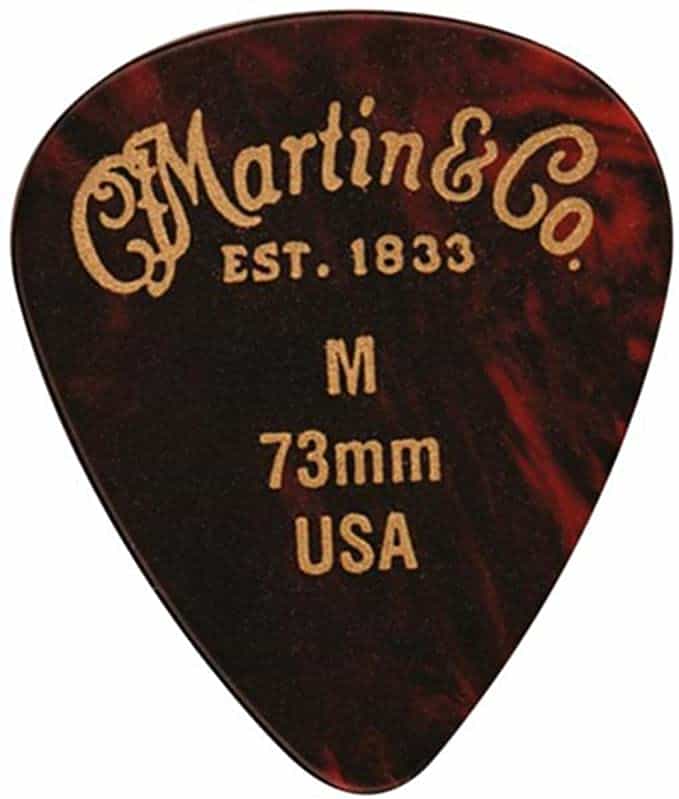 Martin guitar picks are available in an exciting variety to suit the needs and preferences of different players. The Martin #1 standard pick in faux tortoise design comes as a pack of 12 in medium thickness of 73mm to deliver high-performance flexibility that works for most players and instruments. This standard pick also comes in a multi-color pack of six with a rounded tip and Pearloid construction.
The guitar pick is also available in a heavier thickness of 96mm. For those who want a more aggressive tone out of their instruments. The faux tortoise pick not only provides a great grip and lowers fatigue but also offers toughness and strength resembling a turtle shell.
Martin Luxe Pick Review
Luxe is one of the latest releases from Martin added to its superior-quality range of guitar picks. The U.S-made pick is carefully crafted by the in-house team of experts. They meet the expectations and needs of guitarists looking to improve their technique and skills. The Luxe is a contoured, thicker guitar pick measuring 1.0mm thickness for optimum performance and smooth transition between strings.
It has an asymmetrical design featuring unique machined contour bevels to help you achieve your customized attack. The most impressive and distinct feature of this pick is the satin finish that not only makes it easy and comfortable to hold on to it but also reduces fatigue over extended playing sessions. The etched Martin logo on the surface further improves the grip so that you can easily hold the pick at any angle. Contoured bevels around all the sides provide you with three different picking surfaces in a single plectrum for extra convenience.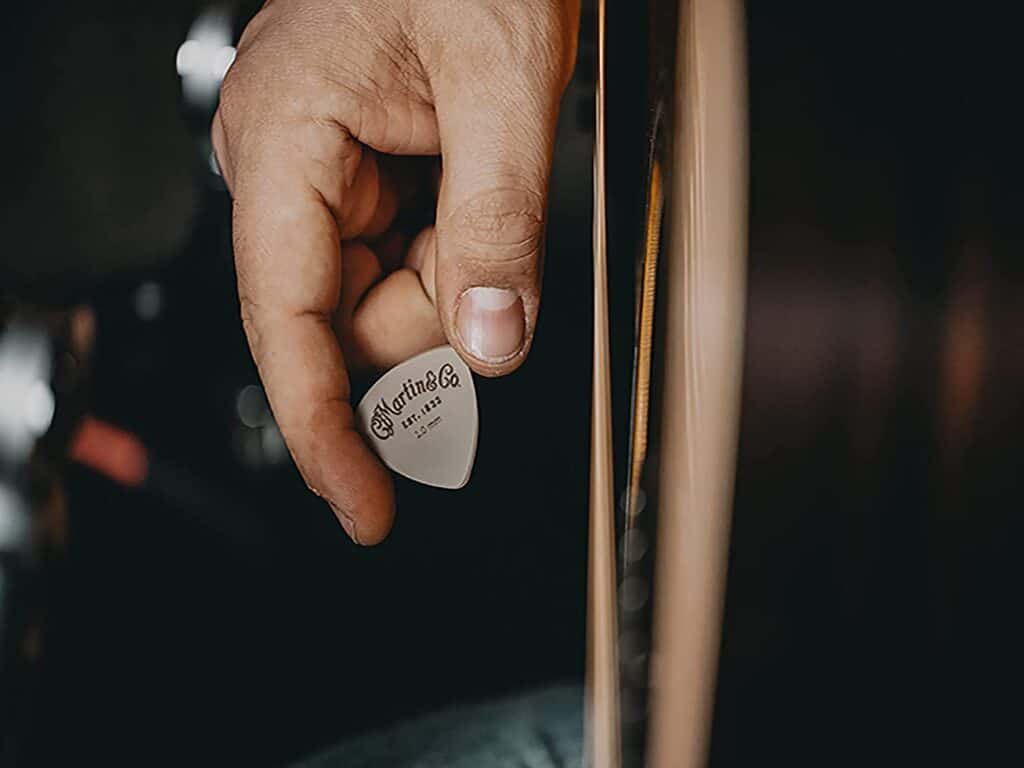 While the thickness may put some players off in the beginning, this pick becomes comfortable and easy for solo work and strumming in some time. The pick also comes with a grip disc that can be put at the back for improved holding power. The Luxe includes a metal tin and pouch to store the pick safely when not in use. Luxe by Martin is definitely a high-end guitar pick for those who are looking for a new option.
Other Vintage Martin Guitar Picks
While Martin has recently introduced an exciting range of guitar and ukulele picks in a variety of shapes, designs, and thickness options, some guitarists are fascinated about the vintage guitar picks from Martin which are rare and hard to find. Vintage C.F. Martin guitar picks are a great match for those who love Martin guitars and collectibles. These picks have an 'L' engraved on them for light and deliver a great grip with a curve and webbing. You can expect to pay higher for these vintage guitar picks.
Conclusion
Martin guitar picks are one of the best options available in the market for those who want to improve their technique and play style. Martin lovers as well as beginners to seasoned guitarists appreciate the plectrum for its performance and durability. They are certainly a recommended choice for anybody in search of high-end guitar picks.