Primetone is Dunlop's most exclusive line of guitar picks. Unlike most of Dunlop's series, which meant to group different picks by either shape or material, the Primetone line is different. What differentiates it from other lines of picks by Dunlop is also why they are so special.
The vast majority of the Primetone picks are made of Ultex (some are made of Polycarbonate), but they are not part of the Ultex line. You might think that having speed bevels makes them so special, but that's not true either. Rock III has speed bevels and is not part of the Primetone line, while Animals as Leaders' signature Primetones don't have speed bevels. What really sets them apart is that they're all beveled by hand by a professional pick maker, who, in some cases, signs the packs, too.
Dunlop Primetone Range Overview
There are three sub-series in the Dunlop Primetone collection. Additionally, there are three signature picks, but I wouldn't consider them a sub-series.
Primetone Grip Picks
The Primetone Grip range consists of five guitar pick shapes: Semi-round, Standard, Big and Small Triangles, and Jazz and gauges between 0.73mm to 3mm. Every pick in this sub-series has speed bevels.
The grip surface on the Primetone Grip series is called PrimeGrip, and is the same one found on Flow picks.
In terms of appearance, they are all semi-translucent.
Check out Primetone Grip Picks on Amazon.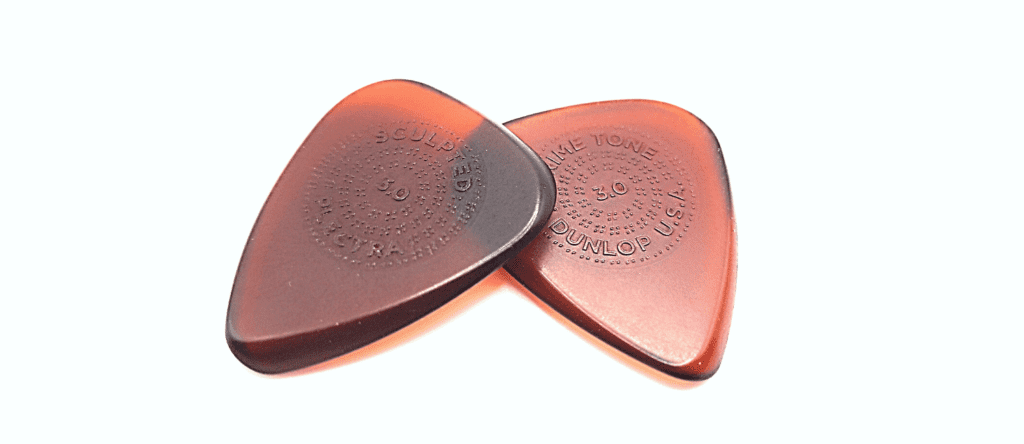 Primetone Smooth Picks
There are only two differences between these and the Grip picks. One of them, as the name suggests. is that the Smooth sub-series don't have a gripping surface at all. The other difference is the color. The smooth series is opaque.
Check out Dunlop Primetone Sooth Picks on Amazon.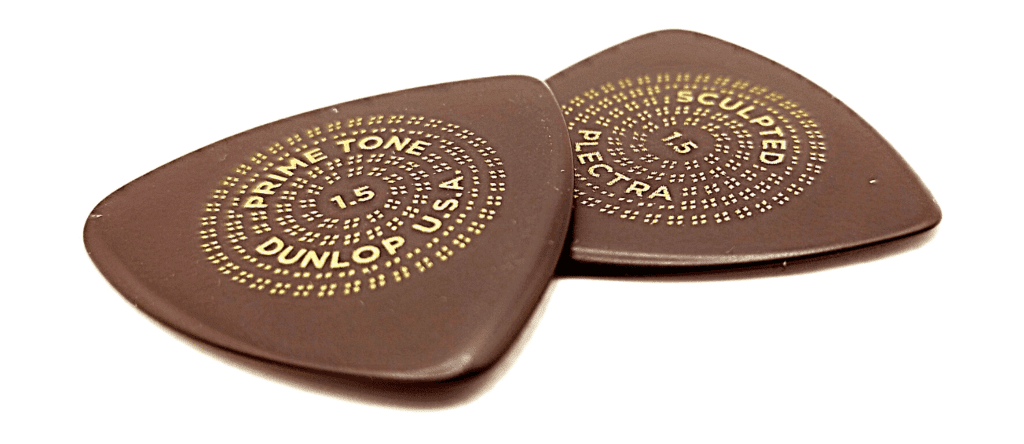 Primetone Classic Picks
Primetone classics are the curveball in the Primetone series. Available in five shapes, all of which have the most pragmatic names: Round tip, Medium tip, Sharp tip, Large round tip, Large sharp tip and only in two gauges: 3mm and 5mm.
The 3mm picks have a regular tip, while the 5mm ones have speed bevels. And unlike other picks in the series, they are made of Polycarbonate rather than Ultex.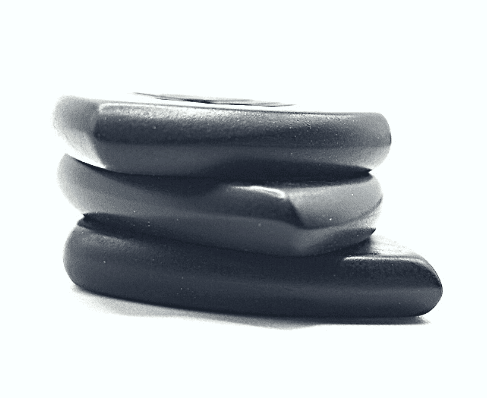 Their grip is different, too, and they're the only ones in Dunlop's range of picks that has this type of grip. As you can see in the picture below, the grip is carved diagonally into the pick rather than being risen. This makes it a lot less aggressive, even though it looks intense.
Check out Primetone Classic Picks on Amazon.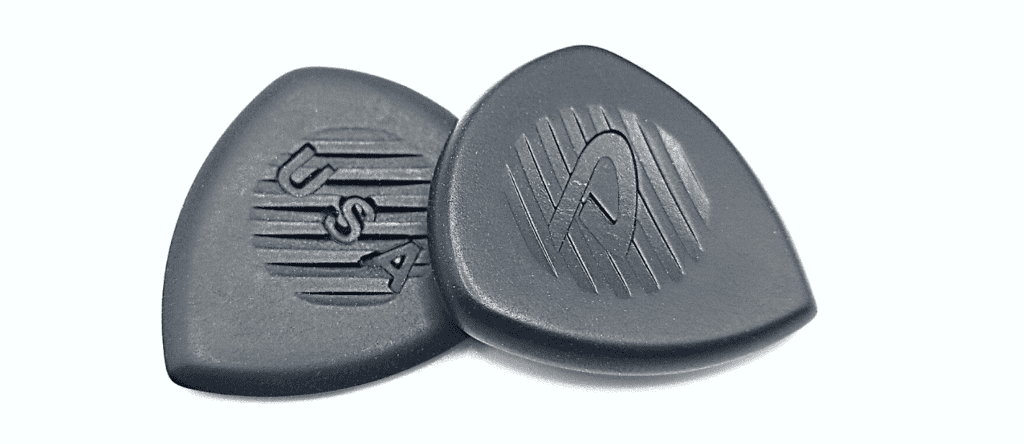 Even though I really think they're great, they are too different from other picks in the Primetone collection. I think they would suit the Jazztones series better.
Signature Primetone Picks
Animals as Leaders Primetone
The Animals as Leader's signature Primetone pick is a Jazz shapes 0.73mm thick Ultex pick, and it's available in two colors: brown and green.
Check out Animals as Leaders' signature Primetone on Amazon.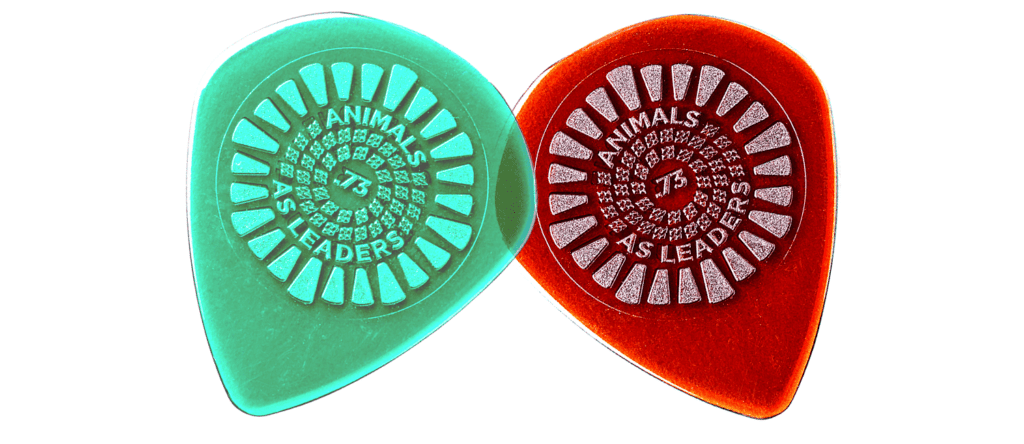 John Petrucci Primetone Jazz III
John Petrucci's Primetone pick is, too, a version of Jazz III. It's speed beveled, 1.5mm thick, and available in semi-translucent red, or black.
Check out John Petrucci's signature Primetone on Amazon.


Akira Takasaki
Akira Takasaki's signature Primetone is a true work of art. Even though there's nothing special about it, the whole is greater than the sum of its parts. The semi-translucent blue, with the low profile PrimeGrip surface, combined with a 1.4mm thick speed beveled Small Trianle is a pure joy to play with. The center of the pick is decorated with the Japanese Kanji for energy, which doubles as an additional grip.
Check out Akira Takasaki's signature Primetone on Amazon.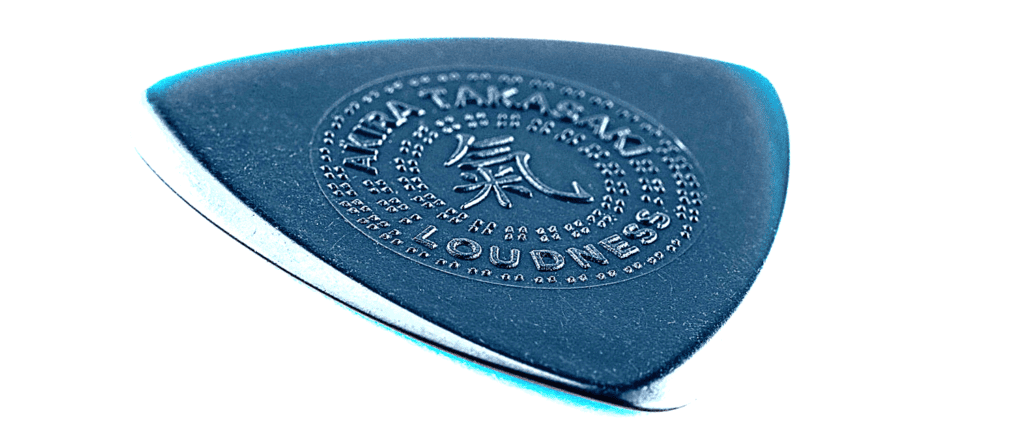 How do They Sound?
There are big differences between different Primetone picks. Ultex sounds "fuller" than Polycarbonate, but when taking the differences in gauges, type of tips, and different shapes into account, the only thing they all have in common is that they are amazing. But in different ways.
Pricing
Being made of expensive materials and hand beveled by a pro has its costs. Primetone picks are more expensive than most guitar picks you'll find in a typical guitar store, but when you compare them to what they are, high-end guitar picks, they are well within range. They cost more than other picks by Dunlop but still less than most boutique guitar picks.
On average, each of these will cost $2.5-$4, depending on the pack you get (one pick vs 3, 6, or 12 picks)
Do They Worth The Money?
YES. They are great, and there are tons of variations. One of these will fit the way you play. Both Ultex and Polycarbonate are very durable, so they'll last more than most picks.
Finishing Thoughts
If you were on the fence about whether or not to try a Primetone pick, I truly hope you'll give it a shot.
If you've tried some Primetone picks in the past, what's you favorite?