Howling Monkey Picks was established almost 10(!) years ago, at the beginning of 2013 by Brian Staebell in Rochester, NY. Like many other boutique pick makers, Howling Monkey Picks started selling their handmade picks on Etsy. In January of 2014, Guitar World featured them in an article, and overnight, they were launched into the front line of specialty guitar pick makers. Not only that, they put Tagua on the map as a viable material for guitar picks. This level of attention is not a matter of luck, because a cool idea is worth nothing unless it's backed up with a top-quality product. But what is it about these guitar picks that makes them so special? That's what I'll try to cover today.
The Howling Monkey Picks I'm Reviewing
In today's review, we'll go over the specifications, looks, feel, and sound of these 5 picks:
Primate – A standard shaped pick with a slightly sharper tip, ~2.5mm thick (natural/white)
Jazz III – A Jazz III shaped pick, ~2mm thick (purple)
Fat Jazz – A fatter version of Jazz III, with a rounder tip, ~2.5mm thick (black)
Fatty – An oversized version of a Flow-shaped pick, the size of a standard 351, ~2mm thick (green)
Triakis – A mini triangle pick, ~2mm thick (orange)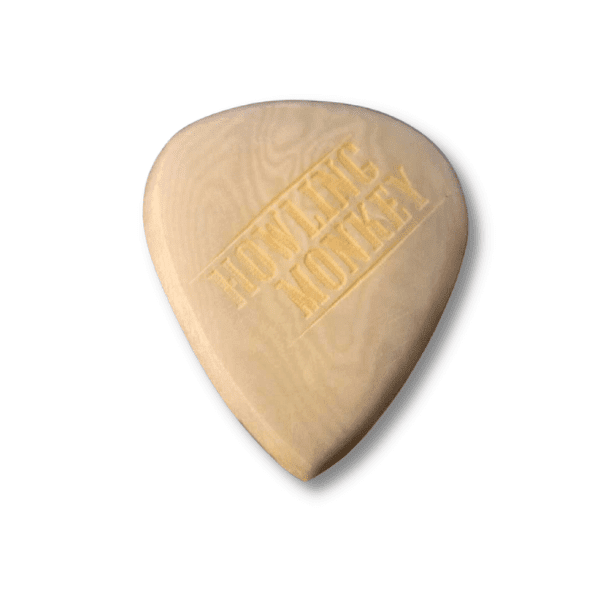 Their website states that all picks are between 2.2mm and 2.7mm thick, so the gauge of the picks you'll get may be a bit different than the ones I got.
My Caliper has decided to retire recently, so my measurements are most likely a bit off. I'll update this post as soon as I get my new one.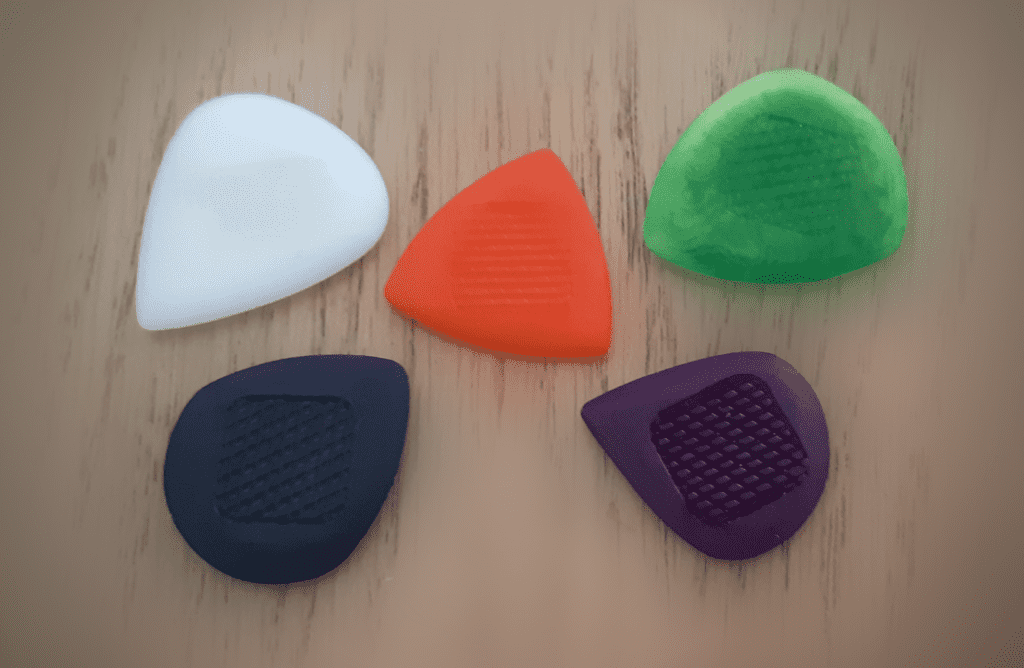 What Exactly Is Tagua?
Tagua nut, also known as Vegetable Ivory, is the fruit of a palm tree that grows in South America. When the nuts are ready to be used, they fall on the ground. The nuts are dried for 3-4 months until they become hard as a rock. Then, they are sliced and used for a variety of things, such as beads, buttons, Chess pieces, and, of course, guitar picks. A mature tree produces a few hundred nuts per year, and the harvest doesn't harm the tree in any way (well.. obviously). This makes it one of the most sustainable and eco-friendly materials used for making guitar picks. The Tagua nut is not toxic and is even edible before it has been dried.
There are 7 different species of Tagua (Phytelephas, translates to elephant plant due to how it resembles Ivory), but only four of them are commonly used for their nuts:
Phytelephas Aequatorialis – Native to Ecuador
Phytelephas Schotti – Native to Colombia
Phytelephas Tenuicaulis – Native to Colombia, Ecuador, and Peru
Phytelephas Tacrocarpa – The largest of them all, native to Bolivia, Brazil, Colombia, and Peru
There's not much of a difference between these 4, except for the last one, Phytelephas Tacrocarpa, which produces bigger nuts than the rest of them. Tagua nuts are naturally white, with various levels of transparency. It creates interesting grain textures, especially when they are being dyed.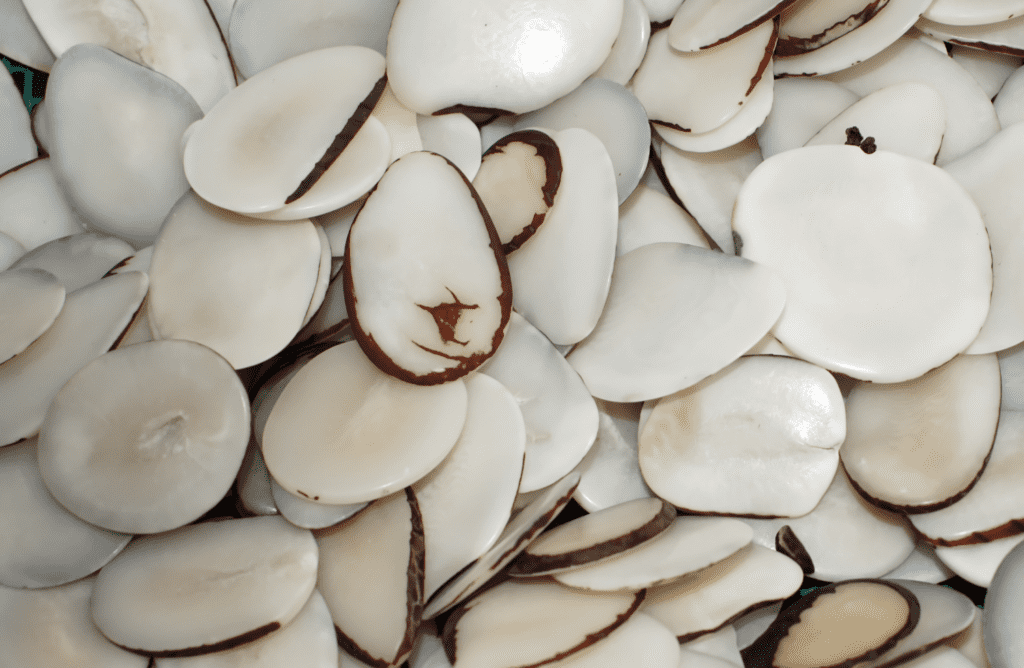 Tagua Nut Guitar Picks
Being very tough, easily carved and dyed, and having consistent mass, makes Tagua an ideal material for guitar picks. And in the past few years, there are a lot more pick makers that are using Tagua as a material for their guitar picks.
How Do They Sound?
Being called Vegetable Ivory, I expected its sound and texture to remind me of the ones of bone or horn. I found Tagua to be a bit rougher than either of them, but there are a lot of similarities in their sound. Tagua picks produce a warm sound and is a bit more "airy" than either bone or Horn. The texture difference could be a result of different types of polish.
I love the way they "scratch" the lower strings and give them more presence in the high-end. The overall result is a more balanced sound. Of course, it depends a lot on the way you hold your pick. The more you angle it, the more "scratch" you'll get. If you hold your pick flat, you get none. The sound varies a lot between different picks in the range, too. But that's due o the different shape of the tip. The sharper the tip, the cleaner the attack.
How Do They Feel?
Tagua is not a flexible material at all, meaning, these picks are as rigid as a guitar pick can be. If you're used to playing with thicker picks, you'll have no problem at all adjusting to them. Otherwise, you may need some getting used to. Fat Jazz is super fast thanks to its round tip and the way the side are angled into the tip. It's followed by Fatty, Triakis, and Primate. The slowest of them all is Jazz III, but its main advantage over the other 4 is its superb control.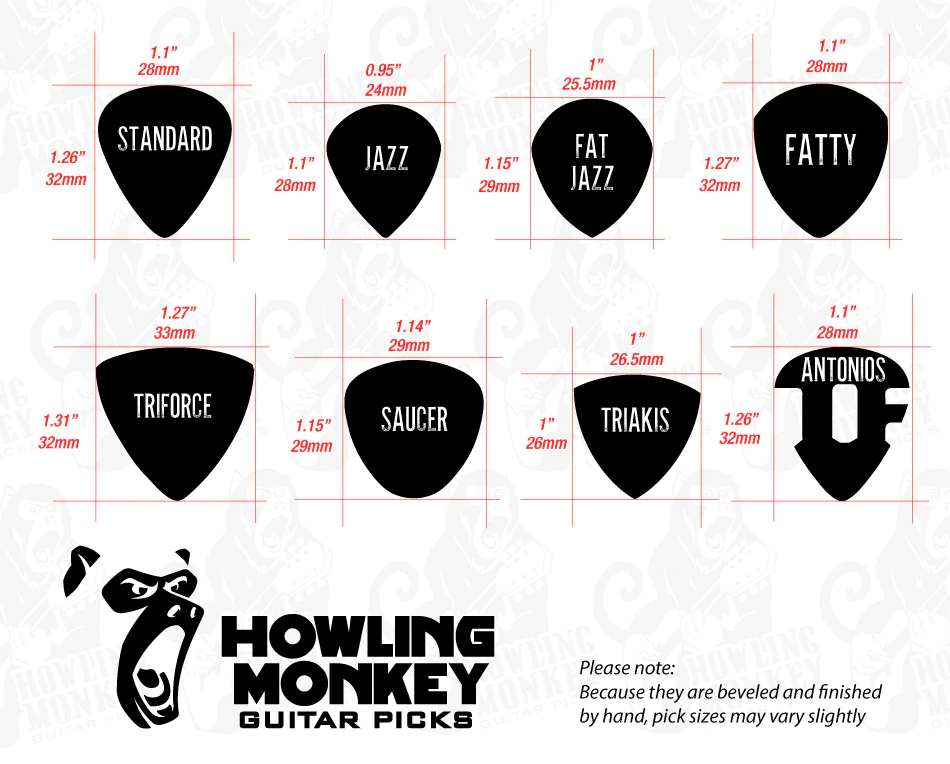 Howling Money Picks' Unique Gripping Surface
The gripping surface is one of my favorite features of these picks. They call it "diamond pattern Pistol Grip", which is very appropriate. Since the gripping surface is made by laser engraving it on top of the cut picks, they are not very consistent, making the picks even more unique than they already are. They all grip very well, but not too aggressively.
What Else Is In The Howling Monkey Pick's Range?
In addition to the five picks I got, their range consists of 4 other picks:
Standard – A 351 shaped pick, comes in either red or cyan.
Saucer – A variation of 351 (standard), with a fully round tip, comes in blue.
Triforce – A triangle pick, a bigger version of Triakis, it comes in Pink.
Antonios – Named after the player who originally ordered it as a custom pick: Antonios Kalogeris. The most interesting design, that I regret not buying. It resembles the Primate, with carvings on the sides and the middle spelling "TF", which are the initials of the designer's stage name – Tsiou Flaw.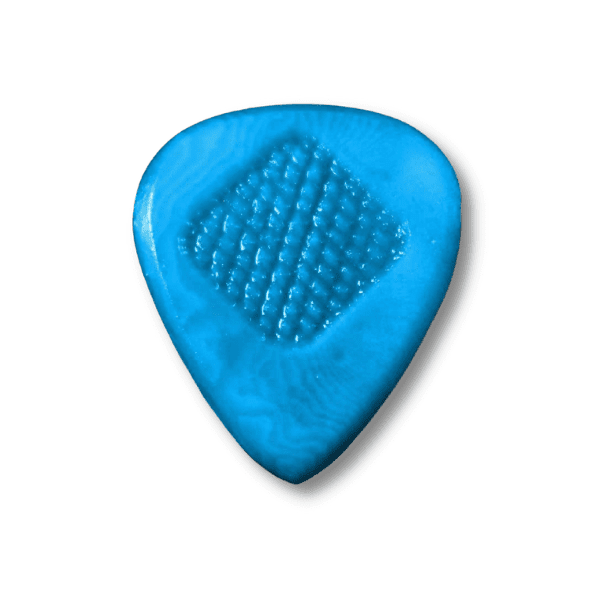 Pricing
Every Howling Monkey Pick cost $7, except for Primate which cost $5, Triforce, which cost $8.5, and Antonios which costs $10. It may sound expensive, but considering the costs of the material, and that they are hand made making this price very fair. When you add their durability and unique sound to the mix, you get a pretty great deal. Additionally, there are two samplers you can get:
Mixed Nuts: Choose 4 picks out of Standard, Jazz III, Fat Jazz, Fatty, Triakis, and Saucer for $25 (instead of $28)
All the Nuts: Primate, Standard, Jazz III, Fat Jazz, Fatty, Triakis, and Saucer for $43 (instead of $47)
What Are The Next Howling Monkey I'm Buying?
The next picks I'll buy from Howling Monkey Picks will have to be Antonios and Saucer. I'm not a big fan of either Triangle or Standard picks. Saucer is a shape that's becoming a lot more common with pick makers in the last few months, and it's about time to see what all the fuss is about. And Antonios because just look at it!
Where To Buy Howling Monkey Picks From?
Howling Monkey Picks are available both on Etsy, and their website. As always, the best way to support your favorite pick makers is to buy from them directly. If you already decided to buy them, make sure to do it through the store on their website rather than through other merchants.
Finishing Thoughts
My favorite thing about this line of guitar picks is something I can't put my finger on. They have some sort of attitude that makes them special. They are raw and brutal, and they can withstand an absurd amount of abuse without showing any sign of weakness.
Houling Monkey Picks - Full Review
These picks sound great and feel like nothing else I've ever tried. They can take an absurd amount of abuse, and come back without a scratch for another round. I love these picks, especially because there's nothing else in my collection that can do what they do.