Reading bass tabs (or tabelture) is one of the first steps most beginner bass players take. It's a natural step between trying to play a song you like from hearing to learning standard music notation. It's a lot simpler than standard notation, and yet, contains most of the information you need in order to learn a piece or a song effectively. So if you want to learn how to read bass tabs, you've got to the right place, and in just short few minutes you'll already be practicing your first bass tabs.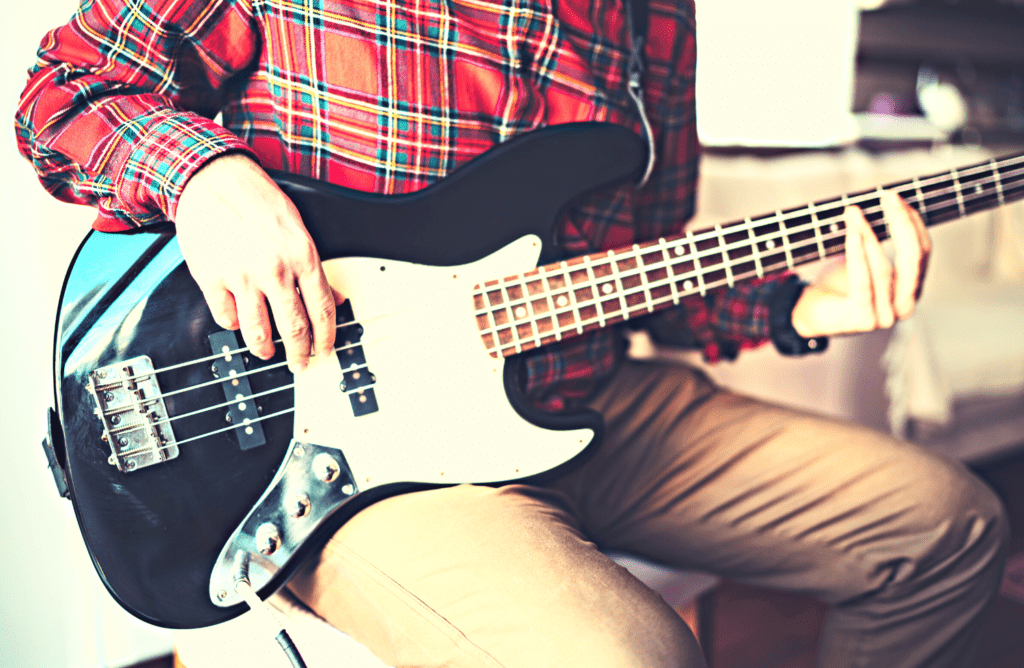 What are Bass Tabs
Bass tabs are a form of bass guitar notation that is popular on the Internet. It is different from standard musical notation, and does not require prior knowledge of scales, notes, or any other specialized symbol. Instead, it uses the keyboard's symbols to replicate the bass guitar neck, allowing beginner bass players the ability to play specialized riffs without even knowing what key it is in.
Bass tabs are inherently limited by their nature, but allow for experimentation with bass lines that would otherwise be beyond one's reach.
Bass tabs are essentially four horizontal lines (5 lines for 5-string basses and 6 lines for 6 strings) that represent the four main strings of the bass guitar. Each is usually labeled with the standard tuning of the bass guitar, E, A, D, and G. The E string is on the bottom, and the G string is on the top so that looking at the tab on the screen, or looking down at the bass's neck in your lap the perspective is the same.
G|——————————-|
D|——————————-|
A|——————1-3———|
E|–0-1—1-3——————|
This would sound like this:
How to Read Bass Tabs
Reading bass tabs is pretty easy once you get a basic understanding of what everything you see means. To begin, you will notice that the majority of the tab is made up of lines. Horizontal ( – ) and vertical ( | ). The horizontal lines represent either space or nothing. They are simply there to fill in where you do not play. The vertical lines are representative of "bars", typically a four-count of 4/4 time. Most of the time, simply listening to the song will reveal the timing of the notes being played, so if you do not know how to find the time signature of a song, do not worry.
Next, you will see a series of numbers on the bass tab. These numbers represent which fret the note is represented by. The number "0" represents playing that string without any fretting, also known as an open string. The number "1", for example, on the E string, would represent playing an "F", and the number "3", would then be a G.
The timing of the note being played is the most difficult part of bass tabs, as it is often inconsistent, and often wrong. The best way to learn the timing of the necessary notes is to listen to the song itself. However, some song tablature will give you hints about the rhythm. For example, if there are 8 G notes played on the E string for a bar, then this would mean that in one bar, you must play 8 times, or eighth notes.
G|——————————-|
D|——————————-|
A|——————————-|
E|-3–3–3–3–3–3–3–3–|
This sound like this:
Other Markings for Bass Tabs
For a lot of bass tabs, this is all the information that you need. There are more advanced forms of notation that are dependent on the specific way you are expected to play each note. For example:
"h" – Hammer On
Example:
E|-7h8——————–|
This would be where you would play the 7th fret normally, and then use another finger on the fretting hand to "hit" or "hammer" the next note by playing it only with that finger, not by strumming or plucking at the same time.
"p" – Pull Off
Example:
E|-8p7——————–|
This is similar to the hammer on, in that it is dependent only on the fretting hand. This time, after playing the 8th fret normally, you would release, or "pull off" the 8th fret while already holding the 7th.
"/" – Slide Up
Example:
E|-2/10——————–|
In this case, the second fret would be the initial note. After it was played, you would slide the fretting finger up the fretboard until you reached the tenth fret.
"\" – Slide Down
Example:
E|-10\2——————–|
This is the same as the slide up, instead, the direction of the slide would be reversed, from the tenth to the second fret.
"S" – Slap
S will indicate a slapped note, and sometimes markets with "P" to indicate a pop or "T" for thumb. This will be marked below the tabs and not on the strings like the rest of the markings.
Example:
G|——————————-|
D|—–2————————|
A|——————————-|
E|-0—————————–|
T P
"b" – Bend
Example:
E|-10b12——————–|
In this example, you play the 10th fret on the E string and bend it until you reach the pitch of the 12th, meaning, a whole step bend.
"x" – Dead Note or Muted Hit
Example:
E|-5–x–x–3–x–x–3–x–|
The way you play Dead notes is by raising your fretting hand from the string, but not entirely. This way, you are preventing it from playing a note.
"T" and L, R, i, m, r, or p – Tap
An additional note about tapping is that it often uses an additional letter (L or R) to represent the tapping hand, and assumes you're a right-handed player. Other common markings are i, m, r, or p, to represent the finger: index, middle, ring, or pinky.
Bass Tabs Exercises
Here I made you a few exercises that'll help you read bass tabs quicker and gain more confidence. Play the exercises, and then listen to what they are supposed to sound like to see if you got it right.
Bass Tabs Exercise #1
Play this bar, pay attention to the number of notes that occupy this single bar, to try to understand their length.
G|————————|
D|———–2-2-4-2—|
A|——3-4————–|
E|-5-5——————-|
And here's how it sounds:
Bass Tabs Exercise #2
This is an extension to the first exercise, read these bass tabs carefully and play them. Start slow, and practice with a metronome.
G|————————|————————|
D|———–2-2-4-2—|———–2-2——–|
A|—–3-4—————|——3-4——-3-4-|
E|-5-5——————-|-5-5——————|

G|———–2-2-4-2—|———–2-2——–|
D|—–3-4—————|——3-4——-4-2-|
A|-5-5——————-|-5-5——————|
E|————————|————————|
G|————————|————————|
D|————2-2-4-2–|————2-2——-|
A|——3-4————–|——3–4——4–2-|
E|-5-5——————-|-5-5——————|
G|————————|————————|
D|————————|————————|
A|————2-2-4-2–|———–2–2——–|
E|-0-0-3-4————-|-0-0-3-4——–3-4-|
And here's how it sounds:
Bass Tabs Exercise 3
This 8 bar exercise is unrelated to the first two, but is still predictable enough so you can rely on your ears while reading the tabs:
G|————————|————————|
D|——–0-1-0——–|———0-1-0——–|
A|-0-0-3——–3-0—|-0-0-3——–3——|
E|————————|——————-3—|
G|————————|————————|
D|——–0-1-0———|————————|
A|-0-0-3———-3-0-|-0-3-0–0——–3—|
E|————————|———3–3–0——-|
G|————————|————————|
D|————0–1–0———-|———–0–1–0———-|
A|-0–0–3————-3–0–|-0–0–3————-3——|
E|——————————-|—————————3—|
G|————————|—–2-0————–|
D|———0-1-0——–|———-2-1-0——|
A|-0-0-3———-3-0-|-0—————-3-0-|
E|————————|————————|
And here's what it is supposed to sound like:
Finishing Thoughts
Now you know how to read bass tabs. Maybe you don't do it perfectly yet, but I hope you figured that reading bass tabs is not as difficult as you might've thought. With just a tiny bit of practicing you can get really good at it. If you have any questions, feel free to post them in the comment section below!