Every traveling guitarist's worst nightmare is arriving at their destination only to find their precious axe smashed to smithereens. Sadly, there have been quite a few guitars destroyed by the careless hands of baggage handlers and other dangers of transport. Luckily, there are a few things you can do to make sure that your guitar makes it to its destination in one piece. Here are a few tips for how to safely travel with a guitar.
It's true that traveling with an acoustic guitar carries a lot more risk, but don't underestimate the damage that can happen to your classical or electric guitar while being handled inappropriately, too.
Traveling with a guitar is the exact opposite of keeping it in storage, obviously, but a lot of the protective measures are similar.
1. Use A Proper Case For Traveling With A Guitar
You shouldn't even think about traveling with a guitar in a soft case. Use a hardshell case, or a guitar shipping case, like the ones guitar manufacturers use to ship guitars. You'll want to have a hardshell case with a lock or at least tape it closed to prevent it from opening upon getting a hit. Maybe even invest in a thermally protective case cover if you'll be traveling to an especially warm part of the country.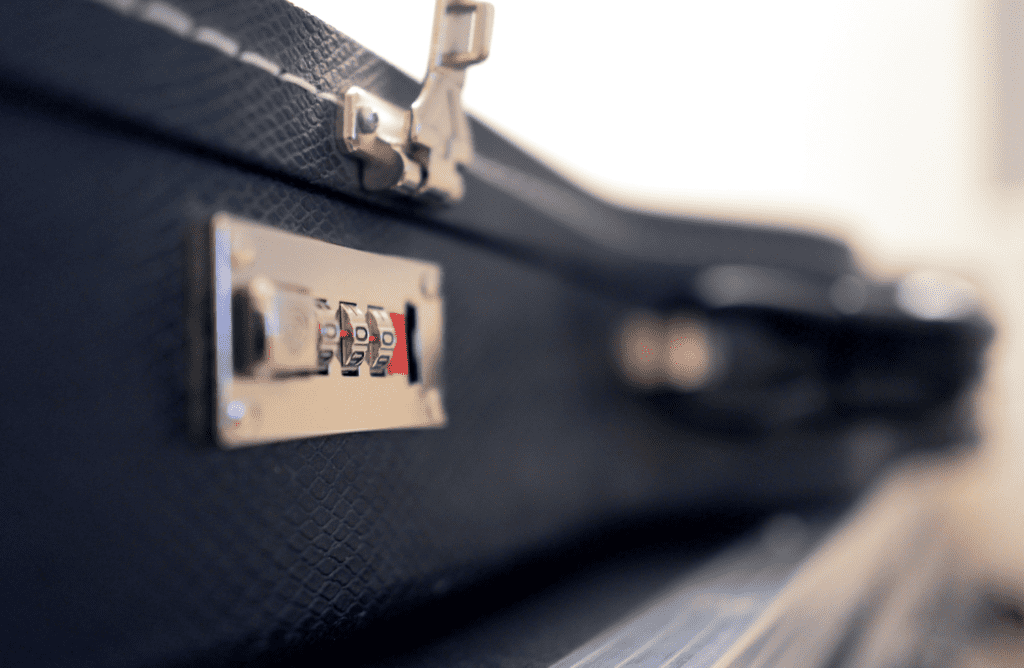 2. Loosen the Strings
Any time that you're sending a steel-stringed guitar on a voyage, it's important to loosen the strings. It will lessen the chances of neck damage and avoid warping issues that may be caused by heat and humidity. Don't completely loosen all the string tension. Remember that guitars are designed to have tension, so you definitely don't want to relieve them of that. Just detune the guitar about a step and a half down or so, and you'll be fine. You don't need to loosen the strings on a Nylon string (classical) guitar. That's because the string tension from Nylon strings is a lot lower.
3. Protecting the Neck
The neck (or more specifically, the heel joint) of a guitar is much more likely to be damaged while in transit than its body. This is true for both electric and acoustic guitars. You'll want to get some newspaper or some bubble wrap and cover the neck on both sides. To a point where your hardshell case is fairly difficult to close. Remember, your guitar is going to be thrown around a lot. And the neck is an obvious structural weak point, so protect it evenly and completely. If the body has any room to move, cover it with bubble wrap or newspaper, too.
4. Inspect Your Guitar As Soon As Possible
Inspect your guitar as soon as you get it out of a baggage claim area. This will make it easier to report any damage that may have occurred. You'll have reasonable proof that the guitar was damaged by baggage handlers and not by your own negligence. If the guitar was well packed, though, you should be in the clear at this point.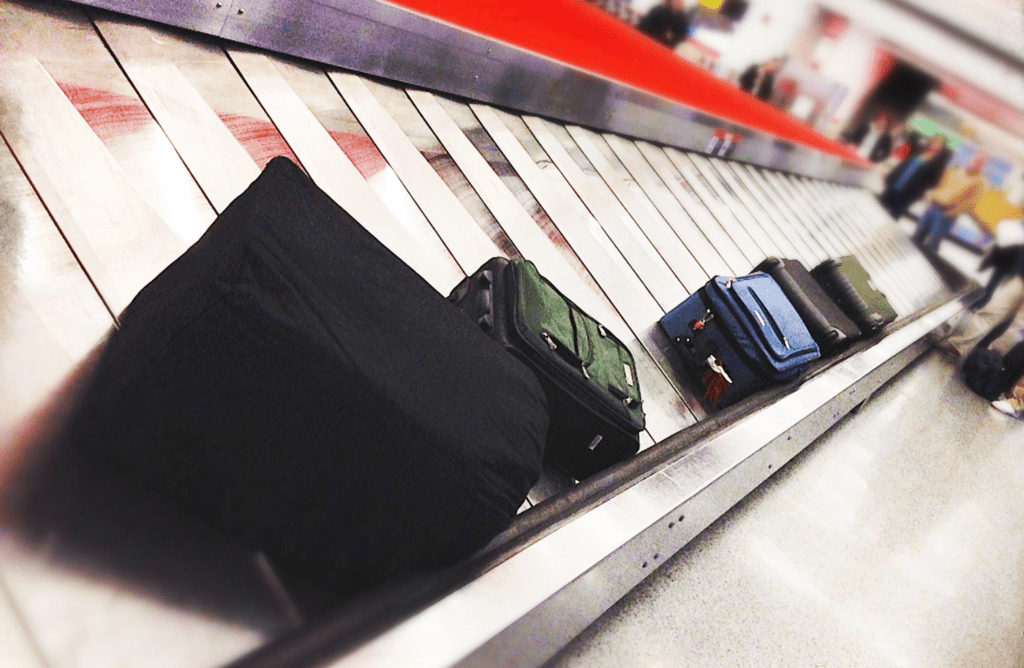 Is Theft a Real Concern?
Thankfully, no. Even though it may be a bit stressful to leave your precious guitar out of sight, and in someone else's hands. Baggage handlers go through months of background checks, federal checks, and ongoing monitoring to ensure they're trustworthy enough to handle your and anyone else's personal belongings, as they do handle a lot more than just baggage, such as mail, human remains, and hazardous materials.
This part was written with the help of a baggage handler that chose not to share his name online.
Finishing Thoughts
You can never protect your guitar at 100%. There's always the risk of it getting damaged to some degree during a trip. These tips will decrease the chances of it to a minimum, as well as lower the amount of damage your guitar takes if it happens.
If something does happen, remember to stay positive. Maybe you'll have a song out of it.
If you enjoyed this article, go and check out other guitar maintenance tips we published. If you have any tips for traveling with a guitar, post them in our comments section below.