Iron Age Accessories is one of the most established boutique brands in the guitar world. I rarely get to talk about them with someone who never heard of them before. And even though they are mostly known for their kill switches, they make guitar knobs, and some great guitar picks, too.
They were established in 2015 by Alex Rodea, a veteran Marine with a passion for music and craftsmanship, and a keen eye for detail. Iron Age is inspired by old cultures, such as the Romans, Ancient Greeks, and Norse mythology. This inspiration doesn't only affect the names of the series, but sometimes, even the designs themselves.
The picks are made by a team of two musicians, which is always a great thing to see. Because a nice guitar pick is measured by its dry specs, but to make a great guitar pick you need real passion.
The Iron Age Guitar Picks I'm Reviewing
Today, I'll be reviewing the entire Parthenon series. It consists of 6 models made from Faux Ivory, a synthetic substitute for Ivory, in different shapes and gauges:
Jazz III – A 4mm thick Jazz style pick.
Jazz XL – Jazz XL shaped pick, 2.5mm thick. It's a bit larger than a traditional Jazz XL pick though.
Jazz RT (Round Tip) – A faster and warmer version of Jazz XL, 4mm thick.
Triangle (both small and large) – The small is 3mm thick and the large is 4mm thick.
Spearhead – A 3mm thick pointy mashup of a standard 351 and Jazz III, with added spikes for extra grip and awesomeness.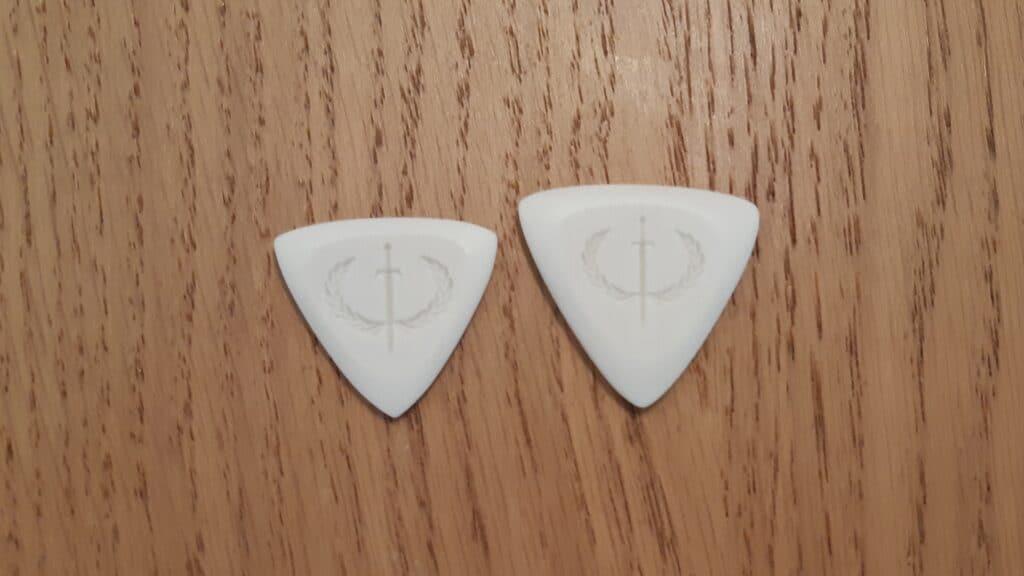 What Are They Made Off
Faux Ivory is a synthetic and vegan substitute for Ivory. Its texture resembles a combination of UHMWPE and Tagua, and it weights similarly to bone. It's being used in bridge saddles, guitar nuts, and inlays, so it was natural that it'll be used to make picks as well. The material itself is stiff, but not as stiff as stone, or carbon fiber. It just has that tiny bit of flexibility in it that makes it responsive, the type of flexibility you can only feel, not see.
How Do These Picks Sound
Since the material is made to mimic Ivory, I assumed it will sound very similar to Bone and Tagua picks. It does resemble them to a certain degree, but Faux Ivory has its own twist. Some of it has to be attributed to Iron Age's shaping, of course, but it's not just that.
The base sound of Faux Ivory is bright, and the shaping is what adds a lot of mid-range and warmth to some models. So here, I'd advise you to go for the shapes you like the most, but don't forget that each of them sounds slightly different.
Angling the pick differently controls the attack and how rhythmic the pick sounds. The more you angle it, the more "scratch" it will have, while keeping it flat generates a very clean attack sound.
Iron Age Parthenon Guitar Picks Rundown
Jazz III
A tiny bit wider version of the classic Jazz III shape we all know. This pick is very comfortable and easy to control, and the angle of the tip and its thickness of 4mm makes it sound very full and consistent.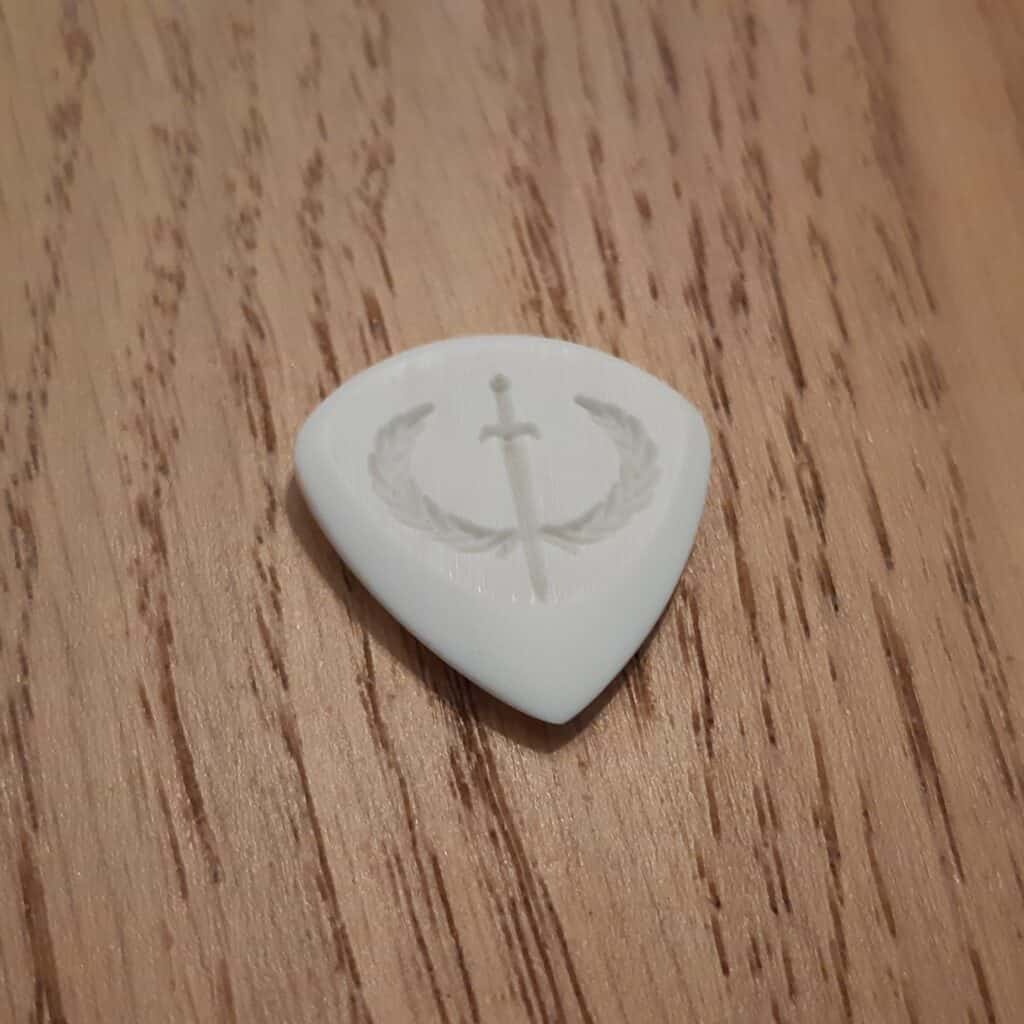 Jazz XL
Very similar to Jazz III, but bigger. The tip is a bit sharper, making it even more accurate and brighter. The fact that it was sent to me at 2.5mm "forced" me to try it for strumming. I must admit that I found it very interesting. You don't expect a 2.5mm pick to be that good for strumming, but it worked very well. The inflexibility of the material and the gauge balanced the "pluck" of the attack, while the material's natural brightness compensated for that. Creating a very balanced and not overwhelming strumming sound.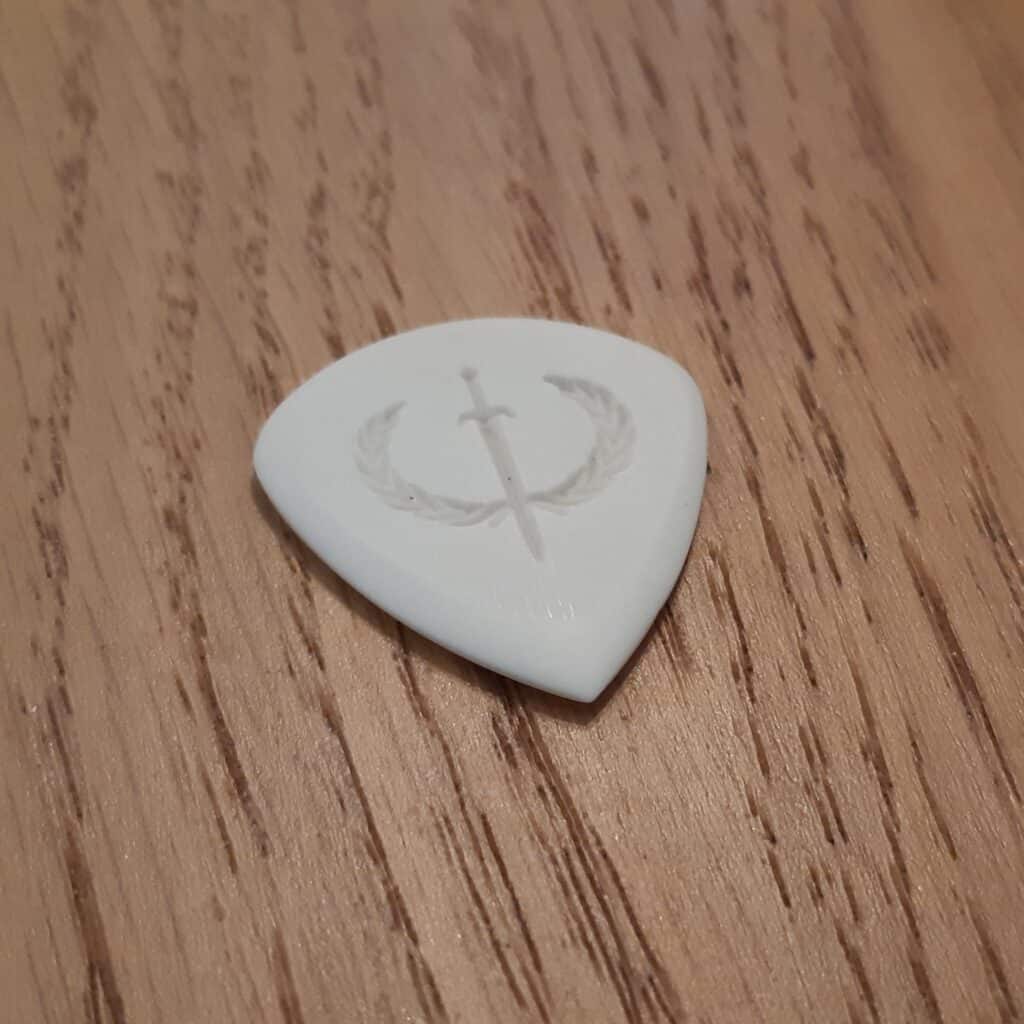 Jazz RT
The round tip version of the Jazz XL. It's faster, sounds smoother, and is less aggressive. I liked using it for melodic lines where accenting every note is not as important as having a nice flow.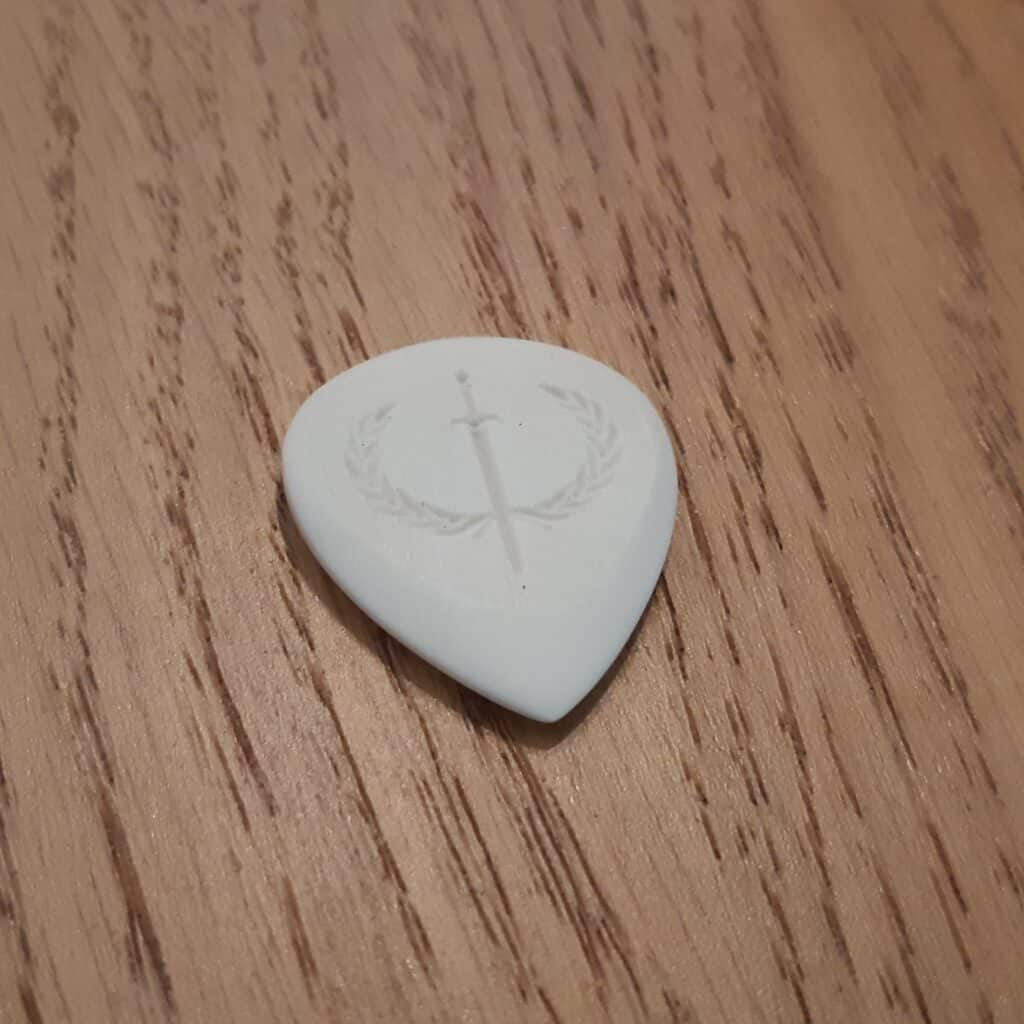 Large Triangle
The large Tri Pick sounds warmer than other picks in this series due to its round tips. This fact, together with its size makes it an ideal pick for bass. Angling it differently can introduce or hide a bright spark, making its attack very distinguishable.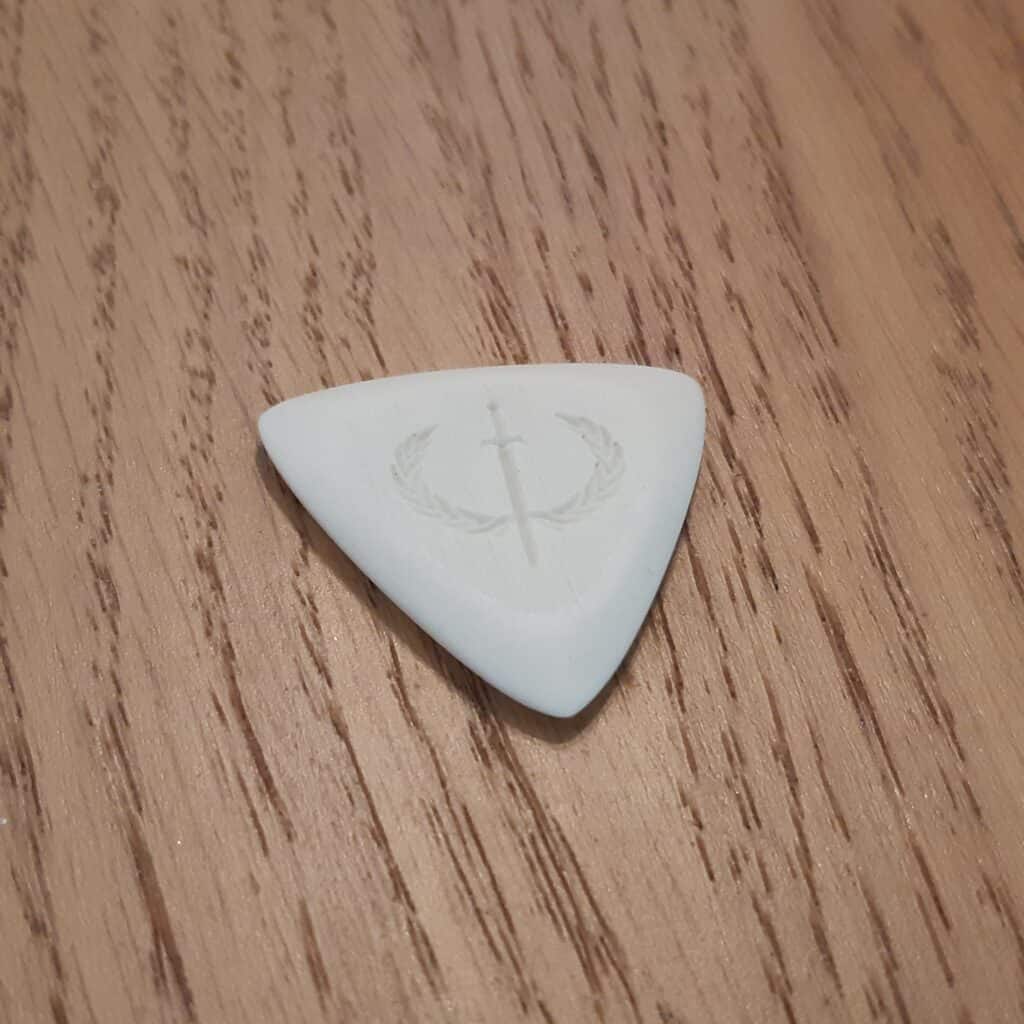 Small Triangle
A small and a bit sharper version of the large Tri Pick. They are very similar in sound, even though this is a bit brighter, and due to its (much) smaller size, it's a lot faster too. This is the ideal pick for chugging power chords and running through fast riffs within the same song.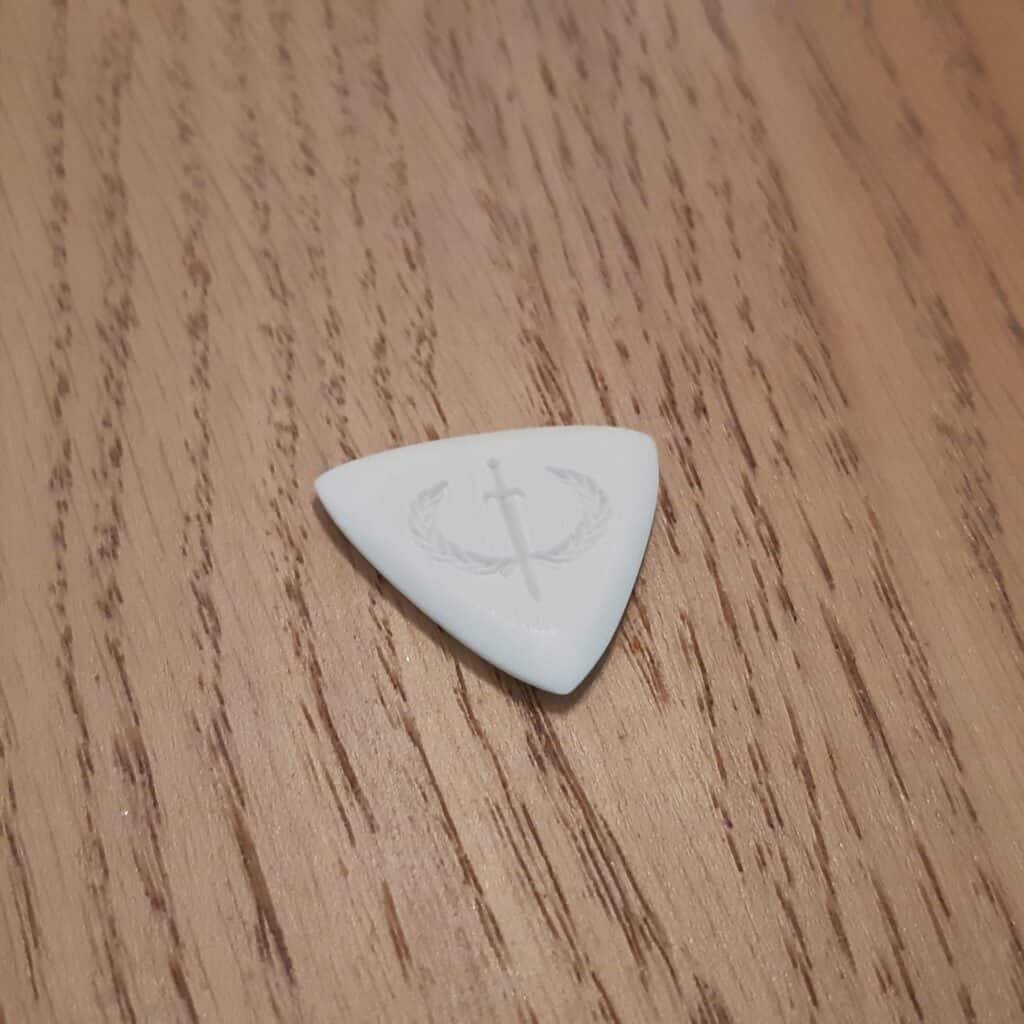 Spearhead
The most aggressive pick in this collection, and one of the most aggressive ones in my entire collection. It's as narrow as a Jazz III and almost as long as a standard 351. It's got a sharp tip at an angle that favors accuracy and control over anything else. The four spikes around it provide some extra grip and additional control. This pick sounds bright and will help you cut through a crowded mix pretty easily.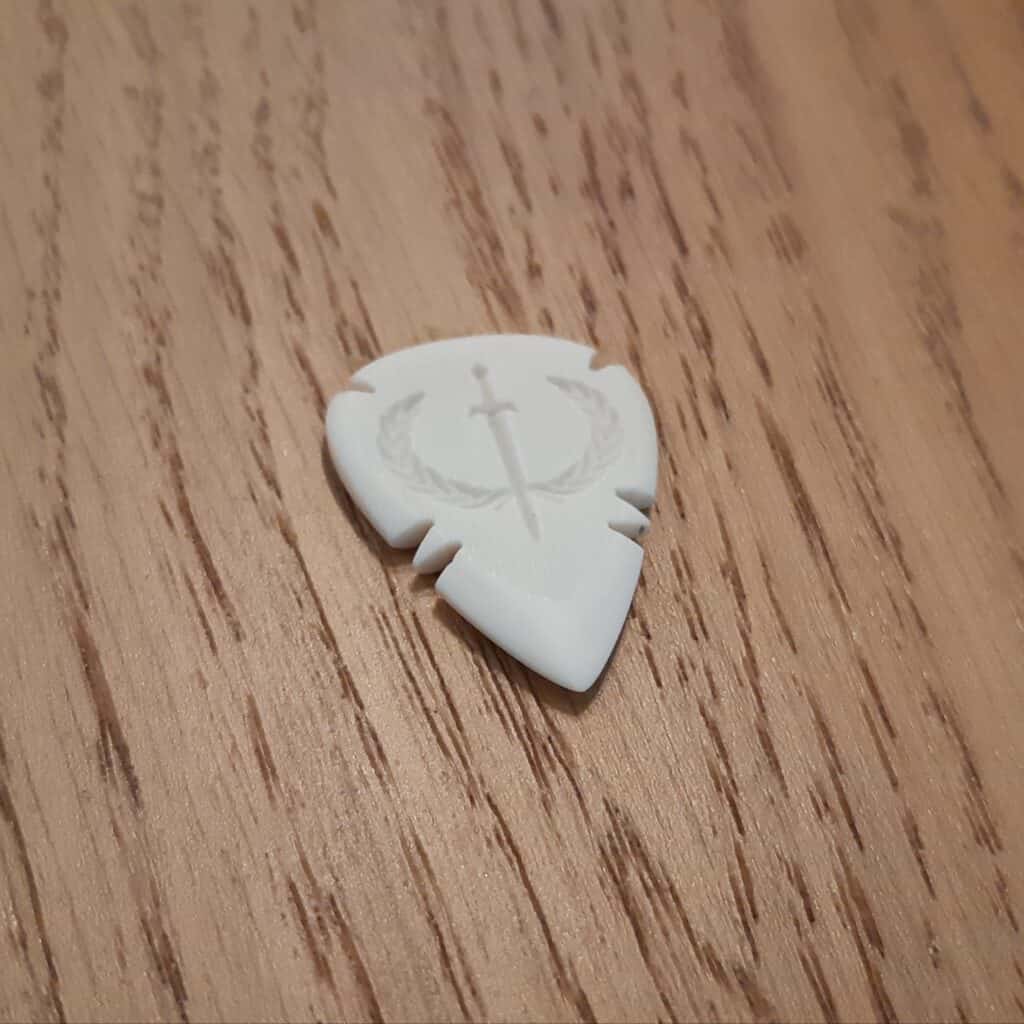 Gripping Surface
In terms of grip, Iron Age just hit the mark with these. The engraved logo, together with the material's brushed surface makes the grip very comfortable. It's not aggressive, and yet, very effective. This makes these pick really comfortable.
Available Gauges
Each of the picks in this series is available between 2.5mm and 4mm. The thicker you go, the more the picks will suit playing lead over strumming. It may sound weird to strum with a 2.5mm thick pick, but it works. I usually find thicker picks a lot more comfortable because higher gauges help reduce the stress from the picking hand. Allowing more control and reducing hand fatigue.
My Personal Favorites
Coming up with a personal favorite out of the 6 Iron Age picks I got to try was a bit difficult. They are very different from each other, making each useful for other things and styles. After a lot of consideration, I narrowed it down to two picks: Spearhead and Small Triangle.
Spearhead because of how comfortable and bright it is. Its accuracy is second to none, and it can effortlessly brute-force your guitar into the front of every mix. My second favorite is Small Tri because of how much fun I had just chilling and playing lines with it. That's the most fun I had with a pick in a while, and it came just in time for my personal renaissance for triangle picks.
Pricing
Each one of these picks costs $20. It may sound a lot when you compare it to mass-produced picks, but that's not what they are. The base material itself is quite expensive, and the work needed to produce a product of this quality is high. In my opinion, these picks are very fairly priced for what you get in return.
Where To Buy Them From
You can buy all Iron Age picks from their online store. If you are interested in the picks I reviewed today, you can check the Parthenon series here.
Other Picks By Iron Age Accessories
Iron Age guitar picks are made out of different materials, from Cast or Pearlescent Acrylic, through different types of Thermosetting Plastics and Resin, all the way to Brass, Carbon Fiber, Stone, and Wooden guitar picks. The shapes are very diverse, too. You'll find your standard shapes (Standard, Jazz, Tri) as well as unique shapes inspired by the series they're part of. A few examples of these are Mjölnir from the Ragnarok series, Aegis from the Imperial collection, and Spearhead which is one of my two personal favorites from the Parthenon series.
Warranty and Money Back Guarantee
I like it when brands understand that having to buy gear online is a challenge. You can't really hear how it sounds or check what it feels like. They offer a 30-day money-back guarantee on all of their picks and knobs, and their kill-switches come with a 1-year warranty. For some picks, it goes as high as 90 days to make sure you're really happy with what you got, which is appreciated.
Finishing Thoughts
I wanted to review Iron Age picks for a long time, as I've been following them for a while. So when they approached me to review their entire Parthenon line, it was an easy decision for me.
These picks ended up being everything I expected them to be, and a bit more. The quality and attention to detail are impressive, they feel great to play, and are perfectly weighted. Iron Age picks' range is diversified enough so you can easily find the sound you're looking for, whether soft and mellow or harsh and aggressive. The price may sound a bit high if you never tried a boutique guitar pick before, but $20 is just at the spot between fair and cheap for what you get in return. Very highly recommended.
Disclaimer
This is NOT a paid review. It was written based on my own experience playing these picks and based on that only. Iron Age Accessories sent me the picks for free, but they had no say on what goes in the review.
Iron Age Guitar Picks Review
They sound amazing, each pick with its own strengths and focus point. As a collection, It's safe to say that they hit every mark. They feel great, and the gripping surface is very effective, even though it's not aggressive at all. I didn't see any sign of early wear after I abused them over the last weeks. And the price is more than fair for what you get in return.