Let's be frank. Who hasn't dreamed of playing in a sold-out Madison Square Garden at the top of your game? Becoming one of the best guitarists of all time requires a lot of work, dedication, and of course, talent. It's not just playing the most complex riff or shredding the guitar faster than anyone else. It's to play the right note at the right time and, above all else, to serve the song.
Here is a list of my personal views of who are the best guitar players in the world. Let's see how many of them you know, and please share with me in the comments who you think I should add.
The Best Guitarists of All Time
For this list, I gathered the guitarists that I consider the best of all time. I didn't rank them, and the order in which they appear has no meaning.
The Edge
The Edge was born as David Howell Evans on August 8th, 1961, in Barking, Essex, England. He became famous as U2's lead guitar player. He comes from a musical family. In fact, his older brother was also with him in the band that later became U2, but left it to join another band.
His playing style is simple and almost atmospheric. He tends to use lush delays and reverbs and a blue (heavy 1.1mm thick) Herdim pick held sideways.
In addition to being the guitarist and solo master of U2, the Edge has worked with artists like B B King (also featured on this list), Holger Czukay, Jah Wobble, Jay-Z, Johnny Cash, Ronnie Wood, Rihana, and Tine Turner.

George Harisson
George Harrison was born on February 25th, 1943, in Liverpool, England. He is most known for being a part of the Beatles, often referred to as the quiet Beatle. He originally auditioned for the Quarrymen, a band started by John Lennon, that later became the Beatles, when he had just turned 15.
Check Berry and Chet Atkins influenced George's earlier musical style. As years went by, he was deeply influenced by Indian music. In 1966, Ravi Shankar accepted him as his sitar student, a thing that influenced his music style tremendously.

Jimi Hendrix
Jimi was born Johnny Allen Hendrix on November 27, 1942 in Seattle. He has gained fame through his extravagant, virtuoso, guitar playing as an American singer-songwriter and guitarist. He was extremely important for guitar music because of the new groundbreaking chords he used. One of the first to use feedback as an effect (screeching noise you get by holding your guitar close to the amplifier). His music can be described as a combination of rock and roll, soul, and psychedelic with blues influences.

Eric Clapton
British guitarist Eric Patrick Clapton was born on March 30th, 1945. He has become known by playing in bands such as The Yardbirds and Cream. With his rendition of Bob Marley's I Shot the Sheriff he was able to interest the general public in Reggae music. Among else, his best known songs include Layla and Tears in Heaven. One of his most famous albums is Unplugged, on which he only plays acoustic.
In 2004, Clapton donated his most famous guitar, Blackie, to charity. The guitar was bought for $959,500.

Joe Satriani
Inspired by the likes of Jimi Hendrix, Joe started playing guitar at the age of 14. Satriani decided to teach guitar for a number of years. Two of his best known students were no others than Steve Vai and Kirk Hemmet. His professional career took off after Steve Vai became well known. Vai has mentioned him as his biggest inspiration many times. Satriani's first proper album was Not of This Earth.  

Eddie van Halen
Edward Lodewijk van Halen is a Dutch-American guitarist who has become famous for being the guitarist and founder of the rock band Van Halen. Eddie was born January 26th 1955, and is often referred to as "EVH". He played the guitar solo in Michael Jackson's Beat It. 

Brian May
British guitarist Brian May was born July 19th 1947, and is best known as the guitarist of the legendary rock band Queen. Together with Freddie Mercury, they wrote most of the songs for the band. Inspiration mainly came from The Beatles and Jimi Hendrix.
The most famous songs are, among else, We Will Rock You, I Want it All, and Who Wants to Live Forever. 
In addition to being one of the most appreciated guitar players in the world, Brian May also has a Ph.D. in astrophysics.

Carlos Santana
American guitarist, Carlos "Devadip" Humberto Santana Barragán, also proves that 1947 was a good year for the guitar world. He became famous with his band, Santana, after playing in Woodstock. His unique style is a special hybrid between rock'n'roll, blues, and Latin jazz. Even though today, hybrids are fairly common, It was very innovative in the late 60 and early 70s.
He is responsible for some of the most famous songs in history, including: One of his best-known songs is Samba Pa Ti, Oye Como Va, and Maria Maria.

B.B. King
Riley Ben King was born in Itta Bena on September 16th, 1925. Viewed by many as the greatest blues guitarist of all time. One of his most successful albums is Live at the Regal. His role models and sources of inspiration were artists like Lonnie Johnson, Django Reinhardt, and T-Bone Walker. He developed his talents by singing gospel while going to church.

Mark Knopfler
Born August 12th, 1949, in Glasgow, Mark Freuder Knopfler reached fame as front man and guitarist of Dire Straits. Their debut album Dire Straits was an instant success, with their biggest hit Sultans of Swing. In 1985 they release the album Brothers in Arms, which set a record in the Dutch Album Top 100 list. Knopfler has also written songs for many different artists. One of the most famous examples is Private Dancer, which he wrote for Tina Turner.

David Gilmour
David Jon Gilmour began with Pink Floyd in 1967. A year later, he became the lead guitarist and vocalist when Syd Barrett left the band. In 1985 Gilmour became the frontman after Roger Waters left. Pink Floyd has produced many legendary albums which make the hearts of many guitarists beat faster. The Dark Side of the Moon, Wish You Were Here, Animals, and The Wall are the best known albums.

Joe Bonamassa
The blues and rock guitarist Joseph Bonamassa was born in Utica on May 8th, 1977. His father was a guitar trader. This sparked his interest in guitars. Bonamassa was inspired by the music of Eric Clapton at a very young age. At the age of 11, he gave his first concert together with B.B. King. In 2000 he released his first album, A New Day Yesterday.

Keith Richards
The co-founder of The Rolling Stones was born on December 18th, 1943. One of his great inspirations was Elvis Presley. Among else, he wrote Rolling Stones hits such as Satisfaction, Angie, and Paint it Black. Richards made his film debut in Pirates of the Caribbean: At World's End, where he plays the father of Jack Sparrow. Sparrow actor Johnny Depp largely based the character on Richards. 

Slash
Saul Hudson? Doesn't ring a bell! Slash? Yes! The British-American lead guitarist of Guns N' Roses. Born in 1965, Slash was inspired by Cream and Led Zeppelin. In 2010 he released his first solo album, Slash. He also played alongside many famous musicians, such as Michael Jackson, Lenny Kravitz, Rihanna, and Blackstreet. Slash also has an extensive line of signature guitar equipment, among else the Marshall AFD100 and multiple guitar pedals. Manufacturers respond to the overwhelming demand among guitarists for the characteristic Slash sound.

Chet Atkins
Chester Burton Atkins was born on June 20th, 1924, in Tennessee. Atkins is viewed as one of the most influential producers and guitarists when it comes to the Nashville sound. He produced records for Elvis Presley, Don Gibson, Jim Reeves, Jerry Reed, and Waylon Jennings.

Bruce Springsteen
Guitarist from Long Branch, New Jersey, was born on September 23rd, 1949. His full name is Bruce Frederick Joseph Springsteen. The Boss, as called by many, gained fame with his third album, Born to Run. Famous Springsteen songs include Glory Days, I'm on Fire, Born in the U.S.A., Streets of Philadelphia, Dancing in the Dark, and The River. 
34 albums and still counting put a lot of music to Springsteen's name, and with his mega concerts, tens of thousands of people enjoy his music. On many occasions, his podium is filled with ten or more musicians.

Billy Gibbons
Born in 1949, American singer Billy Gibbons is well known for being the frontman and guitarist of ZZ Top. He began playing guitar after he received a Gibson guitar amp for his thirteenth birthday. In 2015 he released his first solo album, named Perfectamundo. 

Jeff Beck
Jeff Beck was born in England in 1944. He took the spot of Eric Clapton in The Yardbirds (predecessor of Led Zeppelin) after the latter left the band. In 1967 Beck formed his own Jeff Beck group, with Rod Stewart as a singer. Even with Stewart present as singer, Beck sang one the first singles, Hi Ho Silver Lining.
Jimmy Page
James Patrick Page (1944) reached fame as guitarist of The Yardbirds.
In 1968 The Yardbirds broke up and Led Zeppelin was formed. In 2009 a documentary was made about Jimmy Page and that era named It Might Get Loud
Stevie Ray Vaughan
The American blues singer and guitarist from Dallas was inspired by his brother at a young age. Vaughan performed during the Montreux Blues Festival in 1982. There, no other than David Bowie spotted him. Bowie was impressed in such a way that he invited Vaughan to collaborate on his Let's Dance album. Vaughan recorded his first album in the studio of Jackson Brown, with his band Double Trouble
John Petrucci
John Petrucci is the lead guitarist and a founding member of Dream Theater. He is extremely technical, and even though I'm not a big fan of the genre, I love what he does. He is the only guitar player that has four different signature picks with Dunlop.

Randy Rhoads
Randall Williams Rhoads was born on December 6th, 1956. Being a heavy metal guitarist he played with Ozzy Osbourne and Quiet Riot. Rhoads was a big influence for the neo-classic metal music. In fact, he studied classic guitar. Bringing the two styles together brought us some masterful music.
Richie Blackmore
Richard Hugh Blackmore is an English guitarist and songwriter. He was one of the founders of Deep Purple in 1968. Later bands of Blackmore were Rainbow and Blackmore's Night. Blackmore started playing the guitar at the age of 11. He got the guitar from his father, with the condition he learned how to properly play it. That's why he took a year of lessons on the classic guitar. His inspiration was Tommy Steele. Fender has released a signature electric guitar under Blackmore's name, characterised by the scalloped frets.
Kurt Cobain
Lead singer and guitarist for Nirvana, Kurt Donald Cobain (February 20th, 1967). Their debut album was released in 1989, named Bleach. After releasing their second album, Nevermind, in 1991 they reached fame with the hit Smells Like Teen Spirit.
Many think that Cubain is considered one of the best guitarists of all time because of his death, but I think his playing style served the songs he released very well, without being flashy, and I appreciate him for that.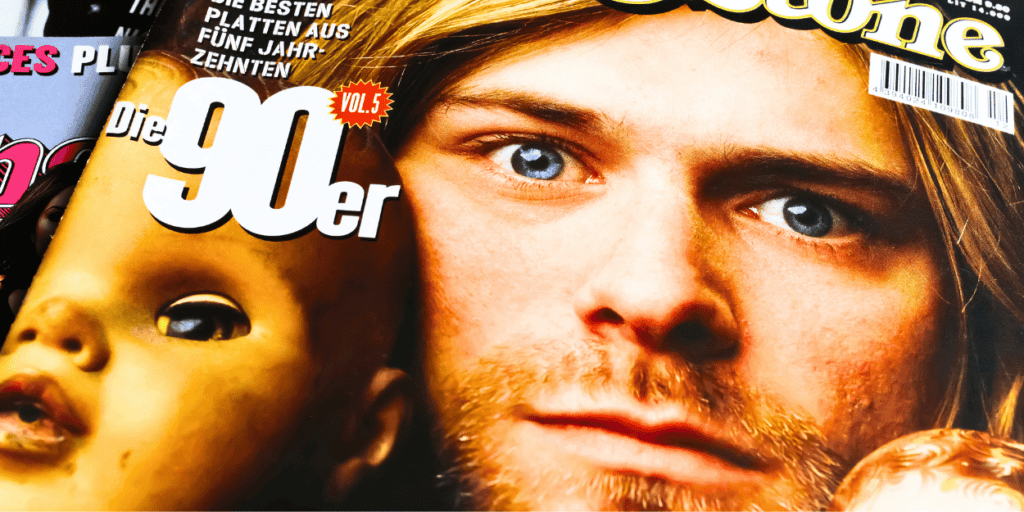 Finishing Thoughts
There are obviously tons of talented guitar players everywhere, and here I only included the players that I consider the best guitarists of all time.
What would you change in my list? Post your thoughts in the comments!