Dunlop guitar picks needs no introduction. As one of the most popular pick manufacturers, you will most likely find some of their picks in your pick box. They are known for applying their own twist and upgrading popular materials for being used as guitar picks. Some good examples of that are Tortex, which is their version of Delrin, and Ultex, which is their version of Ultem.
Over the years, they produced thousands of different picks. Among them are some of the most successful picks of all time. Jazz III, for example, has a massive following among guitar players from all genres. Dunlop keeps innovating and perfecting their designs all the time. This is one of the reasons why I like this company so much. Their picks are also available in most guitar stores. So, by getting used to a few Dunlop picks, you're most likely to play comfortably in every spontaneous jam session.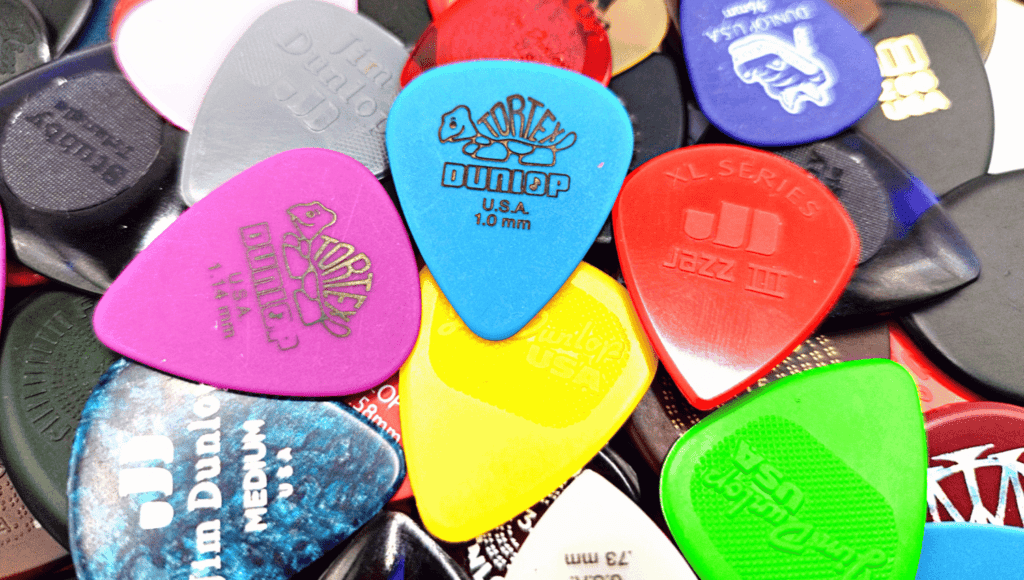 Dunlop Guitar Picks by Series
Dunlop's series can be a little confusing at times. Sometimes a series represents a shape or a group of shapes, while others represent a material. Today, I'll try to guide you through the huge collection of picks made by Dunlop and put some sense into their range.
Dunlop Tortex Picks
Dunlop introduced the first Toretex pick in 1981 as an alternative to Tortoiseshell (hence, the turtle logo). Even though they were more durable than other synthetic picks of the time, this is not what made them successful. Their success came from two properties: they were available in 5 gauges instead of the common 3, and their unique color coding system.
The first release of Tortex was in different shades of grey to represent different gauges. Later, Dunlop changed the color scheme to the one we all know and love.
Today, as the jewel in Dunlop's crown, every one of their designs is also made of Tortex. A total of 11 different guitar pick shapes. The standard Tortex line is available in 8 gauges between 0.5mm to 1.5mm.
Read more about Dunlop Tortex Picks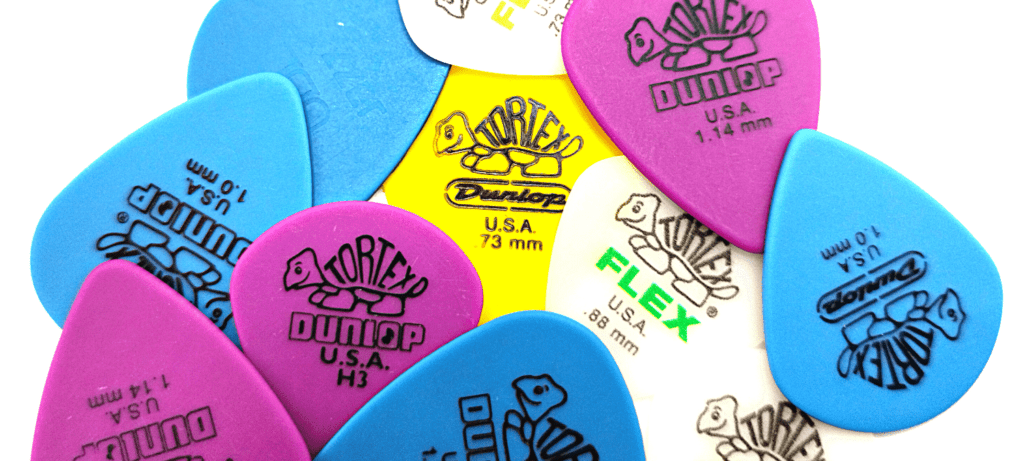 Tortex Flex Series
The Flex series is more of a sub-range of Tortex than a series of its own. These picks, according to Dunlop, represent the best in Tortex and Nylon, having the durability of Tortex and flexibility of Nylon. Unlike Tortex, Flex picks are not available across every shape but only in Standard, Jazz, Jazz XL, and Triangle.
The 1.5mm version of Flex in Jazz shape is one of my favorite Jazz III alternatives.
Check out Dunlop Tortex Flex Standard, Jazz, and Triangle on Amazon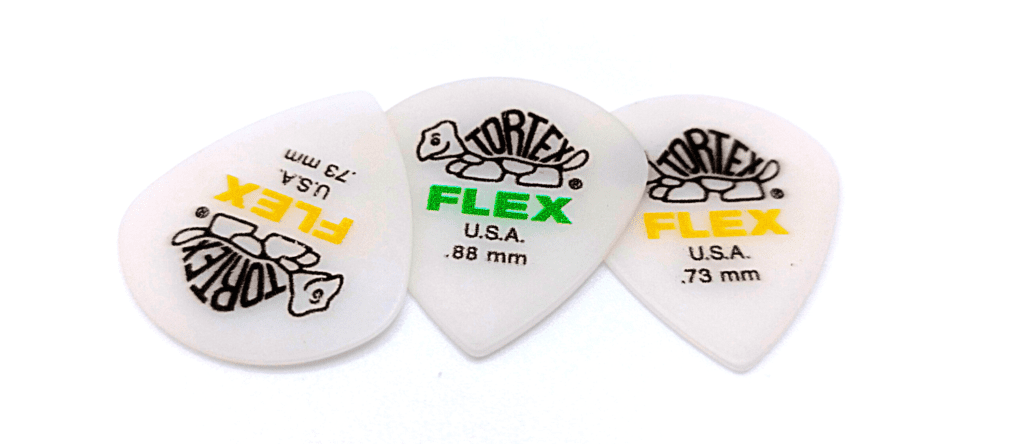 Signature Tortex Picks
Even though Tortex is, by far, Dunlop's most successful series, only two artists have signature picks based on it: Tosin Abasi and Javier Reyes of Animals as Leaders.
Dunlop Jazz Picks
The Jazz series contains a few of the most widely appreciated pick shapes of all time: the Jazz III, and Jazz XL. Being this successful, Dunlop is making them of most of their materials, including Nylon, Tortex, Ultex, and more.
Many other manufacturers have recreated Dunlop's Jazz III, such as Ernie Ball, Fender, Ibanez, and more. This shape also has many variations made by Dunlop themselves, including the original, Rock III, and many others.
Jim Dunlop himself designed The original Jazz III in 1976 out of Nylon. Over the years, Dunlop resealed many different versions of it, including ones made of Ultex, Tortex, and Lexan. Today, most pick makers and manufacturers have at least one pick in a similar design.
Signature Jazz picks
Many of Dunlop's artists used the Jazz III shape as the base for their signature model, including Joe Bonamassa, John Petrucci, Kirk Hammett, Eric Johnson, Matt Heafy, and more.
Read the review I wrote about Jazz III, Rock III, or about Jazz III alternatives.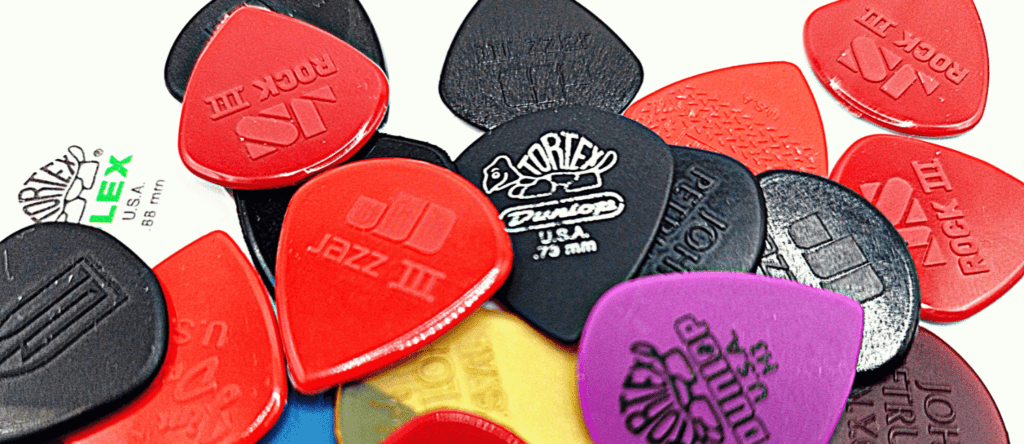 Dunlop Nylon Guitar Picks
Nylon is one of the most popular materials for guitar picks, and Dunlop has seven different sub-series of guitar picks made of it. The series are Classic, Jazz, Max Grip, Midi, Fin, Stubby, and Glow in the Dark. Its flexibility makes it resistant to breaking, even at super-thin gauges. In fact, the thinnest Standard Nylon pick is just 0.38mm thick.
Signature Nylon Guitar Picks
Even though most signature Jazz III are technically made of Nylon, I think the only pick it fair to call a Nylon signature is Slipknot's Jim Root.
Check out Dunlop Standard Nylon picks on Amazon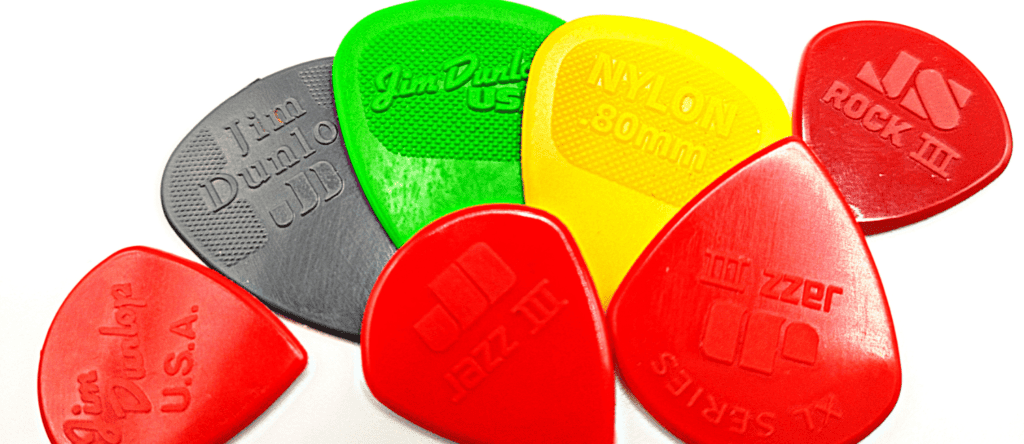 Dunlop Flow Picks
The Flow shape resembles the Jazz III design, but even though it has a sharp tip, their curve rounds them toward the tip. This creates a faster pick, with a softer attack. Flow picks are usually made of Ultex, but the flow shape itself is used with different materials, such as Tortex and Delrin.
Ultex is bright and durable, and the flow shape is fast. It has a sharp tip, but it's tamed by the curves leading up to it.
Signature Flow picks
The Flow shape is the base for signature picks by Rebea Massad, Misha Mansoor, John Petrucci, Andy James, and Metallica's James Hetfield.
Read the review I wrote about Dunlop Flow.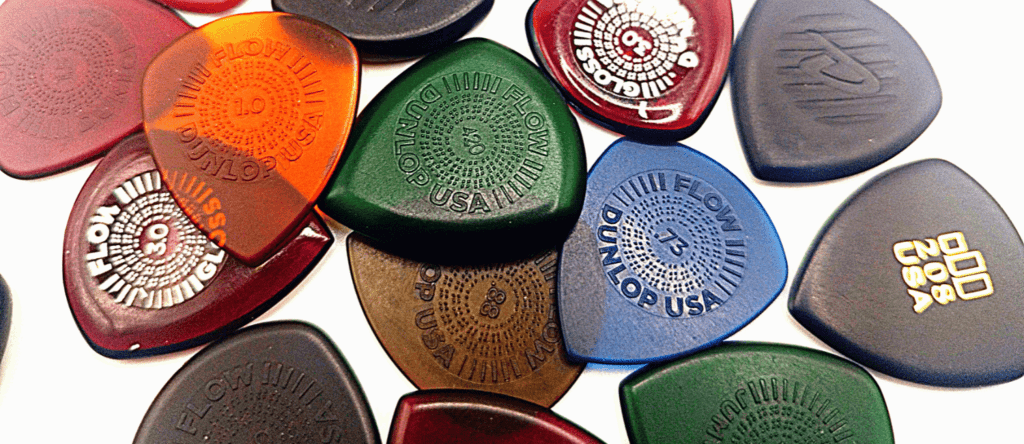 Gator Grip Picks
Dunlop Gator Grip picks are essentially made of Tortex, although they were designed to have a better grip. Some say that they wear faster, but I think that it's almost indistinguishable. They come in three shapes: Small triangle, Standard, and Jazz, and they use a different color coding to distinguish them from Dunlop's Tortex picks.
Check out Gator Grip picks on Amazon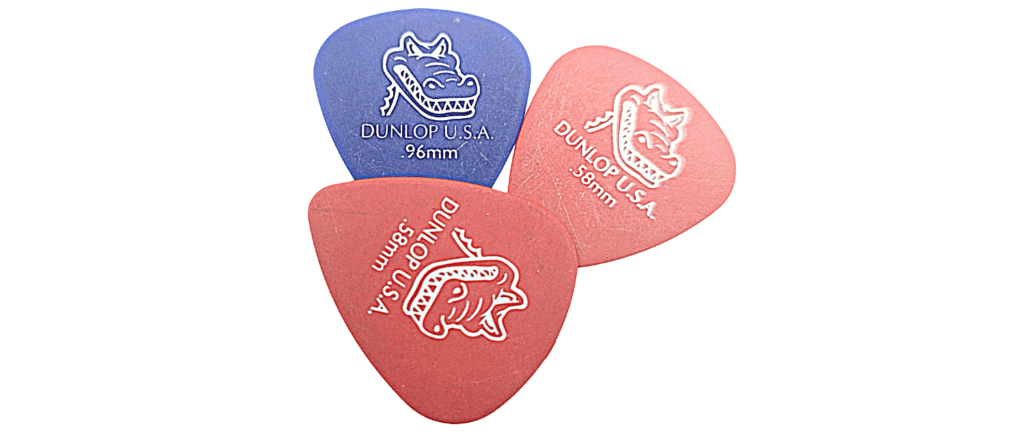 Dunlop Stubby
Dunlop's Stubby picks line consists of three shapes: Stubby Jazz, Big Stubby, and Tri Stubby. Each of these is made of Lexan, while the Big Stubby also has a version made of Nylon. The range of gauges is between 1mm to 3mm, including picks that are 1.5mm and 2mm thick, too.
Nylon as a pick material needs no introduction, but Lexan is quite rare in guitar picks. It's bright sounding and very rigid (that makes dent quite easily).
Check out Dunlop's Stubby picks on Amazon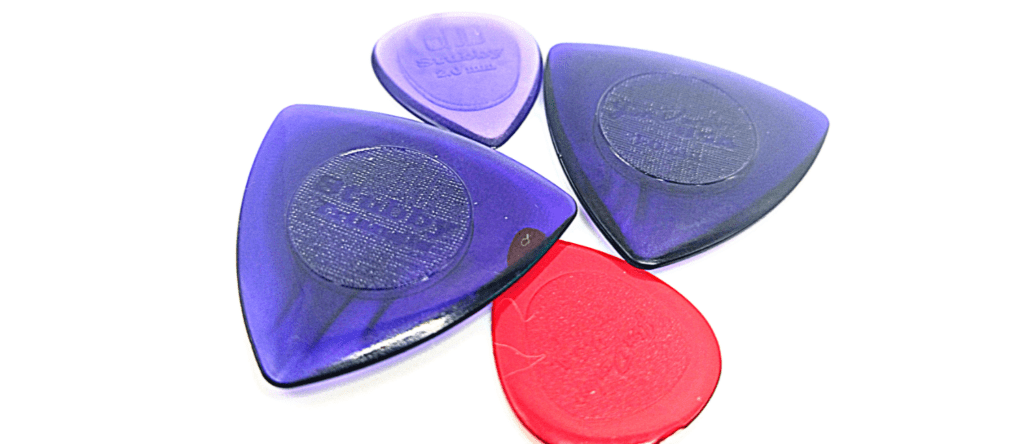 Herco Guitar Picks
Herco picks were very popular in the mid 60s. Over the years, they became less and less successful until the company was bought by Dunlop in the mid-90s, and eventually, they stopped making picks. In 2015, Dunlop re-released Herco's standard model into two series called the Vintage 66' and Herco Flex. The Vintage 66 was recreated of modern Nylon to mimic the properties of Herco's vintage picks, and Herco Flex takes advantage of modern molding technologies and a vintage shape.
Check our Herco picks on Amazon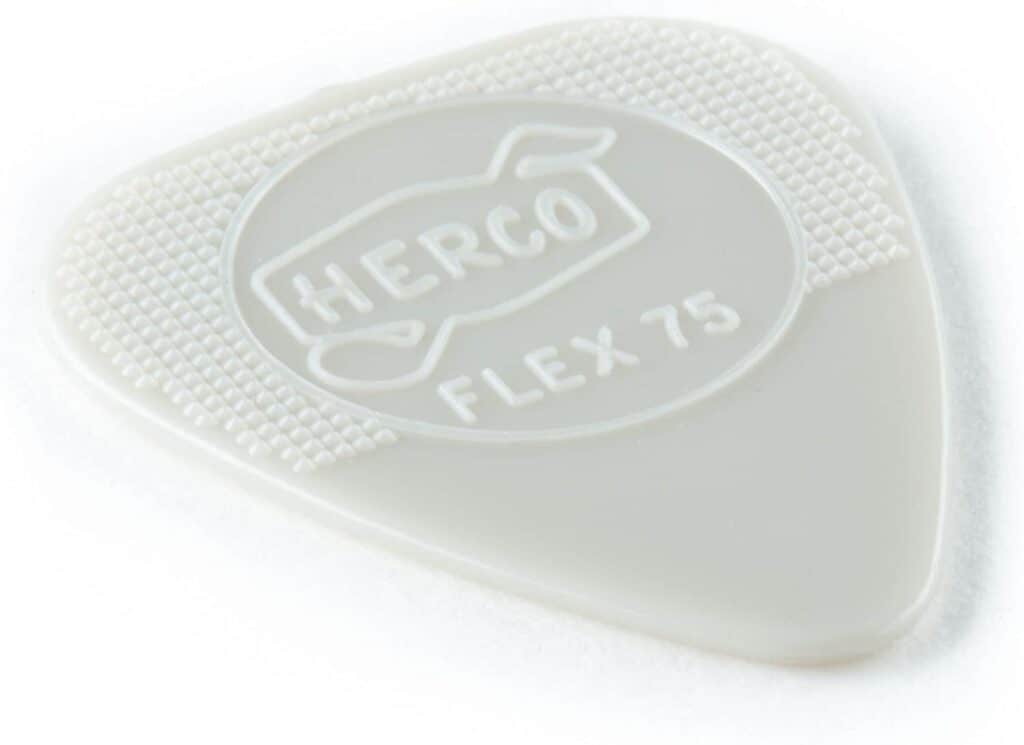 Dunlop Primetone
Primtone is Dunlop's elite series, where each pick is beveled by hand. It contains three sub-series: Smooth, Grip, and Classic, all of which are made of Ultex. The vast majority of picks in this series have speed bevels, but some Primetone Classic picks are not, as well as Animals as Leader's signature Primetone pick. Other signature picks in the Primetone series are John Petrucci's speed-beveled Jazz III-shaped Primetones.
Signature Primetone picks
Three signature picks belong to the Primetone series. They were designed in collaboration with Akira Takasaki, Animals as Leaders (two color schemes), and John Petrucci (two colors).
Check out Dunlop Primetone on Amazon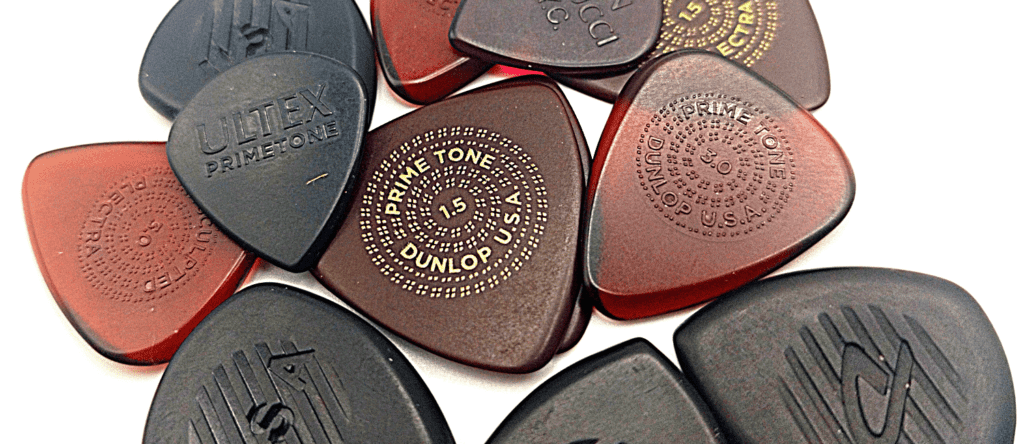 Delrin 500
Delrin 500 is Dunlop's gloss-finished Delrin series. They are available between 0.46mm to 2mm, and only in standard shape. Traditionally, they didn't have grip surface, but in 2018 Dunlop launched every gauge with PrimeGrip, too.
Check out Delrin 500 picks on Amazon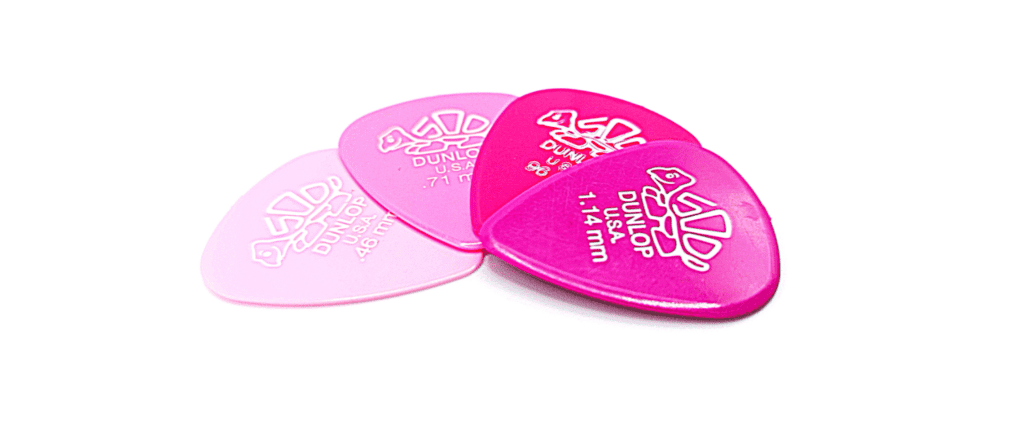 Dunlop Ultex Picks
Every guitar player will instantly recognize the rhino logo on this translucent yellow pick. Ultex (or Ultem) is among the most durable materials guitar picks are made of, and Dunlop's series is among the most popular. They are bright sounding, and available between 0.6 to 2mm thick in Dunlop's most popular shapes, including Standard, Standard Sharp, Triangle, Jazz III and Jazz XL.
Signature Ultex picks
Jeff Loomis' signature Ultex pick is 1.5mm thick and is available in a pointy shape.
Check out Dunlop's Ultex picks on Amazon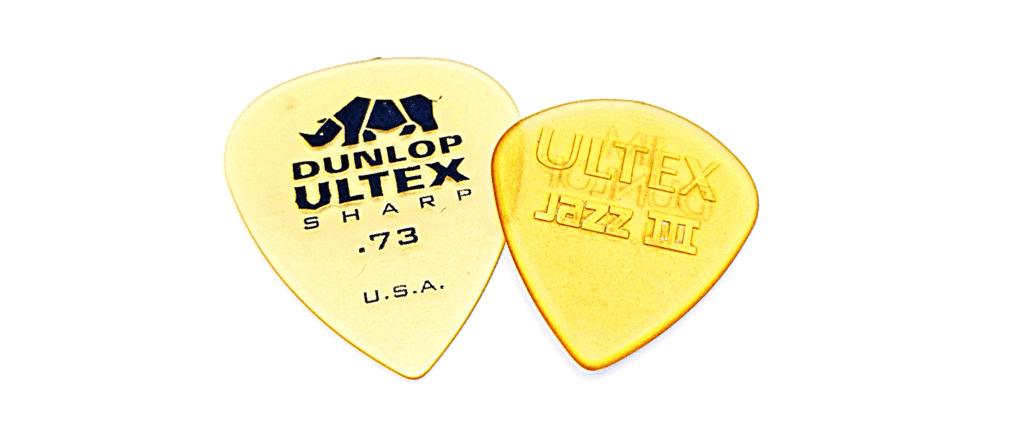 Dunlop Celluloid Picks
Dunlop's Celluloid picks are available in three gauges (thin, medium, and heavy) and standard and wide teardrop shapes. There's nothing specific to tell you about them because they are exactly like any other Celluloid picks you've tried before.
Celluloid, as a material, is warm sounding, but wears very fast. It can be a great asset in your arsenal if you're looking for a vintage tone.
Check out Dunlop's Celluloid picks on Amazon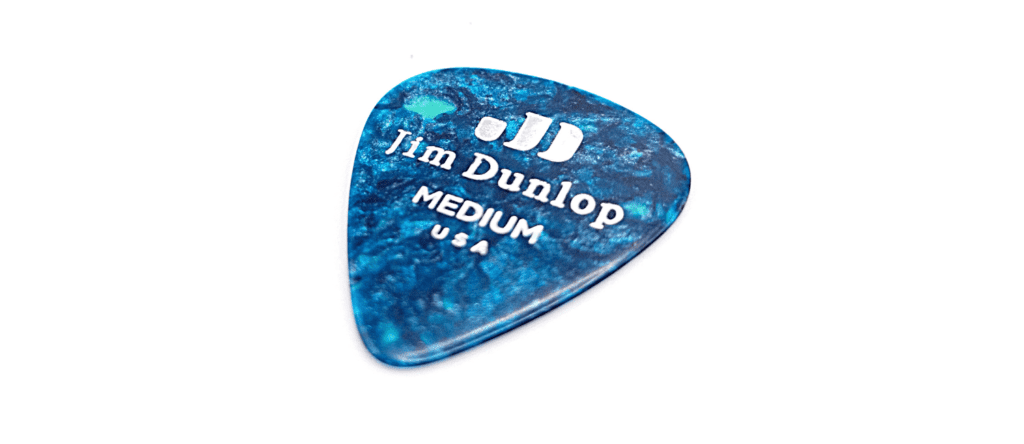 Jim Dunlop Poly and Gel Guitar Picks
I decided to group these two series together because, other than their appearances, they are very similar. Both are made of Polycarbonate and available in standard shape in five gauges. Other than a slight difference in how they feel, I couldn't find anything than differentiate them from each other. The difference is so small that I'm not sure I can distinguish between them in a blind test.
Polycarbonate is not a very popular material for making picks, even though it's bright, grippy, and very durable. I don't think they get the attention they deserve. A few more shapes could've been great, especially since these picks are super popular among beginner guitar players. I can honestly say that these are among the most underrated guitar picks Dunlop makes.
Check out Jim Dunlop Gel and Poly picks on Amazon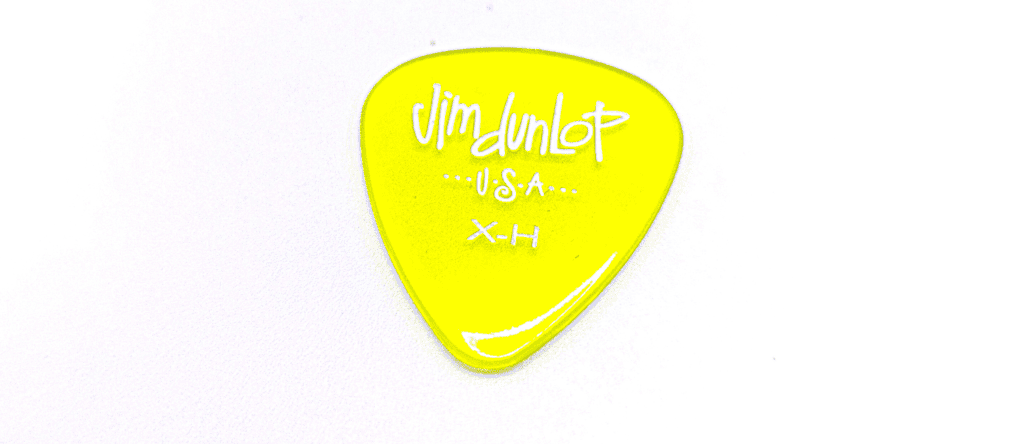 Dunlop Jazztone
Even though their names resemble each other, the Jazztone picks couldn't be farther from Dunlop's Jazz series. The Jazztone picks create a deep sound (with a pleasant bright attack) and are very quiet, so they're barely audible on unplugged electrics.
There are five shapes in total, with three levels of roundness. The model names are numbered 204 to 208, and every one is 2mm thick. My personal favorite Jazztones pick, 208, is Flow-shaped with a sharp tip.
It's told that when Andy James designed his signature flow, he based it on Jazztone 208.
Check out Dunlop Jazztone Picks on Amazon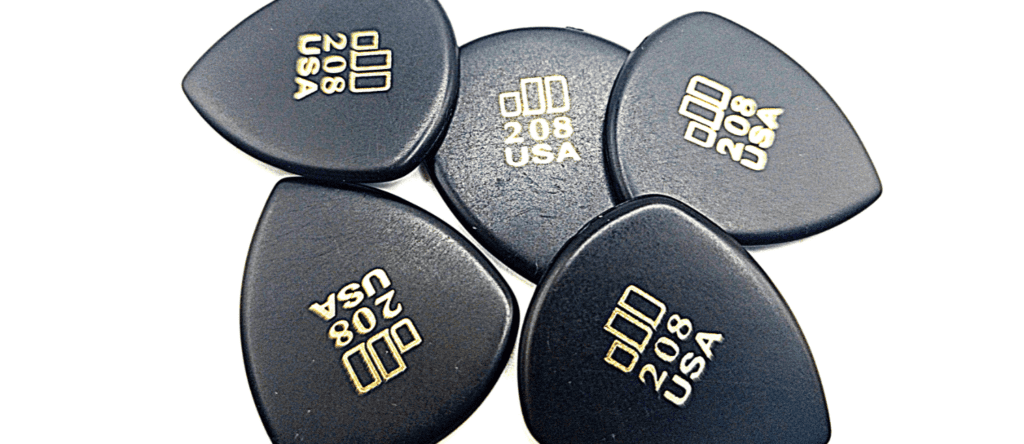 Speedpick
The Speedpick is a patented guitar pick shape where the tip of the pick is tilted instead of beveled to make it faster. This small change from a traditional speed bevel is allowing Dunlop to help thinner picks play a lot faster. Picks that are too thin for regular speed bevels. Speedpick picks are made of Nylon and available in Standard or Sharp Teardrop shapes, 0.71mm or 0.91mm thick, and for both right and left-handed players.
Note that left-handed Speedpicks are called "reverse" and for some reason, are marked with an "R".
Check out Speedpick on Amazon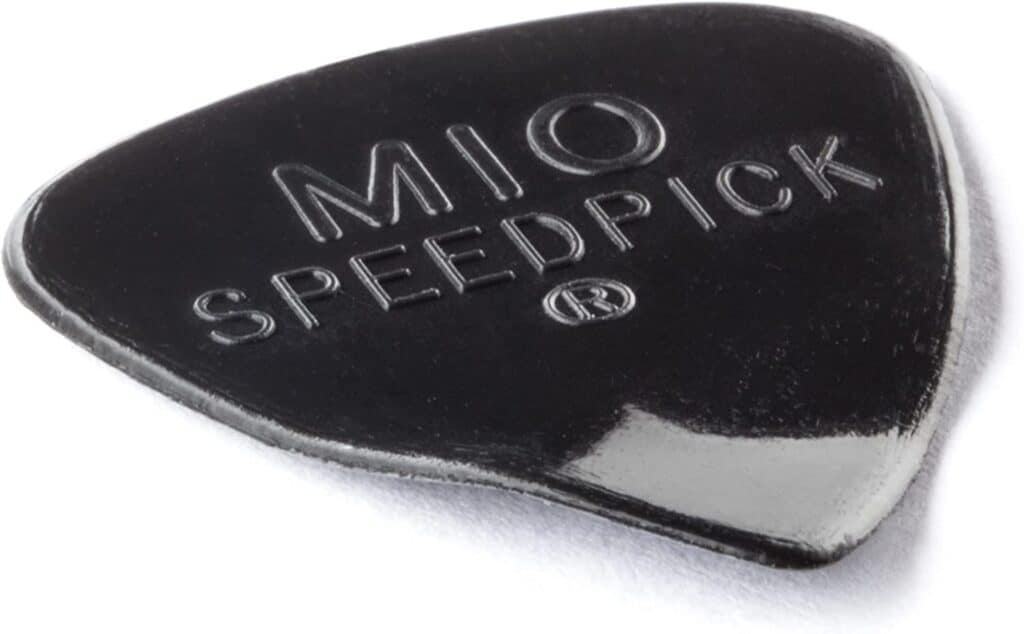 Dunlop Metal Guitar Picks
Even though metal guitar picks are not too common, Dunlop currently produces two different models of metal picks.
TeckPick
TeckPick is among the most popular metal guitar picks. Available in one gauge and exclusively in Standard shape (well… kinda Standard shape), It was somewhat popular in the 90s. Since then, its popularity has decayed, but it's still in production to this day and made of either Aluminium or Brass.
This pick is available in six colors: Natural Brass, red, blue, black, clear Aluminum, and textured Aluminum. I'm still using the two I bought in 2018, and they haven't shown any signs of wear yet. This can't be said about the strings they sawed through, though, as they're quite thin for metal picks (0.7mm).
They are usually sold online in packs of 12, but you should look for them in guitar stores. You are most likely not to need more than one.
Check out Dunlop's TeckPik on Amazon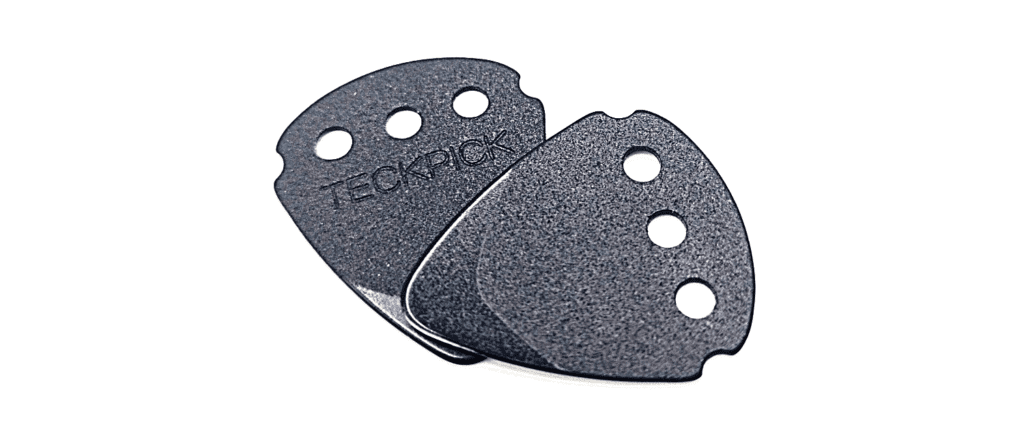 Dunlop Stainless Steel picks
The stainless steel picks are available in Standard shape and three gauges: 0.51mm, 0.38mm, and 0.2mm(!). The 0.2mm version is currently in a tie with pick haven's carbon fiber pick for the world's thinnest guitar pick.
Even though they are definitely very cool to try, such thin picks of such tough material won't be so nice to your strings. Just bear that in mind.
Check out Dunlop's Stainless Steel picks on Amazon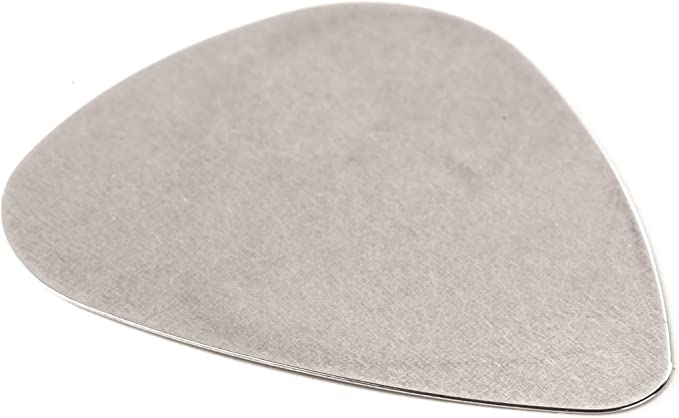 Dunlop Grip Models
One of the things I found the most interesting about how Dunlop design its picks is their grip. They have two different designs for unique grips they use in different models (apart from raised letters and logos)
Max Grip
The max grip is the most aggressive gripping surface Dunlop came up with. It is mostly used in their Nylon picks but also in Jazz III Stiffo and Carbon Fiber.
PrimeGrip
PrimeGrip is the type of gripping surface Dunlop use for their Flow and Primetone picks. It's far less aggressive than MaxGrip, but not as subtle as the raised letters of Jazz III.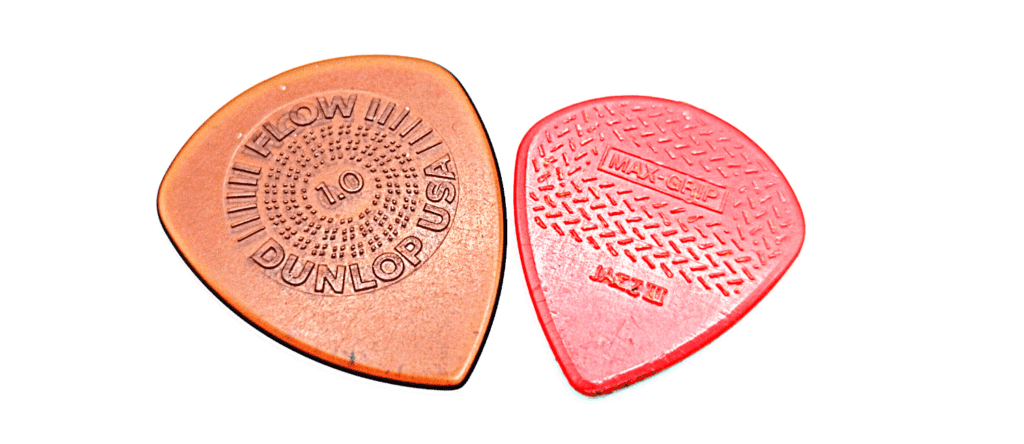 Finishing Thoughts
Overall, Dunlop has a mind-blowingly large range of guitar picks, and the chances of you not liking any of them are slim to none. That being said, the way they sorted them into different series always confused me. So, I hope that this article helped you understand the way they sorted them.
If you liked this article, let me know what you think in the comments, and check out more articles about guitar picks. See you next time!