It is hard to believe that the small and cheap part of your guitar is one of its most significant elements. A guitar pick has a dramatic impact on the tone and attack of your instrument. These small plastic pieces come in a huge variety of options available, which is why it becomes difficult to find the right choice for you.
Golden Gate picks are one of the best options for those who are looking for some new guitar picks to improve their playing style. This guide takes a detailed look at different Golden Gate picks available. Their features, benefits, and performance to help you make an informed decision.
Golden Gate Picks Review – UPDATED 2022
A member of the Saga Music family, Golden Gate is a brand involved in offering affordable parts and accessories for musical instruments. Instruments include classical guitar, banjo, mandolin, and others that fall under the violin family. It offers a wide variety of picks and parts for musicians to choose from. The brand also specializes in high-quality guitar, banjo, and mandolin cases. Additionally, they make banjo parts like tailpieces, armrests, bridges as well as tuning machines for these instruments.
Golden Gate remains the most preferred choice for guitar picks for over 40 years. Especially among professionals who believe that the picks they use affect the tone and volume of their instrument to a great extent. The thumb picks from this brand are a favorite among seasoned guitarists. And have always remained the standard among Bluegrass banjo, guitar, and dobro pickers. Golden Gate also makes felt ukulele pick made in high quality to give an authentic, mellow tone.
Musicians using these picks are quite satisfied with them. The feel, grip, sound, attack, and sculpting they provide is great. They are perfectly made to serve their purpose. Golden Gate Picks help guitarists improve their technique and practice for long hours without any fatigue.
Golden Gate Guitar Picks – What You Should Know?
Made in Japan, Golden Gate guitar picks are carefully crafted out of the finest quality materials for optimum performance. These picks are available in three popular shapes to choose from. The shapes include: sideman, large triangle, and rounded triangle to suit a variety of players. All the edges of these picks are hand-beveled so that they glide effortlessly across the strings. It allows fast picking without any loss of tone. The picks also come in medium, stiff, and extra stiff options to deliver an assured note clarity and volume regardless of the style of music played.
Golden Gate guitar picks offer you several options for thickness and designs to suit individual preferences. The Deluxe Tortoise variation is made out of turtle patterned nitrocellulose that ensures durability and great sound. The ivoroid pick is constructed from celluloid and comes in stiff thickness to deliver optimum volume and immediate attack. You can also find these guitar picks in an attractive clown confetti design.
The rounded triangle shape is ideal for those who are looking for a clear attack, rapid tremolo, and extra rich fat tone out of their instrument. While the original triangle shape has rounded points so it feels right whatever way they are held. The popular sideman shape comes with two rounded edges and one pointed edge to facilitate a variety of tonal options.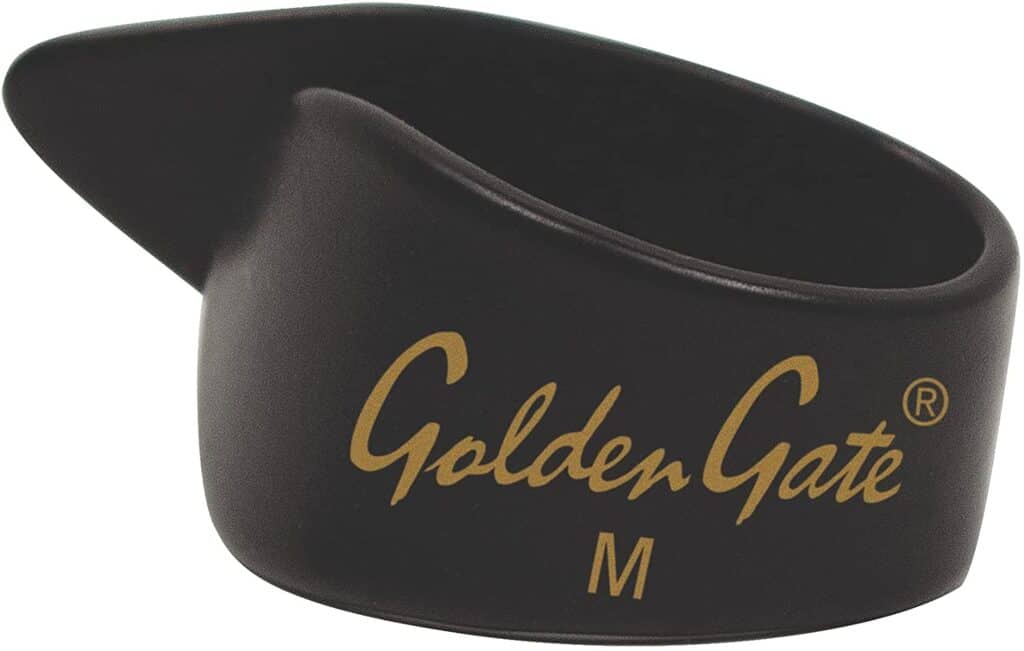 Golden Gate Thumb Picks Review
If you didn't know, Golden Gate is one of the top brands musicians prefer for thumb picks. Golden Gate thumb picks are designed to be durable and heavy in vintage style and available in a great variety to choose from. Suitable for guitars, banjos, resonators, and other stringed instruments, these thumb picks remain a standard among pickers. They are extremely comfortable and ergonomic to use with a large profile and special construction that delivers outstanding tone and durability.
Golden Gate thumb picks come in a pack of 12 in small, medium, and large varieties to choose from. These are carefully designed using the input of professional players. They fit most players and are made out of the finest quality materials to last long. The Ivoroid thumb picks are made out of grained ivoroid. While the Pearloid picks are constructed using white pearloid nitrocellulose material. You can even find thumb picks in confetti and mock turtle designs to choose from.
These thumb picks suit a wide range of guitarists, both beginners as well as professionals. Delivering better control and stability so that they can practice for extended hours without discomfort. This is why these picks hold a legendary position in the world of professional music. The brand rules over the Bluegrass market.
Golden Gate Triangle Picks
Triangle picks are also a part of Golden Gate's line. They offer triangle guitar picks in a wide variety of designs and shapes to choose from. These picks are constructed out of celluloid and deliver a warm tone and response as can be expected from a quality celluloid pick. You can find these triangular picks in attractive designs. Including the mock turtle that offers the real feel and crisp sound of the turtle shell. Mock turtle picks not just resemble the texture and appearance of a real tortoise shell. They also replicate its long-wearing characteristics.
Triangle guitar picks are also available in confetti clown, ivoroid, and other designs to choose from. These picks come as singles or as a set of 12 or 24. Available sizes are: Medium, Large, and Extra Large. With thickness ranging from 0.75 to 1.5mm. The extra-heavy, extra-large triangular pick with rounded corners not only suits guitar but also works for any fretted instrument that demands clarity and power. These are highly popular among electric and bass guitar players.
Pricing
All of that goodness comes with a price. These won't cost anything near what you'd pay for a Jazz III. A flat pick will cost anywhere between $15 and $19. Thumb picks will cost around $30. Are they great? Yes, definitely. Are they worth the price? That's a tough call.
Where to Buy Them From?
When it comes to smaller pick manufacturers, I always do my best effort to buy directly from the makers. Unfortunately, Golden Gate Picks are available in many stores but are not being sold directly by Saga Music. On the other hand, they organized their Amazon store in an extremely convenient way. You can find categories such as Flat Picks, Thumb and Fingerpicks, Pickguards, and more. Just note that Golden Gate Picks are not making their own fingerpicks, but selling other brands. This is not a bad thing, because they sell some of the best fingerpicks in the market. But this is something you need to be aware of.
Conclusion
Golden Gate picks are one of the best options for those who are trying to find the right pick for desired playability. With such a wide variety of options available, these plat picks and thumb picks should suit almost any player across varied music styles and preferences. It does come with a hefty price tag, though.
Golden Gate Guitar Picks
Good-sounding picks, that will last for a decent amount of time. They grip well and are extremely well made. If it weren't for the price, they would score a lot higher. There are many picks that I'd pay $20 for, but they are usually made of something other than Celluloid.