Guitar picks are one of the most versatile accessories the guitar world has to offer. They come in many shapes and are aimed at different uses. Black Mountain Picks took a different approach and designed their product to be used both as a regular pick and as a thumb pick. And it works. This is such a unique approach to product design, that I had no other option, but to also feature them in my post about guitar gadgets.
In addition to their line of thumb/flat picks, Black Mountain Picks have a slide that doesn't cause you to lose a fretting finger and acts as a hybrid.
In this post, we'll take a closer look at the innovative guitar picks, thumb picks, and slides from Black Mountain to better understand what you can expect from them.
Black Mountain Picks – A Complete Guide
Black Mountain is a reputed Canadian company specializing in musical instruments and accessories. They introduced a revolutionary guitar pick that combines the familiarity of a traditional flatpick with a patented thumb ring design. This allows players to enjoy the convenience of switching between fingerpicking and strumming on the fly.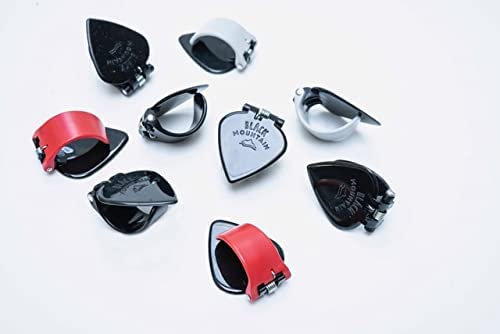 The unique pick from Black Mountain is designed to suit musicians who like playing with their fingers, but also want to enjoy the comfort of playing with a pick. The new hybrid guitar pick uses patented spring-loaded technology. It connects the pick to the thumb ring to facilitate creating new playing options and exciting sounds.
This patented technology offers a number of benefits over traditional guitar picks. Firstly, the spring adds to the flexibility of the pick so it feels like using a regular guitar pick. Moreover, the spring clamps the ring around the thumb to provide a balance of stability and comfort. This thumb pick is strong and offers great control, warmth, and depth of the guitar tone. It helps players focus on the technique rather than thinking about where to hold the pick.
Black Mountain Thumb Pick
The Black Mountain thumb pick was introduced by a full-time guitar teacher, Cole McBride. He was in search of the perfect pick for himself and his students. It was after a lot of experimentation and research that the idea of a hybrid system was put into practice. The flat pick component of the product is a Nylon pick featuring a beveled edge. It delivers string feel, speed, tone, and durability on guitar, ukulele, banjo, and other stringed instruments.
The spring-mounted holster, on the other hand, is crafted to boast an ergonomic structure. It provides a universal fit so that any player can use it comfortably even if the thumb is too thin or fat. The flat pick is allowed to flex along with the picking motion for improved tone control and dynamics. The thumb pick helps players achieve a more natural and responsive playing experience, whether they prefer fingerstyle or flatpicking.
Black Mountain Guitar Picks – What You Should Know?
The Black Mountain guitar pick is the first of its kind to use a spring. It has a high-quality metal and plastic construction, and an ergonomic design that takes no time to get used to. The guitar picks come in a variety of size options. They're ranging from medium to heavy and have a choice of spring tension. Regular tension suits most thumbs while the extra-tight version is suitable for those who want a tight fit or have small thumbs.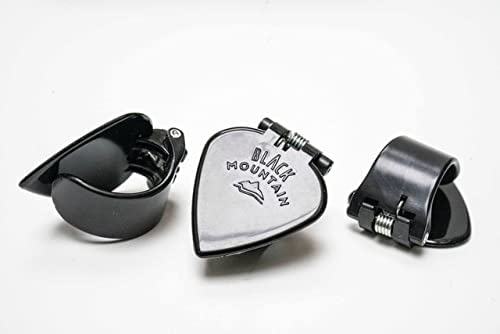 Black Mountain guitar picks are an excellent addition for musicians who like transitioning back and forth between fingerstyle and flat-picking during a session. I'd even dare to call it an ace in the sleeve for hybrid picking. With this pick, you can strum or play a solo and quickly switch to fingerstyle without losing control. The most impressive thing about this pick is that its shape resembles a regular thumb pick, but feels natural and comfortable even for those not used to using thumb picks.
The pick is quite well-made with high-quality material and construction. It sounds much like any other heavy-gauge pick, bringing out the mid-range with emphasis. It delivers a noticeable tonal difference that any guitarist would appreciate, particularly with songs that involve both picking and strumming.
As a new kind of guitar pick, it is natural to face design constraints in creating the hinge. But having the hinge at a little angle should give a better feel instead of being perpendicular to the length of the pick. This is a small concern that does not impact the pick's usefulness. The guitar pick also accommodates left-handed users with a modified design.
Black Mountain Slide Rings
Black Mountain offers a revolutionary slide that allows easy transition between slide and traditional guitar whenever you need to. With this slide ring, you can play slide guitar without losing the use of your ring or pinky finger. The innovative product lets you play four-finger scales and chords with your ring and pinky finger while being able to slide on the fly.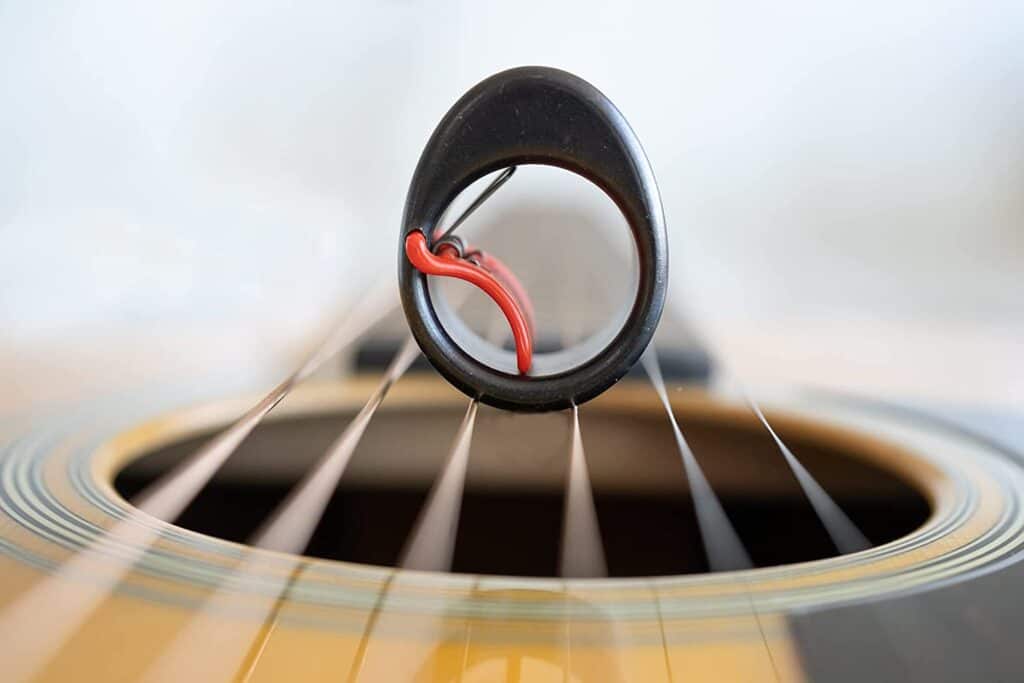 Black Mountain slides are known to have solved the issues players have in terms of feel, comfort, and tone. It is an excellent accessory for beginners as well as professionals as it helps unlock a myriad of creative possibilities with your instrument. The spring-fit design ensures stability and comfort and the added 50 grams of high-quality steel means you can enjoy the tone of a full-size slide in the form of a slide ring.
The slide ring is available in two color options – red and black. You can choose from three sizes – regular, small, and extra-large to suit your finger and preferences (I added a sizing guide below). The slide ring is a great choice for those who want to explore the worlds of traditional and slide guitars without getting confined to either style.
Want To Try Black Mountain Picks?
Personally, I love them. But I understand that they may look a bit weird at first. Understanding how different thicknesses and spring tensions affect your sound is important. That's probably why Black Mountain Picks are offering variety packs, including every type of their picks. They're available for both right-handed and left-handed guitar players. The slide ring fits both right and left-handed guitar players. You can buy it from here.
Black Mountain Slide Rings Fitting
Their slide rings come in three different sizes. And even though the regular size would fit most people, some will feel more comfortable with either the small or the extra-large. The thing is, the spring they added makes sure that the slide won't slip when you play, even if you bought a bigger size than the one you needed. So if you are having a hard time choosing between two sizes, go with the larger one.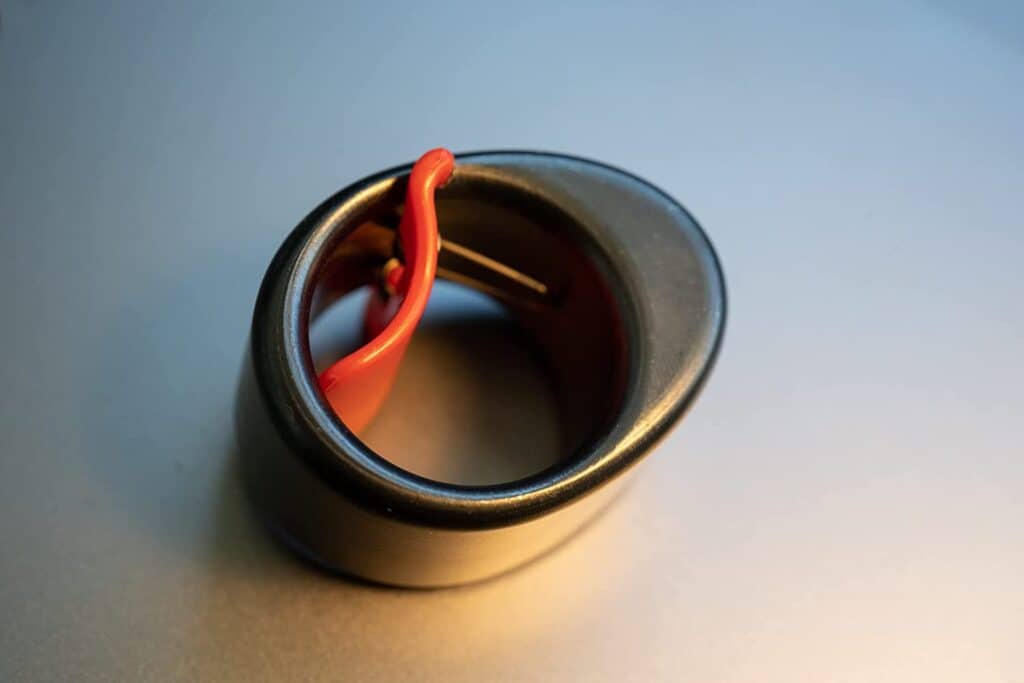 When I bought mine, I was looking for a fitting guide or chart but couldn't find any. Eventually, I figured that I'm probably a medium, and it fitted great. Most guitar players know how their fingers are compared to other people, so your gut feeling is your best friend. That being said, when I asked Black Mountain Picks about the slide ring fitting, they said that there is a good way to accurately determine which ring size fits your finger.
Black Mountain Slide Rings Fitting Guide
take a piece of string, thread, or dental floss and wrap it around the middle segment of your middle finger (refer to the picture below)
stretch out the piece of string and measure how long it is. This will give you the circumference of the middle segment of your middle finger.
Refer to the chart below to pick the size which is best for your finger.
Small: Smaller than 2 1/4 inches (57mm)
Regular: Between 2 1/4 inches and 2 5/8 inches (57mm-66mm)
Extra-Large: Larger than 2 5/8 inches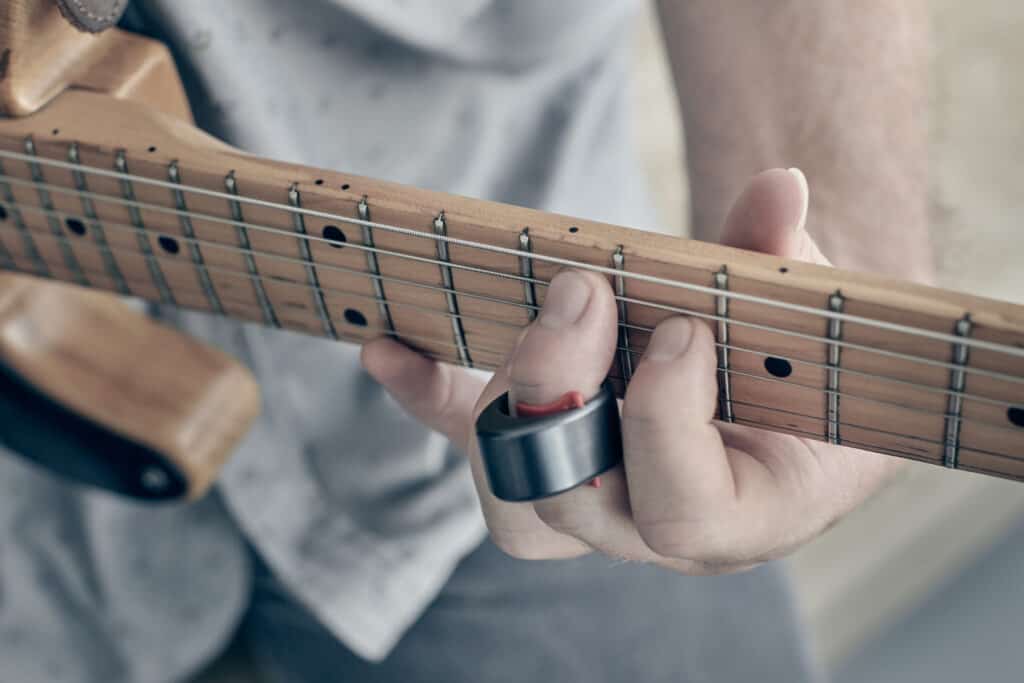 Free Thumbpicking Jumpstart Course
In addition to being well made, versatile, and affordable, with every purchase of Black Mountain thumb picks, you get access to a three-part, 110-minute long thumbpicking video course. The course is delivered through 3 emails sent over a week's time. I'd feel pretty comfortable recommending this course even if it was paid, let alone being free. I find the fact that you get it with any purchase mind-blowing. I really do.
My Personal Favorite
Out of all of their picks, I loved the jazz tip with normal-tension the most. It provides a sharp and accentuated attack with the familiar sound of a Nylon pick. In terms of tension, my fingers are a bit too chubby for the high-tension picks.
Where To Buy Them From?
All Black Mountain's thumbpicks and slide rings are available through their Amazon store and through their website.
Conclusion
Black Mountain guitar picks are a great tool for those who want to brighten up tones while playing fingerstyle. It is a solid option that doubles as a thumb pick and flat pick to add convenience to your playing sessions while allowing a smooth switch between picking and fingerplays.
More Resources
Black Mountain teamed up with RJ Ronquillo to produce an instructional video about their slide ring. I found it extremely helpful, and I think you would too. It covers the basic how-to's, uses, and more:
Additionally, they have a great video they did with Justin Johnson. In the video, he is demonstrating their versatility and how these thumb picks just fit every picking technique you try with them. You should definitely watch:
Disclosure
My original intent was to review Black Mountain's slide ring. When I emailed them a few questions, Cole offered to send me 2 thumb picks variety packs, so I can review them, too. The two variety packs I got from Black Mountain Guitar Picks were sent to me for free. But it didn't change the way I wrote about them, nor the final score I gave them.
Black Mountain Thumb Picks - Full Review
Super comfortable, versatile, and efficient. The perfect tool in your arsenal if you want to try a thumb pick because it carries its own weight even if you end up using it just as a regular pick. Very well made and affordable.