Northern Ghost Plectrums is run by James Romanov since March 2021, and all of his picks are hand-made in Canada. At first glance, it looks like every single one of Northern Ghost Plectrums' designs was meant to put a smile on your face. Whether by using the most vivid colors, glitter, or candy-inspired models. But make no mistake: behind this cute ghost and its happy designs, there are some real high-performance picks.
This review is long overdue, James contributed images to some of my articles in the past, including the one about reasons to use thicker picks, and was featured in my coolest guitar picks article, too. I wanted to try them since for ever, and very glad I finally had the chance to.
The Northern Ghost Picks I'm Reviewing
My order from Northern Ghost Plectrums included 9 picks, and here they are:
Enigma – 3mm thick hexagon shaped Acrylic pick
Gravestone – 3mm thick, brushed rectangle Acrylic pick with one rounded side
Uno – a unique shaped, 3mm thick rectangle pick with two rounded tips.
Warhead – A 3mm thick rounded triangle Acrylic pick.
Planchette Mini – 3mm Acrylic Jazz III inspired pick, with brushed surface and a tiny recess on its top.
Orb – A perfectly round, 3mm thick clear Acrylic pick.
The Beast – A uniquely shaped pick, like a vintage pick with horns and eyes. 3mm thick, brushed , and made of Acrylic.
Vintage – 7.8mm Resin vintage shapes pick from the Vaporwave collection
Jazz – 8.6mm sharp jazz Acrylic pick

Northern Ghost Picks Rundown
Enigma
The Enigma, at least for me, is one of the most recognizable pick shapes they have. This is a perfect hexagon with 6 identical picking tips. You can shred with them, and if you're good enough, you might even be able to control this unbelievable speed. But I don't think this is where this pick shines, nor what it was designed for. Having such a wide tip angle, this pick is my effortless strumming pick. It would've been perfect if it was just a bit smaller.
The Enigma is no longer part of Northern Ghost Plectrums' standard series, but it's still available in custom orders.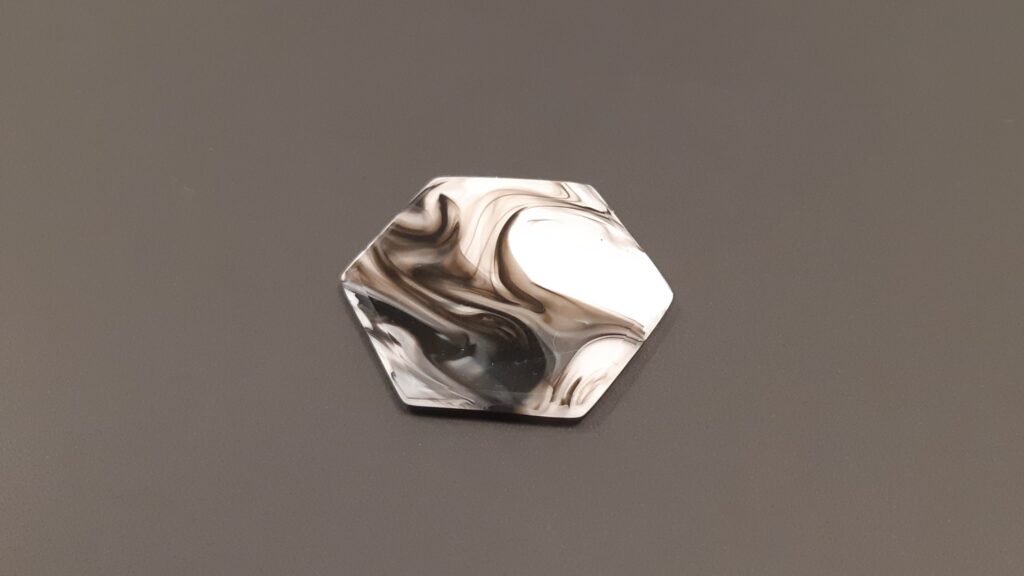 Gravestone
Gravestone gives a choice of two different tones, and they are as far as they can be from each other. On one side Gravestone has two 90 degree tips that give a sharp attack. On the other side, it has a round tip that produces the mellowest attack I've ever heard. Of course, it was meant for strumming, and it does that really well, but how often you get to play with a pick that produces the perfect tone for a pad? Just put on a shimmery longtail reverb and create some great textures for the intro of your next song.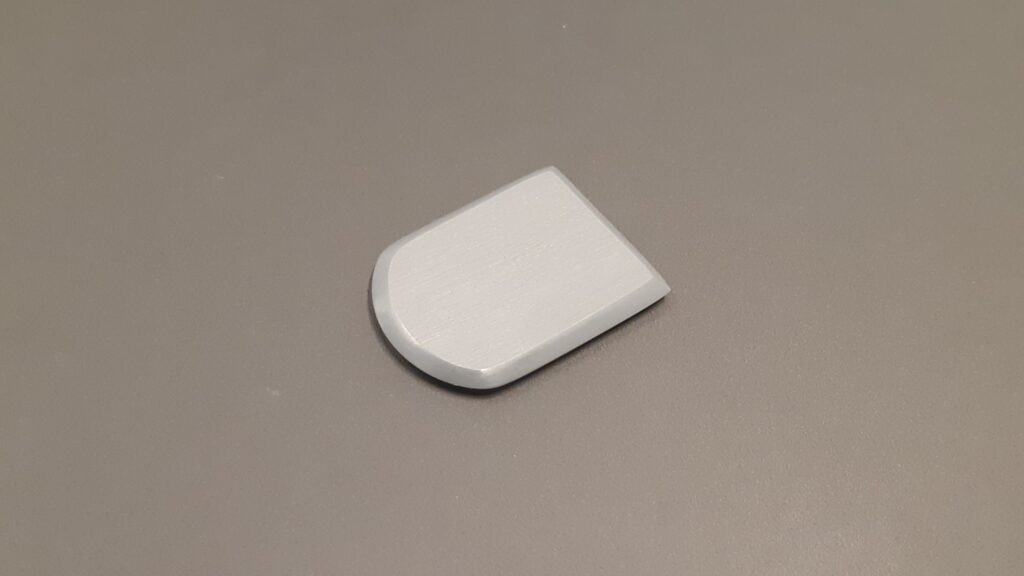 Jazz
This pick is brutal. Having this tip with a material that is already bright, and 8.6mm thick? This is a recipe for a pick that effortlessly cuts through any mix. And even better, if your drummer is driving you mad, this pick can be quite threatening.
It's thick, it's bright, but the best thing about this pick is how well it grips. The deep bevel lets your fingers wrap it without applying any force whatsoever. So when it comes to comfort, this is right on the border of being an ergonomic pick in my opinion.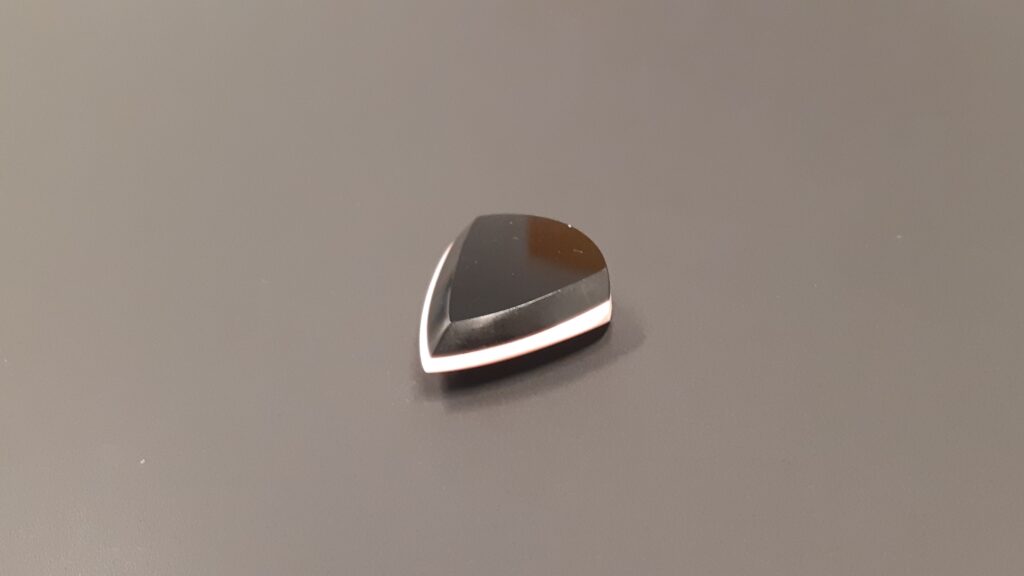 Orb
Orb is unique, and it took me a lot of time to start liking it. In fact, it was Grave that got me into the Orb. They both have the same radius, meaning that when the Gravestone is played on the round side, they are exactly the same. The cool thing about Orb is its gripping hole, which is surprisingly effective. It doesn't prevent it from turning (not that it matters), but it holds it in place very well.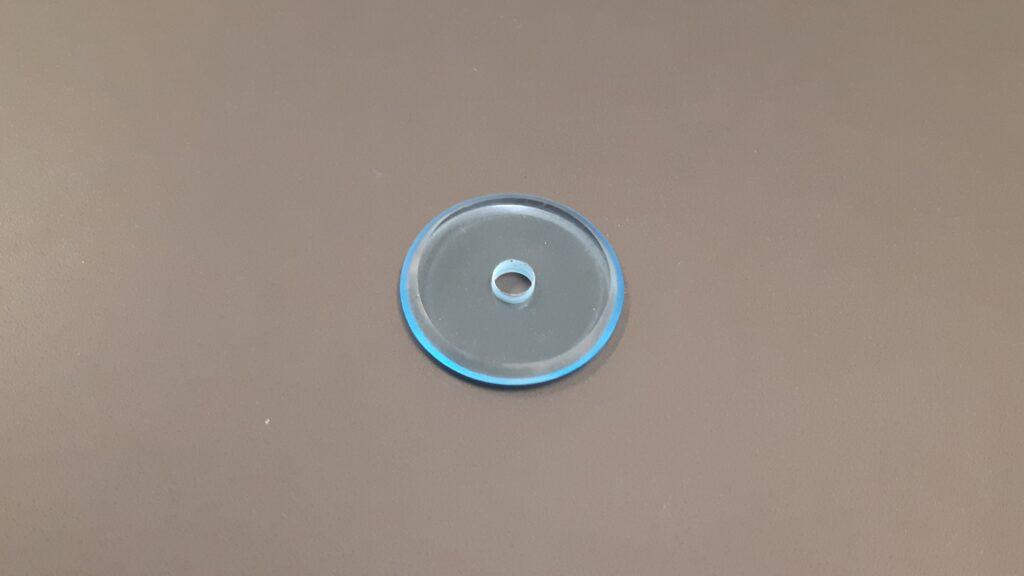 Planchette Mini
One of my three favorite Northern Ghost picks. Just an all-around better version of Jazz III. Exactly right – the Planchette Mini (and especially the brushed one) is better than Jazz III at every single thing:
Being brushed, it grips better
Made from high-quality Acrylic, it sounds a lot less dull than being molded from a low-grade Nylon.
Being thicker, it gives you a lot more control.
The cutout on the top acts as a recess for your index finger, making it super comfortable. If James had offered to bevel it as an option, it could even be better.
Its thickness allows the bevel to go deeper without compromising the durability of the pick, which makes it glide better across the strings.
And finally – an acrylic pick will outlive a Jazz III by months, if not years.
And I say all that with Jazz III being one of my favorite picks of all time.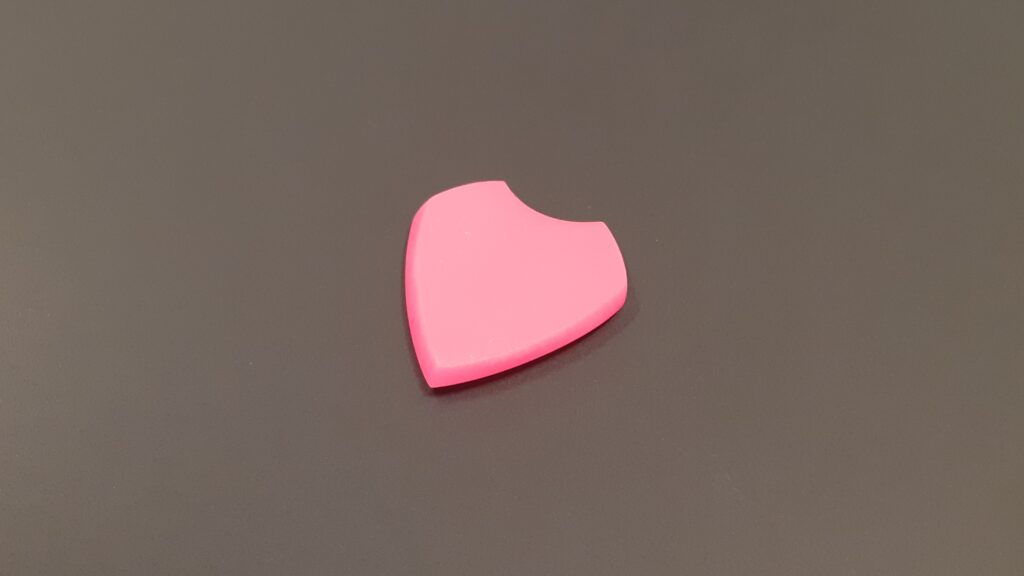 The Beast
The overall shape of The Beast is some sort of mashup between Flow, Standard, Vintage, and The Knight from Hollow Knight. The horns are keeping it in place, the eyes add a bit of extra grip, the slope makes it feel more accurate, and the unfinished tip gives it great added texture, especially when using some overdrive or distortion.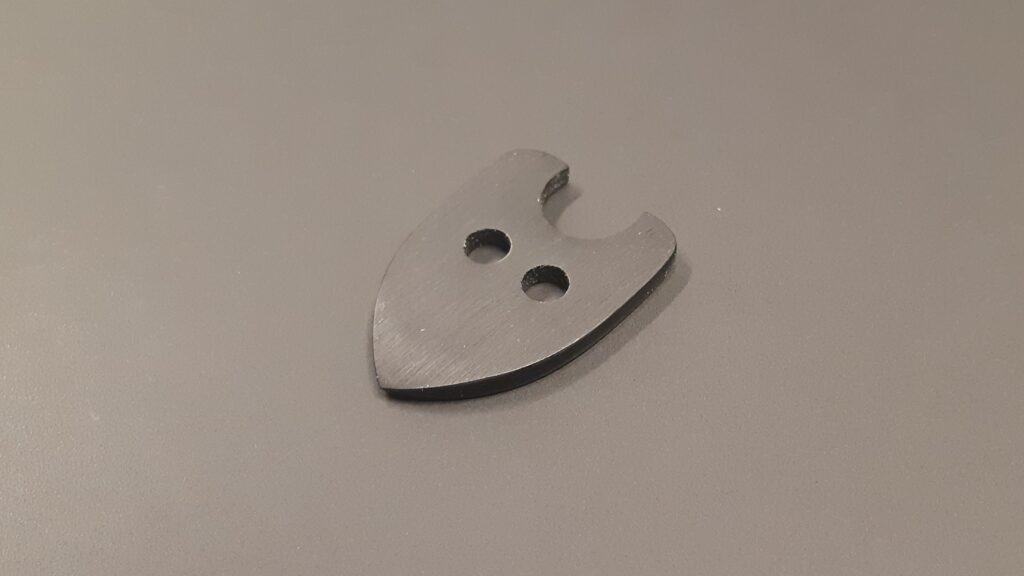 Uno
The Uno, too, is one of my favorite Northern Ghost picks. It carries all the things I loved about the Gravestone and improved the round parts by decreasing their radius size. Now they are both round enough to help you strum easily, and not too round to prevent it from going between the strings if you tend to angle your pick. When strumming, it won't take too much focus from a lead line played on top of it, while still being dominant enough to be able to hold an acoustic track by itself. Switching between the round and sharp tips is pretty fast, it will take less than a second. I'd still not try it in the middle of a song on a live show though.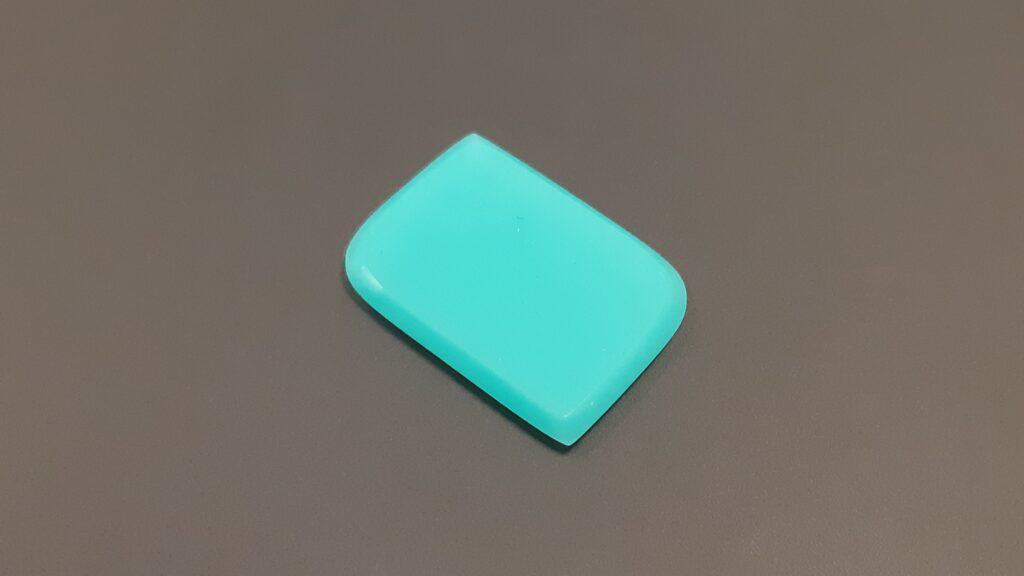 Vintage
This Resin pick feels nothing like any other Resin pick I have. It's silky to the touch, and it makes it sound warmer. And even after abusing it, the tip didn't lose this quality. I really like how it looks and how it sounds. But even though it is comfortable, I'd still not recommend it as an introduction to thicker picks. If you are into thick picks, though, you should definitely give this one a shot.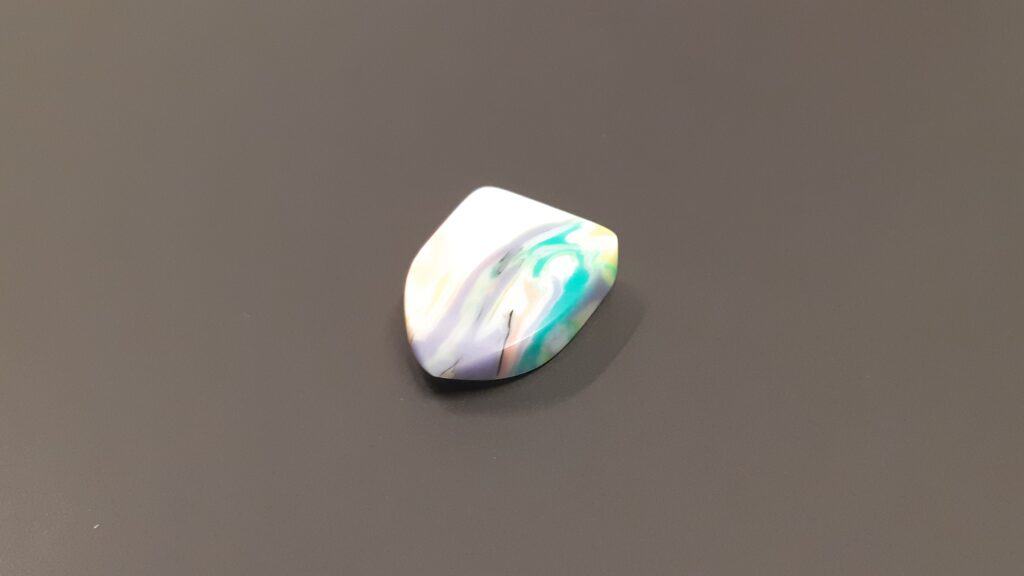 Warhead
Another one of my favorites. Being a symmetrical triangle-shaped pick, the Warhead provides a slightly wider tip angle than Mini Planchette, and narrower than The Beast. It's about the size of a Standard pick, so the two tips at the back of the pick are pressed against the lower part of your index finger, making the pick stay in place. If you like triangle picks, you'll probably like this one as well.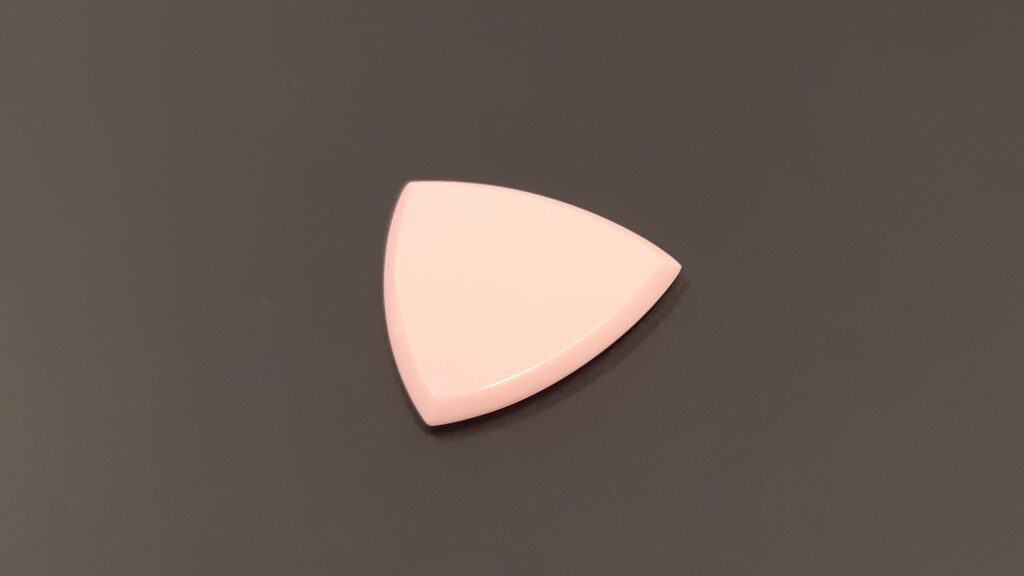 What Else is on Northern Ghost Plectrums' Collection?
In addition to the picks I got, Northern Ghost Plectrums makes a lot of one-offs, and three additional models in their regular collection: Ghost, Cloud, and Planchette Standard.
Ghost
Ghost is their take on the teardrop shape. It has a round back (that I'm sure is playable, too, to some extent), and a rounded tip.
The Cloud
A wider and sharper version of Ghost. I assume it's grippier because the thumb gets to cover more of its surface area.
Planchette Standard
A bigger version of Planchette Mini. I can't wait to try it, and really regret not buying it, too.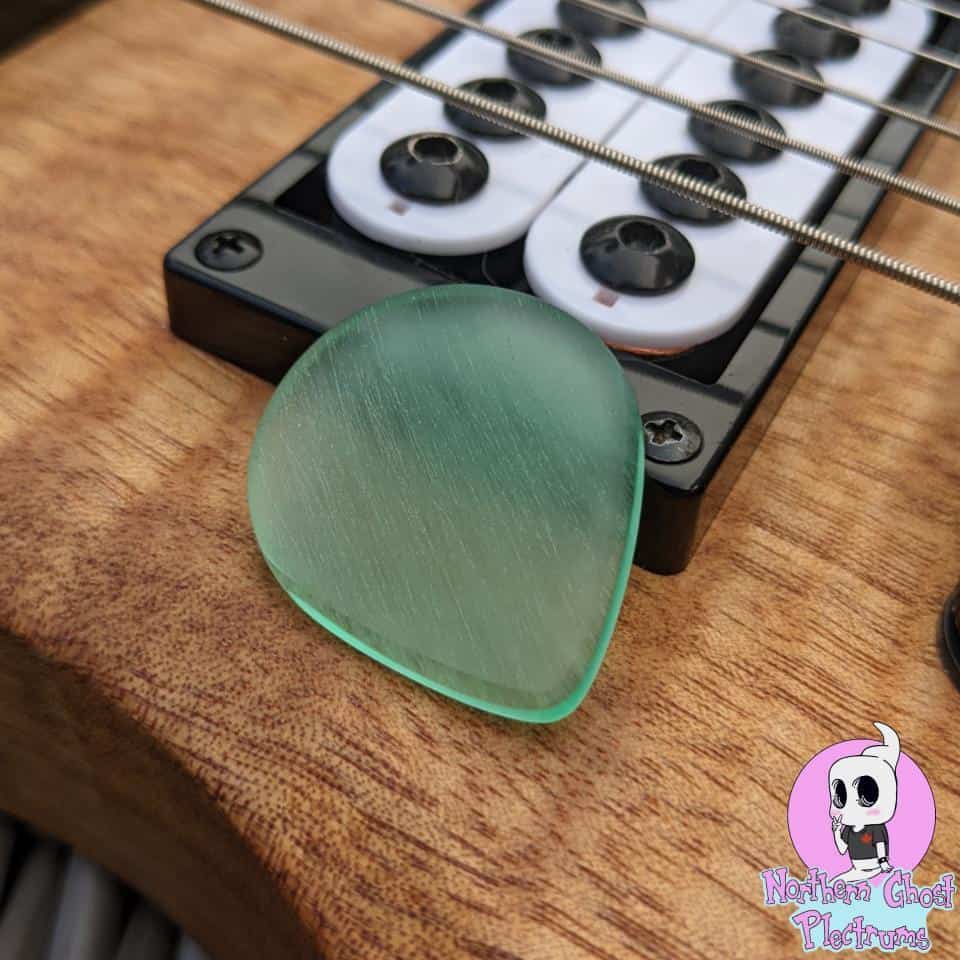 Northern Ghost Plectrums: Designs and Options
There are 5 different ways in which a Northern Ghost pick can be modified: Shape, gauge, finish, and bevels
Shapes
The standard series includes 10 different shapes: Ghost, Gravestone, Orb, Planchette Mini, Planchette Standard, The Beast, The Cloud, Uno, Vintage, and Warhead. But if you have a desired shape in mind, you can ask them to make it as a custom.
Gauge
The default gauge is 3mm, I know they have some sheets of 2.6mm at the moment, from which they make their Alien Planet series, but you'll have to ask for availability. Additionally, they have some thicker
Color
One thing Northern Ghost Plectrums are never in a lack of is colors. Dozens of different options to choose from. Transparents, solids, with or without glitter – seriously, there's almost nothing they don't have.
Finish
Each pick comes in one of two finish options: Polished or brushed. The difference between them is quite surprising. They are both very effective in making the picks stay in place, but in different ways. The polished finish will make it "stick" to your hand, while the brushed finish will grip like crazy.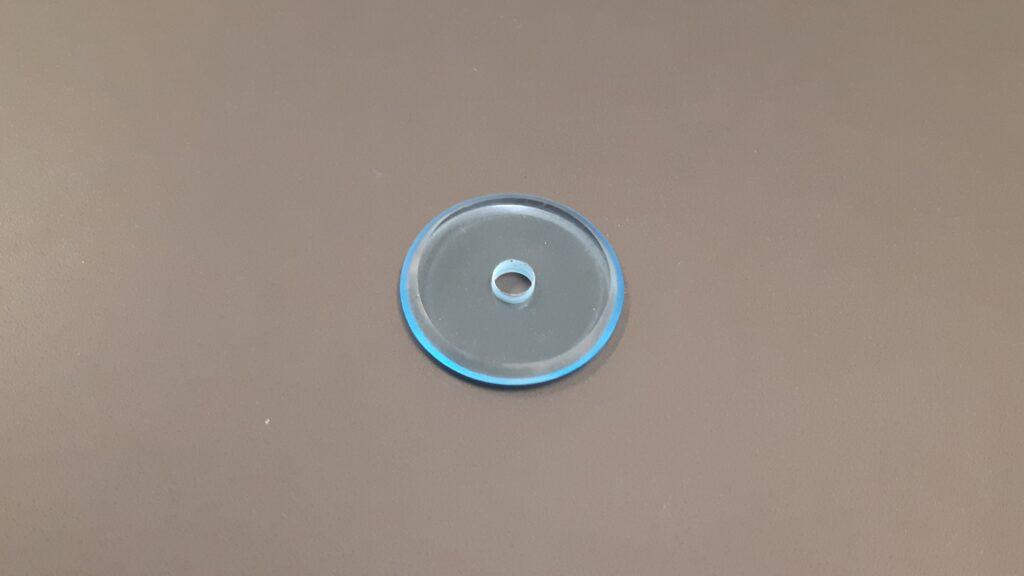 Bevels
Each pick can also come in 2 different bevels: Attack, or standard. Most designs come with the standard, but some have the attack as their default, so make sure to indicate the type of bevel you prefer. Here's an image that shows the difference between Attack and standard. It is shown on thicker picks but applied to the 3mm line, too.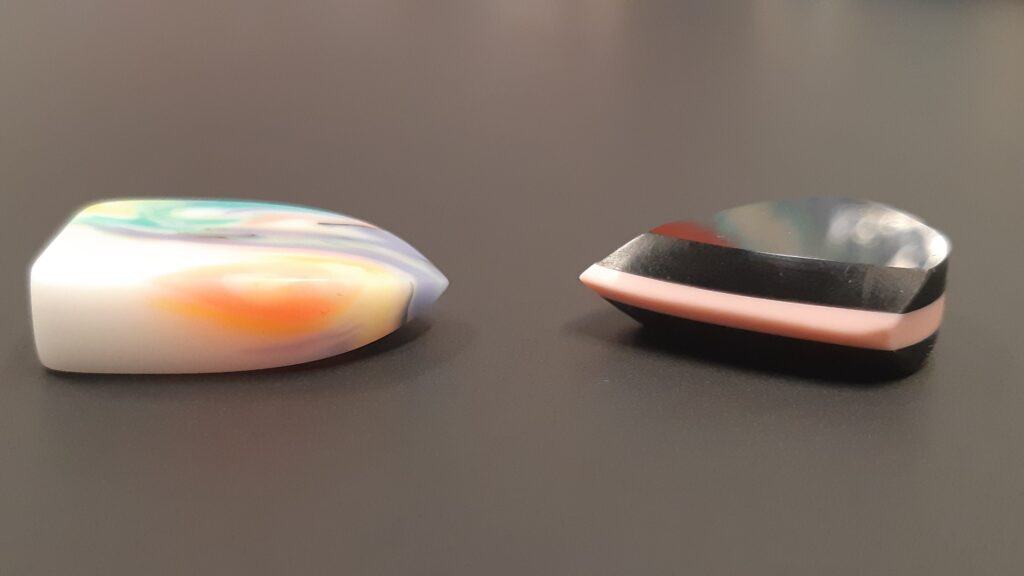 The Next Northern Ghost Plectrums I Buy
Well, since I only have three models left to complete the standard collection, I'll buy the Ghost, The Cloud, and Planchette Standard with both attack and standard bevels. I will also take the Planchette mini with attack bevel, as I only have the standard. Additionally, I'll probably grab another two or three of the thicker ones that are available. Additionally, I'll do my best to talk James into making me some of his old models, such as the Coffin and Planchette Large.
Some Thoughts About Hand-Made Items
Handmade is a vague term. Some makers call CNC or laser cutter picks handmade, as long as they were sanded or finished by hand – and they're not wrong. Northern Ghost Plectrums, on the other hand, do every single thing by hand. From rough shaping, through the final sanding, to the beveling, and everything else. I don't know what the actual impact it has over the picks themselves, but I got inspired by these picks as soon as I got them. I felt like I have to play – you know what I'm talking about.
Grip
Acrylic is a grippy material, no doubt about that. The brushed finish adds even more grip, so none of these picks are moving anywhere. The resin pick has the least amount of grip, but its shape and thickness make up for it.
Recently, Northern Ghost Plectrums announced a collaboration with PlecPads, a grip surface that can be attached to any pick, for an extra grip. The real beauty here is that the Northern Ghost picks that come with them, don't cost more than those that don't – which is nice.
Northern Ghost Plectrums Pricing
The price for each of the basic 3mm picks is a bit more than $7, while The Beast cost about $9.5. There are some 2.6mm specials that cost about $8.5, Carbon Fiber & Acrylic specials that cost $19.5, and some thicker specials (7mm and up) that go between $14 to $16.
Where to Get Them From?
Northern Ghost Plectrums are available exclusively on their Heavy Repping! shop. For custom orders, you can reach them out through their Instagram account.
Northern Ghost Plectrums - Full Review
They sound great, but not outside the guitar tones you are familiar with. They feel great and offer a lot of different options to choose from. Acrylic and Resin are very durable materials, and Acrylic is super grippy, especially when brushed this way, and they are fairly priced.