Guitar picks are a largely overlooked aspect, particularly for novice and intermediate players. These small pieces are so inexpensive that it is hard to believe they can actually impact the tone and playability of the instrument. However, choosing the right pick is crucial for developing your skills as a guitarist. The material used in the pick's construction, its thickness, shape, and texture all affect the sound your instrument produces.
While plastic guitar picks are the most popular ones, today you can find a huge variety of picks in other materials like wood, stone, and metal from different brands available in the market. Today, let's talk about copper guitar picks and other metal picks and try to understand whether they are a good fit for you.
Copper Guitar Picks Review – A Complete Guide
Metal guitar picks are always known to be durable and deliver an extremely bright and aggressive sound. These picks are sturdier than plastic and some other kind of materials and may not need to be replaced as often. The most common metal picks are made out of copper, titanium, stainless steel, and brass among others.
Guitar picks made out of pure virgin copper are very soft and can easily bend if used with strong hands. They also tarnish quickly and develop a tacky surface. Modern metal picks are made out of a mix of copper and a hardening agent that give them a longer life while letting you enjoy the glassy tone of the hard metal. These picks often come in a variety of shapes and thickness options to choose from.
Guitarists looking for a more natural pick material prefer metals like copper and its alloys for their long-wearing nature, attractive appearance, and state-of-the-art tone, clarity, and articulation. Playing with these picks is much in line with their plastic counterparts but the picks are non-flexible. Their thickness is similar to standard picks so most players don't struggle to adjust to them.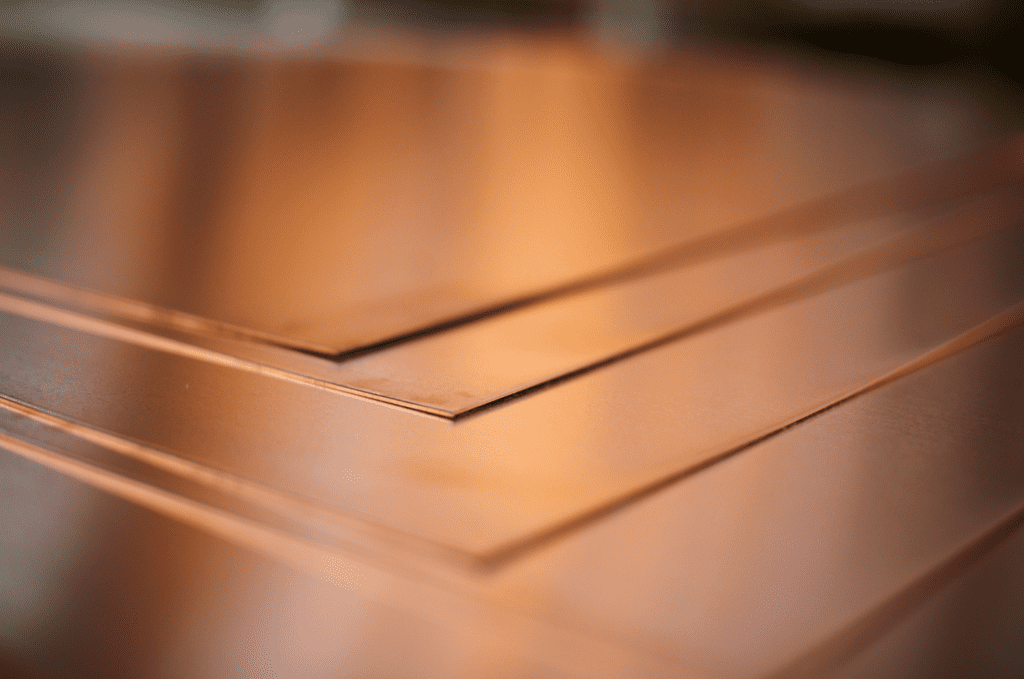 Brass Guitar Picks – What You Should Know?
Brass is another excellent material to make guitar picks out of. It has a bright bell-like tone and is highly resistant to abrasion due to its low-friction feature which means it has a low impact sound against the strings. Most guitarists in favor of metal picks use brass for the tacky surface it develops which helps provide great grip.
Brass guitar picks are soft and can tarnish in some time. They have a warmer tone that some guitarists may look for. Metal picks also bring attention to the strumming on the higher strings and provide them with a unique character. Brass picks not only look attractive but are heavy and tough with a warm, dark, seductive tone.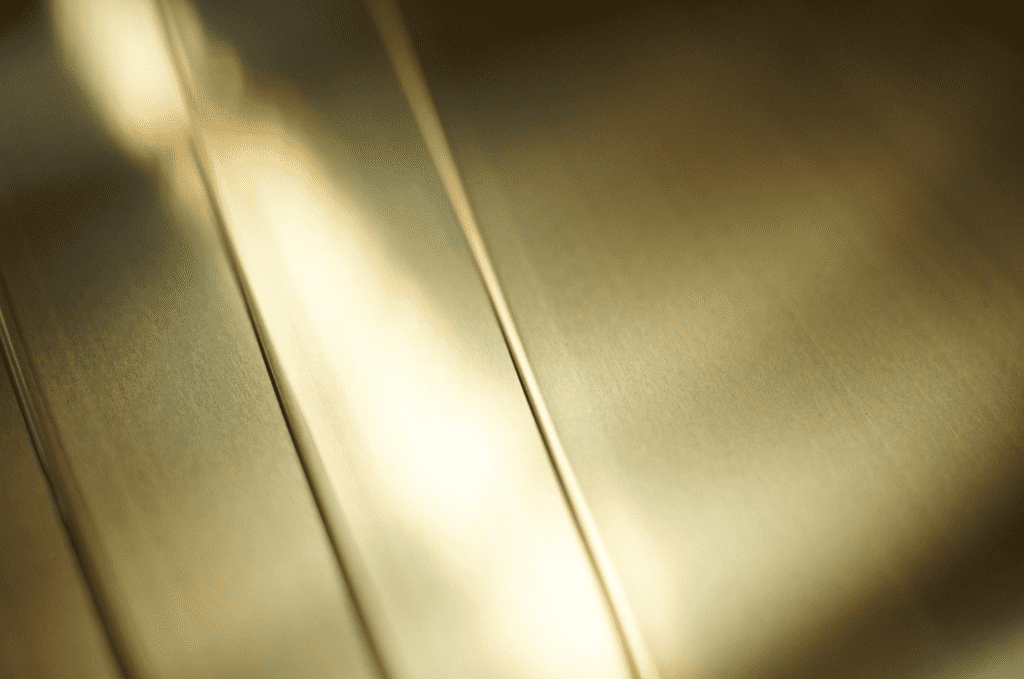 Are Copper Guitar Picks Good?
Though some guitarists prefer copper picks for their bright sound and tacky surface, they are not so flexible as other materials and are more expensive. Moreover, as the metal is sturdy, it can damage the guitar, and strings can wear out faster. Considering these aspects, it comes down to personal preferences whether copper guitar picks should be used.
If you like the unique sound these picks produce, you might have to change strings more often. However, the metal pick lasts longer than other materials like plastic and you won't need to replace them frequently. Ultimately, it depends a lot on how hard you pick strings and your playstyle. Using copper guitar picks requires extra care to ensure not to damage the guitar finish.
Zenfire Picks Review – UPDATED 2022
One of the highest-quality metal picks available for guitarists, Zenfire picks come from a U.S-based manufacturer. The brand offers seven picks available in boutique quality at affordable prices. Each of the picks comes in different sizes in either copper alloy or brass metal. The 'Classic' variant is the biggest standard-sized pick from Zenfire which is essentially a metallic version of the plastic plectrum. It is bold and beautiful with a full beveling, semi-sharp tip, and a clear, articulate tone.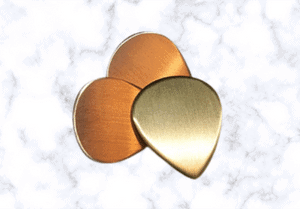 These picks are constructed out of Phosphor Bronze, or tin bronze, which is an alloy made out of phosphorous, tin, and copper. Tin added to the mix improves the strength and corrosion resistance of the alloy, making it ideal for a guitar pick. These guitar picks are hand-crafted in the USA to be attractive, long-lasting, and ergonomic. The ease of picking and superior tone that these picks offer are attributed to the thickness and composition of the material and hand-beveling of the tip and edges. It is the same material used to coat professional acoustic guitar strings.
Zenfire's picks are bright and rigid yet exceptionally fast, long-wearing, and natural-toned. The brand even offers guitar picks made out of 'bell' brass, a tone-enhancing metal that makes heavier picks featuring a darker tone. Each Zenfire pick is made by hand without any use of machinery. They are hand-cut, filed to specs, tapered, beveled and polished to facilitate clarity and a smooth transition between strings.
Conclusion
Copper guitar picks are a preferred choice among guitarists who like a vintage feel and the unique sound they produce. While metal picks have their own benefits and limitations, there is no reason not to experiment with your picks. Many players prefer using copper guitar picks as an alternative to plastic plectrums. We hope this guide helps you understand all should know before trying copper picks to improve your playability and technique.